Home Buying
More home buyers are asking relatives for down payment help
Fifty-four percent of millennials received some form of down payment assistance, according to a LendingTree survey.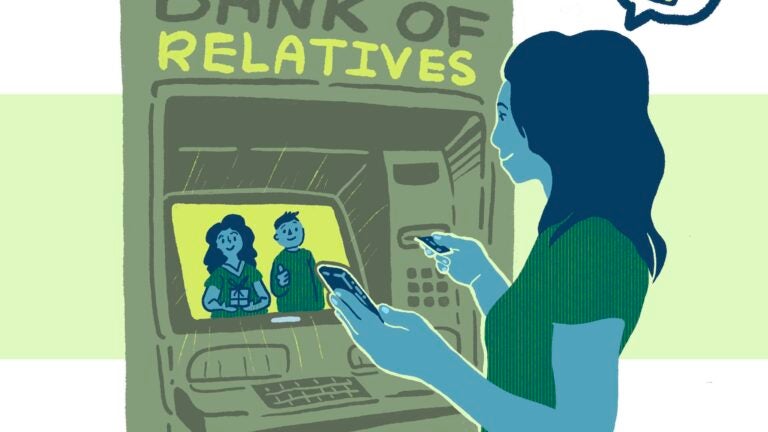 "Daddy, I want a golden goose!" whined Veruca Salt, patron saint of on-screen privilege, in the original "Willy Wonka & the Chocolate Factory."
Picture the modern-day Veruca as more of an avocado toast-indulging deed-seeker than one after poultry that produces golden eggs.
For many locked out of the competitive housing market these days, there is no bigger sign of privilege than those fortunate enough to turn to the Bank of Relatives to buy a sleek downtown condo in Boston (or any major US city, for that matter).
Articles, Reddit threads, and happy-hour banter over the years mocked the parent-provided down payment as the ultimate golden ticket in home buying — especially for first-time shoppers.
But at a time when mortgage rates are at their highest level in decades, housing experts say it's more than the upper strata of wage earners relying on parental help these days to buy a home.
Thirty-nine percent of all homeowners have received some form of down payment assistance, according to the findings of a LendingTree survey of 1,950 US consumers comprising four generations — from baby boomers to Generation Z. The help largely came from parents and other family members.
That number climbs in the younger demographics: Nearly 17 percent of baby boomers received help, but 33 percent of Gen-Xers, 54 percent of millennials, and 78 percent of Gen-Zers received some form of down payment assistance, especially from parents.
"In a nutshell, it really just boils down to the fact that things are expensive right now," said Jacob Channel, a senior economist at LendingTree. "This is especially true for younger folks who haven't had as much time to save up money for things like a down payment."
The 30-year fixed mortgage rate briefly surpassed 8 percent in late October, according to a Mortgage News Daily analysis. The lack of inventory and high mortgage rates have helped cool sales activity markedly in Greater Boston, yet prices are still climbing.
The $849,950 median single-family sales price in the region was a record for the month of September, as was the $680,550 median condo cost, according to the Greater Boston Association of Realtors. Toss in a mortgage rate more than twice the level seen two years ago, and parental help and generational wealth become more of a necessity than just nice things to have during the home-buying process.
Homeowners making six-figure annual incomes as well as those earning $35,000 to $49,999 are most likely to receive financial support buying a home, according to the LendingTree survey.
Why now?
There are a variety of reasons why parents step in to help their children buy homes, those interviewed for this story said.
"I just had my first baby, and I was in this small condo that wasn't going to work. And then my sister was renting in Quincy, and her rent was going up," said Benjamin Roughan, whose father helped them buy a two-family home in Middleborough. "My father feels like he's making a difference in our lives. He's happy, and then we'll eventually pay him back when either we refinance down the line or get some savings over the next couple years.
"He's in no rush."
Nicholas Wise, a sales associate with Coldwell Banker Realty in Brookline, said he sees renters switching to buying "just because their parents or their grandparents are so against them renting."
Realtors are reporting a similar parental buy-in in Central Massachusetts, as high home prices push buyers north, south, and west of Boston. The $410,000 median sales price for a home in Worcester in September was still up 4.4 percent from a year ago, according to Redfin data.
"At this point, with everything being so expensive and salaries not rising as quickly as real estate prices, a lot of people are going to try and help their kids and give them a leg up," said Catherine Kiernan, a real estate consultant with Gelineau & Associates Real Estate in Waltham.
'Make sure it's a gift'
Experts caution that even those privileged enough that they can rely on the Bank of Relatives need to have a strategy. Be sure to present the parental help as a gift, not a loan, so the lender doesn't think the buyer has to pay it back in a timely fashion on top of the monthly mortgage payments.
"Try to make sure it's a gift because, if it is a loan, that's going to be factored into things like your overall loan-to-value or your total debt-to-income ratio," Channel, the LendingTree economist, said. "That could actually reduce your chances of getting approved for a loan."
But how do you pay it back without making things awkward at Thanksgiving? Those interviewed for this story all emphasized that communication is key.
Further, parents shouldn't feel obligated to make a Herculean sacrifice and fork over a large sum of money to help their offspring with a home purchase, they said.
"It's really nice to be able to help your kids, but if you're a parent and your option to give your kid money for a down payment is to take out a second mortgage on your house or zero out your savings, it might not be the best idea," Channel said. "Make sure everyone is on the same page."
There's enough family guilt during the holidays without having to throw in unreasonable down payment expectations on top of the turkey and dressing.
Send comments to [email protected].
Address newsletter
Get the latest news on buying, selling, renting, home design, and more.