Home Improvement
Are solar panels worth it?
The deluge of data and the pressure to install solar panels can be debilitating. We shine some light on the murk.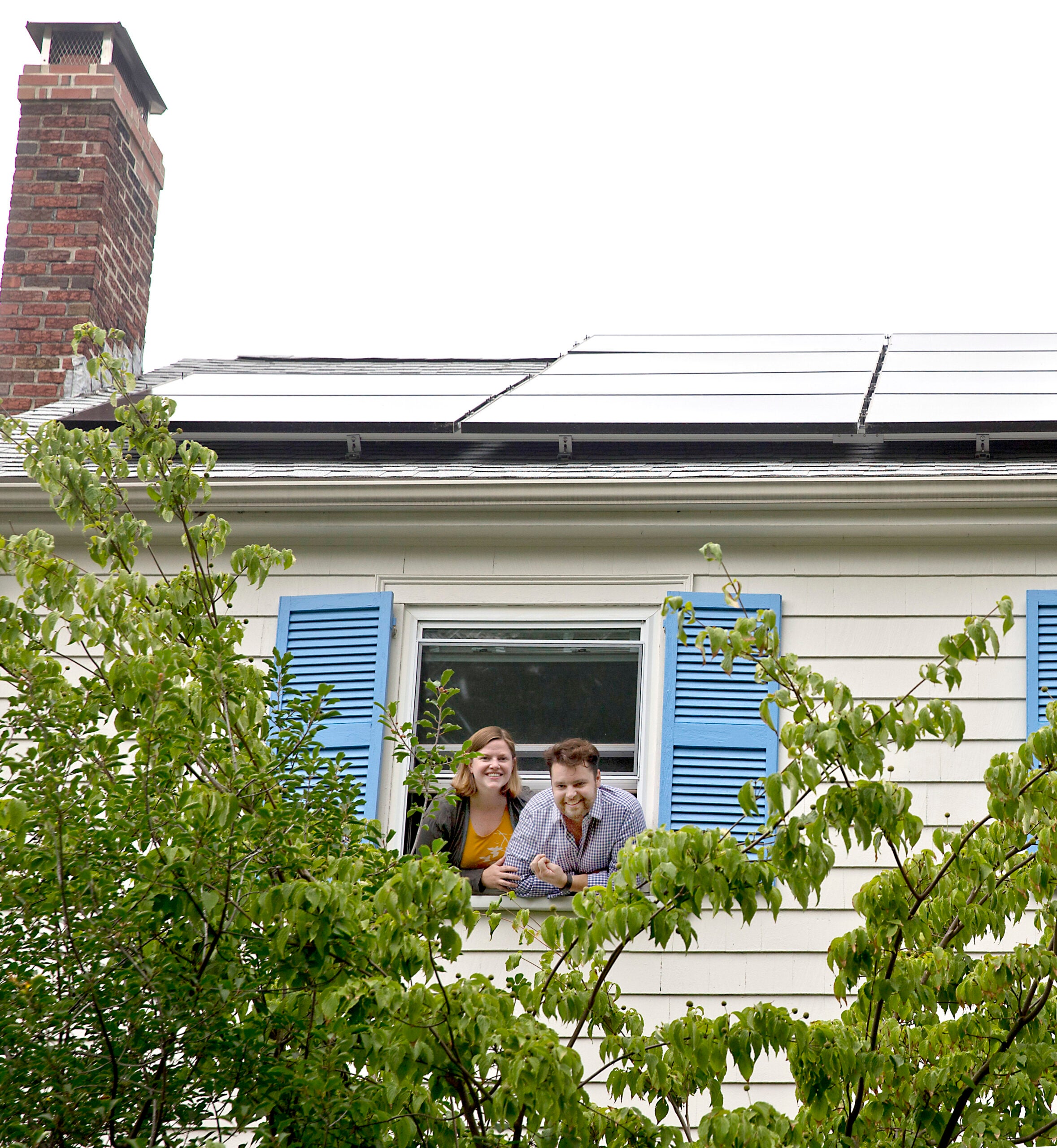 You've seen them on your neighbors' roofs. Solar panels are popping up everywhere now, and so are the ads for them. It's no wonder — harnessing energy from the sun appeals to everyone from carbon-cutting environmentalists to grid-wary doomsday preppers. But the real growth has been driven by average homeowners with a much simpler motive: saving money.
In fact, a recent study by North Carolina State University ranked Boston second among the nation's largest 50 cities in terms of the potential savings available to residents who install solar. (No. 1? New York City.)
Just how much money? The average Massachusetts household paying $100 a month for electricity can save an estimated $35,900 over the next 20 years — almost $1,800 a year — by purchasing and installing a rooftop solar system, according to data from EnergySage, an online marketplace for solar-energy consumers.
What's more, consumers are willing to pay about $15,000 more for a home with rooftop solar panels, according to a study by Lawrence Berkeley National Laboratory
that covered eight states, including Massachusetts. And unlike some home improvements, a solar installation eventually can pay for itself — after just four or five years in most cases in Massachusetts, said Vikram Aggarwal, EnergySage founder and chief executive. And that's even before factoring in any bump in resale value. (Imagine spending $15,000 to remodel your bathroom and getting a fancy new ecofriendly faucet that spits out money for the next 20 years.)
But purchasing panels is just one way to save from solar. Homeowners have three main options, a couple of which don't require any upfront payment. And with very few exceptions, all of them can save you at least some money.
The traditional route, which offers the most savings, is to purchase the system outright. You'll own the panels and all the electricity they produce for their entire life span of 20 to 30 years or more. It costs between $18,000 and $25,000 to buy and install a 5.13-kilowatt system (the average in Massachusetts) before incentives, according to EnergySage. But after all tax credits and rebates are factored in, the average out-of-pocket cost is just under $14,000. Many homeowners who purchase their panels use a home equity or solar loan to finance it, reducing the upfront cost to zero.
"If you want to save the most money, we would recommend that you buy the system,'' Aggarwal said. "But if you want a simple solution — you don't want to take out a loan, and you don't want to pay cash — then leasing is a good option. It's simple, it's easy.''
Leasing panels from a solar company is another option, and it has no upfront costs and an immediate payback. In exchange for a monthly fee and agreeing to a long-term contract, the company will install solar panels on your roof at no cost and maintain them as well. You get to use the electricity they produce, but the company receives the tax credits and retains ownership of the panels. Homeowners who lease their system can still save $11,400 over 20 years, or $570 a year, according to EnergySage data. (While there are minor differences between the two, a power-purchase agreement, or PPA, is in practice very similar to a lease.)
A third and fairly new choice, one that even renters or condo owners can take advantage of, is community solar. You don't get solar panels installed on your home. Instead, you sign a contract to buy electricity from a solar farm in your area, at a discount from your current electric rates. Even this low-effort option can help you save $180 a year, according to EnergySage, while reducing your carbon footprint.
How is that possible? We've been conditioned to think clean energy costs more than fossil-fuel power, and to an extent, that's still true. While the cost of solar panels has dropped remarkably — about 30 percent in the past five years — tax credits and other incentives go a long way toward making solar energy inexpensive, according to Alicia Barton, chief executive of the Massachusetts Clean Energy Center, a state economic development agency.
The most significant of these is the federal Investment Tax Credit, essentially a 30 percent refund on the cost of solar installation. "Whether you choose to buy or lease, that . . . discount is factored into those prices,'' Aggarwal said. Introduced in 2006, the tax credit is set to expire at the end of 2016 unless Congress extends it.
Other incentives include net metering and solar renewable energy certificates, or SRECs. Net metering is the practice of selling your excess solar energy back to the grid for credit on your electric bill, while SRECs are certificates homeowners earn and can sell every time they generate a megawatt of solar power.
In the summer, most solar systems produce more energy than is needed, and homeowners can sell the extras back to the utility through net metering.
"Right now my bill from National Grid is minus $30,'' said Donna Fickett of Quincy. That built-up credit helps during the winter, when the panels aren't producing as much and her electric bill rises to about $100 a month. That's on top of the $50 lease-to-own payments she makes on her panels.
And because Massachusetts requires utilities to derive a percentage of their electricity from solar and other renewable sources, utilities buy SRECs to paint their power portfolio a shade greener. Homeowners sell their certificates on an open market to earn extra money. "We have a 4.6-kilowatt system, so we generate an SREC every two to three months, or about four a year,'' said Jen McCloskey, who used a loan to finance the installation of solar panels on her Roslindale Colonial in late 2013. "So we make about $1,300 a year off of that, which covers a good chunk of our loan payments.''
Of course, it's not all sunshine in Solarville.
For starters, the estimated savings you see in an installer's quote are based on the presumption that electricity rates will keep rising annually — a fair assumption, given history. But make sure the installer is using a reasonable figure, not an exaggerated rate that inflates your potential savings.
Likewise, be aware that most leases and power-purchase agreements include escalator clauses, meaning your monthly payment will tick slightly higher each year to keep up with those rising electric rates. And the 20-year contracts associated with leases and PPAs make a lot of people uneasy, said Brian Hession, field sales manager for Ashland-based installer SolarFlair Energy Inc. "We've had 82 people sign up [through the Solarize Quincy program], and only one went with a lease.''
Selling your home gets a bit more complicated if you lease your solar panels, but it can be done — just like a car lease, you can buy yourself out. But keep in mind that the solar company probably scooped up all the tax credits when you first got the system installed, so you're unlikely to benefit from the big discounts new buyers enjoy.
Your other option is to transfer the lease to the buyer. But it can "add a layer of complexity to the process and needs to be disclosed upfront in the listing,'' said Doug McNeilly, a realtor in Wayland. And while most home buyers like green features, McNeilly said, "homes that face south usually have [the panels] mounted on the front, which can impact curb appeal.''
Your decision may be more complicated if you live in a town with municipal electric service. In Braintree, for example, residents hoping to install solar panels must file an application and wait for approval, which can take about 30 days.
In addition, your municipal utility may not participate in net metering.
"We only give an energy credit back to the customer based on what the array produces, and not the full-rate credit. That is considered to be a form of net metering, just not full 'net metering' as people usually think of the term,'' said Ken Stone, energy services and account manager for the Braintree Electric Light Department, citing the need to recover distribution and transmission costs when solar panels aren't producing power.
Indeed, utilities argue that net metering is unfair because solar producers benefit from the grid without paying their share for the whole distribution system, placing an extra burden on everyone else.
"The approximately 99 percent of our customers who do not have solar will spend an estimated total of $1.5 billion through 2020 to support existing solar development,'' said Mary-Leah Assad, a National Grid spokeswoman, "even without raising the net-metering cap.''
Assad was referring to current caps in place on net metering — some areas of Massachusetts in National Grid's territory have already reached their limit. While two proposals to raise the net-metering caps are working their way through the state Legislature, this uncertainty has held up some large-scale and community solar projects. But Barton said individual homeowners have nothing to worry about right now.
"The net-metering caps don't apply to residential and small systems,'' she said.
Either way, unless you invest in an expensive battery backup system (upward of $7,000), you'll rely on energy from the utility at night and during foul weather — which means you won't actually be living "off the grid.'' And most residential solar systems shut off for safety in the event of a blackout, so you may be stuck waiting for electricity after a blizzard like everyone else, even though you could probably be producing some of your own.
You may also be wondering: Can rooftop panels really withstand our brutal New England winters?
"The panels are pretty durable,'' Aggarwal said. "There's no mechanical moving parts, so they don't really break.''
What's more, they actually operate more efficiently in the cold, he said — though not when they are covered in 2 feet of snow.
"Normally in winter, since the panels are black, the snow would melt off of them pretty quickly,'' said McCloskey, "but last winter's storms and total lack of any sun or warmth didn't allow for that.''
Finally, there's your roof. If it's in poor condition, you may need to replace it before installing panels. And if it faces the wrong direction or doesn't get much sun, you may not benefit from rooftop solar. "The installer may recommend trimming back or even removing trees, and that can be a difficult issue for people to wrestle with,'' Barton said.
Still, solar makes sense for some homeowners — especially while current incentives remain in place. And beyond the economic and environmental benefits, there's one more factor to consider: Do you like the look?
"The hardest thing in solar is convincing your wife of the benefits if she doesn't like the look of the panels when they're on the front of a beautiful Colonial,'' Hession said.
McCloskey, meanwhile, likes her sleek, modern roof. "It looks cool on the roof. It looks cool in the basement where the various boxes for the system are. It definitely makes us feel good to feel like we're reducing demand on the grid.''
Jon Gorey is a freelance writer in Quincy. Send comments to [email protected]. Follow him on Twitter at @jongorey.