Home Improvement
Shortage of skilled laborers adds to homeowners' headaches, costs
There's a reason it's so hard to find a contractor right now: There just aren't enough of them.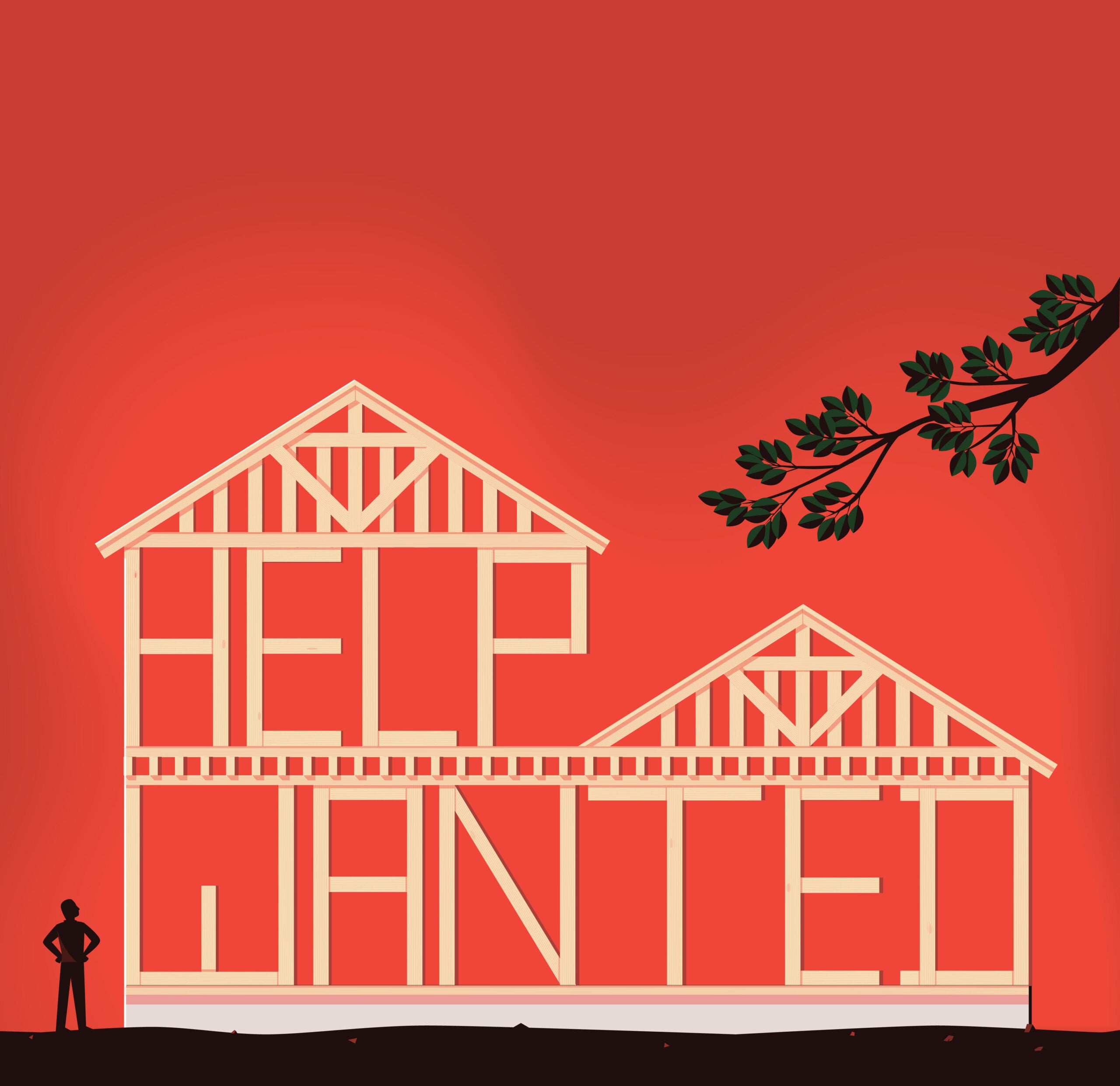 You've scoured Pinterest and design magazines for remodeling ideas. You've saved up or set up a home equity line to pay for the work. All you need is a contractor to bring your vision to life, so you call up a handful of pros to solicit quotes — and they tell you it'll be at least a few months before they can fit you in.
That's if they get back to you at all.
"We have been ghosted [by contractors] so many times,'' said Salem homeowner Andrea Gimler, who's looking to get air conditioning installed, among other projects. "I think part of it is that our house is old and complex and quirky, but we've had HVAC guys come and spend an hour taking measurements and photos and then — poof! — never hear from them again.''
She's not alone.
"I have never had such a hard time with contractors as I have this year,'' said Ann Barrett of Quincy. "I called three fence guys — never got a return call from any of them.'' Barrett did hire a carpenter to replace a deck, a job that he started in December but had yet to complete as of early July. "I have a half-built deck, a fence that's half ripped down, and a dumpster in my driveway,'' she complained.
Several Boston-area homeowners I corresponded with expressed difficulty hiring contractors — who, for their part, have more work than they can handle. "I'm booked out right now four or five months,'' said Newton contractor Steve Greenberg. "Some are booked two years.''
There's a reason it's so hard to find a contractor right now: There just aren't enough of them. Nearly 2 million workers left the construction industry in the last recession, and there's been a persistent shortage of skilled labor ever since. And while overall employment in the industry has been steadily climbing back up since the worst of the downturn, according to the US Bureau of Labor Statistics, it hasn't been enough to keep up with demand.
"The shortage is real,'' especially in the skilled trades, said Abbe H. Will, a research associate at Harvard's Joint Center for Housing Studies. Ninety-one percent of remodelers surveyed by the National Association of Home Builders in 2017 reported a shortage of both finish and rough carpenters, and more than half said masons, drywall workers, roofers, painters, plumbers, and electricians were also in short supply. In addition, 82 percent said the cost and availability of labor was a top concern for them in 2017, compared with just 13 percent in 2011.
Greenberg said he believes in paying a fair wage or better, but the scarcity of skilled workers means he has to offer more competitive compensation packages than he did five or 10 years ago. "You're paying health insurance, 401k, you're paying for all sorts of things and little perks and bonuses you never had to do before, and that drives the cost of construction up, plus lumber and material costs are up 20 to 30 percent over the last year,'' he said.
Meanwhile, half of the remodelers the association surveyed said labor shortages had even forced them to turn down work, while 71 percent said they had to charge customers more. Sixty-eight percent said they were struggling to complete jobs on time.
"We're booked out a year and a half for large projects and about eight months for smaller projects,'' said Chestnut Hill contractor Asher Nichols, who said he's had to delay the start of some jobs because he can't staff them properly. "If our electrician can't do our job for four months, what do we do? If we can't find anyone better and we don't want to compromise our quality, well, then we can't do the job for four months.''
Alison Hardy, owner of Window Woman of New England in Amesbury, said it's hard to find good, experienced workers. "We actually plan on training everyone from the ground up, so we hire for personality,'' Hardy said.
All this is happening at a time when home renovation spending is going through the brand-new roof. In the Boston area, it was forecast to increase 16.5 percent in 2017, up from $4.5 billion in 2015. Projections from Harvard's Joint Center for Housing Studies put the total US remodeling spending at more than $350 billion in 2019.
While the share of homeowners who make improvements doesn't vary much from year to year, Will said, the types of projects do. And as home values rise — as they have for several years — homeowners get a boost in confidence. "You can only put off the roof for so long,'' Will said, "but in the last few years, with strong growth in the market, we see homeowners focusing on big discretionary projects, not just replacement repairs.''
Yet even as remodeling spending continues to rise, the uptick in construction employment has tapered off. The trades have struggled to replace retiring workers with younger newcomers; for every five workers retiring from the trades, only two are entering, said Eric Thorkilsen, CEO of This Old House Ventures.
"It's bad, and it's even worse when you look down the road and realize not a lot of people are lining up,'' said Greenberg.
"The kids just aren't going into it. Everyone wants to go make an app and strike it rich, and the parents are worse,'' Greenberg lamented. Some school systems have dropped their voc-tech programs entirely, he said, so "it's either you go to college or you go to McDonald's.''
Nichols and Greenberg both sit on the workforce development committee for the Eastern Massachusetts chapter of the National Association of the Remodeling Industry, which is looking for ways to get kids excited about the trades. "There's a negative stigma about being in a voc-tech program as opposed to going to a four-year college,'' Nichols said, "so really I think we have to start at the middle school level. And we have to change kids' perceptions, and we have to change parents' perceptions.''
That's one reason the home improvement juggernaut "This Old House'' started Generation Next. The campaign has introduced several young apprentices to the cast of the 39th and upcoming 40th seasons of the program in hopes of inspiring more young people to consider a trade career — raising more than $500,000 for scholarship programs. "If you ask any contractor in any trade what is the number one problem they're facing, the answer consistently is finding skilled workers,'' Thorkilsen said. Closing the skills gap is a long-running industry-wide challenge on everyone's to-do list, he said, including sponsors who have donated to the campaign. "These companies depend very much on contractors to install or fix their products.''
Thorkilsen is surprised that so many young people are ignoring what can often be meaningful high-five-figure or even six-figure jobs. "There's a real opportunity here for people looking for financially rewarding work,'' he said.
"Working with your hands and building and accomplishing something has its own very different psychic reward to it,'' he added. "It's a life skill you can take anyplace.''
Greenberg said a vocational education can be a rewarding alternative to college. "You can apprentice, and you don't come out four years later $80,000 in debt with no job. And you're making money the whole time,'' he said. As long as people are building, he added, there's work — and it's the kind that can't be outsourced.
Meanwhile, homeowners ought to be concerned about this issue, too. Just like the nation's contractors, our homes aren't getting any younger, in part because we're not making enough new ones. The median Massachusetts home is 53 years old, and it needs work. That can force homeowners to make difficult choices.
"The good [contractors] are incredibly busy because there's so much work out there and so few of them,'' Thorkilsen said. "So the situation for homeowners is either you have to wait in line for the good guys to become available, or you go with those who are less experienced, and you take your chances in terms of the quality of job you're going to get.''
Barbara Simkowski of Quincy knows how that can go. She wanted a porch railing replaced this spring, but found it nearly impossible to get a contractor to give her a quote. "After the first nor'easter last March, they were all busy with water damage repairs around here,'' Simkowski said. After weeks of waiting for an estimate, she gave up and tried a handyman, who didn't do a very professional job. Her son, who owns the house with her and has carpentry skills, had to stop the work and finish the job himself.
"I think that's ultimately where the burden of this whole thing falls,'' Thorkilsen concluded. "Homeowners who have these aging homes will need to have them fixed and remodeled and improved, and unless there's an influx of skilled workers going into the trades, it'll be increasingly hard to make that happen.''
It's one more reason to consider learning a trade. Even if you don't end up working in construction, at least you'll be able to fix up your home — something more owners might have to get used to if the shortage of pros persists.
Jon Gorey blogs about homes at HouseandHammer.com. Send comments to [email protected]. Follow him on Twitter at @jongorey. Subscribe to our free real estate newsletter — our weekly digest on buying, selling, and design — at pages.email.bostonglobe.com/AddressSignUp. Follow us on Facebook and Twitter @globehomes.