Home Improvement
Sometimes solar panels are not a good fit for your home. Here's why.
The average Massachusetts residential solar array installed in 2018 reportedly will pay for itself in just under six years.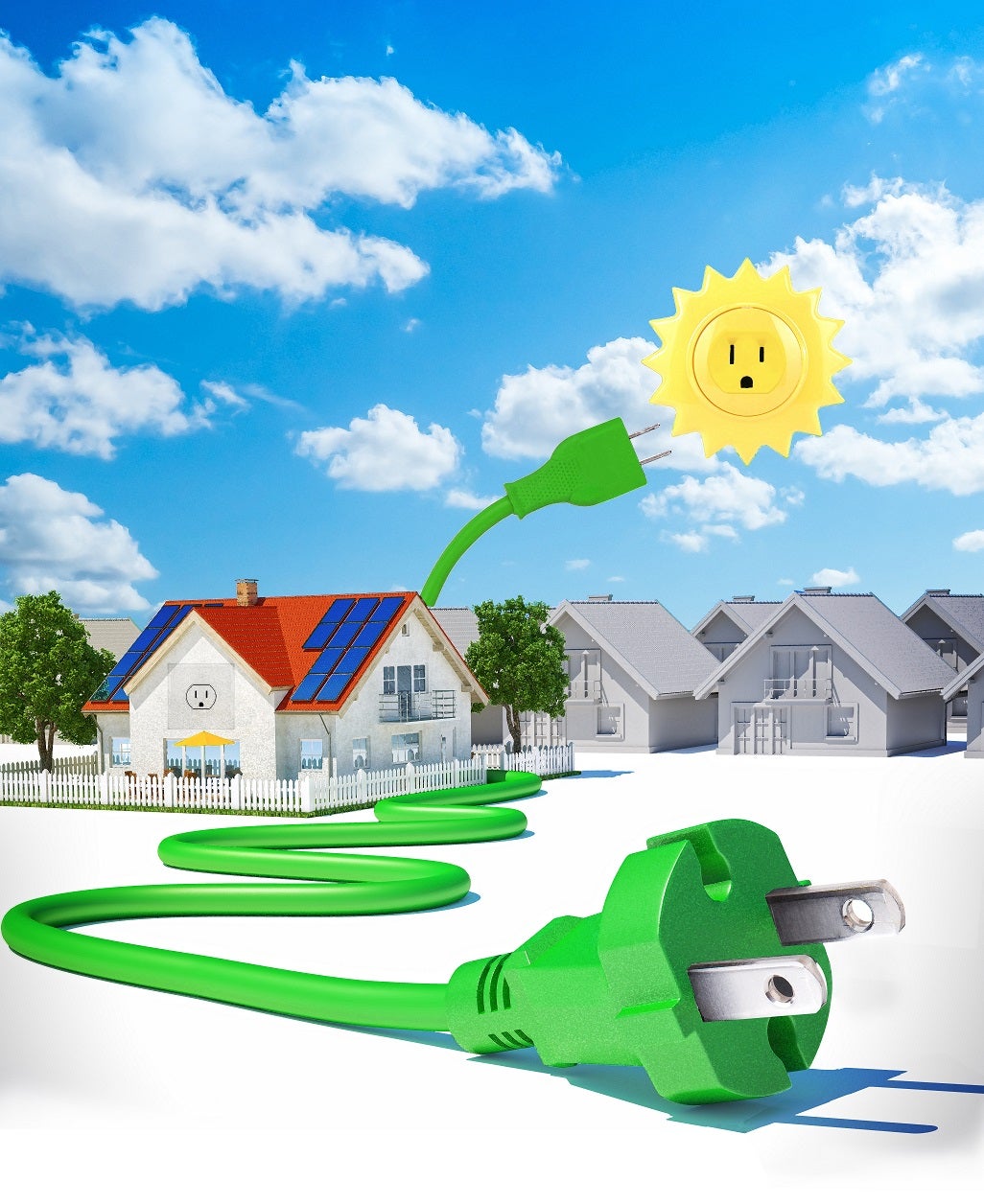 I'll admit it: I love solar power. We purchased our rooftop system in 2017, and our electric bill vanished, along with a good portion of our carbon guilt. I check an app on sunny days to see how much power we're producing, and (annoyingly, I'm sure) tell everyone about it. But the fact is, between federal and state tax credits, higher-than-average electric rates in Massachusetts, and renewable-friendly regulations like net metering, installing solar panels is very often a smart bet for Boston-area homeowners.
Often, but not always.
Among the nearly 6,000 residential solar arrays installed statewide in 2018, the median cost of installation (before incentives) was $3.79 per watt, according to data from the Massachusetts Clean Energy Center. That means a median-sized, 8.4-kilowatt system would cost about $31,836, or $21,285 after a 30 percent federal tax credit and $1,000 state tax credit.
The average Massachusetts residential solar array installed in 2018 will pay for itself in just under six years, according to Boston-based EnergySage.com, a comparison site for solar shoppers. That's actually a bit longer than it was a few years ago, despite lower manufacturing costs, as solar renewable energy credits (SRECs) have given way to the state's new "SMART'' incentive program, which rewards solar array owners under a more consistent but less lucrative structure. But that payback window can grow considerably longer if your roof is less than optimal.
"If you have enough space, let's say 300 to 500 square feet of space on your roof, especially if it's south-facing, that's great,'' said Vikram Aggarwal, EnergySage's founder and chief executive. If that swath of roof faces east or west, he added, you may lose 5 to 10 percent of the system's efficiency, but it's still generally worthwhile. But a north-facing roof changes the equation. "In that case, you lose maybe 20 to 30 percent of the efficiency of the solar panel system.''
And it doesn't matter which direction your roof faces if it's covered in shade or doesn't have enough room to fit the panels you need. "If the roof is covered with interruptions — shade, or chimneys, vents, skylights — that may limit the solar-suitable space,'' Aggarwal said.
Trees are a common source of rooftop sunblock, but many homeowners are understandably reticent to remove them just to accommodate solar panels. "People who are attracted to solar tend to be environmentally conscious, so the idea of removing a tree, it's a little counterintuitive to them,'' Aggarwal said. Mature trees can help improve property values and even our health, and if they're casting shade on your roof, they're helping to cool your home, too.
Pragmatically speaking, Aggarwal added, installing an average-size, 9-kilowatt solar array offsets about 160 tons of carbon dioxide over 20 years, about the same effect as planting more than 3,700 trees. But even though he knows this math, Aggarwal has a hard time suggesting to people that they cut down magnificent, mature trees. "It's a very personal decision,'' he said.
Another occasion to hold off on rooftop solar is if you've got an older roof that you're not quite ready to replace. "Solar panels can stay up there for decades, for up to 30 years,'' Aggarwal said. Although it's possible to remove the panels, repair or replace the roof, and then reinstall them, it's by no means cheap. So if at all possible, you want your roof to last as long as the panels do.
The type of roof matters, too. "Most installers stay away from architectural or slate roofs, because of how hard it is to manipulate those materials, and the cost of mistakes can be high,'' Aggarwal said. Adding a solar array to a typical asphalt-shingle roof is pretty straightforward for most installers. "They do it hundreds of times a year. . . . With slate roofs, they have to cut those slates to make room for the legs of the racking, and they're not used to it.''
Speaking of slate roofs, installing solar panels may prove more difficult if you live in a designated historic district, where any building changes visible from the street might need to win approval from a local committee. Regardless, you may want to think twice before installing a solar array on the front of any historically significant home. Even David Bridge, president of Cambridge-based installer Great Sky Solar, said he'd be reluctant to recommend installing solar panels on the front of "a gorgeous Queen Anne Victorian with a lot of historic value on a Main Street corner'' in a picturesque New England town — especially since the rollicking roofline of a Queen Anne probably wouldn't make for a very productive setup in the first place, he added.
That brings us to resale value, something you want to consider with any home improvement. The data here are generally positive: Homes with solar panels sold for a 4.1 percent premium over comparable homes on average, according to a recent Zillow analysis that controlled for "observable attributes,'' such as the number of bedrooms and bathrooms, square footage, age of the home, and location. In New York and Los Angeles, that translated to more than a $23,000 bump in the average sales price.
But not all buyers are impressed by solar panels, according to some agents. "In New England, we're still not as educated about solar as the West Coast is,'' said Marie Presti, owner and broker at the Presti Group in Newton. "There are some New Englanders who wouldn't buy a house with solar panels on the front of the house because they think it detracts from the look.'' However, Presti added, once she explains the savings to people, even skeptical buyers usually start to tune in. "They may not like the look, but when they recognize the value they'll save on their utility bills for the next 10 or 20 years, their ears perk up.''
Matt Dolan, a broker with Sagan Harborside Sotheby's International Realty in Marblehead who has panels on his home, said some developers and homeowners got caught up chasing green building certifications and haven't been able to recoup their investments. "People got out too far over their skis with solar and thought anytime you made a green addition to a house that you'd instantly win, and it's just not the case. A lot of people don't actually care that much,'' Dolan said. He pointed to a home that was renovated to LEED Platinum standards a decade ago, complete with solar and geothermal energy. "The reality is it's a $2 million home that we're marketing for $1.4 million, because no one is willing to pay an ultra premium just because it has the green credentials.''
Realtors also cautioned against leasing panels, which can complicate a sale and force you to buy out the lease — often at a high premium, and without the initial tax breaks — before selling. "Solar panels that are leased are a liability for the new buyer, not an asset, but if they're owned outright they're an asset,'' Presti said.
"Leasing doesn't make sense,'' said Darbie Stokes, a broker with William Raveis in Lexington. "We've had instances where people are buying a house but the panels are leased, and the buyers don't want rented ones, so they use it as a negotiating point with the seller,'' she said.
Although solar panels generally don't require much, if any, maintenance, they can still have issues you may not be expecting. Ellen Ariel of Quincy loves her solar panels, which have long since paid for themselves and then some. But a few years ago, she noticed that her system's electric production had plummeted. It turned out squirrels (and possibly a raccoon, which she caught on camera scaling the house) chewed into her microinverters.
"I have 27 panels, and 17 were destroyed by the critters,'' Ariel said, and they caused thousands of dollars in damage and months of lost solar production. Ariel said the installer, Mashpee-based Solar Rising, helped cover some of the costs and even installed a wire-mesh animal barrier free of charge. "The critter guard seems necessary to protect your system,'' she concluded.
Another thing people sometimes overlook is the fact that they may be using more electricity in the future. Although appliances are getting more efficient, we're also loading our homes with more devices than ever. And if you one day purchase an electric car, install a mini-split heat pump, or convert oil- or natural gas-fired heat or hot water systems to run on solar-generated electricity, you're going to want some extra solar capacity. "It's a common question: 'Can we add on later?' '' Bridge said. "The answer is yes, but it'll be more expensive than you think.'' Panels also lose some of their efficiency over the course of 20 years, so Bridge recommends installing enough capacity at the outset to meet a bit more than your current usage, if you have the space.
And what if you don't have the space, or even your own house, for that matter? There's some good news for those who want to reap the environmental and economic benefits of solar power but don't have the roof for it. Community solar, which allows customers to buy renewable energy from a nearby solar farm (usually at a discount, thanks to passed-along tax benefits), is finally picking up momentum after years of fits and starts. "Conceptually, the product is really good. In reality, historically, there've been a number of challenges,'' Aggarwal said, including complicated contracts with claustrophobic 20-year-commitment terms and hefty termination fees. Those were a big deterrent, Aggarwal said, but newer community solar agreements are more flexible. "You may still see a 20-year term, but you can leave with a month's notice without paying a fee.''
But even if your roof isn't perfect for solar power, it can still be a smart move in Massachusetts. In some parts of the country, Bridge said, you can expect a 12- to 14-year payback period, even under ideal circumstances with abundant sunshine. In Massachusetts? "Our electric rates are higher and there are significant incentives with net metering,'' Bridge said. "[So] a very good solar array might pay for itself in four years and two months, and a terrible array might take eight years to pay for itself.'' Either way, though, if you want to capture the most sun-fueled savings, install your system before the end of 2019, when the 30 percentfederal tax credit starts winding down (to 26 percent in 2020, then 22 percent in 2021).
Jon Gorey blogs about homes at HouseandHammer.com. Send comments to [email protected]. Follow him on Twitter at @jongorey. Subscribe to our free real estate newsletter at pages.email.bostonglobe.com/AddressSignUp.