Home Improvement
How to strip paint from wood safely
There is an "undo" button for painted wood, but it's pretty tedious.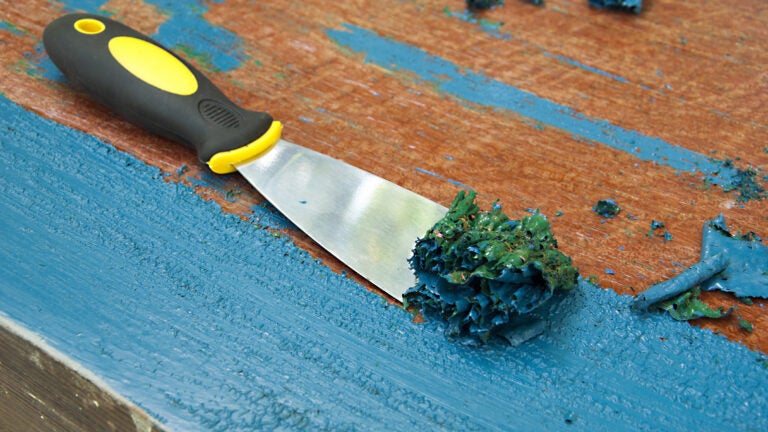 Old houses are plentiful around Boston, but their original woodwork is a bit harder to find— because at some point, homeowners inevitably grow tempted to paint molding and baseboards, perhaps to brighten up a room. The same often goes for furniture, doors, and even floors: Whether it's to hide a nick or add a pop of color, plenty of lumber sits drowning beneath an eggshell finish.
But what if you want to expose those rich copper- or golden-hued grains once more? There is an "undo" button for painted wood, but it's pretty tedious.
Restoration expert Mark Philben, manager of project development at Charlie Allen Renovations in Cambridge, said stripping paint from wood molding, windows, trim, and baseboards can help restore a historic home to its original glory; it even helped one client win a preservation award. But there's no getting around the fact that it's time-consuming work. "It's just an incredibly labor intensive project," Philben said, and an expensive one if you hire a professional. "Nobody does it for a return on investment; it's done more for personal reasons."
There's more than one effective way to remove paint from wood, but Philben said homeowners should avoid using a heat gun. "It kicks up fumes. It's also dangerous," he said. "I wouldn't advise it. People start fires with heat guns."
Instead, Philben said, there are two simple and effective products on the market for stripping paint from wood: Peel Away and Smart Strip. "Peel Away is a paper with a paste on it that you put onto the molding and leave it for 24 hours, and over the course of 24 hours it strips away the paint. You pull off the paper, and the paint comes with it," he said. "Sometimes it takes another coat, but usually one shot does it … it does a good job forcing its way into all the details of the molding." Smart Strip, he added, works in a similar way, but doesn't include the wax paper-like backing — you simply wipe or scrape off the paste after 24 hours.
You should wear protective gloves when working with either product, and remove or tape over any hardware before you start. Once you've got the bulk of the paint off, wipe the wood with the proper neutralizing agent, which you can ask for at the paint store. "It's really important to use a neutralizer," Philben said, because some of the paint-removing properties can remain on the wood and will quickly thwart your attempts to coat it with stain.
Let the neutralizer dry, then summon your patience and allow the wood to air out for a while. "The wood's fairly tender after it's been stripped, so let it sit for a couple of days before you start sanding it or scraping little pieces of paint that didn't come off," Philben said. "If you go at it too soon, you can really do a number on the wood. It's very soft and it's absorbed a lot of these products, and you want to let everything breath out of it before you start going at it."
Once the wood has aired out, use sandpaper, a scraper, or a wire brush to remove any bits of paint that didn't come off — gently, so as not to gouge the wood. You'll need to sand the newly exposed wood pretty heavily before it can be brought back to life with a fresh coat of stain. "The condition of the wood will be affected by all those layers of paint coming off quickly. It'll be kind of rough," Philben said. "That can take as much time as the paint stripping, sanding all the intricate details of these old moldings."
Depending on the age of the wood, there could be several coatings that the paint stripper has to work its way through, including hard-to-remove milk paint and an original coat of varnish. "You'll hit varnish somewhere in the many layers— it's a thick, hard shell, and that can be the toughest part to get through," Philben said. "On top of that you have lead paint, then in the '70s or '80s they put a latex paint over that. So there's a rich history of American finishes as you go through the years," he quipped.
If you suspect there's a layer or two of lead paint in the mix — and if the home or furniture was painted prior to 1978, it's a pretty good bet —there are extra precautions you need to take.
"Working with lead, you have to protect the floor with plastic, seal off the area you're working on from other parts of the house, use a respirator, gloves, goggles, even a Tyvek suit to protect yourself from the lead coming off," Philben said. Tape down the plastic sheeting at the walls, remove or cover any furniture or drapes, and tape over air ducts so no lead dust escapes the work area or enters the home's HVAC system. When you're done, carefully clean the wood and surrounding area with a HEPA vacuum— "don't sweep it and kick dust in the air," Philben added — then dispose of all materials in a heavy-duty garbage bag and seal it up tight with duct tape.
If you are removing paint from a large area, it may be best to call in a professional.
While none of these steps is particularly difficult, it is a lot of work and hassle, and products like Peel Away cost up to $50 a gallon. So before you go through all that trouble, Philben said, use a sample paint remover kit to test a small, innocuous area to see what species of wood is waiting for you underneath all those layers.
"You don't want to go through all this work to get down to poplar or pine, wood that wasn't worth staining in the first place," Philben said. "Every now and then you come across a house where the wood was always painted from the beginning, and it's not worth the effort to strip it off. You really want to get down to a beautiful oak or mahogany."
If you do uncover buried timber treasure beneath all that paint, have at it — the warm glow of restored wood awaits.
Jon Gorey blogs about homes at HouseandHammer.com. Send comments to [email protected]. Follow him on Twitter at @jongorey. Subscribe to our free real estate newsletter at pages.email.bostonglobe.com/AddressSignUp.