Home Improvement
Free video chat apps can walk you through home repairs
Two Harvard grads accelerated the launch of their home repair app when the COVID-19 pandemic necessitated social distancing.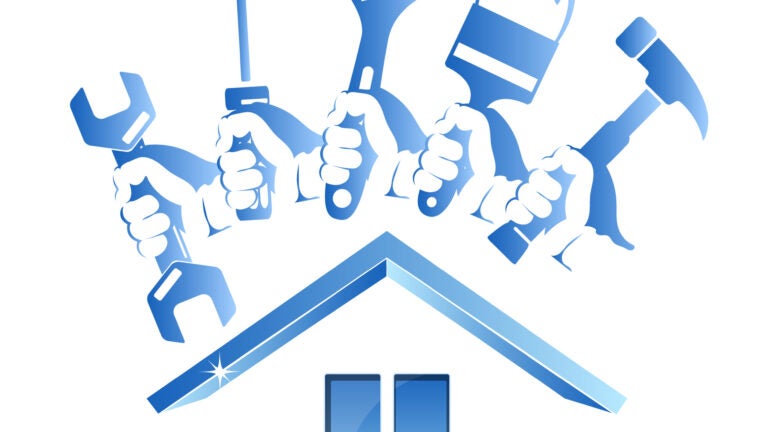 Online and telemedicine are suddenly far more important to everyone who wants to stay out of potential COVID-19 hotspots. Bringing contractors into your home for repairs can feel equally dangerous, but several companies offer virtual services so you can potentially DIY a home repair or improvement.
Dwelling, founded in January 2020 by Harvard Business School students Nick Ornitz and Shannon Kay, was designed to address some of the pain points associated with home maintenance. They accelerated their launch when the pandemic made in-person visits challenging.
Homeowners submit a description of an issue in their home and photos or videos to Dwelling's site. A service provider from Dwelling's network e-mails a diagnosis and recommends for steps to solve the issue, although the company may add follow-up video chats.
"The written recommendation provides a record, often including 'how-to' videos, for users if they would like work on the repair at a later time," said Ornitz.
Dwelling is free at least through June and then will cost $9.99 for unlimited virtual support.
Video chat solution
Homeowners who prefer an instant videoconference with a service professional have several options, all of which are free to consumers:
"The service professional texts the homeowner a link to begin the virtual Streem session, which uses augmented reality, spatial mapping, artificial intelligence, and other tools so contractors can remotely troubleshoot breakdowns and collect details such as the make and model of appliances," said Ryan Fink, president and general manager of Streem.
Hippo Home Care, a proactive service similar to an annual physical checkup for your home. "If you need a home repair or have an issue such as an unfamiliar noise in your pipes, you can go to the website and schedule a 30-minute appointment," said Andrew Wynn, director of Hippo Home Care. "A vetted home professional will guide you through a DIY repair or inspect the issues to determine the appropriate next steps."
HomeAdvisor, a service to connect homeowners and contractors. HomeAdvisor recently added a videochat option to its app so that homeowners and contractors can offer advice and more accurate price quotes.
"Often in these conversations the homeowner can troubleshoot an issue with guidance from a pro before the pro arrives to fix the problem," said Brandon Ridenour, chief executive of ANGI Homeservices, the parent company of HomeAdvisor.
DIY or call a pro
Some issues that can be fixed with virtual guidance include leaky faucets and malfunctioning appliances, said Kay.
"In one case, a homeowner's hot water was not working, so he shared a few photos with Dwelling," said Kay. "A service professional recommended resetting the system, as sometimes the controller can miscommunicate. That fixed it within minutes."
Leaks, clogged drains, and emergency repairs are typical of problems that can be discussed and possibly resolved by phone.
"If there's a leak, a homeowner can show what it looks like from the interior over video, so a pro can determine what work will need to be done inside or if a roofer needs to handle it from the outside," said Ridenour.
Simple solutions such as resetting a garbage disposal or clearing an air conditioning drain can get an appliance or system running again, said Fink.
"Collecting model and serial numbers helps contractors more quickly determine if necessary parts are available or if the item needs to be replaced," Fink said.
While some water leaks can be patched with a sealant for a few months, over time a plumber may need to be called in to replace broken or patched pipes, said Wynn.
"Electrical issues that aren't easily solved with a flipped circuit breaker usually means something bigger is happening behind the scenes, so homeowners should bring in a professional instead of trying to fiddle with electrical wiring themselves," said Wynn.
Future of home improvement
Virtual home improvement technology is expected to continue after the pandemic fades, as homeowners become accustomed to streamlined services even when contractors need to make house calls.
"The remote Streem sessions will help contractors ensure that they have the right parts and tools on hand when they arrive onsite, which will ultimately help speed up the resolution process," said Rex Tibbens, chief executive of Frontdoor.
Another benefit of videoconferencing, said Ridenour, is that it saves travel time for contractors since they can evaluate the situation and decide the best course of action before going to the house.
"We believe that homeowners will appreciate the amount of home maintenance issues that can be solved virtually, often quicker and cheaper than in-person visits," said Kay.
Subscribe to the Globe's free real estate newsletter — our weekly digest on buying, selling, and design — at pages.email.bostonglobe.com/AddressSignUp. Follow us on Facebook, Instagram, and Twitter @globehomes.