Home Improvement
High gas prices could hit your summer projects
"It's tough to pass those costs onto the consumer, yet, from a business perspective, if we don't, we're going to be out of business."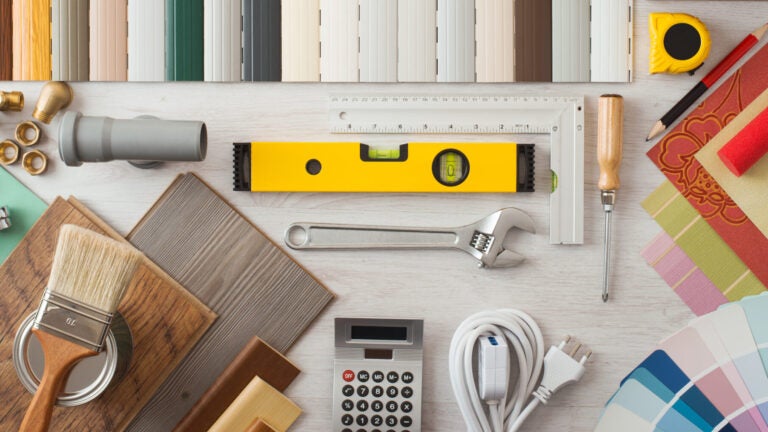 On top of rising materials costs and an ongoing labor shortage, contractors are now feeling the pinch of higher gas prices, too. The price of regular unleaded gasoline averaged $4.25 a gallon across the country on Monday, according to AAA — compared with $2.88 a year ago — and that's a cost burden many contractors are preparing to pass on to their customers.
Ninety-five percent of contractors and service providers surveyed in March by home resource site Angi said they expect higher gas prices to affect their business this year. And nearly three-quarters of them (73.5 percent) plan on raising their prices because of it.
"The big takeaway for consumers is: Your project's probably going to cost more this summer as a result of higher gas prices," said Mischa Fisher, Angi chief economist.
Kamaul Reid, owner of RARE Moving & Storage in Braintree, recently had to increase his company's flat-rate fuel charge. "It's tough to pass those costs onto the consumer," Reid said, "yet, from a business perspective, if we don't, we're going to be out of business."
Reid recently priced out a quote for a repeat customer, one who had moved from Boston to San Diego and is now heading back to the East Coast. "I'm pulling up the original invoice, and fuel six years ago was $1,800 from Massachusetts to California," Reid said. "Now, going back the other way, we're looking at close to $3,000 to cover the expenses."
Joe Hennelly, of Hennelly & Son Roofing and Gutters in Weymouth, said he has yet to raise his rates, despite feeling the sting at the pump — but he wouldn't rule it out either. "We haven't gotten to that point yet, but that's going to be an option if [gas] keeps going up and up," Hennelly said. "Last week I stopped at the gas station, I paid $170, and my truck wasn't even on 'E' yet," he added. "I've got a pretty big tank, but still — $170 to fill up the tank is almost unheard of."
---
Related Looking to remodel? So will everyone else, Harvard study projects
---
Higher gas prices won't hit all contractors uniformly, Fisher said, with some pros more exposed to price hikes because they travel to a half a dozen homes or more each day. He recommends that homeowners looking to perform a renovation or repair plan ahead and get a lot of quotes.
"In a highly volatile environment like this, different people are going to manage the overall cost environment differently," Fisher said. "So make sure you're getting multiple quotes from different pros, because they might have different processes that may or may not pass along prices to you or their overall management of the process might mean that they can save you some cash on the backside."
Contractors will find different ways to make up for the extra expense, Fisher said, whether by building higher fuel costs into their quotes or even charging a gas fee when providing estimates to customers outside a certain geographic area.
Hennelly said he could never bring himself to charge for an estimate, and expects it would leave a bad taste in people's mouths. "If I wanted something done to my house, and someone said it'll cost $75 just to show up, I really wouldn't like that," he said.
The surge in gas prices is coming on top of the already skyrocketing cost of building materials and labor. "In residential construction services, inflation overall is already at about 13 percent, and then the goods that are going into it, the actual individual products, are upward of about 23 percent," Fisher said. And the price of petroleum impacts more than just a contractor's trip to your home. While consumers tend to think of gas as an end product — the stuff they use to heat their homes or fuel their cars — it's also a fundamental piece of the supply chain, Fisher said.
"Gas is the cost of moving an individual product that they're buying from factory to factory as it gets built, and then as it gets shipped to the store," Fisher said. And many construction materials, from vinyl siding to PVC pipe to the adhesives that bond plywood, are made from petroleum. "So the effect really compounds over the whole production cycle."
Still, Fisher expects a sustained surge in remodeling and home improvement activity because American homeowners have accumulated an awful lot of home equity awfully quickly. "If you're a homeowner who put 20 percent down, and then just saw your house price rise by 20 percent, you got a 100 percent return on your down payment in a year," Fisher said. "The sense of wealth that that gives somebody, and the capacity they have to then turn around and reinvest that gain into improving their living space, is huge."
Jon Gorey blogs about homes at HouseandHammer.com. Send comments to [email protected]. Follow him on Twitter at @jongorey. Subscribe to our free real estate newsletter at pages.email.bostonglobe.com/AddressSignUp.