Home Improvement
8 steps to painting a room like a pro
'Paint has superpowers: It can make a plain room look more expensive or even brighten up features you hate.'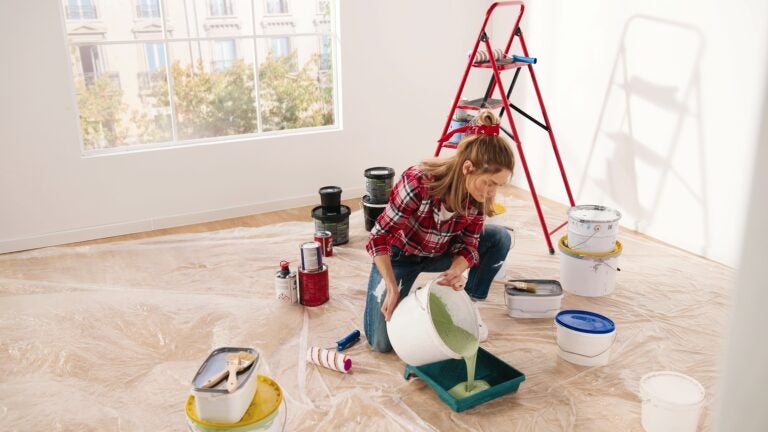 It's a decorating truth nearly universally acknowledged: Putting new paint on your walls is the best way to change the look of a space quickly and cheaply. "Paint has superpowers: It can make a plain room look more expensive or even brighten up features you hate, like dingy floors," said Julia Marcum, a product designer and DIY home blogger.
And in most cases (barring, perhaps, treacherous staircases or areas with exceptionally high ceilings), painting a room in your home is almost always a project you can tackle yourself. Before you get rolling, you'll want to brush up on the best practices for prepping your space, choosing the right tools, and pulling off an expert-level application. Here's our step-by-step guide — created with the help of painting pros — to ensure things go smoothly.
—
1. Choose a paint color
It's easy to get overwhelmed by the rainbow of paint colors available at paint or hardware stores. "There are literally 2 million choices," Marcum said. To zero in on the right one for your space, you'll need to view it in your room's lighting (natural and artificial) at different times of the day.
Obtain a few swatches and tape them to the wall of your room. Better yet, buy sample-size paint pots and apply the shades to a white poster board that you hang up, or order peel-and-stick swatches. (Unless your wall is a basic white, painting the samples directly onto it might distort the shades.)
Traditionally, a room's trim and ceilings have been painted white. But that's no longer a hard-and-fast rule. "I like a monochrome look, with the same color on the trim and walls in different paint finishes," said Tom Preston, a D.C. interior designer. "It's more cohesive and can make the ceilings look higher." Preston and other pros also say it's perfectly acceptable to use the wall color — or even an entirely different hue — on the ceiling. Basically, you can have fun!
—
2. Choose a finish
Once you've decided on a color, you'll also have to choose a finish, which affects how glossy and durable the paint will be once it's dry. Most paints come in increasingly reflective options, ranging from flat (no shine) to high gloss. The shinier the paint, the smoother your walls will need to be, since glossier finishes accentuate imperfections.
Eggshell — one step up from flat — is a popular choice for walls in non-damp locations such as living rooms and bedrooms, because it's glossy enough to be scrubbable yet flat enough that it doesn't show too many flaws. If you're painting trim in those areas, go with a satin or semi-gloss for durability and contrast.
In bathrooms and kitchens, you'll probably want to use at least a satin finish on the walls, so you can easily clean them and the paint holds up better against moisture. You can stick to satin or use something glossier on the trim.
For ceilings, which aren't as susceptible to grubby fingerprints and other wear and tear, you can use flat paint, which is typically the toughest to scrub clean. It's also a good bet for ceilings because it won't reflect too much light and detract from the rest of the room.
—
3. Determine how much paint and primer you need
Use a paint calculator (Lowe's has a good one) to figure out how many gallons you'll need for the room you're painting, keeping in mind that you'll generally want enough for two coats.
Depending on what shade is already on the walls, you may also need a primer. "We generally have our paint suppliers tint the primer gray if we're doing a dramatic color change," said Chuck Khiel of Fred Home Improvement in Bethesda, Md. "It really helps block the previous color."
Primer is a base coat that helps your topcoat adhere and blocks stains, imperfections and mold. It's not always necessary, especially if you're painting from a light color to a dark one, or you choose a paint with a built-in primer. But it does help ensure a smooth application.
If you're changing a room from dark to light — for instance, from royal blue to baby pink — you will definitely need a separate coat of primer. And if your walls are plaster, modern latex paint may not adhere to them, so you'll probably want to start with an oil-based primer such as Kilz.
—
4. Protect yourself
When you're prepping your walls for new paint — a process that includes sanding — wearing safety goggles and a face mask or respirator can protect you from potentially harmful particles. You should be especially careful if your house was built before 1978 and might have residual lead paint.
Although many newer paint formulas are low in VOCs (voluble organic compounds), it's better for your lungs and eyes to wear protective face and eye gear while painting. Open a window if possible, and keep it cracked until the paint is thoroughly dry, which usually takes a day.
—
5. Prep your walls
Just as you would wash your face before applying makeup, you must patch, clean, and prepare your walls before putting paint on them. "You need to sand and wash down your walls to get rid of grease, oil and dust," said Patrick O'Donnell, Farrow & Ball's international brand ambassador and a color consultant. "It's eye-wateringly dull."
First, clean your walls (and your ceiling if you're painting it, too) using a solution of dish detergent and warm water. Then, with a cellulose sponge, wipe off the solution using a gentle circular motion. When the walls are dry, patch any holes or cracks by applying joint compound with a putty knife.
Then sand the surfaces with 220-grit sandpaper, by hand or with a sanding pole. (Electric hand sanders are usually too harsh for this purpose.) If your trim or molding needs smoothing, try a sanding sponge that can get into tight spaces.
Finally, remove light switch and outlet covers, roll up rugs, and move any furniture to the center of the room. Cover "anything you don't want sprinkled or spattered with a dropcloth or plastic sheeting," said Shannon Duvall, co-owner of house painting company HD Paint and Stain in Belleville, Ill.
—
6. Tape
Use blue painters' tape for crisp, professional-looking lines and to keep paint from bleeding into places it shouldn't.
Duvall prefers a tape with "edge lock" that helps prevent leakage. Tape off the section directly abutting the section you're painting. For example, tape along the trim and ceiling before painting the walls, and tape along the edges of the walls before painting the trim or ceiling.
Apply the tape in 6-inch increments, which makes it easier to keep in a straight line. Press down firmly as you go, then seal it by running a putty knife or damp cloth along the length. Most manufacturers recommend letting the tape "set" for 30 to 90 minutes before painting, to allow it to fully adhere.
Some experts say the correct paint brush and painting technique make this whole process unnecessary: "I think a really good, two-inch, short-handled paint brush eliminates the need to tape off," Marcum said. But if you're a painting novice, taping is the surest way to keep your job neat.
—
7. Get painting — with the correct tools
Most painters recommend a combination of rolling and brushing on the paint. Start with the ceiling, then move onto the walls, and finish with the trim.
You'll need a paint key (free at most paint stores) or a putty knife to open your can of paint. Stir it with a chopstick or stirring stick (another paint store freebie) to blend all the pigments.
Start by "cutting in" — the process of carefully applying a straight line of paint with a 2- to 4-inch angled brush — along the edge of the wall where it touches the molding, trim, or floor. You'll also need to cut in around light switches, door and window frames, and other narrow spots. Dip the brush about halfway into the paint (Duvall recommends putting a small amount of paint into a Handy Paint Pail), and tap off any excess before applying it gently but firmly to the wall.
Then cover the bulk of the walls and ceiling using a roller. Most experts recommend a 9-inch roller with a half- to 1-inch nap. Pour paint into a roller tray (a plastic disposable one or a more eco-friendly reusable one), then cover the roller with paint via short, rapid dips.
Roll on the paint while the edges you've brushed on are still wet. Experts recommend rolling in a tight "W" pattern to ensure full coverage, going vertically first, then horizontally to ensure complete coverage. Let the paint dry between coats — generally two to four hours, but check the recommendations on your can.
For trim, use a 2-inch angled brush and "long, single strokes," Duvall said. "The fewer brush marks, the better, since shinier trim paint will show more imperfections."
—
8. Remove tape and clean up
Once you've applied the last coat, allow it to partially dry (generally two to four hours), then remove the blue painters' tape by pulling gently and slowly at a 45-degree angle. If you wait to peel it off until the paint has totally dried, you'll probably take some of the paint along with it.
If you've used latex paint, clean the brushes and rollers using soap and warm water to ensure they will be in good condition for your next project. Brush combs and a rag to wipe off the initial globs of paint also can help. If you've used oil-based paints and primer, you'll need to clean brushes and rollers with a solvent; look on your paint can for recommendations.
Address newsletter
Get the latest news on buying, selling, renting, home design, and more.