Home Improvement
Here's how heat pumps can save you money
At least a $10,000 rebate is on the table. Let's walk you through the process.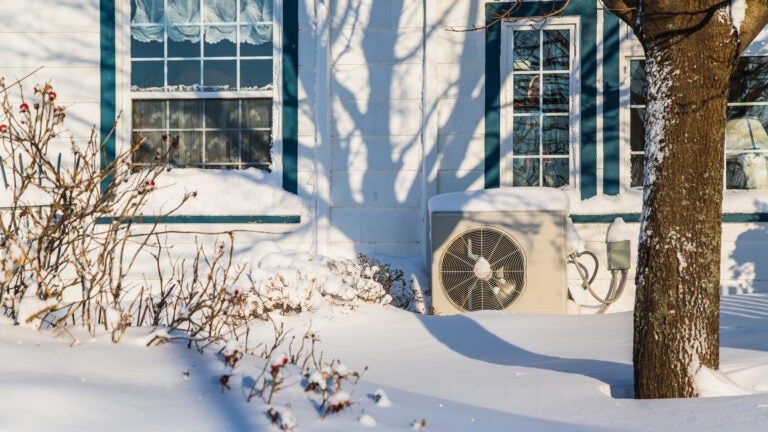 Going green doesn't have to mean sacrificing comfort. Heat pumps are cost- and energy-efficient systems that can save homeowners money — and keep spaces warm or cool.
Heat pumps use the second law of thermodynamics — explained by NASA as the reason heat moves from warm to cool objects — to heat and cool homes.
[Heat pumps] are just like refrigerators," said Stephen Arnason, an associate professor of physics at University of Massachusetts Boston. "The back of your refrigerator gets hot, the inside gets cold. A heat pump used for heating has the inside of the refrigerator outside of your house and the radiator on the back of the refrigerator on the inside. A heat pump used for air conditioning flips it with the radiator outside the house and the cold plate inside."
Inside the pump, cold liquid attracts heat. The liquid is warmed and turns to steam, which can be imported for a heating effect or exported for a cooling one. In cooler months, the pumps draw heat from outside into homes; in warmer months, they do the opposite, as explained on EnergyStar.gov.
These systems source heat from the ground or air. Heat pumps can be three to four times more efficient than fossil fuel-dependent furnaces, according to a Conversation.com article by University of Dayton sustainability professor Robert Brecha.
According to Architect Magazine, homeowners in colder climates may want to seek ground-source pumps, because ground temperatures are usually between 50 and 60 degrees Fahrenheit. However, ground pumps are much more involved and expensive because they require professional digging.
Both ground- and air-source heat pumps lower homeowners' heating and cooling costs by using energy from their own backyard — literally. These systems can be even more efficient in large spaces like commercial buildings, hospitals, and hotels, according to the Fraunhofer Institute for Solar Energy Systems. And, unlike other fossil-fuel-reliant heating and cooling systems, heat pumps run on cleaner energy, benefiting the environment.
"When heat pumps are installed in a properly weatherized home, [they] can dramatically improve comfort, help save money on operating costs, and may allow customers to buy smaller, less expensive equipment," said Bill Stack, manager of residential energy efficiency at Eversource.
He added that, since a heat pump is an electrical system, customers may see higher electric bills. However, those increases will likely be offset by the money they save on propane or oil previously used for heat.
What's the catch? Honestly, there isn't one — at least, not one that's unique to heat pumps. Like other underground pipe systems, heat pumps can't always withstand extremely cold temperatures. The systems themselves can extract heat from air as cold as minus-15 degrees Fahrenheit, according to Stack.
Incentives
There are several incentives for Massachusetts homeowners to install heat pumps. The Inflation Reduction Act of 2022, for example, pledged to cover up to $8,000 of the cost of a heat pump for low-income households. The same act offers moderate-income households coverage of half the cost. This savings calculator from Rewiring America helps homeowners predict what they'll save by electrifying their homes.
Homeowners can also receive federal tax credits for installing electric heating and cooling alternatives, according to a CNBC article. The 30% credits can accumulate to $2,000 annually and will expire after 2032.
Mass Save offers homeowners a free home-energy assessment and as much as a $10,000 rebate for installing heat pumps, as well as free or discounted insulation, which makes all heat and cooling systems more effective.
How to get started
The six-step process is far from grueling.
➡Step 1: Weatherization
If you're going to upgrade your home's heating and cooling system, it's important that the heat you're paying for stays in (or out, depending on the season). Sponsors of Mass Save, a quasi-public agency, cover 75-100% of approved insulation improvements.
➡Step 2: Contractors
Consult this list of approved contractors Mass Save has compiled. Getting quotes from several contractors can help you find the best deal. Just make sure to obtain a signed proposal from whomever you choose.
➡Step 3: The Intake Form
Send your signed proposal and a copy of the Intake Form to your HEAT Loan Program Administrator, who will give you an authorization form if your documents are approved.
➡Step 4: The MassSave HEAT Loan
These loans can be applied to up to $25,000 worth of energy-efficient home upgrades. After obtaining an authorization form, submit it to your lender of choice. Consult this list of lenders Mass Save compiled. To complete the project, you should receive a two-party check made payable to you and your contractors.
➡Step 5: The rebate
Go to MassSave.com/rebates and apply for the appropriate rebate.
➡Step 6: The verification inspection
To ensure your heat pump has been properly installed and to receive your rebate, Mass Save must complete an inspection. Call 866-527-SAVE to set one up.
Address newsletter
Get the latest news on buying, selling, renting, home design, and more.