Home Improvement
How — and why — to heat-proof your home before summer
Keeping cool doesn't have to mean going broke.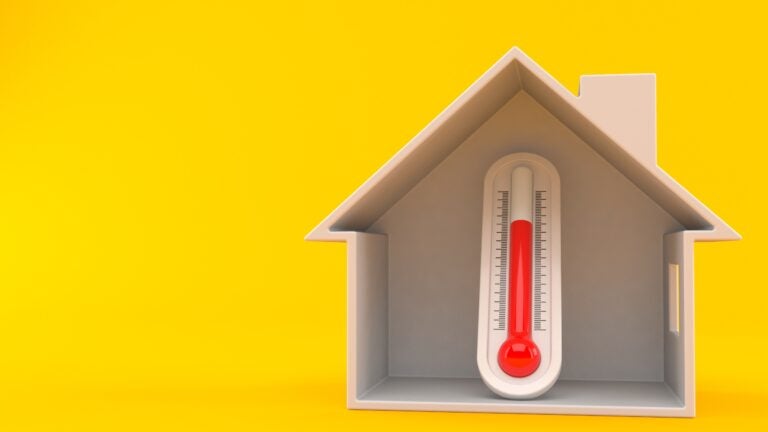 Some people love a mild January, but no one's keen on a sweaty summer or a roasting-hot apartment. Luckily, there are ways to make your home heat-proof before it's too late.
Earlier this year, the Climate System Research Center at the University of Massachusetts Amherst reported a more-than-steady increase in temperatures over the past century, with 2022 being Boston's fourth-hottest year since the center started reporting in the 1890s. The same report also said warming will continue.
Michael Rawlins, associated director, said warmer climates pose risks, especially for those without central air. Rawlins said emergency room trips double once temperatures exceed 90 degrees Fahrenheit, adding that hotter temperatures aren't the only effects of climate change New Englanders will experience.
"We can expect to see more extreme precipitation and hydrological events such as river flooding, because the warmer atmosphere is holding more moisture," he said. "The Northeast U.S. has seen a bigger increase in the heaviest precipitation events than any other part of the U.S."
To address the coming heat and extreme weather, Rawlins prescribed mitigation and adaptation — fixing what we can and adjusting to what we can't.
Whether homeowners are currently remodeling or simply weighing their options, Mark Philben, the Globe's Ask the Remodeler writer, said they should consider making heat-proof improvements before summer.
"They should be thinking about these things," Philben said. "A lot of this is just planning."
Robin Seidel is a resilience architect at Weston & Sampson and chair of the American Institute of Architects Resilience and Adaptation Advisory Group, where she designs buildings to withstand future threats like heavy rain and heatwaves.
One focus of Seidel's work is energy efficiency, which makes architecture more resilient by reducing its environmental impact. She said one of the best ways to improve energy efficiency is proper insulation — something many New England homes built decades or centuries ago lack.
Philben said insulation is a passive way to make active heating and cooling more effective.
"It helps in both seasons," he said. "If you insulate everything, you'd be shocked at how much heat that keeps out."
Depending on the season, a well-insulated house will retain or exclude heat better than a poorly-insulated one. Philben recommended closed-cell icynene insulation — a moisture-resistant spray-foam used to line walls from the inside. For a less expensive alternative, both Seidel and Philben suggested caulking and sealing, specifically in problem areas like doors, windows, and baseboards.
"If you run your hand around the edge of where your floor meets the wall in old houses, you can feel air coming through in the winter," Seidel said. "In the summer, it's the same … if your house is drafty in the winter, it'll also be hot and sticky in the summer."
To get a more foolproof sense of where heat is coming in or out, Philben suggested getting an energy audit from MassSave or a private contractor.
Even when a space is properly sealed, incoming light poses a challenge. Reflecting sunlight away from your home is one of the most effective ways to keep it cool, and this can be done in several ways — and price ranges. If you're planning to replace your roof, Philben suggested choosing white rubber instead of brown or black.
Inside, light-blocking curtains or shades and light-colored interiors can stop your home from soaking up sun and heat. Philben also suggested Low-E window coating, which filters hot UV and infrared rays without reducing the amount of light that passes through.
Used on most new windows, this coating keeps heat out in the summer and in during the winter. If you're not in the market for a window replacement, Philben suggested having professionals place low-E film over your existing windows.
Even when you've kept heat at bay, humidity can warm your home right back up. If you have central air Philben said, it's probably doing the dehumidifying for you — but a dehumidifier or mini-split air conditioning system will make a big difference if you don't.
"People really need AC when a heat wave comes with a lot of humidity," Philben said. "When you draw the humidity out of a house, that makes your AC much more efficient."
If new units don't fit your budget, opt for fans instead. Both Seidel and Philben noted the pros of ceiling fans, which circulate air effectively, particularly in combination with proper insulation.
Another inexpensive way to keep a space cool is replacing old light bulbs with LEDs. Old light bulbs which are often low-voltage halogen bulbs "throw a ton of heat," Philben said, but can be easily swapped for LEDs that don't heat up at all.
If you're looking for an outdoor project once things warm up, both Philben and Seidel suggested tree-planting. While trees are certainly long-term solutions, they provide shade and cycle carbon, making them extra eco-friendly.
Address newsletter
Get the latest news on buying, selling, renting, home design, and more.