Home Improvement
You CAN run and hide: Turns out, bunkers and safe rooms may help sell a home these days
'We've seen a good increase in demand as tensions heat up because we're sending military equipment to Ukraine.'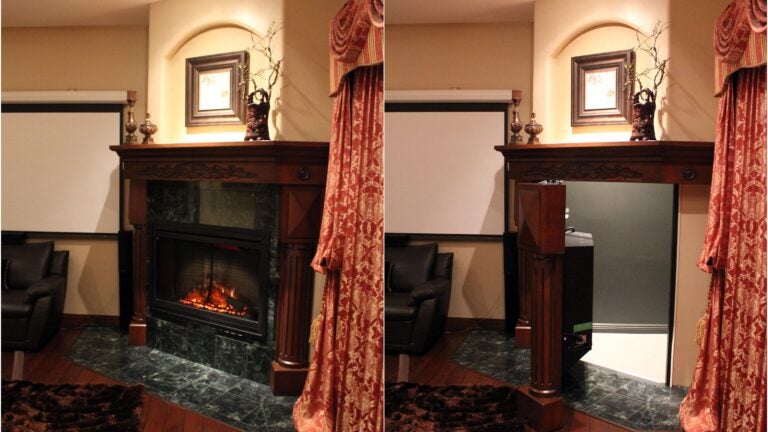 When Greg Maiser took a listing for a home in Pepperell last August, he marketed all the desirable features of the 2,400-square-foot Cape-style home: the four bedrooms, three baths, two-car garage, and wooded 1.88-acre lot.
He also touted the bunker.
The home, listed for $850,000, came with its own disaster-proof, 7,200-square-foot underground bunker, complete with reinforced concrete walls and climate control.
"It was built during the Cold War, in the late 1950s by the Army Corps of engineers for a conglomerate of banks that wanted to store their records off site," said Maiser, a real estate agent with the Sold Squad at RE/Max Professional Associates in Holden. "Everyone was afraid of what would happen if the Russians nuked Boston and all the financial records got lost."
Although Maiser said there were some "prepper types" interested in the property, as well as a celebrity who considered using the vault as storage space for his antique car collection, the property sold in three months to a local business owner planning to use the space as a workshop.
Features like underground bunkers and safe rooms help a house stand out from the competition. "I was getting inquiries from worldwide about the property because there were people willing to relocate to Massachusetts to find something that met a need for them," Maiser said. "The people looking for a big workshop or a hiding hole in the case of nuclear winter can't find that on every street corner."
Gary Lynch, general manager of Rising S Co. in Murchison, Texas, said demand for the custom underground bunkers, storm shelters, and safe rooms he builds has been steady. "In the past few weeks, we've seen a good increase in demand as tensions heat up because we're sending military equipment to Ukraine," Lynch said.
He said his typical customers are business owners who want to protect their families. Some are worried about nuclear war, others about social unrest or a natural disaster, he said.
Bunker prices vary, based on the location, size, and design, but Lynch said that on rural land, he could build a shelter for six to eight people for less than $200,000. That structure would have beds, a bathroom with a shower, a cooking area, and lighting, as well as an emergency escape route. He completed a bunker last summer in Springfield that was entered through a pool house. The 500-square-foot bunker could sleep four and included space for weapon and food storage. The cost: $212,000.
Brian Camden, founder and president of Hardened Structures LLC in Virginia Beach, Va., specializes in the planning, design, and covert construction of fortified homes, underground shelters, and bunkers. His team consists of architects, engineers, project managers, and ex-US Navy SEALS.
About half of Camden's customers — all of whom are millionaires, he said — are Americans who want a fortified home or underground shelter. "None of them are preppers," Camden said. "These are all people who look at it as asset protection. These are generational homes designed to be passed down."
One of Camden's local projects was a 2,500-square-foot fortified home in Maine with an underground shelter, on land that had been in his client's family for generations. It was about two hours from a major city, and the owner built the house because he was concerned about a terrorist attack.
Some home buyers, however, aren't concerned about nuclear wars, home invasions, or civil unrest and just want a cool feature in their homes — something their neighbors don't have. Kerrin Rowley, a real estate agent with Coldwell Banker Realty in Hingham, sold a house in October 2021 that had a bunker. The home was built in 1860, and the bunker was originally an old barn with a fieldstone foundation that was sunk several feet into the ground. After the barn collapsed, a former owner put a roof on top of the foundation and grew bonsai trees in the space. Rowley's client used it as a party room, complete with a bar, pool table, and seating area. The home sold for $2.5 million.
"It definitely intrigued potential buyers," she said. "They loved that there was a bunker and party space."
Steve Humble, president of Creative Home Engineering and the Hidden Door Store, both of Gilbert, Ariz., makes a living creating unique doors that lead to hidden rooms. He builds custom doors both for fun, typically leading to playrooms, movie theaters, smoking rooms, or wine cellars, as well as ones for security that lead to vaults and panic rooms.
The pandemic was "incredible for business," Humble said, driving customers who were renovating their homes and those concerned about civil unrest. He sells highly customized doors for affluent customers, as well as secret doors costing less than $1,000, which are camouflaged but not resistant to forced entry. The more secure doors can cost more than $20,000, especially if they are bulletproof.
Those interested in building a bunker, safe room, or any other type of hidden room should do their due diligence. Make sure the contractor has specific experience with these projects and isn't just a general contractor.
"It's easy to put a bookshelf on a set of hinges, but that doesn't yield the kind of product you see in the movies where you pull a book and the door opens up," Humble said. "A secret door is a highly engineered machine. Make sure you go to a specialist — you'll get a much better product."
Robyn A. Friedman is a freelance journalist who has been covering the real estate and housing markets for two decades. Send comments to [email protected].
Address newsletter
Get the latest news on buying, selling, renting, home design, and more.