Home Improvement
Free website seeks to take guesswork out of electrifying homes
Gridly uses public records data to generate streamlined home-action plans.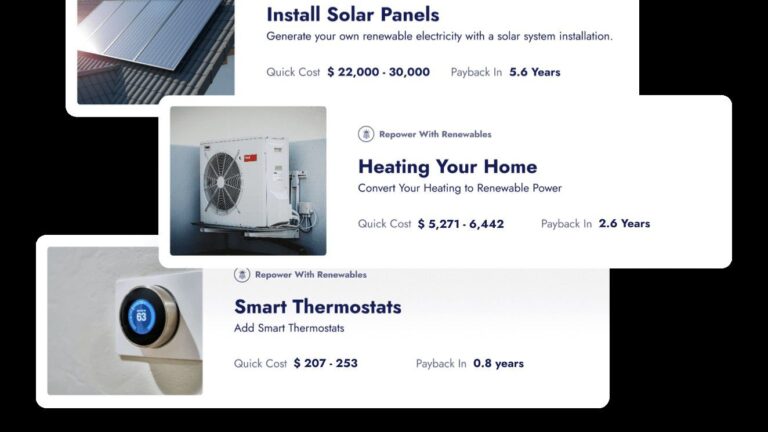 Massachusetts has set ambitious sustainability goals, but implementation is lagging, particularly on electrifying homes.
In December 2020, Massachusetts pledged to achieve carbon neutrality by 2050. To reach this goal, roughly 2.8 million households — about 100,000 annually — need to be electrified by 2050, according to a Mass.gov report.
Last year, roughly 18,000 homes made the shift, and that's up from about 7,100 in 2021 and 461 in 2020, as reported in the Globe.
"We're way behind," said Daniel Barrett, chief operating officer at Gridly, a home energy calculation site. "We're not going to get it done."
Barrett and Robert Rosenfield created Gridly to speed up the home electrification process. The two met when Rosenfield worked in the auto glass industry and Barrett was in insurance, but a shared interest in environmentalism led them to exit these fields. Eighteen months ago, the two began developing Gridly, a "home energy transition integrator" that generates customized whole-home electrification plans.
Rosenfield, chief executive officer, attributed the state's low number of electrified properties to the confusing and sometimes expensive task of home electrification.
"My own personal journey — how much time it took and how confusing it was — motivated me," Rosenfield said. "I thought, It doesn't have to be this complex to meet the goals."
Eighteen months ago, Rosenfield and Barrett began developing Gridly: a "home energy transition integrator" that generates customized whole-home electrification plans. Gridly, which launched March 27, uses geographic and public record information about a home's heating, cooling, septic, and power systems to compile an action plan for homeowners to implement.
Rosenfield said this action plan usually contains five to eight steps. Some components — such as smart thermostats and home electricity monitors — can be installed quickly, while others like heat pumps and solar panels take more time and money.
The plan details the costs, savings, and incentives available to homeowners and connects them with contractors to complete the work. When homeowners use recommended contractors, Gridly profits through referral fees. The website also shows when homeowners will save enough money to make back what they spent on installation.
"A homeowner very quickly can come to understand the broad strokes of what an investment would look like," Rosenfield said.
He projected that the biggest return in 2023 will be for homeowners who shift away from heating oil — nearly a quarter of Massachusetts households, according to the state: 51.2 percent of homeowners use gas, but only 17.8 percent heat with electricity. Rosenfield said Gridly has the potential to increase this number by helping homeowners "put all the pieces" of home electrification together.
Today, Massachusetts is roughly 175,000 homes short of its current electrification goals. But post-pandemic remodeling booms, sustainability incentives, and programs like Gridly could help the Bay State get back on track.
"We exist to make the process easier, to contribute, and help accelerate that conversion process," Barrett said.
Vivi Smilgius can be reached at [email protected].