Home Improvement
In South End, home design turns a corner — or two or three
Architects gain more than 20 percent square feet of living space in a row house that's only 15 feet wide. Reimaging the staircase was key.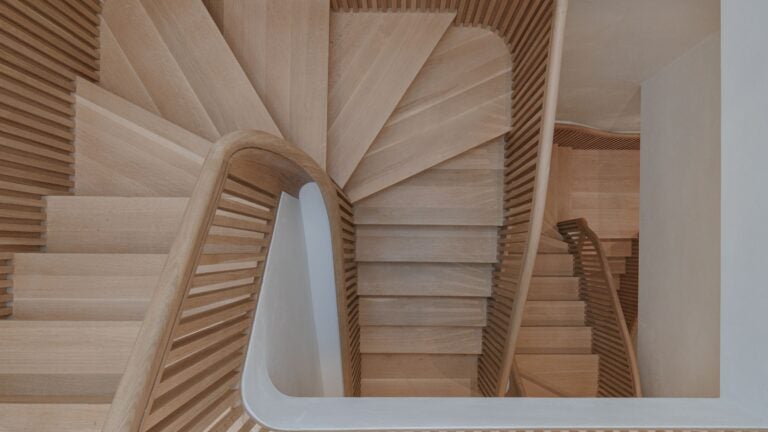 Winder stairs work like hairpin turns: They get you up or down steep grades. That is the organizing principle behind the redesign of this late-19th century South End row house: Like a mountain road, a stairway winds its way over, under, and around the center of the four-story brick house.
"Winder stairs are everywhere in New England," said J. Jih, principal and founding partner of Studio J. Jih on Albany Street in Boston. A winder is a wedge-shaped step whose tread is wider at the outer end, an indispensable design element for spiral staircases. They also are familiar to anyone who has climbed steep central staircases in early New England houses.
The South End house that was in need of redesign is only 15 feet wide, one of a row of former working-class homes.
"On each floor, its interior had been divided into three squares," Jih said. "There was a front room and a back room, all the same size, and the stairs took up the remaining third of the house. The new owner called me, looking for a way to change that strange room configuration."
Jih, who has designed projects as diverse as a memorial for the 1871 Los Angeles Chinese Massacre, a Boston art gallery, a Vermont vacation home, and a South End rooftop, is also a lecturer at MIT. To help reimagine the interior of this row house, Jih contacted Figure, a San Francisco–based design firm led by James Leng and Jennifer Ly, asking them to collaborate.
"We met as classmates at Harvard Graduate School of Design, and are good friends," Jih said. "As we talked, we decided that, without that big central staircase, we could let the rooms grow and shrink as they needed to."
The house, which measures 2,200 square feet, was entirely reorganized when the architects created a custom-built white oak staircase that wanders diagonally through the four stories, increasing the usable square footage by more than 20 percent, according to the news release on the project. Its angled path does away with the uniformly square rooms of the original floor plan. Now spaces like the living, dining, and primary bedroom are larger, while the foyer, powder room, secondary bedrooms, and bathroom are smaller. The house has three bedrooms and 2½ baths.
"The staircase is highly choreographed," Jih said. "We had to address lots of code questions. Within the rules of staircases, we were working with something familiar, but we wanted to make it deliver a meaningful experience, like life cascading down the stairway."
The staircase was fabricated off-site in one-story segments, then set in place on-site. It consists of "winding stairs, tightly arranged balusters, and a sinuous, rounded handrail that draws a continuous line down through four levels," according to the news release.
For the interior design, the architects chose a neutral palette.
"We wanted the building to be evocative of the time of construction, without slavishly recreating a specific period of time," Jih said. "With a skylight at the top, there is light on all levels."
The architects also chose new, larger windows and French doors for the south-facing rear of the house, bringing in yet more light while making the most of views of the bluestone back patio. The front of the house, however, looks unchanged.
Even before it was finished, the tight turns of the winder stairs had the architects dub this "Hairpin House."
"The project could only have been sculpted from the intensely productive collaboration between our two firms," Leng said. "It was so incredibly gratifying to develop a process in which we were able to arrive at something more beautiful because we worked on it together."
Regina Cole can be reached at [email protected]. Subscribe to the Globe's free real estate newsletter at Boston.com/address-newsletter. Follow us on Twitter @GlobeHomes.
Address Newsletter
Our weekly digest on buying, selling, and design, with expert advice and insider neighborhood knowledge.