Home Improvement
Here's how to keep the smoke from the Canadian wildfires out of your home
Use your HVAC system to your advantage. Plus, how to DIY a portable air cleaner.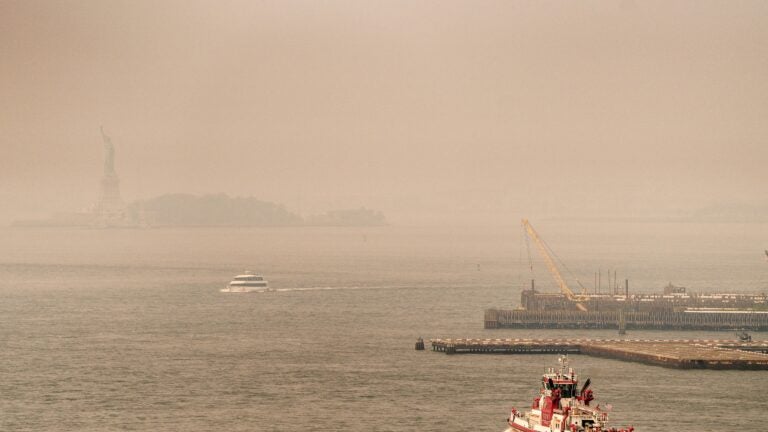 Smoke from Canadian wildfires has worsened air quality again in Northeastern cities from Washington, D.C., to Boston.
Wildfire smoke can trigger coughing, wheezing, and difficulty breathing, according to the Centers for Disease Control and Prevention. In severe cases, the CDC says, it can lead to lung cancer, heart attacks, and stroke.
These threats are caused by PM2.5, a fine particulate matter that irritates the lungs, according to the Associated Press. While these particulates are small — just 1/20th of the width of a human hair, according to the California Air Resources Board — air filters and masks can help protect your lungs.
Wildfires like those in Canada are not anomalies, and preparing for them is essential. Below are tips to keep your indoor air as clean as possible.
Understand how smoke gets in
According to the Environmental Protection Agency, smoke can enter your home through open doors and windows, heating and air conditioning units, bathroom and kitchen fans that ventilate to the outdoors, and even small openings or cracks in walls and window frames. Tightly sealing gaps and window air conditioning units can help prevent smoke from getting inside your home.
Make a portable air cleaner
Consider purchasing a portable air cleaner or high-efficiency HVAC filter. You can also DIY a portable air cleaner by attaching a furnace filter to a box fan. Be sure to replace the filter as it dirties, which could be weekly or every few days in smoke events, according to the EPA.
A DIY portable air cleaner is a simple solution for areas that do not routinely experience significant wildfire smoke. These air-cleaning devices are most effective in small rooms, the EPA says. If you live somewhere where wildfire smoke is more pervasive, the EPA recommends purchasing a commercially available portable air cleaner.
Use your HVAC system
Turning your system to recirculate mode will prevent outdoor air from being cycled through your home, which can be helpful during a smoke event. If you have a window unit, close the outdoor air damper. Avoid using cooling systems that are vented through windows, like evaporated coolers, as circulating outdoor air into your home can usher smoke inside.
Prevent more fine particles
To keep your indoor air as clean as possible, refrain from activities that create more particles inside. This includes burning candles or incense, frying or broiling food, smoking, spraying aerosols, and using gas, wood-burning, and propane stoves or furnaces.
Other tips and resources
The EPA recommends keeping a supply of N95 respirator masks on hand for emergencies, which could include smoke events.
Wirecutter, the product review website The New York Times owns, tested and suggested several air purifiers and HVAC filters last summer. Its top picks were the Coway AP-1512HH and Coway Airmega 200M air filters and Nordic Pure MERV 12 filters.
The Washington Post published a list of the best air quality apps to check wildfire smoke, including the EPA's AirNow, which features a "smoke" tab to monitor wildfires. The Post also recommended AirCare, which offers a child mode, as well as PurpleAir sensors.
Address Newsletter
Our weekly digest on buying, selling, and design, with expert advice and insider neighborhood knowledge.