Home Improvement
Ask the Remodeler: Deck looking rough? Instead of replacing it …
Plus, the merits of hiring a design-build firm. Send your questions to [email protected].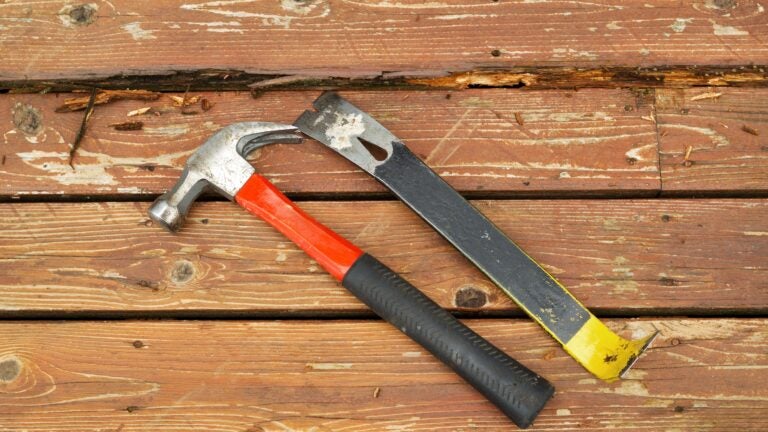 Q. Mark, I have an extensive deck (800-plus square feet) around my home on the South Coast. It is 35 years old, made of pressure-treated planks, and has been re-stained several times. It has begun to splinter, and nail heads are protruding and endangering barefooted friends. My partial remedy is indoor-outdoor carpeting over the most traveled areas. Is there a solution apart from tearing up and replacing the entire deck: a coating, tile, artificial grass?
P.A., Mattapoisett
A. There is a solution, something I had done to my own house years ago. We had a similar problem, and I wasn't ready to replace everything. I sanded and prepped the old decking, backed out the old, popping screws, and installed new deck screws to tighten it up. I then had an indoor/outdoor carpet cut and hemmed to fit the space, leaving just the outer edges of old decking exposed. The carpeting was cool to the touch, comfortable on the feet, and lasted well over a decade. Surprisingly, the deck boards did not fare poorly at all; they held up well not being exposed to the blazing sun. The home's next owner installed a new rug, and it is holding up well.
Q. My husband and I want to renovate our 1950s Cape Cod-style home. Specifically, we want to remove a three-season porch and add a family room, closet/mudroom, and two-car garage. We also want to redo our kitchen and open it and the dining room up. We are also looking for an interior designer to help decorate and furnish it. We do not know where to begin! Do we look for an architect first and then a builder, or do we look for design-build firms? At what point do we get an interior designer?
JANE M.
A. We at Charlie Allen Renovations believe strongly in working with a design-build firm. It is important to have all the important players working together to achieve your vision, but also to keep an eye on costs, logistical problems, etc. Many design-build firms work with professional, registered designers. That way, you are not compromising on innovation/vision and the experience that a professional designer can bring to the table. When we engage with an interior designer, it is typically after the overall floor plan and elevation drawings are set. I am sure some may disagree with that, but we have found that there are just too many cooks in the kitchen to have the designer involved during the earlier stages of the project.
Mark Philben is the project development manager at Charlie Allen Renovations in Cambridge. Send your questions to [email protected]. Questions are subject to editing.
Address newsletter
Get the latest news on buying, selling, renting, home design, and more.