Home Improvement
Architect tames the sun with redesign of South End penthouse
Studio J. Jih finds a way to train the natural light streaming in so the owners' artwork has a chance to shine.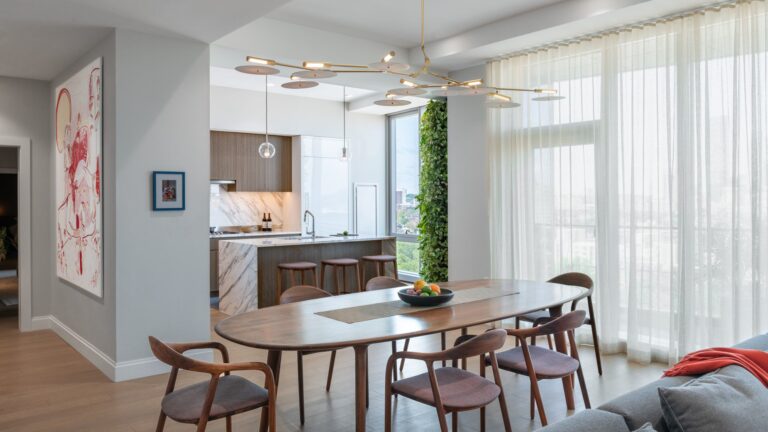 Is it ever possible to have too much natural light?
A couple who bought a penthouse loft in a new South End high-rise building found, to their dismay, that they had too much of a good thing. A friend connected them to architect and designer J. Roc Jih, who utilized simple, time-honored tricks of the trade to transform harsh glare into diffused and softened illumination.
"The unit measures a long and skinny 2,500 square feet, arrayed against an exterior wall of the building," said Jih, principal and founding partner of Studio J. Jih on Albany Street. Jih, who has designed projects as diverse as a shortlisted memorial for the 1871 Los Angeles Chinese Massacre, a Boston art gallery, a Vermont vacation home, and a South End rooftop, is also a lecturer at MIT.
"That exterior wall, which faces northeast, is all floor-to-ceiling windows," Jih said. "The feeling in the apartment was overexposed and cold, with tremendous glare coming in on one side.
"And it had no personality," Jih added. "It could have been anywhere — Miami or Berlin or LA. The homeowners wanted to introduce character and style, but that, too, posed a challenge. They have divergent tastes that reflect their heritage: One is Taiwanese-American and wanted an outwardly oriented, light-filled space, while the other is a born-and-bred New Englander who wanted an inwardly oriented space with warmth and intimacy."
To soften the glare, Studio J. Jih installed sheer linen curtains that fall in folds against the living room and bedroom windows. In the bedrooms, the sheers are augmented by opaque layers. For warmth and character, the interior walls of those rooms are lined with custom slatted walnut paneling; integrated lighting creates glow from above and behind.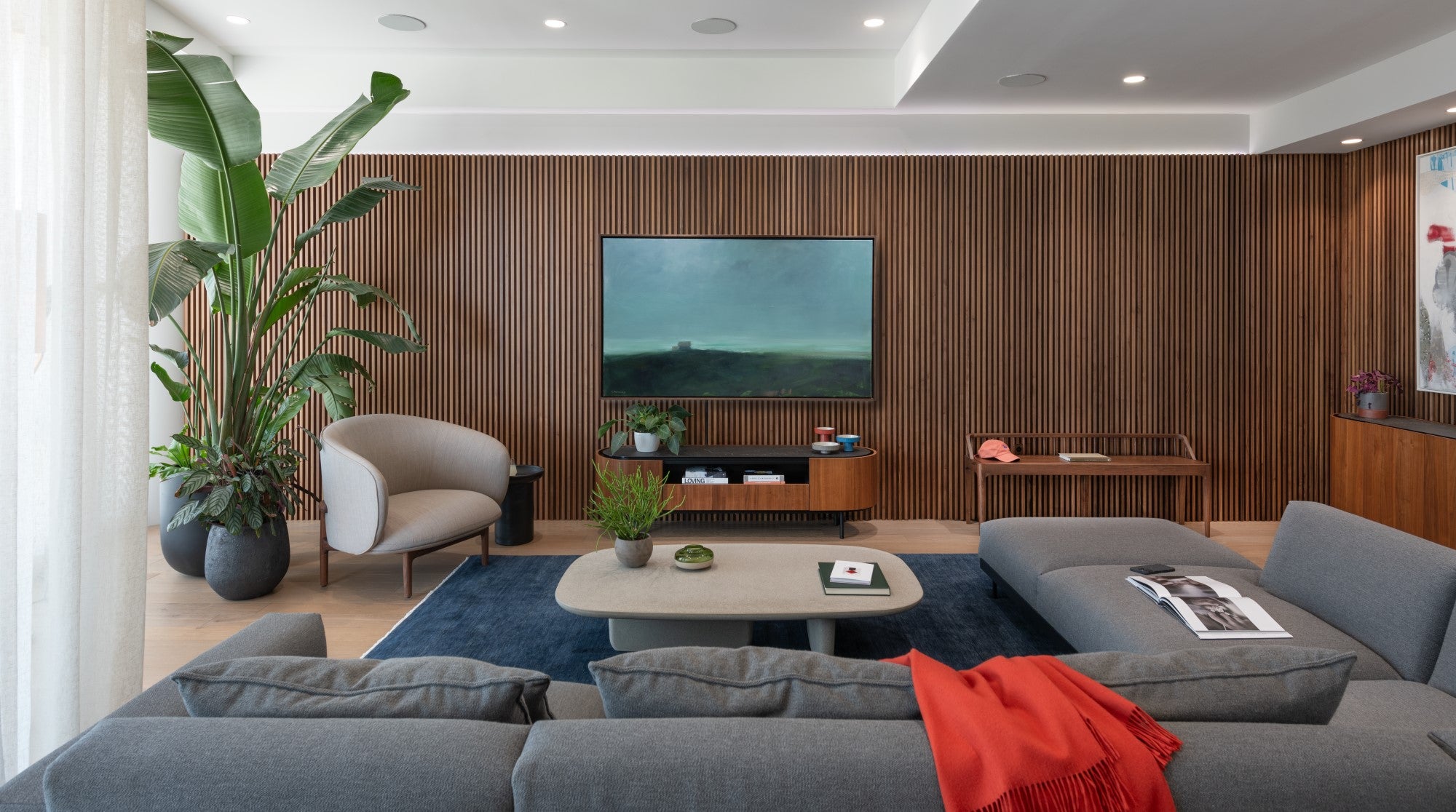 "The walnut slab speaks of Taiwanese heritage, and the linen sheers are classically New England," Jih said. "To create a formal softness, we introduced a lot of subtle curves with the furnishings. And, to suit both homeowners' style preferences, we chose furniture that's reminiscent of Mid-Century Danish Modern design, which borrowed from both Shaker and Chinese Ming Dynasty sensibilities."
Much of the furniture, including the dining table and chairs, is from Artisan, a contemporary European company. Jih is especially fond of the chandelier descending over the dining table. From Lindsey Adelman, its brass and porcelain elements diffuse and soften the light in echo of the linen sheers and the light glowing from behind the walnut slats.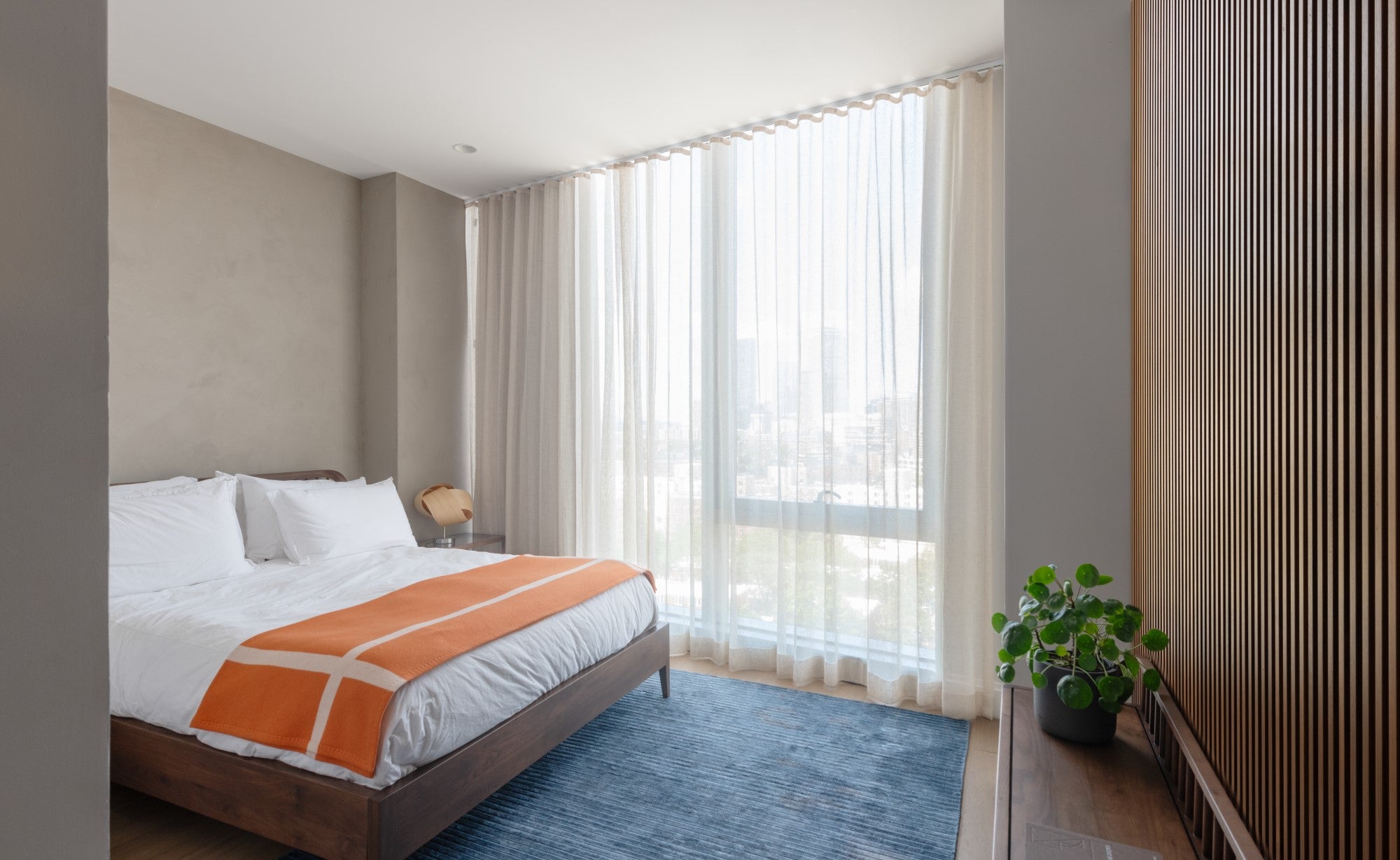 Studio J. Jih introduced plants to soften and bring life into the space and to take advantage of the plentiful natural light. An enormous bird of paradise fills a living room corner, while the kitchen boasts a green column wall comprising herbs and ferns.
At the request of art-loving homeowners, Studio J. Jih selected paintings for the apartment with the assistance of art consultants Paterson Zevi. New England is represented in the living room with a dreamy landscape by Cape Cod artist Ann Packard, while, in the primary bedroom, an enigmatic painting by Tala Madani provides an expressive counterpoint to the slatted wood panels.
The light still pours in from the outside, but now it softly illuminates greenery, favorite furnishings, and art that speak of the people who live here.
Architecture and interior design Studio J. Jih
General contractor Boston Craftsmen (headed by Rick Nicholson)
Millwork Herrick & White
Lighting and automation Bang & Olufsen
Boston art consultation Studio J. Jih with Paterson Zevi
Photography Chuck Choi
Regina Cole can be reached at [email protected].
Address newsletter
Get the latest news on renting, selling, buying, home design, and more.