Home Improvement
Ask the Remodeler: Garage floor paint chipped? How to fix it.
Homeownership in New England presents its own problems. Send your home improvement questions to [email protected].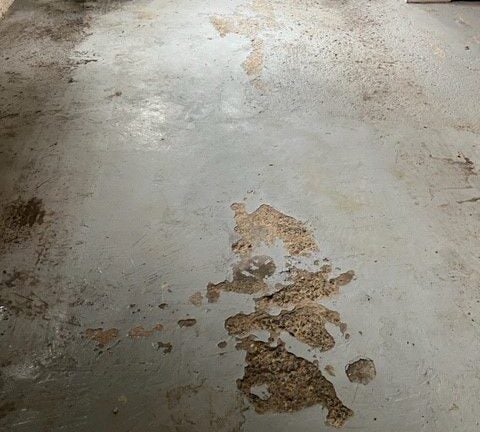 Q. We're planning on selling our house but would like to repair the garage floor. About 10 years ago, I used a two-part epoxy and then painted it with garage floor paint, but I am getting divots. Do you have any recommendations that are cost-effective?
B.C., Concord
A. Clearly engine oils and contaminants have eaten away at the concrete, based upon the location of the damage. Given that you are selling the house, I wouldn't do a full-blown repair. My recommendation would be to dig out the loose material, vacuum up the remaining dust, and then apply a self-leveling concrete floor leveler. This has very fine aggregates and will flush up better with the surrounding floor. A concrete bonding agent lightly brushed into the holes and crevices prior to using the floor leveler would help but may be overkill here. Finally, I would then use a latex concrete and floor paint to cover it. They make two-part epoxy floor paints, but again, if the house is being sold, that may also be overkill.
Q. When it rains or snows, our garage gets wet. There is a slight pitch toward the doors, so we didn't have puddles. Ultimately, the moisture would seep into the concrete floor and dry up. That was until we put in an epoxy floor. It looks beautiful, but any moisture on the floor has nowhere to go except through the doors, making the garage quite humid when the floor is wet (unless we keep the doors open). We're noticing that on the lower half of the wall that separates the garage from the basement, the drywall shows discoloration, which we suspect is mold. Is there a special paint or paint additive that we can apply to the wall to prevent mold from forming?
R.O.
A. Oh, the joys of homeownership in New England, where we solve one problem and it creates another. Luckily, there is a relatively easy solution. First, get a bleach solution to clean off any discoloration, which is most likely a mildew starting to grow. Second, use a mold-killing primer and then apply a couple of coats of a mold/mildew-resistant paint over that. There are a lot of good products on the market. Go to a local paint store, where they most likely have the specialty paints and advice you need.
Mark Philben is the project development manager at Charlie Allen Renovations in Cambridge. Send your questions to [email protected]. Questions are subject to editing.
Address newsletter
Get the latest news on buying, selling, renting, home design, and more.