Home of the Week
Home of the Week: Architect who designed US women's rights park creates contemporary with self-insulating blocks
The home features two "town house-style" bedrooms.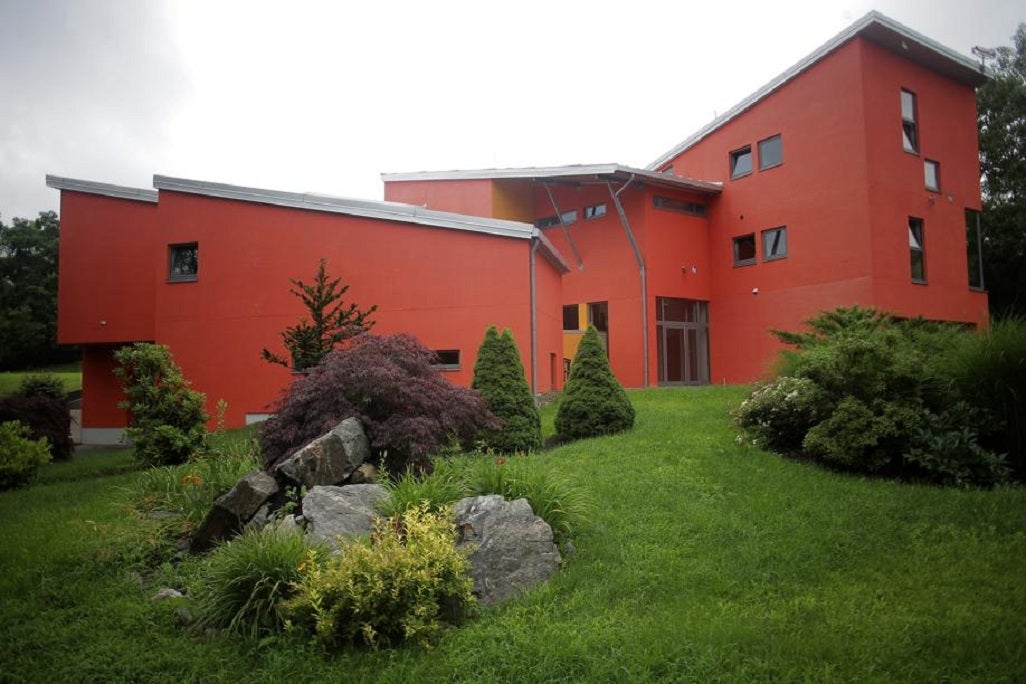 49 Equestrian Drive, North Andover
$1,489,000
Style: Contemporary
Year built: 2006
Square feet: 6,474
Bedrooms: 5
Baths: 3 full, 1 half
Sewer/water: Private/public
Taxes: $11,169 (2017)
Ray Kinoshita Mann, the codesigner of Women's Rights National Historical Park in Seneca Falls, N.Y., is the creator of this collection of interlocking shapes, soaring Y-beams, and shimmering rivers of steel that eel their way through this European-influenced home.
The associate professor of architecture at the University of Massachusetts Amherst wrote in an e-mail that to honor the wishes of her eco-conscious European client, she used autoclaved, aerated-concrete blocks to build the towering walls: "I wanted make sure that the fairly complex program with a lot of pieces nonetheless felt coherent and connected. The client . . . had familiarity with high-performance European building systems and equipment,'' said Kinoshita Mann, who also operates RK Studio. "As such it was, as far as I know, the first aerated-concrete block building in New England (a lightweight, self-insulating masonry block), in addition to being designed to take advantage of passive and active solar technologies.''
She positioned the house as close as possible to a rugged rock outcropping at the rear of the 8.61-acre lot. One of the best vistas is from the rear concrete porch, which is covered by a slanting roof held up by metal beams crowned with supportive Ys — a design that eliminates every visual barrier to the landscaped, undulating lot.
"My design goal was to create a house that would look and feel as dynamic as the rocky outcropping on which it sits (or nestles up to anyway),'' Kinoshita Mann wrote. "Internally, there are a lot of dynamic spaces and vistas, in addition to views to the outside.''
Inside, there is plenty to admire, indeed.
The front entry leads to a set of stairs that rise into the open floor plan, which offers an extensive living room framed by exterior walls of mostly windows. A door connects to an unfinished deck. Although the home has been occupied for 10 years, there are a few things left to complete.
The kitchen is a brilliant mix of red lacquered cabinets, honed black-granite counters, and high-end stainless-steel appliances, including a gas stove, a built-in espresso machine, and a steamer drawer. The cabinets have chrome edges and translucent-glass doors. The kitchen sits like an island between the living and dining rooms. The flooring on this level is concrete with geothermal heat via well water.
Midway up a set of stairs is the home's second level, which features a laundry area, a full bath, and three bedrooms, including two "town house-style'' setups in which the sleeping areas are on this level. Climb a set of stairs, and you arrive at the office and dressing area in each. Here on the third level is another bedroom and a full bath.
Back on the second level, a catwalk over the living room area leads to the master suite, which offers a spacious bedroom and a full bath with an air-bubble tub shaped something like a figure eight, dual sinks, and a shower that isn't fully installed. A bidet and toilet are positioned behind a privacy wall. The flooring on the upper levels is bamboo with geothermal heat. The home also has solar panels and imported powder-coated steel doors and windows.
The home is connected to an outbuilding housing a two-car tandem garage with a steel I-beam for heavy lifting, as well as an office, a conference room, a half bath, and a "toy'' garage in which the owner maintained his Italian motorcycles.
The property's punch list includes the lower level, where a concrete pool was poured but not finished, and the sauna, shower, and steam room, which exist only on paper.
Margus Deery of Coldwell Banker Residential Brokerage in Andover is the listing agent. Her website is www.margusdeery.com.
Follow John R. Ellement on Twitter @JREbosglobe. Send listings to [email protected]. Please note: We do not feature unfurnished homes and will not respond to submissions we won't pursue. Subscribe to our newsletter at pages.email.bostonglobe.com/AddressSignUp.
072317hotw