Home of the Week
Home of the Week: Fenway development has 'sky deck' with city views
The Harlo has 212 units, and rent starts at $2,500 for a studio. Search rental listings at realestate.boston.com.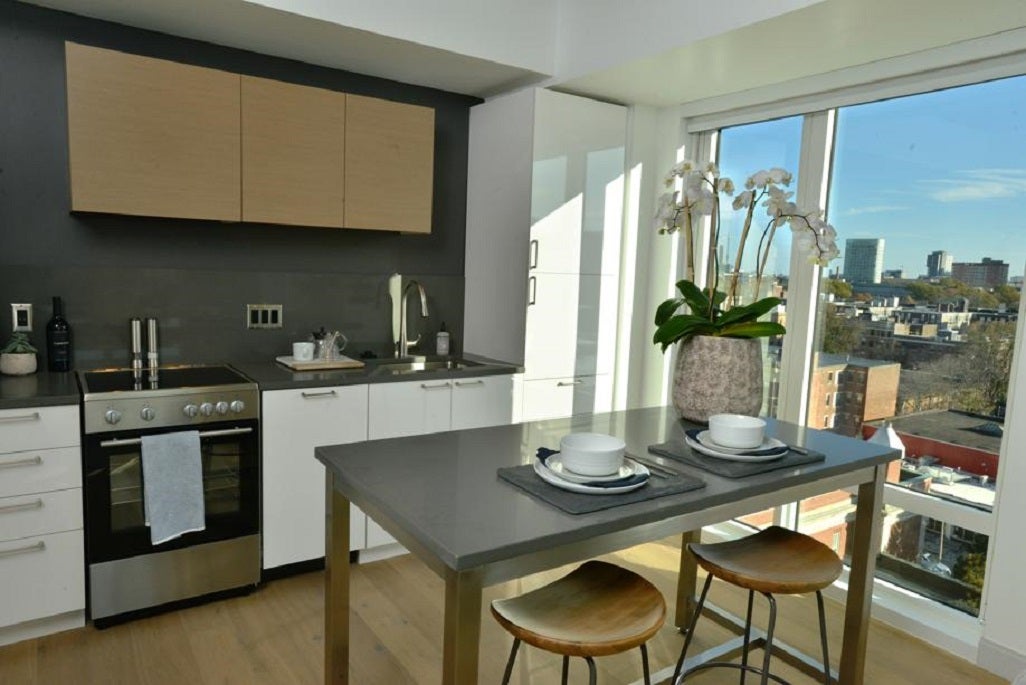 The Harlo, 1350 Boylston St., Fenway
Rent: Studio (starting at $2,500); one bedroom with one bath (from $3,280); two bedrooms with one bath (from $4,680); three bedrooms (from $5,683, number of baths varies). Pricing not set for penthouses and two-story lofts with decks.
Number of units: 212
Utilities: Gas and trash collection are included. Residents pay for electricity, cable, water, and sewer.
Pets: Maximum of two per apartment with breed restrictions. No deposit. Monthly fee of $50 per cat and $100 per dog.
Parking: $350 a month for below-level parking in 103-space garage
Property manager: Bozzuto
The Seaport District in South Boston is often cast as the destination neighborhood, with its high-rise apartments, growing restaurant cadre, and meeting places, but Fenway now has its own cluster of towering (and eye-catching) residential buildings, including The Harlo, a 212-unit development that opened in October.
(As an aside, Fenway has a much better meeting place than South Boston will ever have: Fenway Park.)
Constructed on a parcel that was once home to royalty (Burger King), The Harlo is aimed at those who arrive to study medicine in the Longwood Medical Area, do other postgrad work, or take a seat near the top of a tech startup.
The Harlo looks something like those rectangular popcorn boxes once sold in movie theaters, those red-and-white paper configurations that are a true square at the base but flute outward ever so gently as they rise upward. The building's exterior — constructed with precast concrete, öko skin glass-fiber concrete tiles, and metal panels — is various shades of brown, helping it create its own identity in a neighborhood with a Frederick Law Olmsted-designed park and the Green Monster.
Charley Leatherbee, head of commercial development operations in Boston for developer Skanska, uses the words "boutique'' and "tranquil'' as he talks about the Mark Zeff-designed interior. Each floor has a maximum of 12 homes, and every unit is equipped with blackout shades.
The 740-square-foot one-bedroom model unit is on the eighth floor, and it opens into a short hallway with a closet and then into an open floor plan. The kitchen, to the left, features shiny and sleek white cabinets, a stainless-steel electric oven with a black stovetop, and a gray quartz counter. The refrigerator? It's hidden behind white cabinetry.
The open floor plan also currently features a dining area with a table for four and multiple pieces of living room furniture all awash in natural light. The flooring is hardwood, and the ceiling is exposed concrete.
The bedroom offers a closet with double sliding doors. The full bath has a tub with a shower, a floating vanity with a quartz counter, and porcelain tiles on the walls (ivory) and floor (a deep gray). A stacked washer and dryer (installed in every unit) is snuggled discretely behind a door in the bath. The heat is gas.
The 17-story, 183,000-square-foot tower offers several amenities, including a pet spa; fitness center; a terrace for yoga; a lounge with billiards and open work spaces; private dining, study, and event spaces that can be reserved; 24-hour concierge service; storage units; a bike room; a Hubway bike-share station; restaurants on the first level; and a fifth-floor terrace with two gas grills, canopies, a fire pit, and a sound system that was audible even on the windy late-November day I toured the property.
There is one last stop here — the ultimate one. The "sky deck'' offers views of the seats at Fenway, not the field, as well as the Back Bay and downtown.
For more information, visit www.theharlo.com.
Follow John R. Ellement on Twitter @JREbosglobe. Send listings to [email protected]. Please note: We do not feature unfurnished homes and will not respond to submissions we won't pursue. Subscribe to our newsletter at pages.email.bostonglobe.com/AddressSignUp.
120317hotw