Local News
Altar-ed states: What is it like to live in a 'chondo'?
As more churches are converted into residential housing, do the owners feel they must be on their best behavior?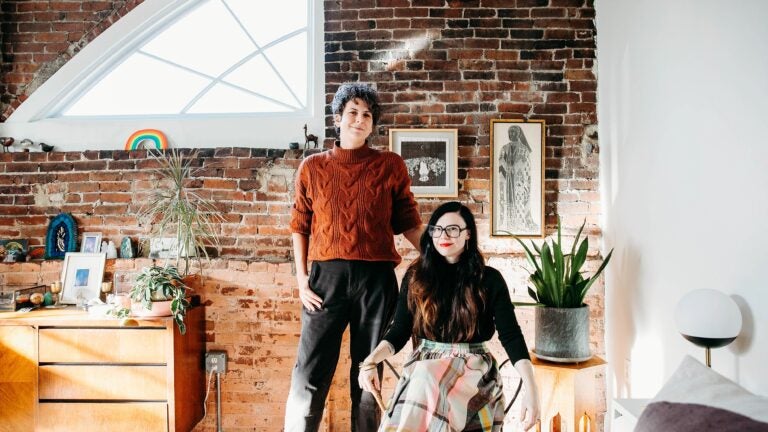 Erica Feldmann and her wife, Melissa Nierman, always wanted their home to be special. So when a 900-square-foot condo with towering columns and oversized windows popped up in their alerts, they went for it.
"I said to Melissa: 'Is this in Architectural Digest? Oh, my God, no, this is in Salem," said Feldmann, who owns Hauswitch Home + Healing, a shop in the "Witch City."
The dramatic architectural features in the couple's home are rooted in its history as Crombie Street Congregational Church. The one-bedroom condo is what's commonly referred to by the portmanteau "chondo": a combination of "church" and "condominium." The former religious spaces maintain the arched ceilings and flying buttresses of churches but function as highly desirable residential real estate. And in a state where the housing shortage is acute, chondos are everywhere, but their religious origins beg the question: Do residents feel as if they need to be on their best behavior at all times?
The conversion of religious spaces into residential ones wasn't always commonplace. But with the nation's overall rate of religious attendance dwindling, the idea of transforming traditional houses of worship into residences has increased.
In 1990, Clarendon Street Baptist Church in the South End was one of the first Boston-area churches transformed into condos; the interior had been gutted by fire in 1982. Boston-based architectural firm Finegold Alexander Architects converted it into rental units and later condominiums. More than three decades later, the firm has transformed a half-dozen-plus churches into condos. One of their newer projects saw the South End's Holy Trinity German Church become The Lucas, an eight-story luxury condominium building that incorporated the original Gothic-style elements with modern glass and steel. But despite the architectural remnants of its religious past, the project's architects say potential buyers aren't looking to embrace a religious experience.
"In most cases, owners want rose windows, but they don't want religious iconography or statues in their unit," said Tony Hsiao, principal of Finegold Alexander Architects. "Yes, it has characteristics of a church, but it is no longer a church."
In Feldmann's case, the oversized windows, high ceilings, and columns have encouraged her to detect a "little bit of leftover church energy for sure." She and her wife have even leaned into the idea: Upstairs in their unit, a triangle window over exposed brick has been transformed into a "love altar," filled with mementos of their relationship. At one point, Feldmann placed candles there because she felt "that vibe right around that specific area."
Sally Augustin, a Chicago-based architectural psychologist who studies how physical experience influences how we think and behave, said people who are drawn to living in former religious spaces have what's known in psychological terms as a "high need for uniqueness." They love living spaces with high ceilings and natural materials, both of which are aspects of design that affect how people think, Augustin, a Wellesley native, said, but whether or not residents feel as if they're being monitored depends on how the space has been converted.
"The non-verbal messages sent by certain iconography are very powerful. For example, if the space had stained-glass windows that depicted something like Christ carrying the cross, or other stories that are similarly biblical, it would have an influence on their behavior," she explained.
Of course, living in a former church can have its downsides. Cheri Rolfes moved into a Winthrop condo in what was previously Winthrop First Baptist Church in 2019. Built in 1872, the Gothic Revival structure was renovated into condos with spiral staircases and vaulted ceilings. Rolfes wondered whether there would be "spooky things or hauntings," but for the most part, forgot that it used to be a religious space.
But there were certainly reminders that the building's origin wasn't residential.
"It's just not conducive to privacy; the high ceilings transmit sound very well. So there's a lot of general appeal, but when you get into the practical day-to-day, there are more downsides. I feel like my neighbors can hear a lot of what I'm doing," Rolfes said. "Since the day I moved in, I've been terrified that the steeple's going to come down in 60-mile-per-hour winds or a hurricane."
However, Rolfes's issues with the building didn't deter prospective buyers. She listed her unit in late November with Ed Deveau of Century 21 Mario Real Estate, the same agent who sold it to her in 2019. They held three open houses and had more showing requests than anything else they had listed at the time, Deveau said. By Christmas, the unit was under agreement.
Still, Rolfes has a few suggestions for anyone who wants to live in a chondo.
"Maybe ask about insulation and whether it's soundproofed," she recommended. "It's the biggest investment you're ever going to make. Is this the sound investment you're ready to take on?"
Send comments to [email protected]. Follow Megan Johnson on Twitter @megansarahj and Address @globehomes.
Address newsletter
Get the latest news on buying, selling, renting, home design, and more.