Luxury Homes
How Boston's newest luxury tower attracts renters to $30,000-per-month penthouses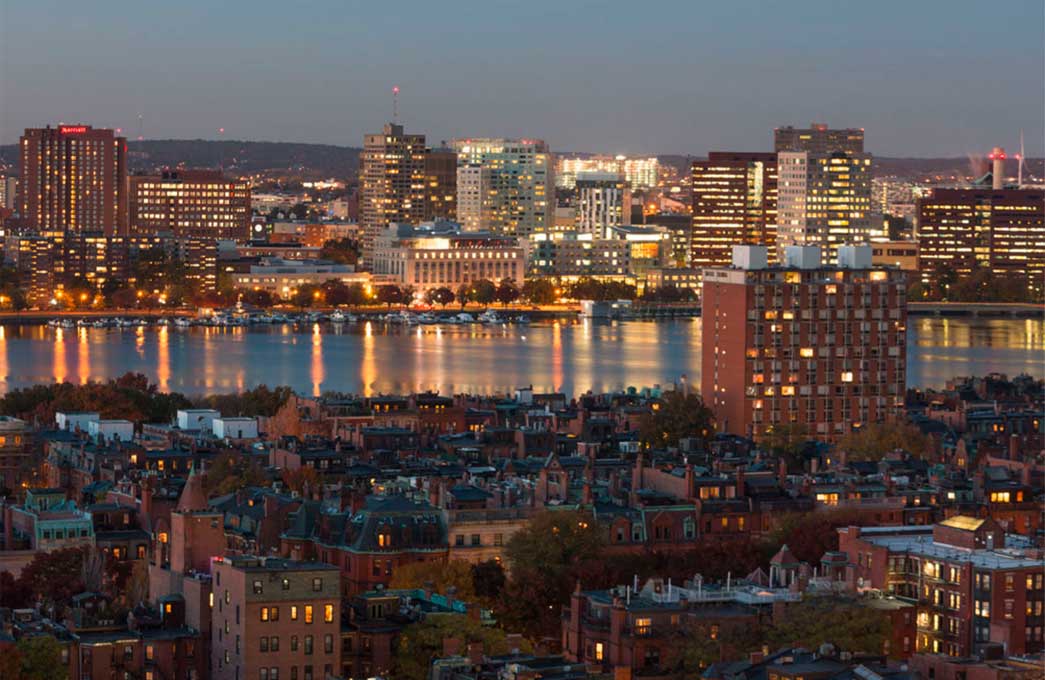 As they battle it out for wealthy tenants, developers of luxury towers across Boston are offering all sorts of sweeteners to fill empty apartments.
But such deals aren't just limited to your average, cookie-cutter luxury units. Rather, freebies are also being offered to entice super rich tenants into signing leases for some of the most expensive apartments ever built in the Boston area.
Bozzuto, the company managing the posh new 30 Dalton apartment tower by the Christian Science Center, is offering one month's free rent – and a smorgasbord of other enticements as well – in a bid to rent out a pair of top-floor apartments.
The two penthouses, which sport names highlighting their particular skyline views – "The Charles" and "The Fenway" – are yours if you can foot the monthly price-tag of $26,000 and $30,000, respectively.
"We are going to have a tailored menu of penthouse perks," said Alissa Kekeisen, general manager at 30 Dalton.
The penthouses at the 218-apartment 30 Dalton, which recently began moving in its first residents, stick out for their lofty rents, which effectively put them at the pinnacle of the city's luxury market.
There are just a handful of units for rent in Boston in the stratospheric $20,000-to-$30,000-a-month range, though such eye-popping rents, while still unusual, are no longer as rare as they once were amid the city's frenzied luxury housing boom.
Still, 30 Dalton's pair of three-bedroom penthouses also stand out because they are at the top of a 26-story apartment tower rather than in a skyscraper filled with gilded condos that happens to have a few owners who have opted to rent their units out.
Bucking the trends, 30 Dalton is hoping to grab a piece of that uber luxury rental market for itself, with two penthouses designed to go head-to-head with the most exclusive condos out there.
At nearly 4,000 square feet – big enough to squeeze a suburban McMansion into – The Fenway is the larger of the two. The sprawling condo spans the width of the tower and comes with two balconies, totaling 600 square feet, with one overlooking the Charles River, the other the South End and the Christian Science Center.
The Charles is a bit smaller, but, at 3,390 square feet, it is hardly tiny. The Charles has a 500-square-foot balcony from which to gaze out onto views of the Fenway, Brookline, the Christian Science Center and the Charles River.
"The view in those apartments, every time I go up there, they are so breathtaking," Kekeisen said. "I swear if you use binoculars you could see into Fenway Park," she said of the Fenway suite.
Both penthouses are also designed to accentuate their views, with floor-to-ceiling windows, glass staircases and glass guardrails on the balconies. Both apartments have private elevator access, double-height living rooms, electric window shades and Nest Thermostats, among other features.
The penthouses stand out in a tower that is already distinctive and expensive, with three-bedroom units starting at $11,500 and an average rent of $4,800 per unit.
The tower's lobby and amenity spaces boast soaring ceilings – 27 feet in the lobby – that are intentionally grand.
The leasing crew at 30 Dalton is now on the hunt for tenants for its uber luxury penthouses and other units, with seven of the 218 units filled and efforts to fill the rest expected to kick off in earnest in September.
While the pool of people who can afford to pay $30,000 a month in rent is limited, they are certainly out there. Potential tenants include condo buyers waiting to move into the new Four Seasons tower taking shape nearby or leasing a penthouse in another tower and looking to move to a new location, Kekeisen said.
Instead of offering a generic package of incentives for the penthouses, Kekeisen and her leasing crew plan to create a package based on the interests of the potential tenants.
That package could include anything from free dog walking to butler and maid service.
"We are going to get a little bit more of a unique customer," Kekeisen said. "Someone who really appreciates the finer things."