Luxury Homes
The top 10 celebrity homes that hit the market in 2016
See where Frank Sinatra used to croon and the home where Pharrell Williams was happy.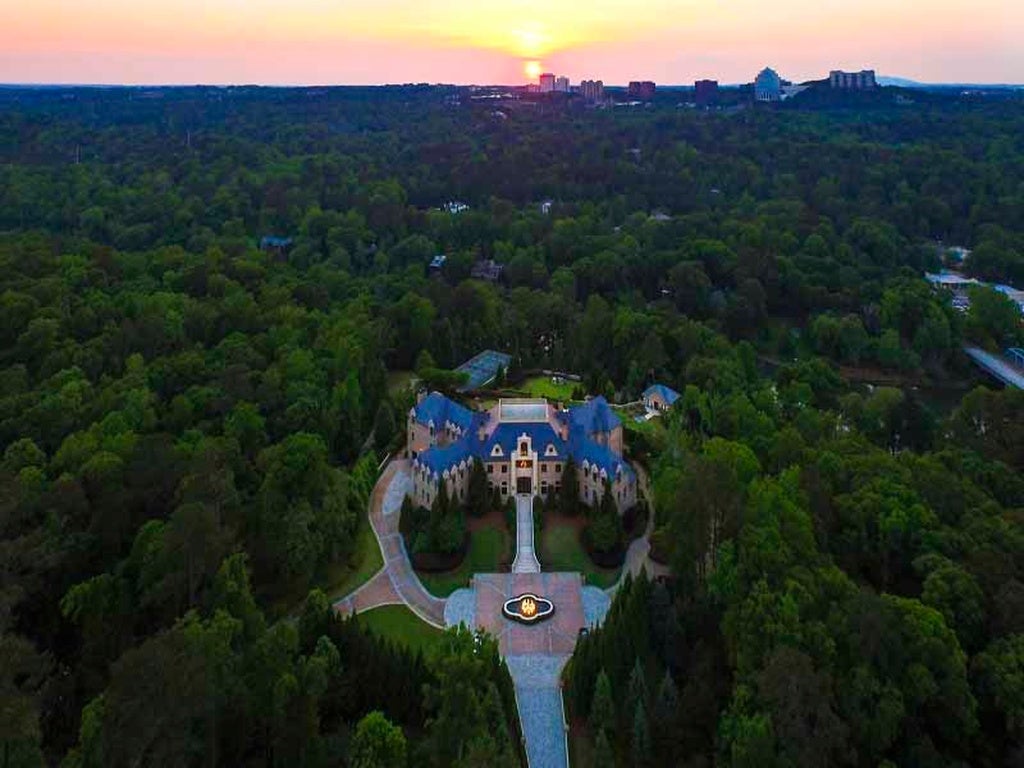 If you have a spare $335 million lying around after you finish your holiday shopping, Pierre Cardin's "Bubble Palace'' could be a nice winter-getaway gift to yourself. You could also soak up the sun at Elvis's former Beverly Hills home. Bring the sunscreen (it has a terrace with city-to-ocean views) and a check for $30 million.
TopTenRealEstateDeals.com has compiled its list of the top 10 celebrity homes that hit the market this year. Before we close the door on 2016, let's take a look inside.
Adam Levine's N.Y. penthouse
Adam Levine, the frontman for Maroon 5 and judge on "The Voice,'' and his supermodel wife, Behati Prinsloo, put their Beverly Hills mansion and New York SoHo loft up for sale before the birth of their first child, Dusty Rose, in September. Good thing, because it has only one bedroom. Levine had converted the second and third bedrooms into open space in 2014.
The 2,800-square-foot property sold soon after it was listed for $5.4 million to shoe designer Nick Lucio. Located on a charming cobblestone street, the SoHo cast-iron building dates to the early 1900s. The loft has a 60-foot living room that opens to a kitchen with black granite and stainless-steel appliances.
The couple hasn't been able to sell their California mansion, though, recently reducing the price from $17.5 million to $15.95 million.
Pierre Cardin's 'Bubble Palace'
Architect Antti Lovag designed Le Palais Bulles — the "Bubble Palace'' — in Cannes, France, which was built between 1975 and 1989. Designer Pierre Cardin purchased the home at auction in the early 1990s as a vacation home. He was drawn to the property — "Round shapes have always inspired me'' — and compared it to a woman's body, saying "everything is absolutely sensual.'' After all, Cardin did design the famous Bubble Dress in the 1950s.
The listing price for the home was recently reduced from $456 million to $335 million.
The connecting bubbles represent one room each in this 10-bedroom home, which is spread over six levels on 1.75 acres on the Theoule-sur-Mer cliffs with views of the Mediterranean. At the edge of the cliff is a 500-seat ampitheater.
Frank Sinatra's Rat Pack home
In 1953, Frank Sinatra co-starred in the film "From Here to Eternity'' cast as Private Angelo Maggio and won an Oscar for Best Supporting Actor. In 1967, he built this getaway on 5 acres 4,300 feet above Palm Springs and the Coachella Valley, naming it "Villa Maggio'' after his character in the film. He lived there for 12 years.
The home is on the market at $3.9 million.
The 10-acre compound of three buildings (totaling 6,428 square feet) was built in a rustic style with warm woods, seven stone fireplaces in the main house, two kitchens, dining and living rooms, a den, five bedrooms, and 5½ bathrooms. The attached guest quarters have two bedrooms, a bath, a living room with a fireplace, and a full kitchen. The detached guest house is two stories with a small kitchen, a bathroom, a stone fireplace, and a deck. The pool house has a great room with a stone fireplace, two bathrooms, two saunas, and a mini-kitchen with views of the pool and tennis court. There's a helipad and parking for 25 cars.
Some of Sinatra's personal touches are still in the home, including a secret doorway, the bathroom wallpaper, and a Ronson foodmatic.
Elvis Presley's Beverly Hills Home
The gated French Regency house that Elvis Presley and Priscilla bought for $400,000 is a far cry from the slick, sophisticated home it is today. The 5,400-square-foot home has four bedrooms, five baths, an attached guest house, a motor court, and a pool terrace with city-to-ocean views. The home is sited on 1.18 acres on a street known as "Billionaires Row.'' The Presleys bought the home shortly after their marriage in 1967 and lived there until their divorce in 1973. Even though he's been dead for nearly 40 years, fans still make the uphill trek to leave notes and pay their respects at the front gate, according to Forbes.
The home is on the market for $30 million.
The newly renovated interior includes high ceilings, hardwood floors, floor-to-ceiling windows, and glass doors that open to terraces and that view.
Frank Lloyd Wright's final design
Widely considered the greatest architect of the 20th century, Frank Lloyd Wright designed more than 1,100 structures, including the Guggenheim Museum. The sketches for the Norman Lykes House in Phoenix were his last. Wright died in 1959 before his design was complete, and the Lykes hired his apprentice to finish the working plans. Construction didn't start until seven years after Wright's death, however, and the home was completed in 1967.
The home, designed to replicate the curves of the surrounding mountainsides, is on the market for $3.25 million. The price includes all of the midcentury-modern furnishings Wright designed.
The 2,849-square-foot home, which is registered with the Frank Lloyd Wright Building Conservancy, sits on one acre of desert plateau over Palm Canyon and has three bedrooms, three bathrooms, the Wright-signature large living room fireplace intended to bring families and friends together, a lower-level media room, two home offices with built-in cabinetry, a distinctive curved kitchen with a Wright-designed island, under-the-cabinet windows, stainless-steel counters, a walled crescent pool patio viewed from inside through glass walls, a large office with built-in furnishings encircled by half-moon windows. Nearly eery room has a view.
Prince's Spanish Wedding Home
Though connected with many celebrity women, the music legend married his backup singer, Mayte Garcia, on Valentine's Day 1996. In 1998, Prince bought a stunning villa in Spain as a gift to his wife. It was west of Marbella in the hills of El Paraiso with views of the sea, mountains, valley, and a golf course. They decorated it elaborately in pure Prince style. Mayte and Prince divorced in 1999 and sold the villa. The new owner redecorated to tone it down to a more universally preferred elegance, and put it on the market in early 2016. Prince died of an accidental overdose of opioid fentanyl in April.
The price for the 7,535-square-foot villa has been reduced from $5.99 million to $5.2 million.
Sited on 1.45 subtropical walled and landscaped acres, the villa has 2,583 square feet of terraces and six bedroom suites, including two masters. The grand master encompasses two levels.
Trump's first mansion
The president-elect was only 35 when he and his first wife, Ivana, purchased this starter mansion, a 5.8-acre home on a peninsula in Greenwich, Conn., for nearly $4 million in 1984. Ivana was remodeling the Plaza Hotel in Manhattan, N.Y., at the time, and she incorporated many of the same materials in the decoration of their new home, creating a residence dripping in gold leaf, elegant chandeliers, and crown moldings. When they divorced in 1992, Ivana got the mansion in the property settlement. She sold the home in 1998 for $15 million, and the new owners added tennis courts, an indoor lap pool, a sauna, and a 4,000-square-foot addition with guest suites.
It was for sale for $54 million, according to the Hartford Courant, then for $45 million. It has recently been taken off the market; it's unclear whether it's been sold or simply on pause.
Originally built in 1939 for Robert Hillas, president of the Superheater Company in New York City, the 19,773-square-foot Georgian Colonial main house and guest house have eight bedrooms, 13 baths, a three-story rotunda foyer with double grand staircase, and views of Long Island Sound. Also included is a home theater, putting green, multiple terraces and patios, tennis courts, and three fully-equipped staff apartments.
Pharrell Williams's Miami penthouse
Pharrell Williams should be "Happy'' after finally selling his Miami Brickell Avenue penthouse to a New Jersey businessman — even though he got less than what he paid for it.
Perched on top of the 40-story Bristol Tower at the entrance to Key Biscayne, the 10,000-square-foot penthouse has five bedrooms, seven bedrooms, and an additional 5,000 square feet of terraces with a rooftop swimming pool and a second-level summer kitchen.
Williams purchased the condo in 2007 for $12.52 million, then transformed it into a mogul palace with his art and furniture collection.
Originally listed in 2012 for $16.8 million, the property went on and off the market with several price cuts until selling for $9.25 million.
Tyler Perry's Ga. mansion
It was a good year for Tyler Perry, whose newest movie, "Boo,'' grossed $75 million at the box office. He also sold his Georgia mansion, listed in 2015 at $25 million, for $17.5 million — the most expensive residential sale in the city's history, according to Architectural Digest.
Perched high above the Chattahoochee River, the 34,688-square-foot home (yes, 34,688 square feet) has seven bedrooms and 14 baths, a two-story library, an infinity pool, a lighted tennis court on top of a two-story garage, a gym, spa, theater, hobby house, and an underground ballroom with a catering kitchen. There are both formal and informal gardens, an entire estate generator, a guard house, caretaker's suite, and a presidential-level security system, including two gated and secured residential entrances.
Kirk Douglas's Palm Springs home
The longtime vacation home of Kirk and Anne Douglas in the historic Old Las Palmas neighborhood, where they escaped Hollywood for more than 40 years until they sold it in 1999, went for above the asking price of $3.45 million this year.
The 4,000-square-foot home, originally designed by Donald Wexler for the owner of the champion racehorse Seabiscuit, retains the purity of Wexler's original design with its flagstone-and pecky cypress foyer, walls of floor-to-ceiling glass, and beamed ceilings. The open floor plan includes formal dining and sitting areas with casual fireside seating, the original mirrored wet bar, updated baths, and a remodeled kitchen with granite and stainless steel. The five bedrooms and eight baths include two master suites — Kirk's and Anne's designed to their personal preferences, both opening to terraces overlooking the landscaped grounds. A large interior atrium opens the main rooms to outdoor living, and the exterior gated perimeter wall encloses gardens, a pool terrace, and a tennis court. The new owner will be the next door neighbor of Leonardo DiCaprio, who purchased Dinah Shore's former home in 2014.
Eileen McEleney Woods is the editor of Address. Send comments to [email protected] and follow her on Twitter @woodsglobe.