Luxury Homes
Sale of South End brownstone breaks neighborhood record
Property has 6 bedrooms, 6 full baths, 2 half baths, 3 decks, and a glass-encased wine cellar.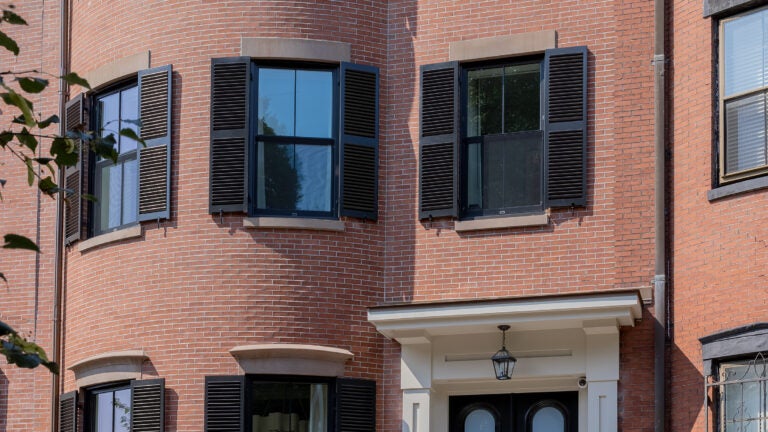 South End realtors are abuzz with the recent largest sale ever of a single-family luxury home in the exclusive Union Park section of Boston.
On Wednesday, No. 24 Union Park sold for $12.1 million in a private, off-market transaction. Rene Rodriguez of Cabot & Company represented the sellers, while Penney + Gould and Hanneman + Gonzales teams at Compass Real Estate stood for the buyers.
The stunning Victorian brownstone at No. 24 is one of 46 properties lining Union Park, a 100-yard oval-shaped, private preserved park filled with trees and stone fountains encircled in cast-iron fencing. This particular home sits prominently in the center of the block and overlooks the fountains.
Only homes on the even-numbered side of the park have garages, adding to the desirability and value of the real estate. The park is closed off and occasionally opens for a few neighborhood events throughout the year. Its design replicates that of the coveted Louisburg Square neighborhood of Beacon Hill.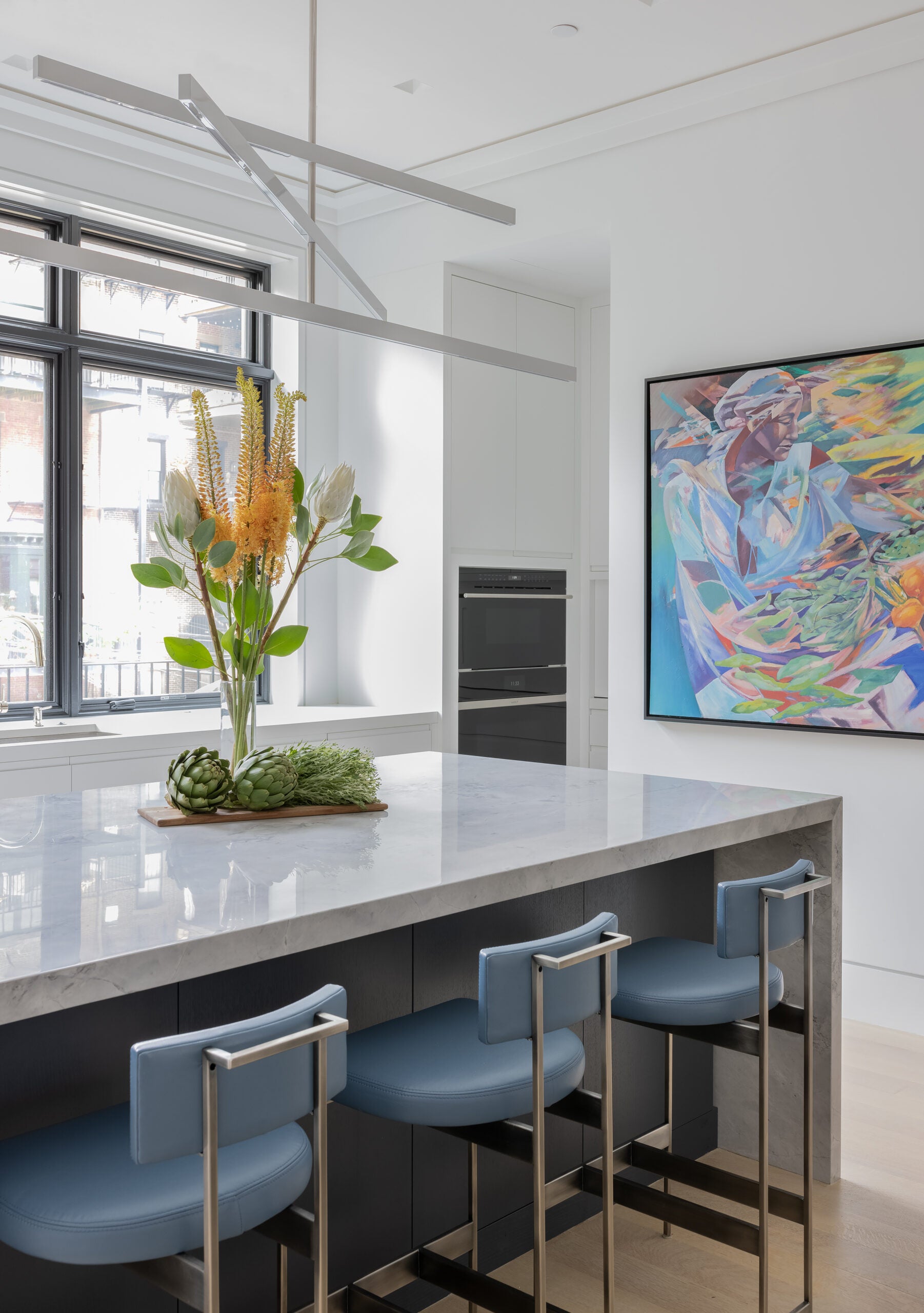 The 5,301-square-foot home has undergone an overhaul and reconfiguration, with the exception of the brick exterior and the double front doors, both of which were restored. There are six floors of contemporary living space in a neutral palette, including six bedrooms, six full baths, two half baths, three laundry rooms, a gym, two mudrooms, a glass-encased wine cellar, a two-car heated garage, three decks, a patio and an elevator that leads from the ground level to the 276-square-foot rooftop deck, which boasts panoramic views of the Back Bay and downtown Boston. A striking staircase leading from the main living area up is encased in custom glass panels with solid-walnut railings.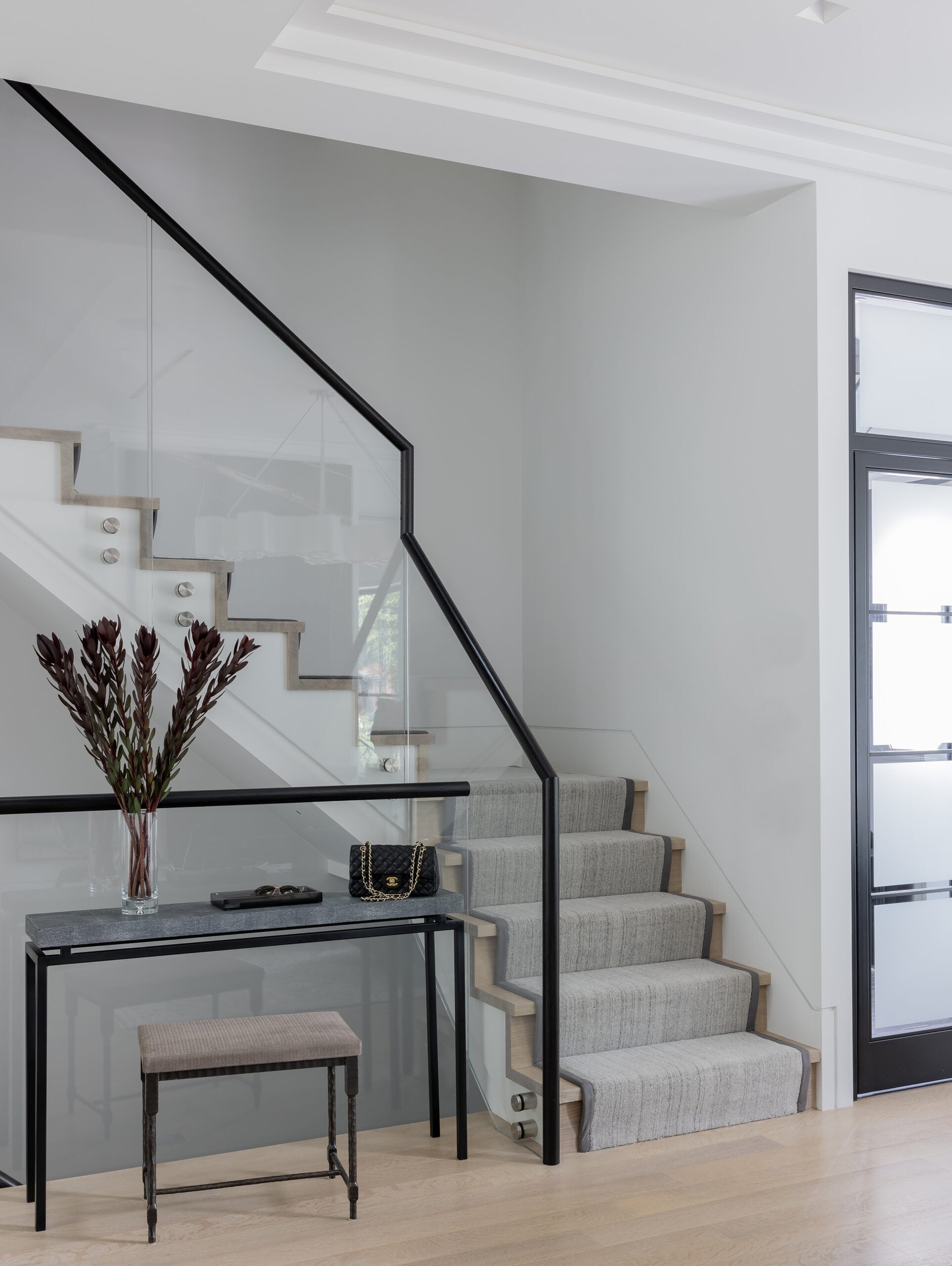 A walk up the granite front stairs from the street leads one through double black wood-and-glass doors that open to a mudroom with built-in oak cabinetry and black doors with frosted glass.
The mudroom leads to a grand main level living space consisting of a living room, kitchen, and dining area with ceilings that are 10 foot 4 inches high and dotted with recessed lighting. The living room windows overlook the park and the Victorian-style lamp posts that wrap around it. A full wall of black striated stone houses a built-in television and a linear gas fireplace. Flooring throughout the exquisite home, aside from the bathrooms, is solid rift-and-quartered oak.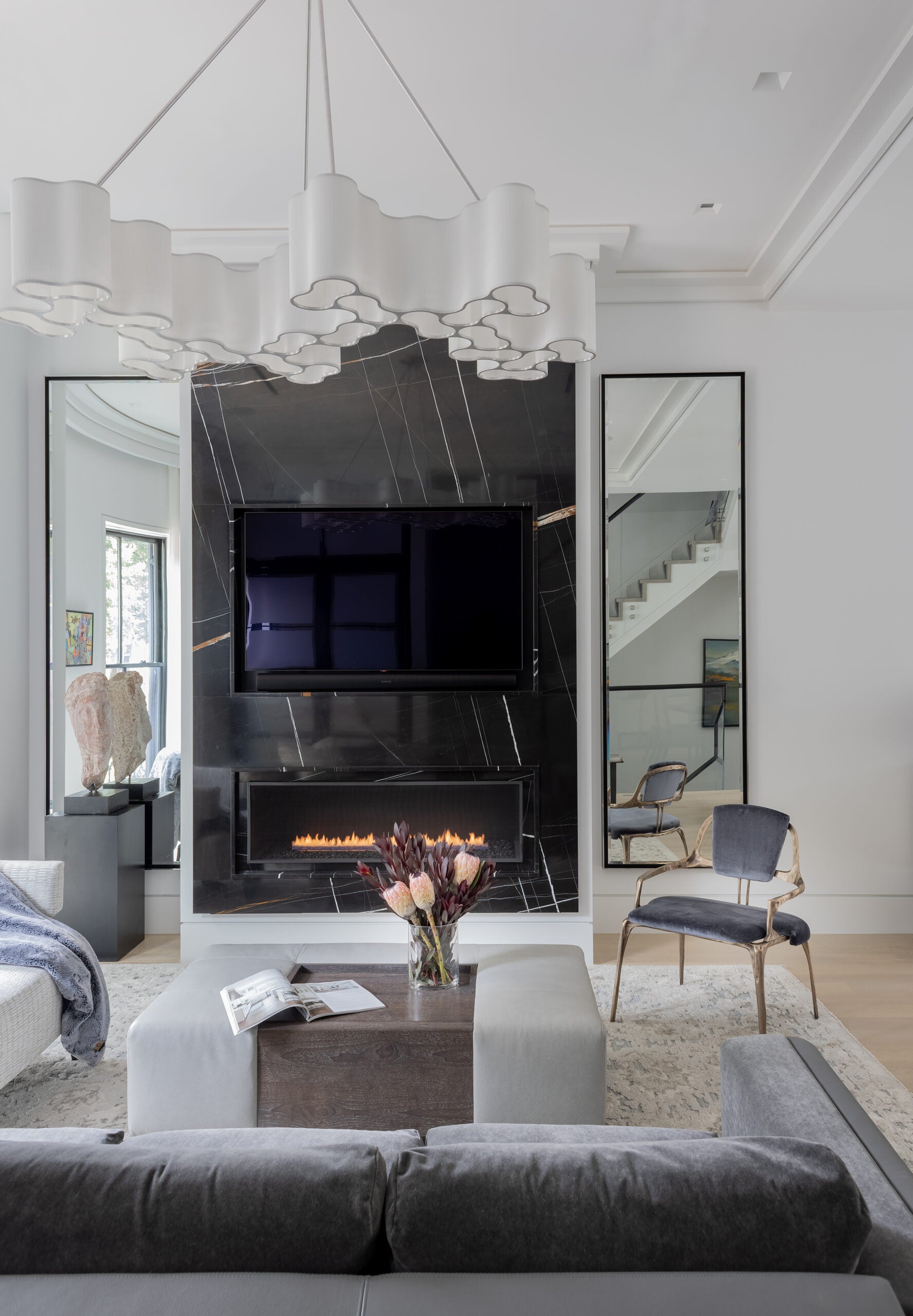 The kitchen island with its expansive storage is made of all-white laminated custom cabinetry with solid milled-maple interiors. While the other kitchen countertops are white quartz, the island's top is constructed of Italian striated white and gray marble, lending a more organic feel. The original two kitchen windows native to brownstones have been replaced with a full glass curtain wall with a door that opens to a deck that spans the length of the building. There is a built-in six-burner gas range with a full column refrigerator to one side and a full column freezer to the other. Two black built-in gas Wolf ovens and a full coffee bar sit to the right of the windows.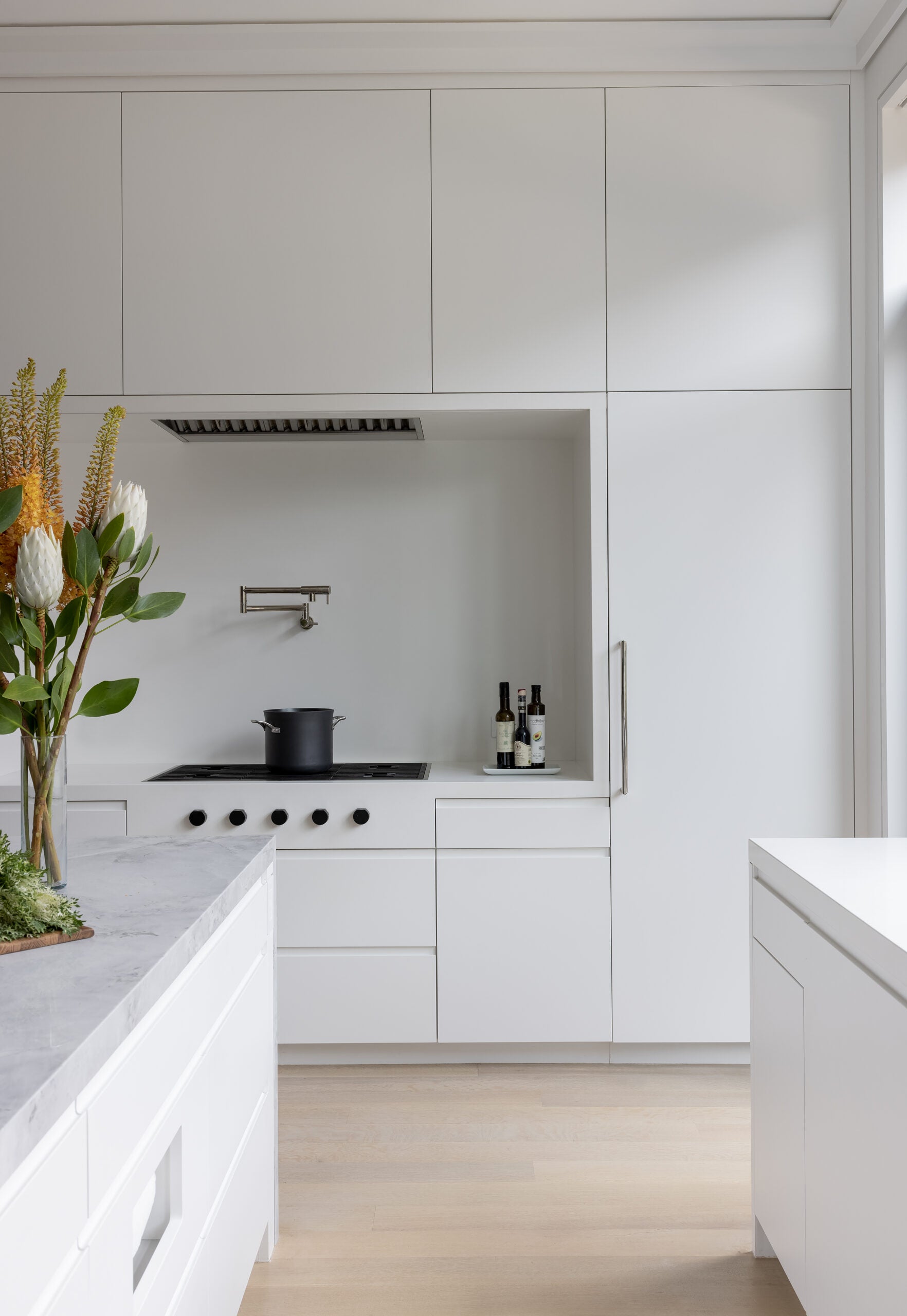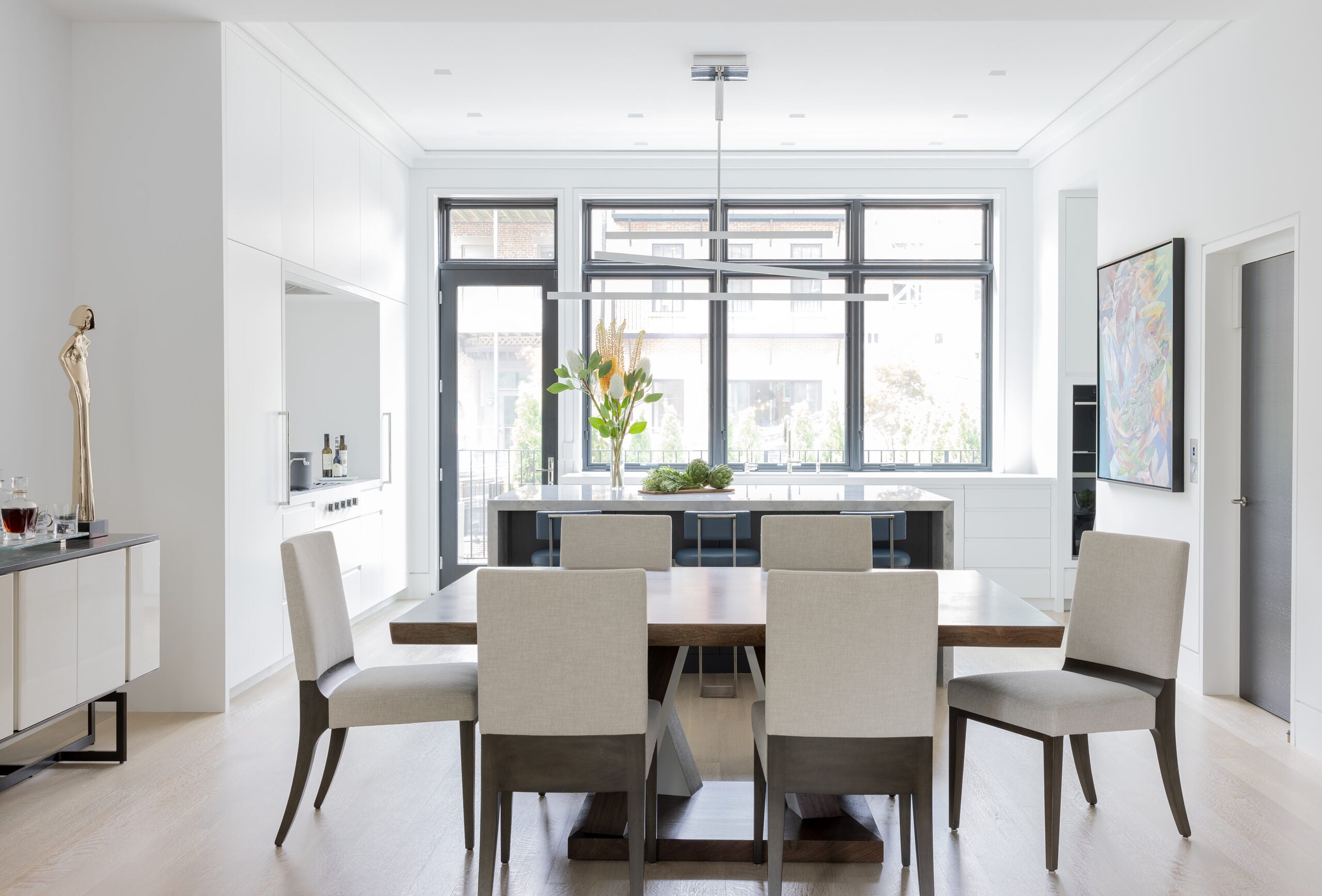 The primary suite sits on the level above. It spans the entire floor and includes two walk-in closets, a bath, and a study. Its full bathroom, styled in all white and grays, has a custom-built, quartz-topped square vanity with two sinks on either side separated by a double-sided mirror. The two-person walk-in shower with a built-in bench is encased in a wall of white and gray striated marble and a floor-to-ceiling glass wall, while the remaining walls are constructed of full quartz slabs. All storage is via hidden built-in cabinetry.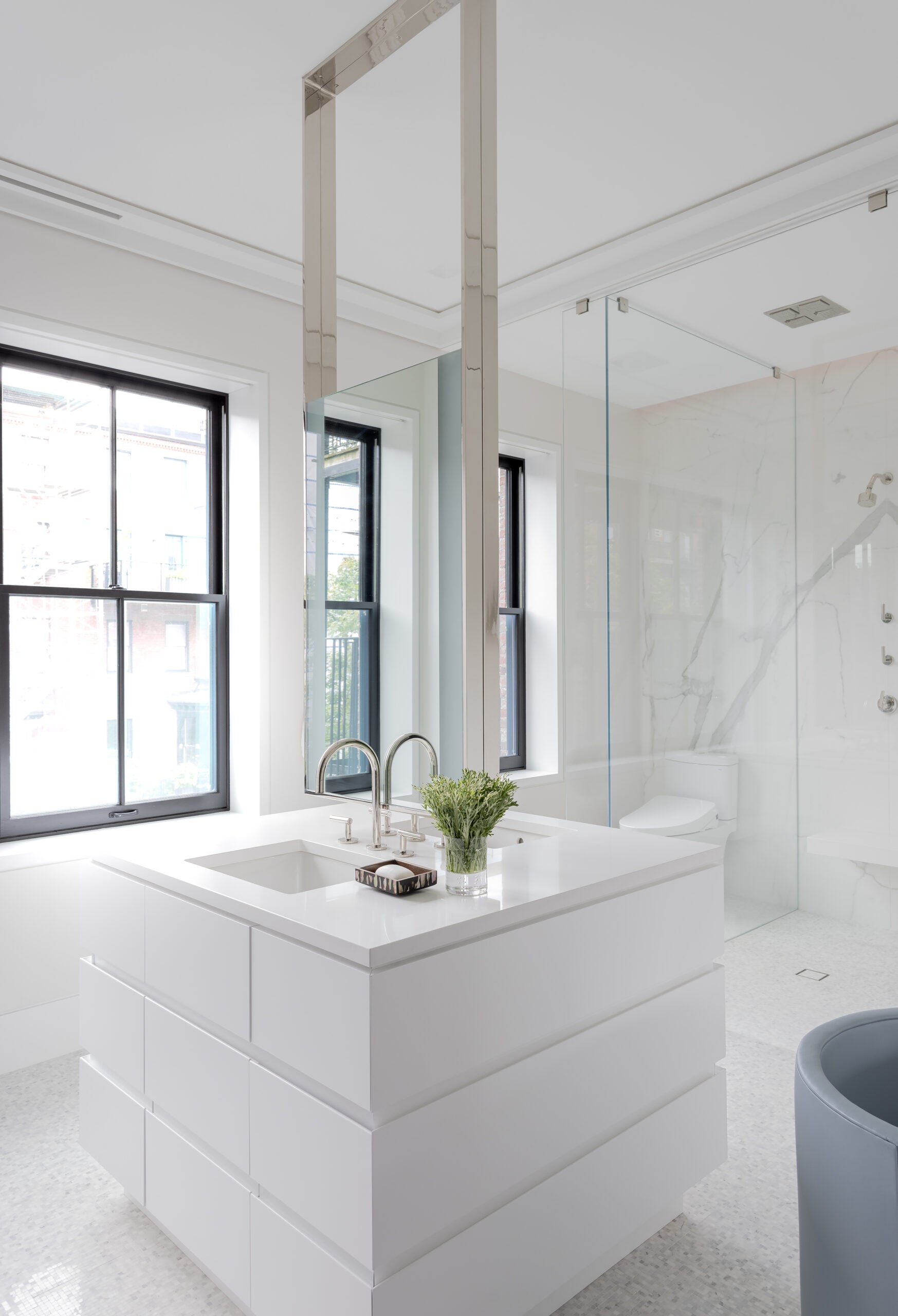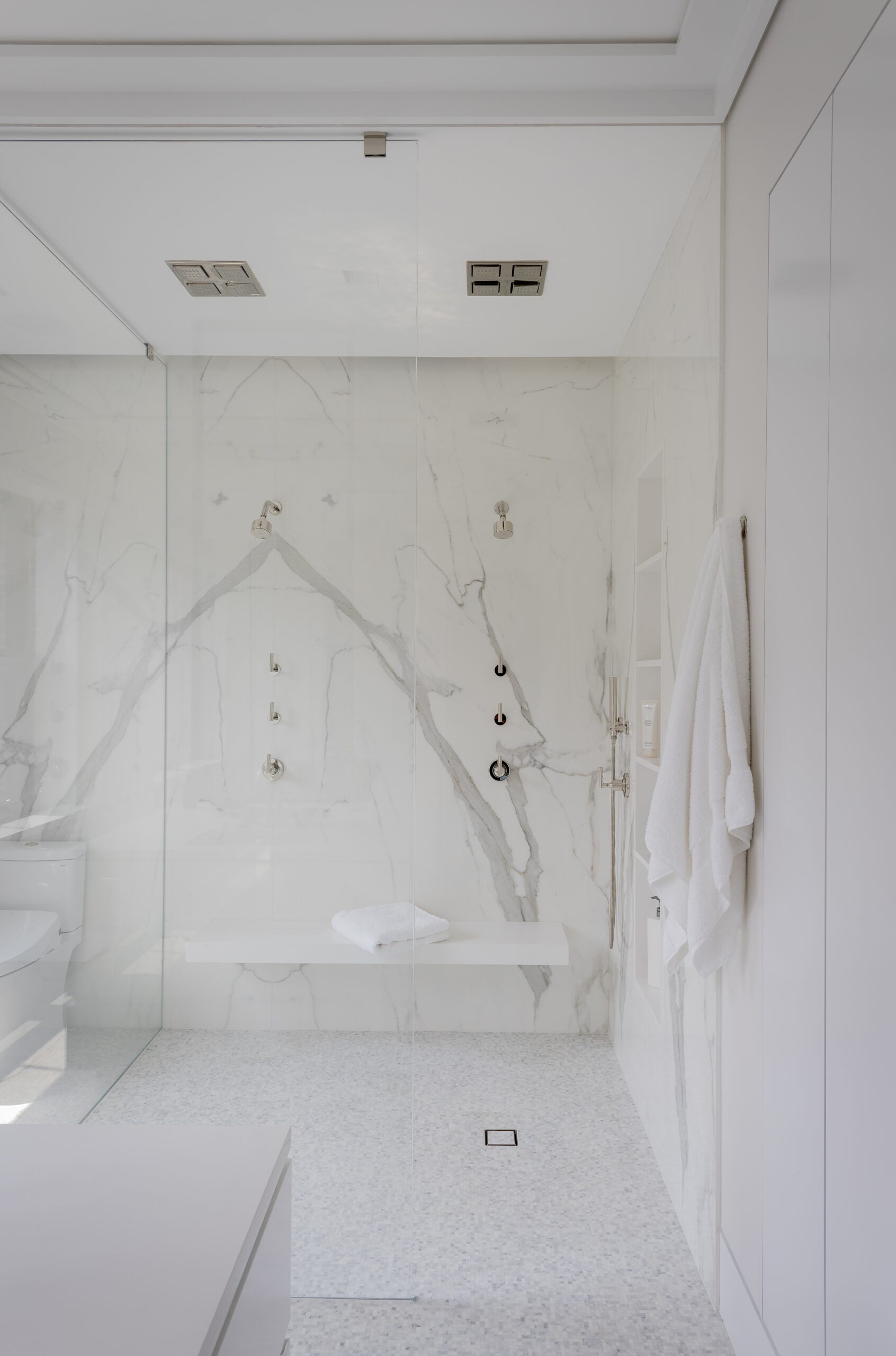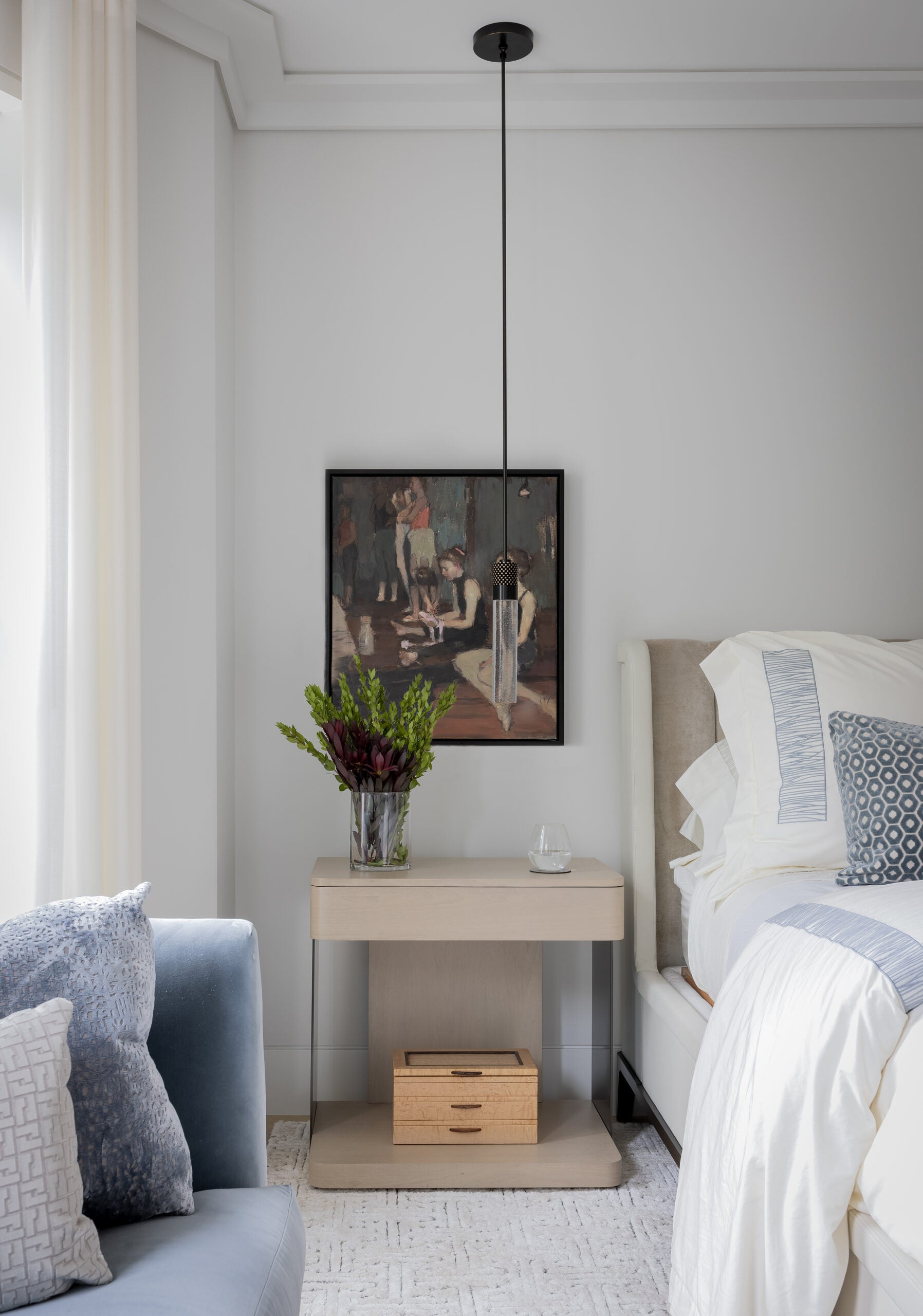 The fifth level, consisting of two bedroom suites, also offers a sitting area and laundry room. It had been used as a children's private suite.
The floor above offers another living area with a full bar and service kitchen, custom blue millwork, a sink, dishwasher, and ice maker — all designed to lend convenience for entertaining on the top deck. A bedroom on this level overlooks the park. There is another full bath on this level as well.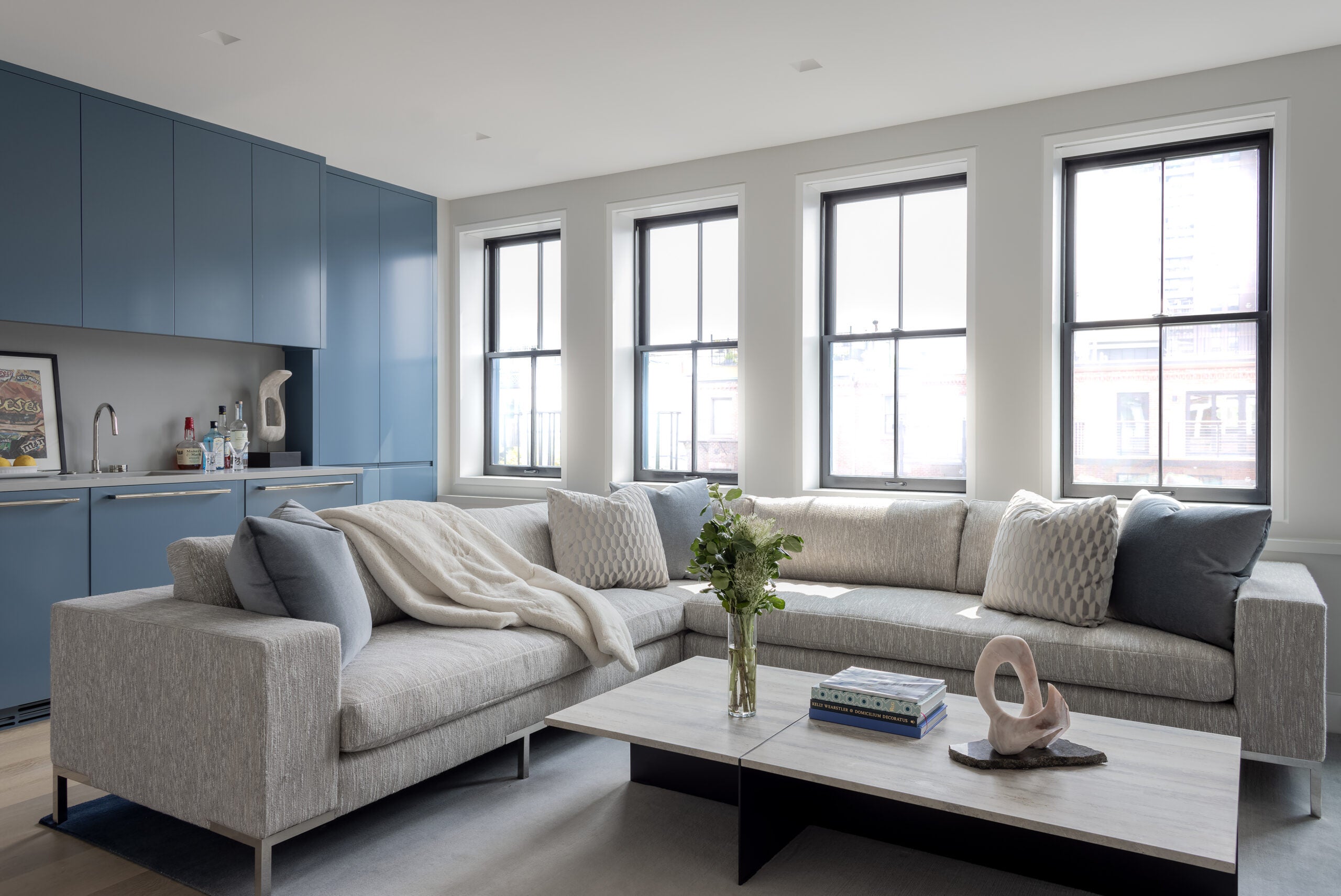 The 276-square-foot roof deck with black iron railings is made of Ipe and has a built-in gas fire pit. There is irrigation for planters, as is the case with all of the home's three decks.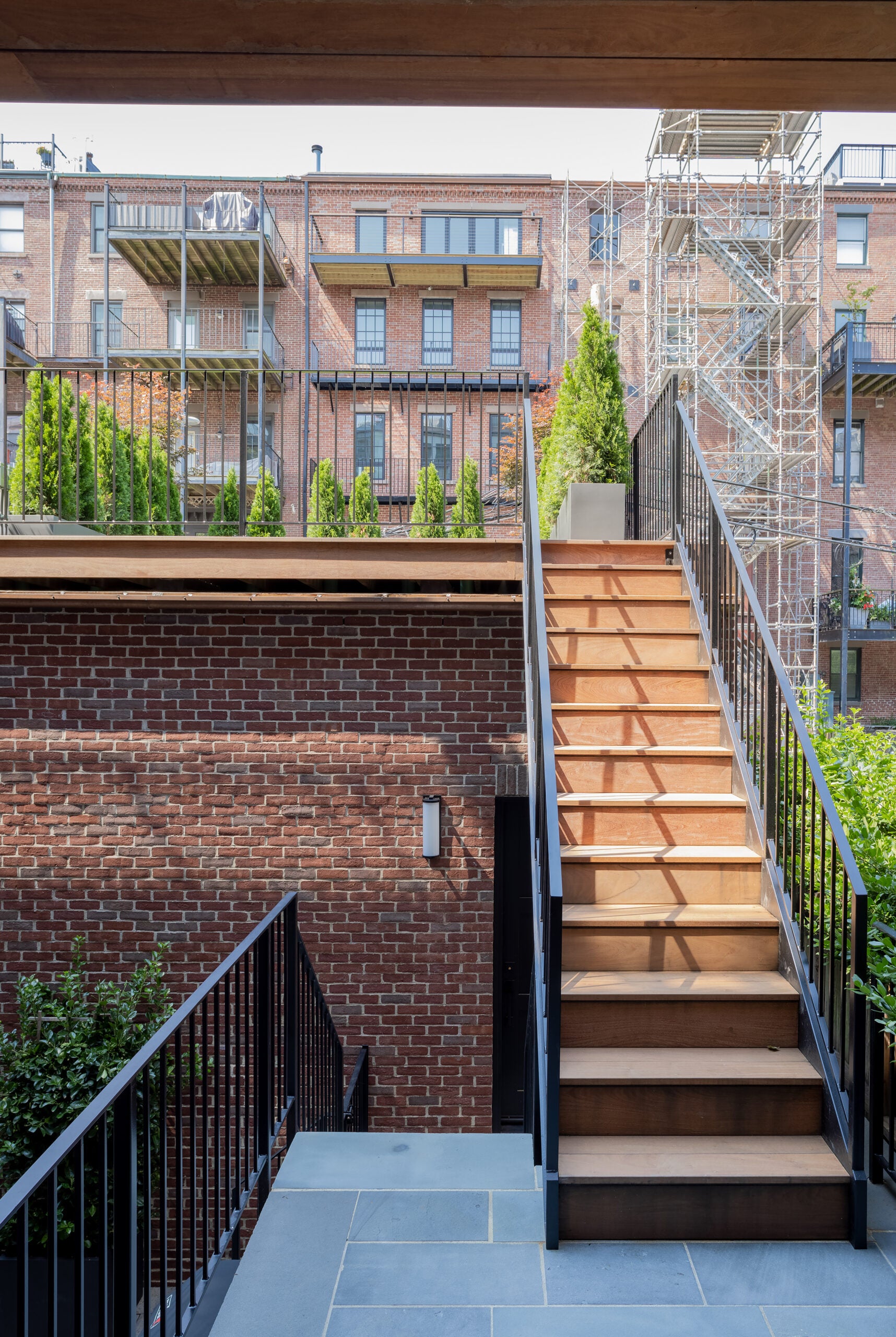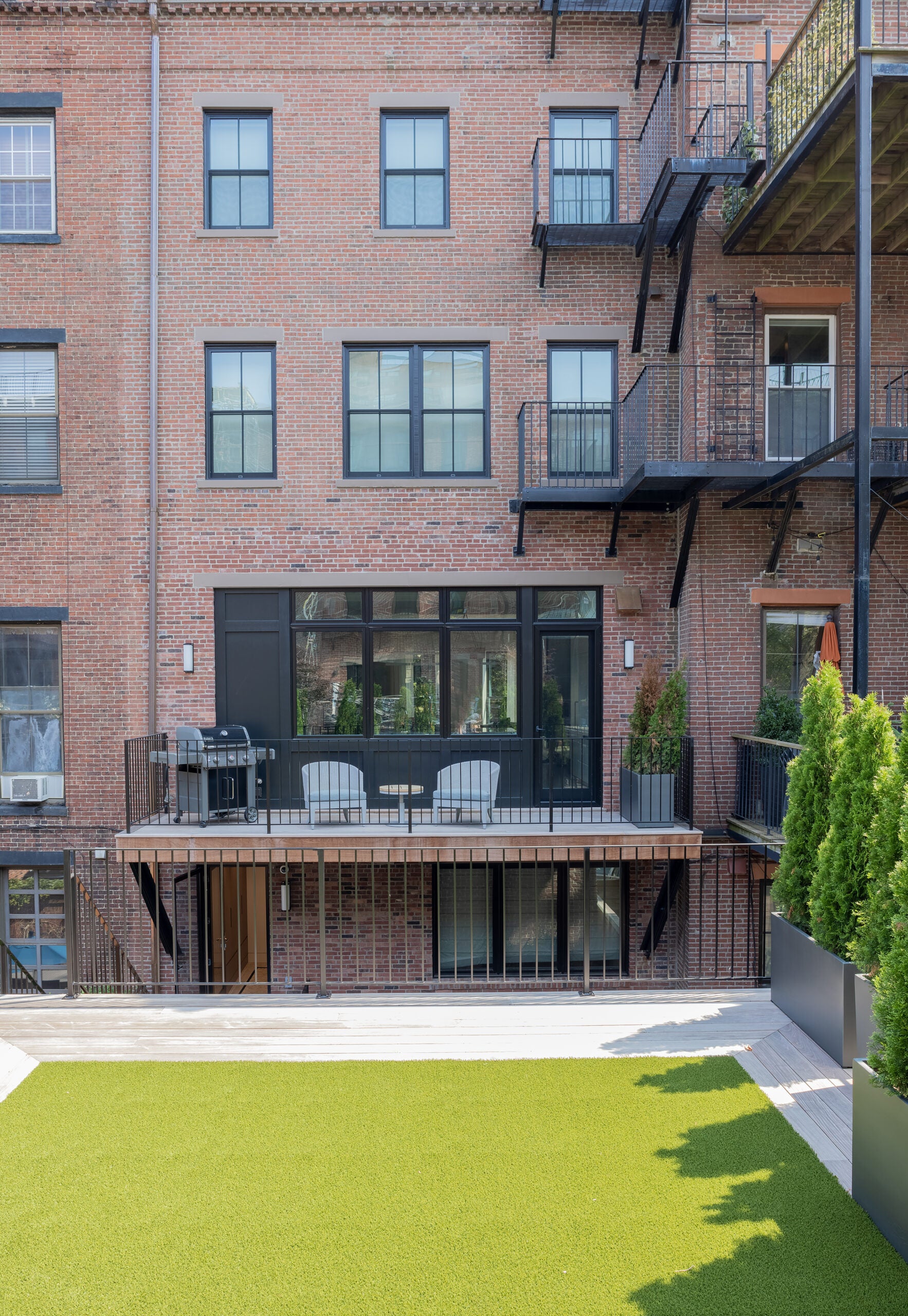 The street-level space under the front stoop has a private entrance and consists of two bedrooms, two baths, a kitchen, and a mudroom. On the back side of the apartment sits a gym and a magnificent wine cellar. While this apartment was constructed as a separate residence, the new owner plans to open up a back wall to include the space as part of the primary residence.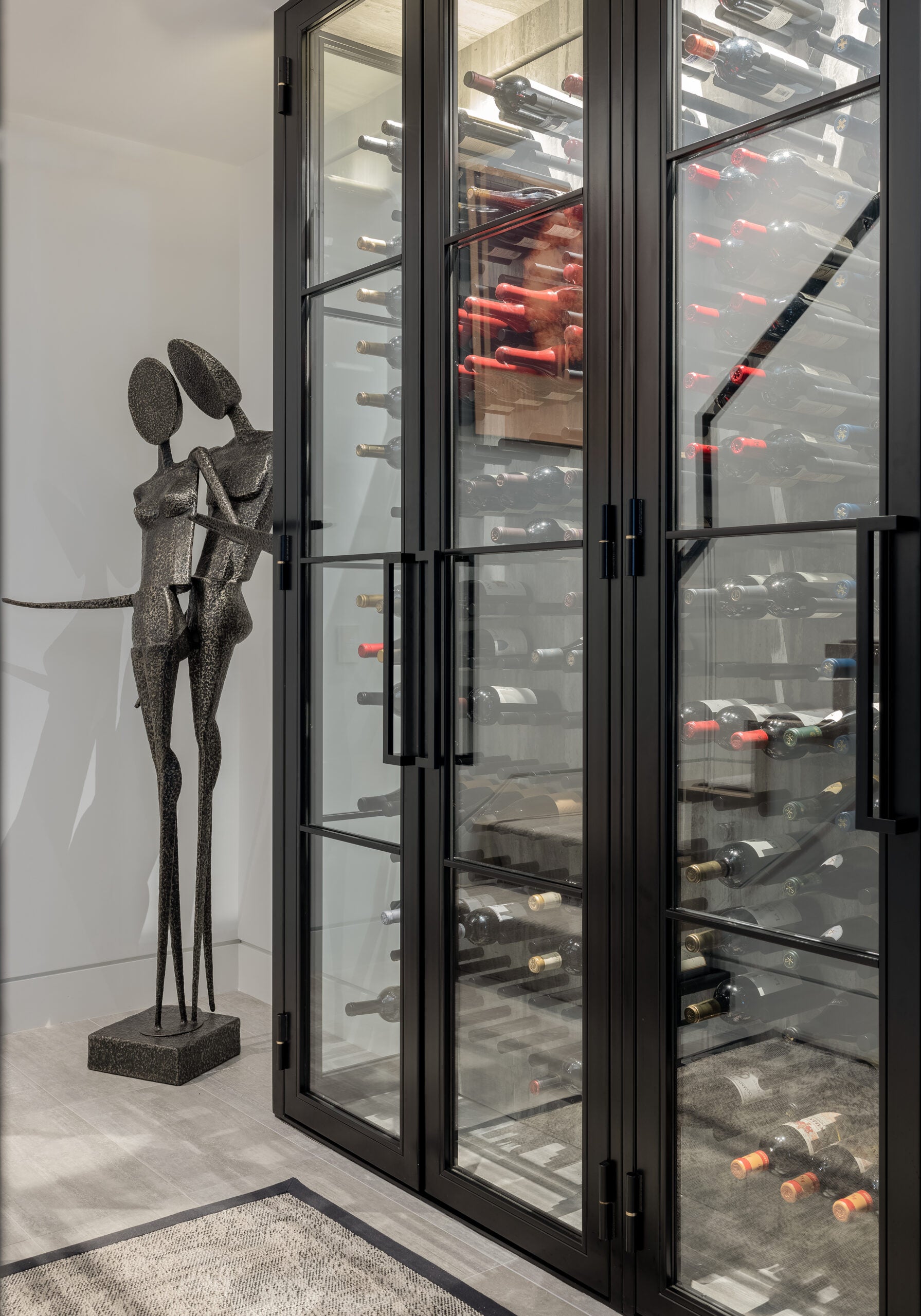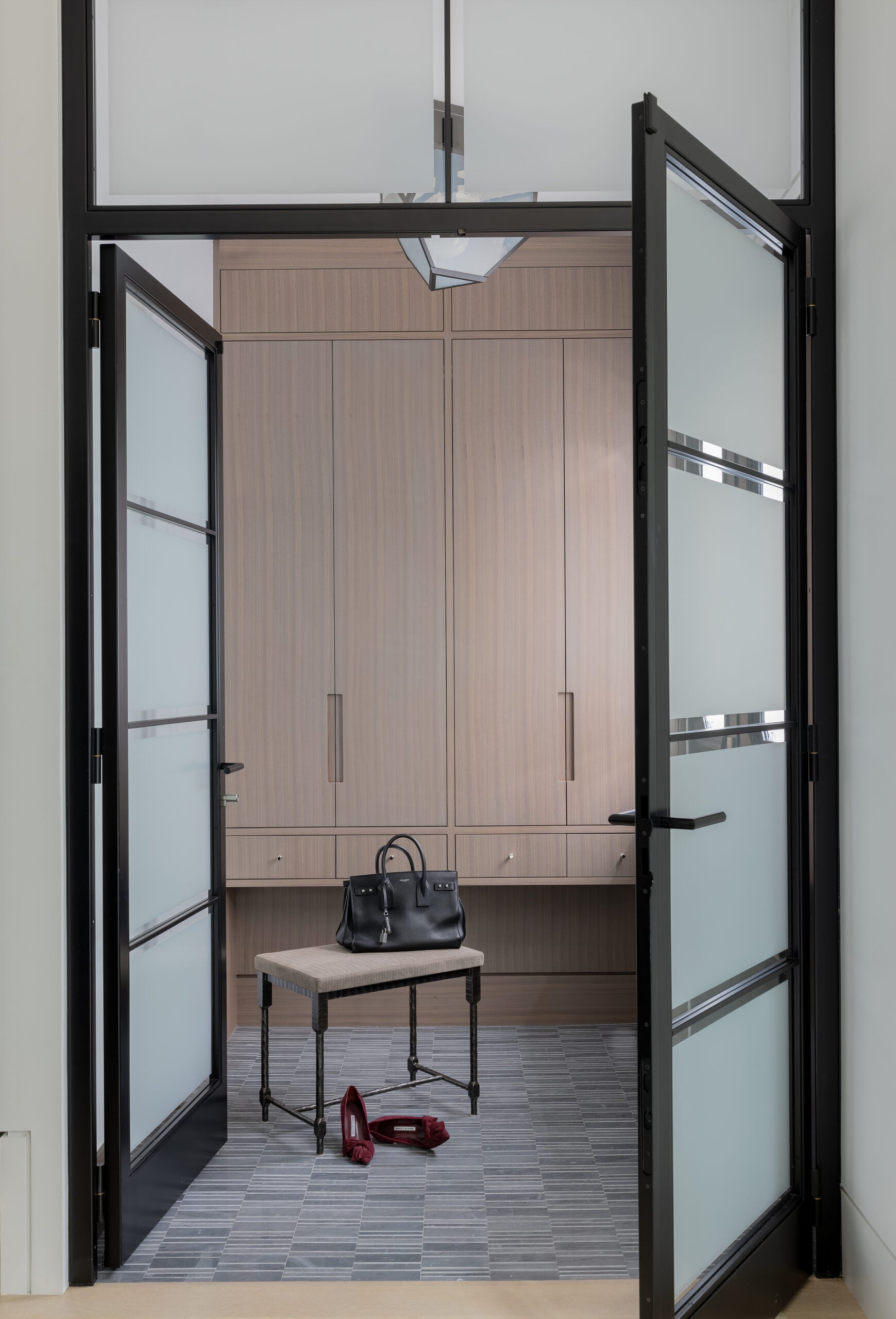 A walkway from the heated two-car garage at the back of the home has steps leading up to a private bluestone patio, where there is a second flight of stairs. These go to the third deck, over the garage, which is lined with lovely potted arborvitaes.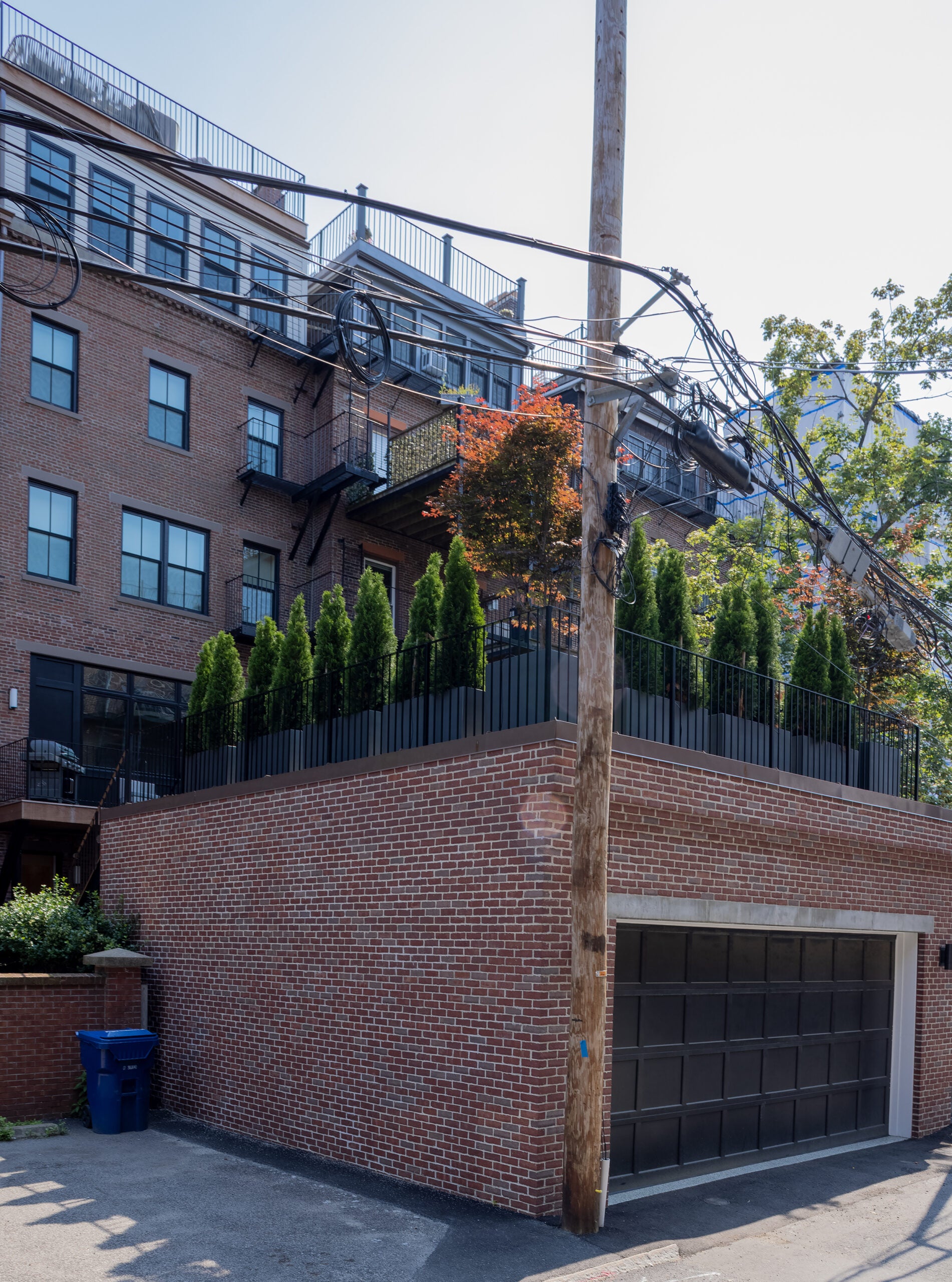 The South End is the largest district of contiguous Victorian structures in the country, said Steven Cohen of Keller Williams Boston. Scarcely 250 of those are single-family homes.
About five years ago, the cost of renovating South End brownstones was $400 to $500 per square foot, Cohen said. Today, total renovation costs $800 per square foot or higher when working with a premium contractor. With No. 24 Union Park being a rare property at the top of the housing food chain of superior quality and premium design build, the value is even higher, Cohen said.
Union Park distinguishes itself from the rest of the South End, Rodriguez said. Buyers are purchasing here because of the park itself, which is stunning. He likened the area to a preserved Victorian square in London.
In 2015, Rodriguez sold No. 24 to the current sellers for $5,400,000 when it was being used as a four-unit apartment house. In 2019, the sellers began construction to convert the building back to a single-family home. The work was completed in 2021.
The second-highest real estate transaction in the South End, including on and off-market transactions, was in 2022, when 14 Union Park sold for $8,550,000. It was an off-market sale.
The former B&B owner-occupied residence at No. 14 is undergoing a single-family conversion estimated to cost an additional $7-$8 million, Rodriguez said.
Correction: Because of a reporting error, a pervious version of this story mischaracterized pricing scenarios for South End brownstones.
Address newsletter
Get the latest news on buying, selling, renting, home design, and more.