Real Estate News
It's Not Clear Home Break-Ins Happen More Often During the Holidays
Crime stats don't back up the common wisdom that more burglaries happen during the holidays.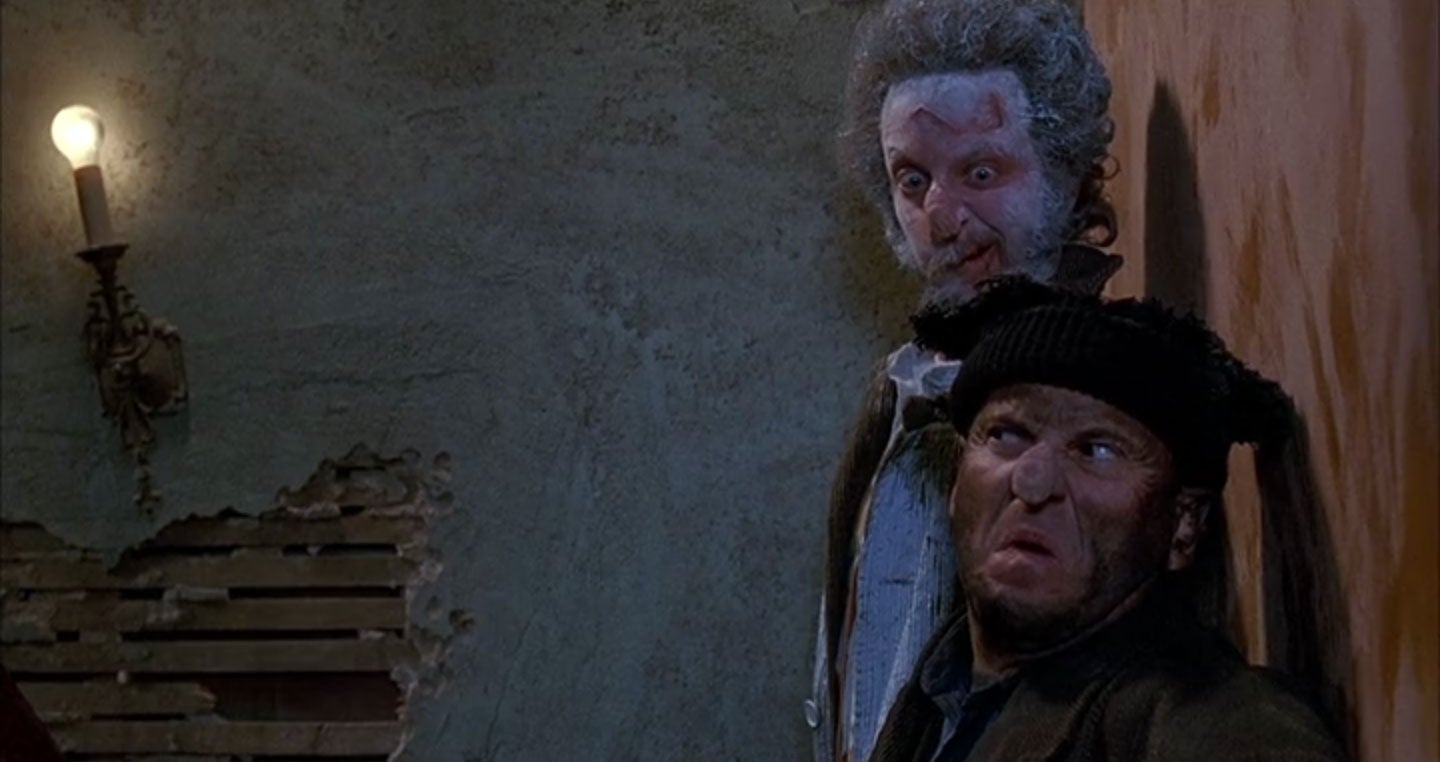 Every year, along with the snow and the Christmas lights, comes a flood of warnings to protect your home from burglars looking to take advantage of all the houses left empty during holiday vacations. Call it the "Home Alone'' effect.
But google something along the lines of "holiday home break-ins'' and you'll see a lot of "tips'' written by insurance agencies or companies selling home security systems. Not surprisingly, some of those tips include "Buy our security equipment,'' or "Get our insurance.''
So are holiday crime sprees just a myth cooked up by self-interested corporations and classic 90s films? Or do the numbers justify the fears?
Boston.com dove into the stats from the last few years, punching our calculators and tabulating the averages to bring you the answer, which is… it kind of depends.
First, let's look at the data from Boston proper, which bears out the common wisdom to some extent.
The Boston Police Department breaks its crimedatadown by week, so we actually get to see how the trend changes within the month of December in 2012 and 2013.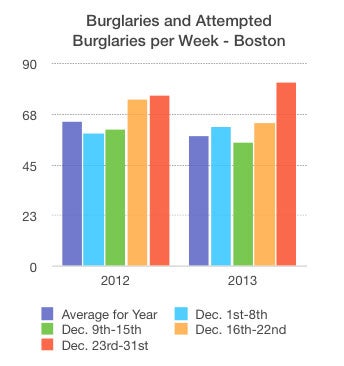 The first half of December is pretty normal (i.e. the blue and green bars are about the same height as the purple bar, which represents the average of all 52 weeks of the year), but in both years those last two weeks – where Christmas and New Years fall – saw significantly more burglaries than the normal week.
Unfortunately for us, Boston police don't keep separate numbers for home burglaries vs. burglaries of businesses, so not all of the break-ins we're looking at happened at people's houses. It's possible commercial burglary is more common during the holidays, while residential burglary is not (or vise versa).
In Cambridge, which does keep separate stats for home burglaries, the numbers from 2012 and 2013 are all over the place.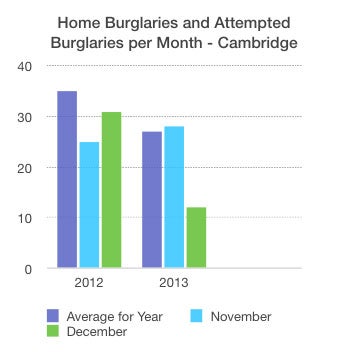 There's really no discernable pattern here. In 2012, November saw fewer than average home break-ins and December was roughly on par with the rest of the year. In 2013, November saw a few more break-ins than usual, but the numbers plummeted in December. So what's going on?
The Cambridge Police Department at least has an explanation for the tiny number of break-ins during December of 2013. The annual crime report from last year reads, "The majority of this decline can be attributed to the eradication of three housebreak patterns that had been a problem from late September to mid-November.''
Basically, three repeat-burglars or teams of burglars were arrested in November so they weren't around to break into houses during the holiday season.
The Cambridge situation suggests a valuable lesson when it comes to deciding whether you need to go on lockdown during the holidays: It's tough to predict local crime trends over a short period of time because there are a lot of factors at play.
Statewide statistics from the 2013 holiday season prove the point. The Massachusetts State Police gave Boston.com a day-by-day breakdown of home burglary reports collected from 301 cities and towns.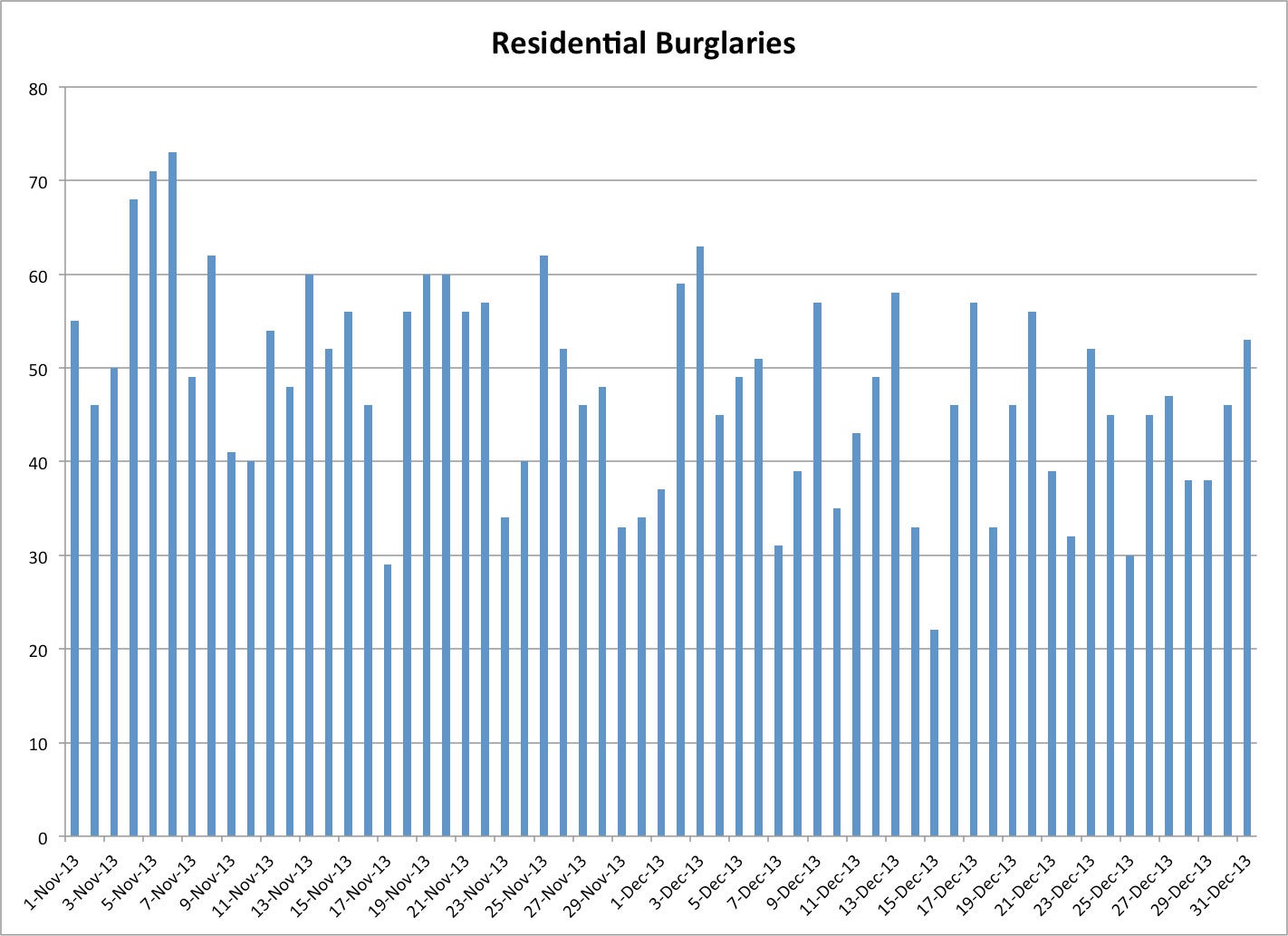 Things look pretty random in general. And weeks where you would expect a large number of people to be on vacation – November 24-30 for Thanksgiving, and December 23-31 for Christmas and New Years – didn't have more break-ins than other weeks.
The only sort of discernible pattern is that there seem to be fewer burglaries on weekends. Maybe because more people were in the house instead of being at work? Maybe because all the criminals had wicked hangovers? Like I said, lots of factors at play.
David Procopio of the State Police agrees. "I do not see evidence that supports the notion that residential burglaries increase during the holidays,'' he said.
"Perhaps we only think that is the case because housebreaks during the holidays may have more emotional impact,'' he said. "If a criminal steals gifts, or money for gifts, or some item with sentimental meaning that has been put out for the holiday, it's a lot sadder than someone stealing a TV set in July.''
So continue to take normal precautions if you go away this holiday season: lock your doors, have a neighbor pick up your mail, and don't leave your kid home alone. But there's probably no need to booby-trap your house.