Real Estate News
Chinatown Residents Rally After Community Land Trust Efforts Thwarted by Developer
There are only 260 community land trusts in the U.S., and Chinatown is trying to form Boston's second to address the neighborhood's affordable housing need. The community has plenty of passionate residents ¬ Now they just need the housing.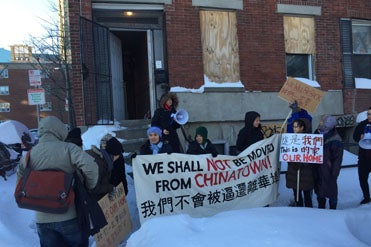 It was 23 degrees Farenheit outside Wednesday afternoon, when about 20 bundled-up individuals from various Chinatown community groups gathered outside the historic brick row house at 103 Hudson Street. Some held signs that said "Stop Corporate Greed!'' while others clutched posters emblazoned with "We shall not be moved from Chinatown!'' written in both English and Chinese.
The crowd lined up outside the boarded-up windows of the row house, forming a half-circle. Some jumped up and down to stay warm, while others blew into their hands. One woman began to chant into a megaphone, and the rest followed suit.
"We'll be back! This is our home! We'll be back! This is our home!'' they shouted.
The crowd was gathered to protest the temporary displacement of the tenants of 103 Hudson by developer Tim O'Callaghan, who was acting on behalf of First Suffolk, LLC.
Karen Chen, organizing director of the Chinese Progressive Association (CPA), climbed the cracked concrete stairs of 103 Hudson and spoke to the small chanting crowd.
"Chinatown means a lot to many of us,'' she began. "Because of gentrification, because of displacement, we formed a community land trust in the hope of keeping permanent housing affordable for working families.''
Chen said the trust made an offer to buy 103 Hudson, but lost to First Suffolk, LLC, which bought the property on Friday, January 16. The building's tenants are now being temporarily displaced from their homes so that First Suffolk could begin repairs.
O'Callaghan told Chen that he's not kicking the tenants out and that they can come back at the same rent, but the residents aren't convinced.
"It's really great that he said that, but we hope after the repairs are made, he honors this commitment so that the owners can come back to their home,'' Chen said to the crowd.
"We were hoping First Suffolk would not buy it so that the community land trust could buy it and keep it permanently.''
The group cheered in response. "If there should be a sale, we hope he sells it to the community land trust,'' Chen added, before beginning to cry.
Out of 260 community land trusts in the U.S., only two can be found in Boston. The city's second, the Chinatown Community Land Trust (CCLT), was formed on January 14 by a group of citizens concerned with the future of Chinatown development. They formed it in an effort to address what they see as the neighborhood's affordable housing crisis.
A community land trust is a nonprofit community-based organization whose mission is to "provide affordable housing in perpetuity by owning land and leasing it to those who live in houses built on that land,'' according to the Lincoln Institute of Land Policy, a private foundation that researches issues concerning the use, regulation, and taxation of land.
Though the land acquired by CCLTs belongs to the community, the buildings on the land belong to the respective landlords. CLTs can designate housing as permanently affordable. In Chinatown, all residents of the neighborhood may vote on designating housing as permanently affordable, and nonresidents can participate in the group as members.
CLT membership is typically comprised of those who live in the leased housing, those who live in the targeted community, and local representatives from government, funding agencies, and the nonprofit sector.
Community land trusts, like the one in Chinatown, involve maintaining a delicate balance between the interests of the homeowners and the long-term goals of the community to provide affordable housing in the future.
This past summer, CCLT set its sight on a section of historic Chinatown row houses, 101 and 103 Hudson Street, but Theo Belizario, accountant for the CPA, said both properties were in pretty bad shape. The CPA has been "the face'' of the CCLT development and has led much of the Chinatown activism related to affordable housing concerns, he added.
Belizario said the CCLT planned to purchase both properties, in order to allow the current landlord to live in a unit in 101 Hudson, and the group planned to hire a third party contractor to convert the rest of the properties into affordable housing units. But First Suffolk LLC "swooped in'' earlier this month, Belizario said, to buy the building at 103 "cheap, for cash.''
"I guess they put something on the table the landlord couldn't resist,'' Belizario said.
CPA executive director Lydia Lowe said in an email that the tenants had been trying to stay in their home for more than a year, and then the landlord abruptly told them to move, she said.
"Conditions were bad,'' Lowe said. "Only one apartment had heat, and the water pipes freeze every winter, but the rent was what they could afford, at $700 to $900 a month.''
The tenants asked for repairs, but Lowe said they were never done, until finally the Inspectional Services Department brought the landlord to court to order repairs. When the repairs still weren't done, the housing court threatened receivership or a court order placing the property under the control of a new independent owner.
Lowe said that Friday, January 16, was the day the court receivership was expected to go into effect. But the CPA said this was when First Suffolk bought the property.
"They are carrying out repairs as ordered by ISD but also intimidating tenants and possibly trying to force them out,'' Lowe said.
Members of many of the Chinatown neighborhood groups say that affordable housing has long been a concern in their a neighborhood, where many low-income immigrants lack the English skills and vocational training to earn enough money to pay ever-increasing rents.
Janelle Chan, executive director of the Asian Community Development Corporation, said she couldn't even afford to live in Chinatown, where her organization is based. "I don't want it to be a place for just the very affluent or the very poor,'' Chan said. "We need more housing, but we need more housing for everyone.''
In 2013, only 20 percent of 2,765 new units approved for construction in or around Chinatown were considered affordable housing, according to Boston City Hall data. The rest were slated to be rented at market value. A one-bedroom apartment could cost as much as $3,000 per month at that rate.
Though O'Callaghan was at the rally, he declined to be interviewed.
However, when Chen relayed a message to the protesters from one of the tenants, who only speaks Chinese, saying, "Thank you everyone for your support…My hope's that we can come back here, but we're not sure if that will be possible,'' O'Callaghan interrupted Chen.
"I told you before that they can move back into the building when I'm done,'' he said.
Chen later said she does not trust O'Callaghan because he has not been cooperative with CPA or the tenants, ignoring Chen when she asks questions about the relocation of the tenants, and having repairs on 103 Hudson made at times inconvenient for the tenants. Chen mentioned that though O'Callaghan said he would pay for the tenants' stay in The Midtown Hotel, when the tenants arrived on the evening of their displacement, there was still a balance for their hotel room.
"It was only $39.06, but still,'' Chen said. "He didn't pay for it like he said he would.''
On January 28, Belizario said CPA members worked to help the tenants inventory and box up their possessions just a day after winter storm Juno dropped over 2 feet of snow on Boston, making it the sixth largest snowstorm to ever hit the city.
"Even with the blizzard, they're trying to kick out families,'' Belizario said, noting that some of the tenants don't know how to speak English and others are elderly. "How are you going to displace these people today?''
The tenants will be placed in a hotel on Huntington Avenue, and their stay will be paid for by First Suffolk LLC, Chen said. But she said "the future is uncertain'' about whether they will get their units back after the repairs are made.
Without 101 and 103 Hudson Street, the CCLT will have to look for new housing options. CPA Program Director Mark Liu said Mayor Marty Walsh and Boston's Neighborhood Development Department (NDD) have been very supportive of the CCLT's goals.
"The city said very positive things at the trust launch,'' Liu said. "They said it's a 'fresh opportunity' to work with Chinatown.''
Liu's grandparents immigrated to Boston from China, and he said the neighborhood has been a huge support system for his family.
"Chinese immigrants spent 150 years building up this neighborhood, and now it's a desirable place to live,'' Liu added. "Many think the Chinese-American community has a right to live in the community they helped build.''
Lisa Pollock, spokesperson for Boston's NDD, said in an email that the agency "looks forward to assisting with resources as the Chinatown community begins the process of acquiring land and property.''
"We are very happy for the residents of Chinatown that the community has decided to form a land trust, since land trusts are an important tool for stabilizing neighborhoods,'' Pollock said.
But CCLT member Suzanne Lee said gentrification has been shaping Chinatown for decades. She's seen many longtime community members forced to relocate to Quincy and Malden, where they can find cheaper rents but face long commutes to their Chinatown jobs.
"It's destroying the whole character of Chinatown,'' Lee said.
As Chen wrapped up the rally, she said that she and other members of the CPA would continue to help the tenants pack up their belongings into the night. As she turned and walked back into the row house, the group of protesters picked up their signs and began walking toward the heart of Chinatown.
"We'll be back! This is our home! We'll be back! This is our home!'' they chanted.