Real Estate News
Developer Gets Approval to Build on Belmont's Silver Maple Forest
This comes after over 12 years of litigation between developers and environmentalists.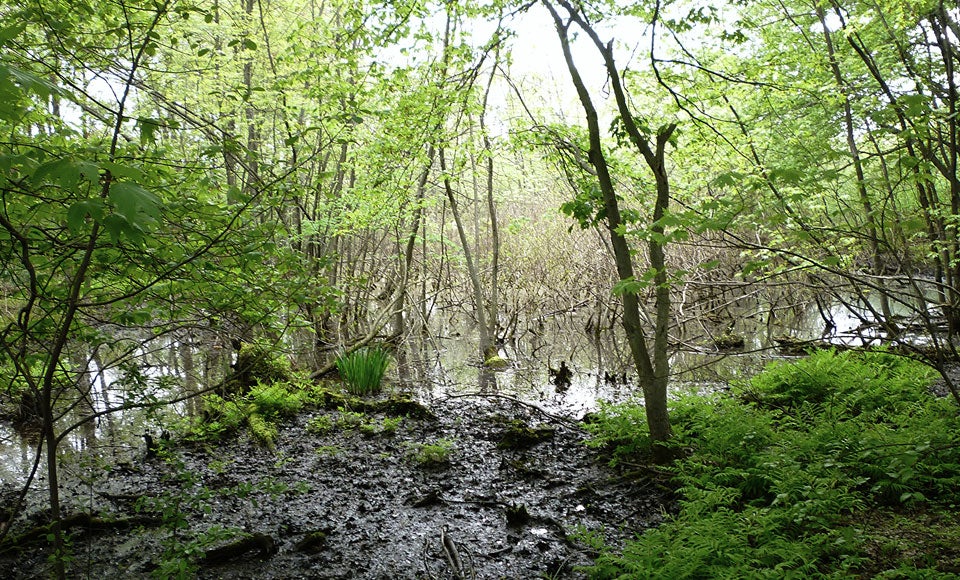 After over 12 years of litigation between developers and environmentalists, a building permit for the new construction of Residences at Acorn Park, a $70 million, 299-unit apartment complex in the Belmont Uplands, was issued Friday.
On March 6, Belmont community development director Glenn Clancy emailed town officials saying that A.P. Cambridge Partners, the LLC (limited liability company) building the complex, had fulfilled "all requirements under the Zoning Board of Appeals comprehensive permit and the Massachusetts State Building Code necessary to secure a building permit.''
A.P. Cambridge Partners acquired the permit to begin constructing a foundation for the Residences at Acorn Park from Belmont's Office of Community Development.
Residents and environmentalists have long said the development, which will be constructed on a portion of the Silver Maple Forest, will increase pollution, gridlock traffic, and intensify flooding concerns to the area. In October, 2014, opposition rallies led to 13 activists's arrests, and an online petition to save the forest garnered more than 1,400 signatures.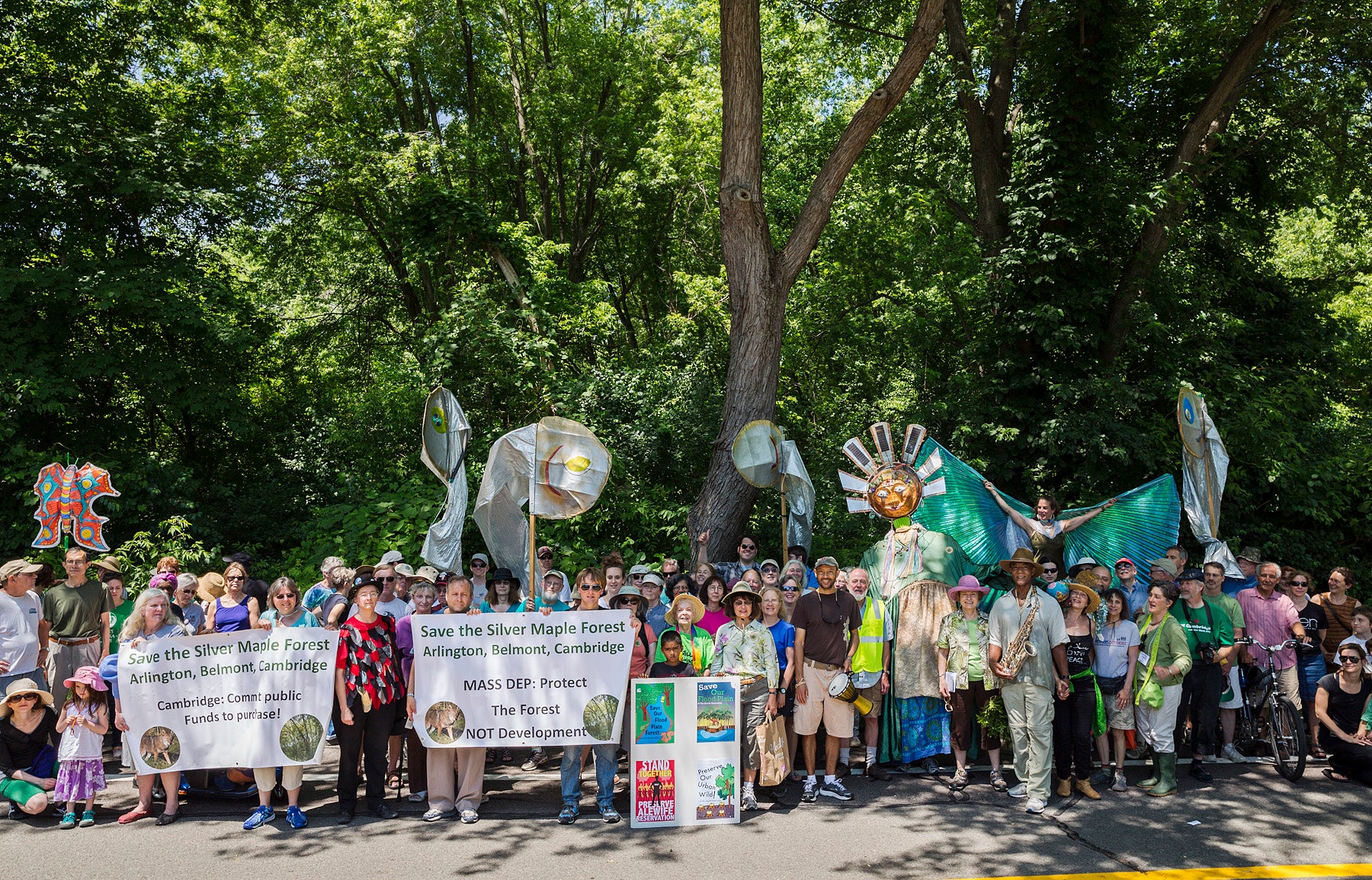 Residents, including Belmont Town Meeting Member and founder of Belmont Stormwater Working Group Anne-Marie Lambert, have also said they're concerned that the town's ZBA is using outdated data regarding climate change, allowing the developer in question to obtain a building permit while using inadequate stormwater management systems.
The Belmont ZBA's most recent stormwater regulations use 2011 rain data, but Belmont Town Counsel has advised that since the Residences at Acorn Park project received a 40B Comprehensive Permit in 2007, it is exempt from the requirements of the local stormwater bylaw, Lambert said. (The state's Chapter 40B law allows developers to bypass local zoning requirements if a town's housing stock is less than 10 percent affordable.)
The town advises that Acorn Park is only subject to storm water regulations of the Massachusetts Wetlands Protection Act, which references rainfall data from 1961, Lambert added.
The 1961 data, collected by the U.S. Weather Bureau, calculates 100-year storm scenarios with outdated rainfall predictions. It predicts that in the event of a 100-year storm, 6.5 inches of rain would fall, while the most recent data from 2008 indicates 8.8 inches of rainfall in a similar event, Lambert said. This is the data she thinks all developers should use to create stormwater management systems.
"Regulations don't change physics,'' Lambert said. "What are we going to do with an extra 150,000 gallons of water?''
Members of Belmont's Office of Community Development did not respond to multiple requests for comment.
Beside the inadequate stormwater management systems, Lambert also cites the developer's cutting down of Silver Maple Forest trees as an additional flooding and pollution risk. The forest, close to the Alewife T-stop, is surrounded by a Federal Emergency Management Agency-designated floodplain.
"There are so many impervious surfaces that runoff can't sink into the soil to get filtered,'' Lambert said, mentioning that the town's sewer and stormwater systems are so outdated, their contents often intermingle in the Mystic River Watershed that encompasses parts of Belmont, Cambridge and Arlington.
"Stormwater and sewage rushes together and concentrates in the soil of rivers, polluting river soil and eventually going into the ocean,'' Lambert said.
Since the apartment complex is slated to have roughly 500 parking spaces, Lambert added that the amount of impervious surfaces will be significantly increased.
Other residents will mourn the loss of open space associated with the development.
"It was heartbreaking for me,'' Cambridge resident Mike Connolly, said of hearing that the developer had secured a building permit.
Connolly maintains the blog silvermapleforest.org, which advocates for the protection of the forest, and has been a prominent voice in the conflict. "Thousands of people over the years have advocated for the idea of the Silver Maple Forest, so it's definitely a worthy idea,'' he said.
The Silver Maple Forest – described as "a unique and fragile urban wildlife habitat'' by the Coalition to Preserve the Belmont Uplands — surrounds the Belmont Uplands, which is a 15-acre parcel of land that abuts Belmont, Cambridge, and Arlington. With the Acorn Park construction, the Coalition says that residents will lose open space, and more than 45 species of birds and 20 species of mammals will have their natural habitat encroached upon.
"For me, what was most special about it was that it provided an opportunity for people to interface with nature within proximity to an urban environment,'' Connolly said. "And in a time when we are just starting to understand the vulnerabilities in the area, it doesn't make any sense to cut down the trees.''
But Chairman and CEO Brian O'Neill of Pennsylvania-based O'Neill Properties Group, which operates under the umbrella of A.P. Cambridge Partners, said residents fighting the development just wanted to prevent affordable housing, which is set to make 60 units of the complex.
O'Neill did not address the residents' environmental concerns, but called the years of activism NIMBYism – a "not in my back yard'' mentality that typically refers to community opposition to affordable housing due to fear or prejudice.
"The saddest thing of all is that the neighbors true motivation was they didn't want the police officers, firemen, teachers, and other people who could benefit from 40B housing living in their backyard,'' O'Neill said.
The Belmont Housing Authority currently manages programs that provide housing assistance for low-income families, veterans, and the elderly, offering a total of 256 units of conventional housing.
O'Neill said he has tried to build hundreds of market-rate and subsidized apartments at the Belmont Uplands site for years under the state's Chapter 40B law.
After over a decade of the project being put on hold by organizations like the Belmont Conservation Commission, Friends of Alewife Reservation, and the Coalition to Preserve the Belmont Uplands, O'Neill said he's glad to "finally be building a building.''