Real Estate News
The Idea Behind This Map of Boston Rent Increases
The data viz gurus behind the Code for Boston project explained why they made a map showing 20 years of housing numbers.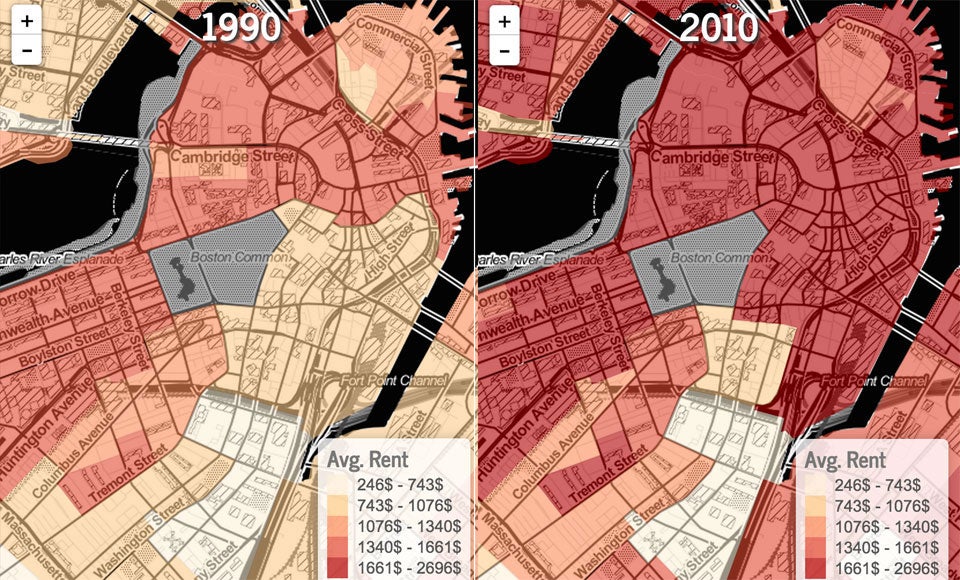 Visit the homepage of the Ungentry project (name derived from "gentrification'') and you'll find a blunt reminder that downtown Boston is a pricey place to live — and getting pricier all the time.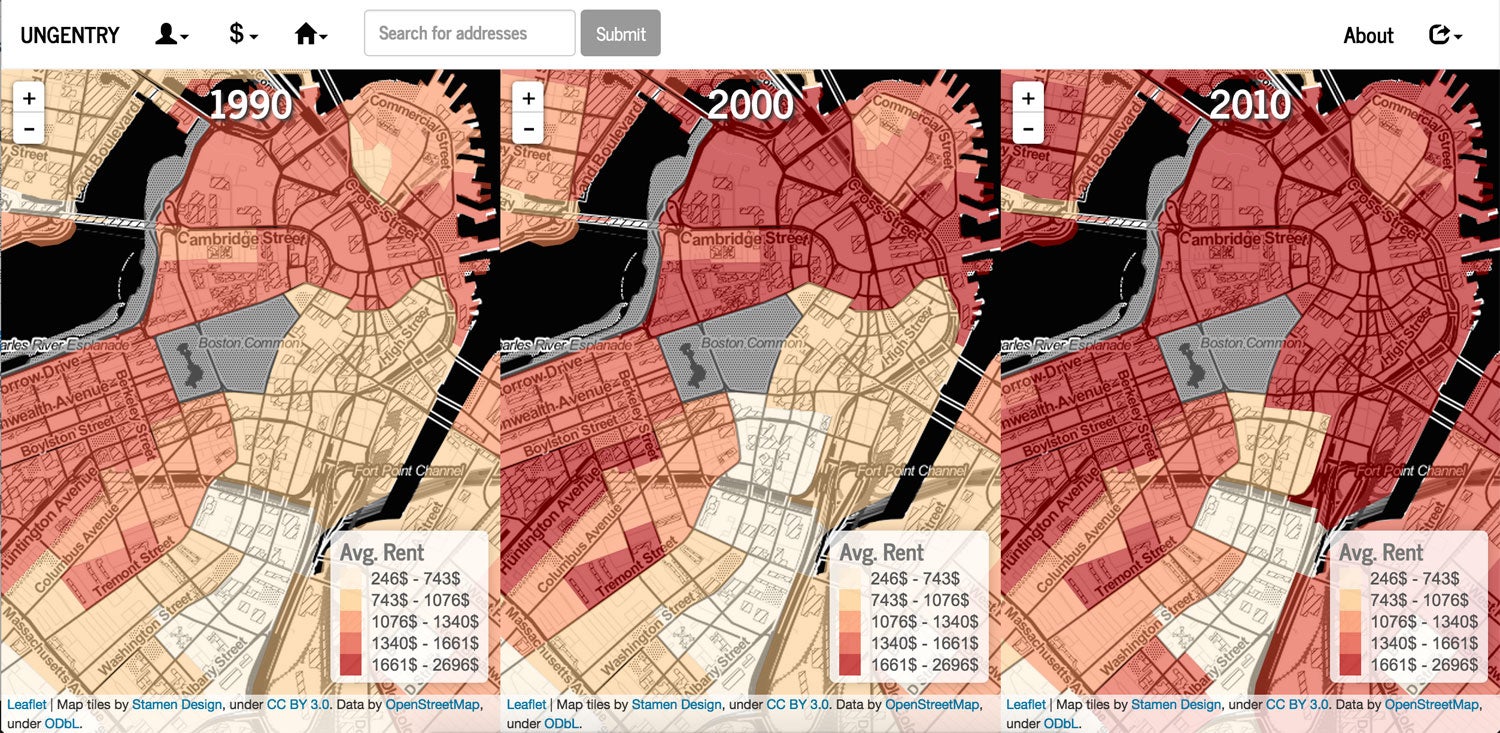 But this simple message only scratches the surface of all the things you can learn from the endlessly clickable interactive maps comparing housing and demographic data from 1990, 2000, and 2010.
The maps, which were picked up this week on sites like Curbed and BostInno, cover most of Greater Boston and visualize other data, like median household income, number of housing units, and what percentage of neighborhood residents are parents or are college educated.
Who would spend so much time collecting and mapping data like that? And why?
Turns out the "group of developers, designers, data geeks, and citizen activists'' known as Code for Boston would. Because it's just what they do.
"We're a group of local volunteers using small scale technology to help understand and solve civic and social problems,'' Matt Cloyd, one of the Code for Boston's core organizers, explained in a phone interview. "Better data can help inform better decisions.''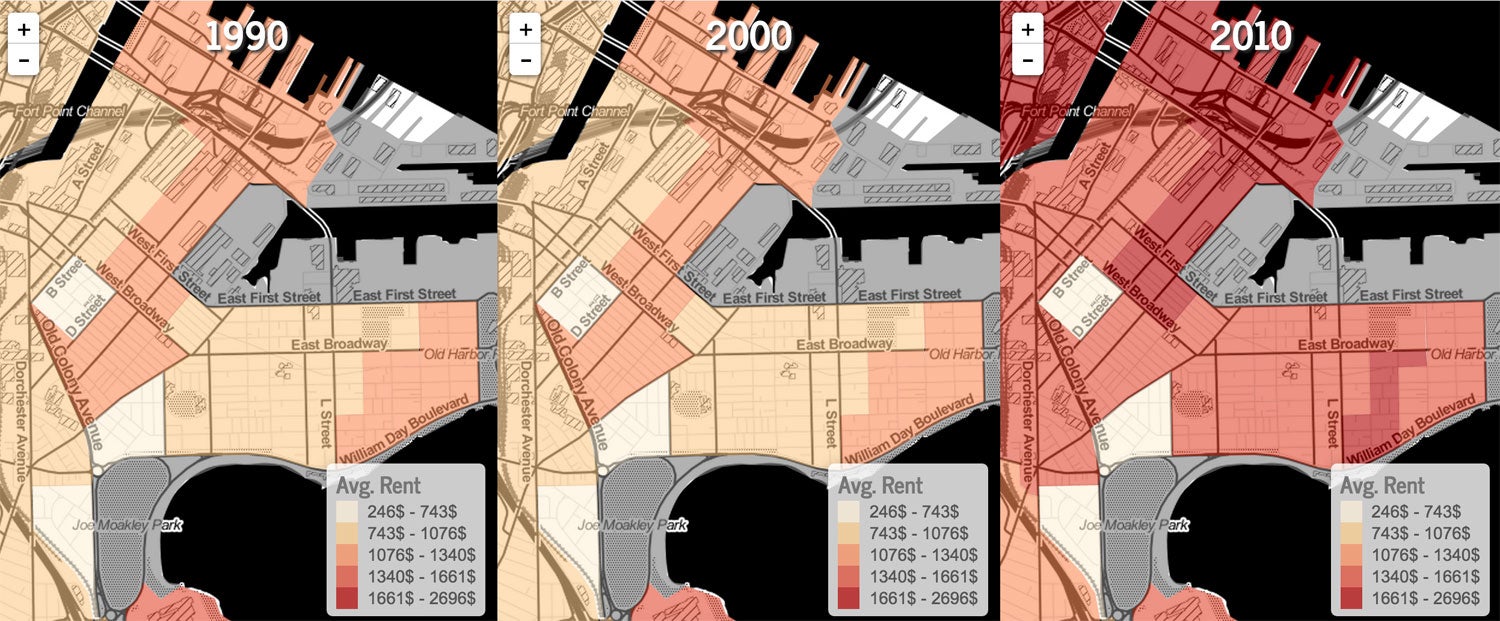 Cloyd said this particular project came out of one of the group's weekly Hack Nights, when discussion of the Green Line extension turned to the impact it might have on gentrification in Somerville.
Matthew Rouser, another core member of Code for Boston who lead the Ungentry project, said his team quickly saw how complicated the discussion over gentrification could become.
"We realized that a lot of it is subjective and open to interpretation,'' Rouser said. "We decided to step back from gentrification itself and focus on a very specific [data] set around cost of living.''
The Ungentry site uses information from the U.S. Census and MetroBoston DataCommon, an interactive data tool created by the Boston Foundation and the Metropolitan Area Planning Council.
The difficult trick to pull off, according to Cloyd, was intuitively showing people how multiple data sets were changing both geographically and over time.
Cloyd and Rouser said feedback from users has been encouraging.
"It seems to be accessible for people in a way that this sort of data hasn't been in the past,'' Cloyd said. "The ideal outcome would be that this sort of tool and data exploration gets used in our policy discussion.''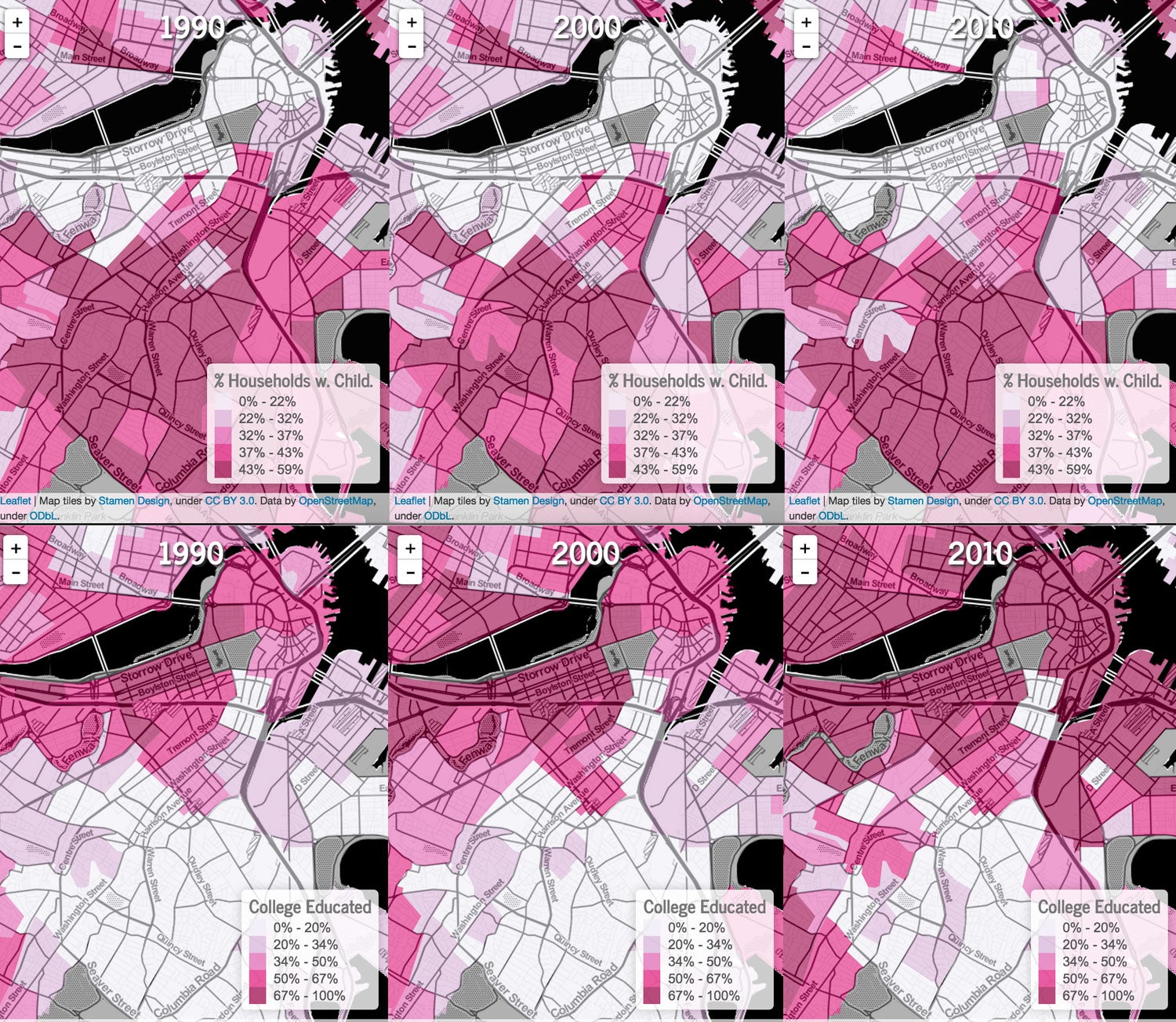 "I'm really happy it seems to be resonating with people and they seem to find it interesting and useful,'' Rouser said. "We hope people will be able to get a concrete idea about how their neighborhoods are changing.''
Rouser hopes a future version of the maps will include more current information from Foursquare showing things like restaurant prices, ATM locations, or Starbucks openings. The "more easily relatable data'' will really hit home for people, Rouser said.
"We want to empower people in their communities to understand their surroundings and to affect change on their own,'' he said.
Code for Boston hopes projects like Ungentry will make Bostonians more informed citizens, but Cloyd said the goal is not to push anyone toward a certain agenda.
"We're trying to facilitate dialogue and understanding without necessarily taking a position on it,'' Cloyd said. "We just give you the data and you make the conclusions you want to make.''