Real Estate News
Your guide to an 'un-Storrowed' move in Boston
We've collected the heights of bridges around Storrow Drive and the heights of several moving trucks. Read this and don't get Storrowed.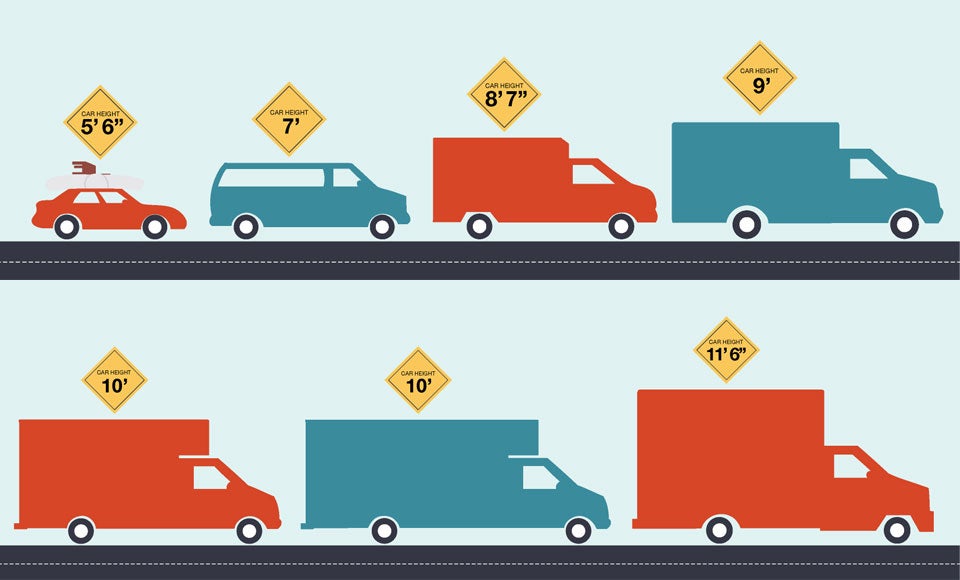 Welcome to Boston, movers! If you've never moved here before, we hope you'll enjoy your time with us. However, we must warn you that moving day is probably going to be among the tougher days you experience while living here.
If you're new you should take caution when driving along Storrow Drive along the Charles River. Why? There are several bridges with low clearances that cross over Storrow Drive. When a moving truck is too tall for the bridge, it can strike its top against the bridge or get stuck. This is known as "Storrowing'' and it sucks.
How do you avoid getting Storrowed? We've collected the heights of bridges around Storrow Drive from the Massachusetts Department of Transportation (MassDOT) and retrieved the heights of several common moving vehicles from Uhaul and Budget. As you plan your moving route, make sure you know where your vehicle is cleared to pass. Please be careful on this day and follow the instructions of any official directional signs.
Here's a map of bridges along Storrow Drive (and Memorial Drive on the other side of the Charles River) that have clearances of 10 feet or less. (All graphics by Kelsey Kronmiller)
[fragment number=0]
You're all set if you're driving a…
We chose the Subaru Impreza for a reason. Subaru is a popular vehicle in New England, has a mounted roof rack, and a decent amount of cargo space. At 5 foot 6 inches, the Impreza should have no problems clearing the bridges around Storrow.
If you've rented a Uhaul Cargo Van for your move, you're still in good shape for a Storrow-friendly move. These vans are 7 feet tall, have over 200 cubic feet of space for moving goods, and are relatively cheap to rent.
At 8 feet, 7 inches tall, even Uhaul's larger 10-foot moving trucks should be able to get you through the bridges along Storrow Drive without problems.
Don't even THINK about taking Storrow Drive if you're driving a…
According to MassDOT, the bridges listed next to the Budget 12-foot Truck (which is 9 feet tall) are 10 feet tall and the truck should be able to clear them. But please note, at 9 feet the vehicle is pushing the envelope in terms of clearance height. With that in mind, we recommend erring on the side of caution and avoiding Storrow Drive entirely.
You may need a moving truck if you're undertaking a bigger move. But at 10 feet, Uhaul's 15-foot moving truck can easily get stuck under one of many bridges along Storrow Drive. While it can clear the bridges listed above, there are many more overhead obstacles that can cause you and other movers problems. And on moving day, you should take extra steps to avoid getting stuck in traffic.
The Uhaul 17-foot moving truck is the same height as the previous truck, so the same rules apply: NO STORROW FOR YOU!
As indicated above, there's only one overhead structure where a Budget 16-foot truck (11 feet 6 inches) can pass without getting Storrowed. But you would definitely get Storrowed just trying to get to the Fairfield Street Footbridge. In other words, stay off Storrow Drive with a truck this size and you'll be doing yourself and other movers a huge favor.
Good luck and welcome to Boston! Remember if you can get through moving day relatively unscathed, the rest of your stay here should be a lot more enjoyable.