Real Estate News
One-third of Massachusetts residents aren't protected by a housing court. That could change soon.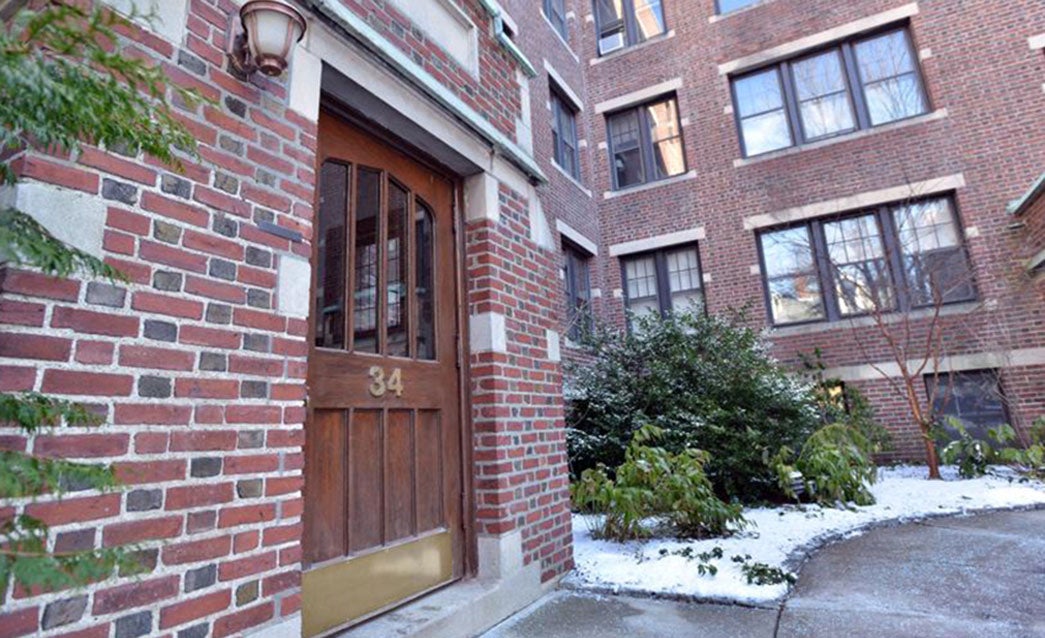 State Representative Marjorie Decker tells the story, sadly typical, of one of her constituents – a single mother struggling to find a place after being evicted from her Cambridge apartment.
For a while, this one looked like it was going to have a happy ending.
"She got a job and was able to move back into Cambridge and enrolled her son into public school," Decker said. "It meant everything for them to have all of that come together."
But within less than a year there was a dispute with the new landlord, who threatened eviction. Decker got the woman in touch with a legal services attorney, but by that point it was too late in the eviction process. She was kicked out of the apartment, searching again for a place to live.
"I wish she had talked to me six months earlier," Decker said. "If she had understood her rights it could have been resolved with the landlord."
Things might also have gone differently if the woman had access to one of Massachusetts's five housing court systems, which are specially organized to handle this kind of dispute. Some staff volunteer attorneys and all offer resources meant to prevent tenant homelessness, resolve code issues in residential units, and mediate between tenants and landlords.
But Rep. Decker represents a swath of Middlesex County not covered by any of those courts. Under the existing system, 20 percent of the state's geography, home to 31 percent of its population, is not covered by a housing court.
The uncovered area includes parts of Suffolk, Dukes, Nantucket, Middlesex, Norfolk, and Barnstable counties, and contains renter-heavy cities like Cambridge and Somerville.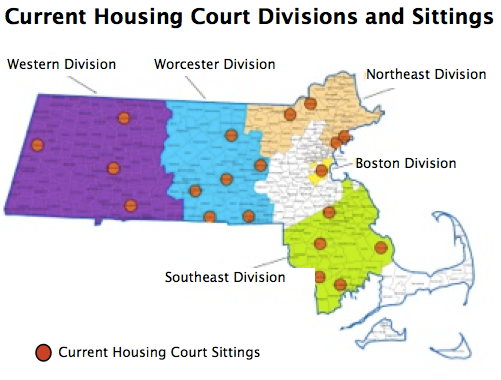 Tenants and landlords in those areas must settle their disputes in regular district courts instead, whether those disputes involve a tenant fighting an eviction notice or just trying to get a broken pipe fixed. District courts are busy with criminal and other cases, and judges often lack specialized knowledge about tricky housing laws.
This is why Annette Duke, a housing attorney for the Massachusetts Law Reform Institute, and her colleagues have founded the "Housing Court 4 All" campaign to expand the current courts so that 100 percent of Massachusetts residents have access.
So far, the effort has garnered support from many municipalities and more than 100 organizations ranging from housing advocacy groups to law firms, churches and fire departments. Massachusetts Attorney General Maura Healey and Governor Charlie Baker, who allocated $1 million for the court's expansion in his fiscal year 2017 budget proposal, have also come out in support of the idea.
But there more hurdles ahead, related to both level of funding and pushback from landlords concerned about being put at a disadvantage under the housing court system.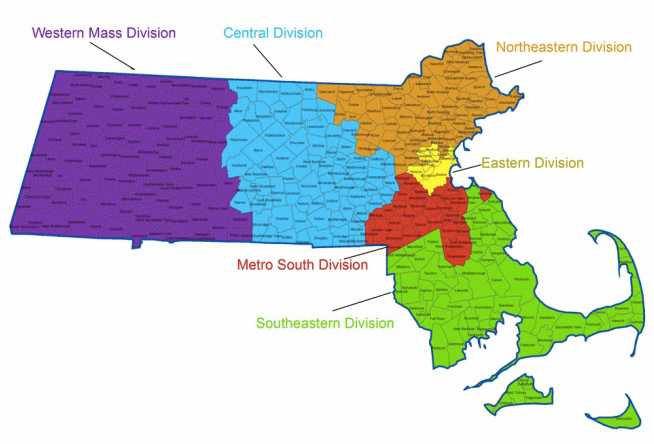 Why are so many people fighting for housing courts?
"Currently, one-third of residents in Massachusetts do not have access to Housing Court. This includes some cities with the highest number of rental units that would greatly benefit from this expansion," Attorney General Maura Healey said in a statement to Boston.com.
"Housing Court judges have the expertise to handle housing-related matters effectively, and the ability to deal with sensitive matters that need to be resolved quickly. It's important that we expand the Housing Court so that all residents of the state have this important access."
Housing Court 4 All argues tenants and landlords alike deserve to work with a judge that understands the complicated nature of housing law, which is something a district court judge might not know as much about.
Ellen Shachter, senior housing and benefits attorney at Cambridge and Somerville Legal Services, said she works with people in Cambridge, Somerville, Belmont, Woburn, Winchesters, and Arlington — none of which are covered under a housing court. She has witnessed problems that come about when housing issues go to district court.
"In the district court there is a challenge in terms of knowledge of landlord tenant laws," Shachter told Boston.com. "They provide such a wide variety of issues." Shachter has helped get Cambridge and Somerville to pass legislation in support of the expansion and talked to legislators about its importance.
Many tenants that go to district courts don't have legal guidance, something that housing courts help provide. The Boston Housing Court has attorneys volunteer their services to provide legal assistance to both landlords and tenants. The program is called the Boston Bar Association Lawyer for the Day.
Housing courts also have special staffers that, according to Housing Court 4 All, "mediate cases that save the time and expense of litigation. They also perform on-site reviews of property to resolve issues concerning housing conditions."
The courts respond to emergency code violations and also play a role in preventing homelessness.
Duke and Shachter emphasized the importance of the housing court's Tenancy Preservation Program, which helps what Duke referred to as the "most vulnerable tenants," especially the elderly and those with mental health issues.
"It preserves tenancy," Duke said. "A neutral clinician comes up with plan that landlord and tenant agree to — everyone has to agree to it. It is a small program but is incredible in preventing homelessness."
In 2015 537 cases the went to the TPP, according to Duke. In 498 cases homelessness was prevented, which Duke said saved the state upwards of $3.7 million per year, just based on the costs to house a homeless family or individual in a shelter per year.
"Someone got to stay in place or transitioned to a new place," Duke said. "It is a 93 percent homelessness prevention rate."
Duke and Shachter both noted things are not perfectly just in a housing court, but think that tenants and landlords alike are better off with it.
The pushback
But many landlords are concerned about housing courts that lean too heavily in tenants' favor.
Skip Schloming has been the executive director of the Small Property Owners Association for 20 years, and counts getting rid of Boston's rent control in the early 1990s as his biggest accomplishment.
"Landlords more or less hate housing courts. We feel it is corrupt and pro-tenant," Schloming told Boston.com. "One of the reasons it is corrupt is because of the 'free rent trick'."
The "free rent trick" refers to situations in which tenants take advantage of state laws that allow them to stop paying rent in the face of an alleged code violation in their apartment. They can continue to live in the unit while the dispute is settled in court, a process that can sometimes take months. Even if the landlord ultimately wins the case, he or she has lost out on a lot of income in the process.
"Tenants don't want codes fixed because they are getting free rent," Schloming said.
Landlords realize the housing court expansion may happen whether they're on board or not. If it does, Schloming and his colleagues are pushing for a key provision to be added.
Doug Quattrochi, the executive director for Mass Landlords, a not-for-profit trade association for landlords in Massachusetts, joins Schloming in pushing for a "rent escrow" provision, which would force tenants to pay rent into an account held by a third party, like a bank, while a dispute makes its way through the court process. This would mean that if the case is ruled in the landlord's favor, he or she could still be guaranteed to get paid the tenant's rent.
Quattrochi said he polled his membership, which has over 1,100 landlords statewide, and found that 61 percent of members said they would support the housing court expansion if the rent escrow law was reformed. 15 percent said they would never support the expansion of the housing court.
Schloming said he did not "see any benefits to landlords" to having a housing court.
"It's stacked against landlords and it may sounds reasonable and fair on paper, but that's just not true," Schloming said. "Landlords are not what they used to be. They used to be quite powerful, they had the monopoly of military power over local communities they governed. That's quite a different situation from modern day landlord."
Where the effort stands
The latest proposal in the back-and-forth process required to pass a 2017 state budget came from the House Ways and Means Committee. It was announced April 13 and did not include funding for the expansion of housing courts.
That was a blow to Housing Courts 4 All, which feels that even the $1 million allocated Governor Baker's January budget proposal is too little to make an impact. Duke estimates the project would cost $2.4 million per year.
But there are a lot of details still to be hashed out before a final budget is passed at the end of June, and Representative Chris Walsh of Framingham is already planning to inject housing courts back into the discussion.
"Given the broad based support from cities and towns, local health and fire departments, community groups, and the legal community, we are disappointed that statewide housing court was not included in the House Ways and Means budget," Duke said in a statement. "But support for housing court continues to grow inside the state house and we are very pleased that Representative Walsh will be filing an amendment to bring it to the full House for consideration during the budget debate."
Rep. Walsh from Framingham will be filing an amendment in the hopes the expansion will be looked at again when the budget gets debated in a few weeks.
"The process is continuing to evolve; expansion of the Housing Court is gaining support both in the State House and in our communities," Rep. Walsh said in a statement. "I am optimistic that we will move this either through the budget process or the legislative process."