Real Estate News
New owners bring an air of Southern gentility to historic Hingham, Massachusetts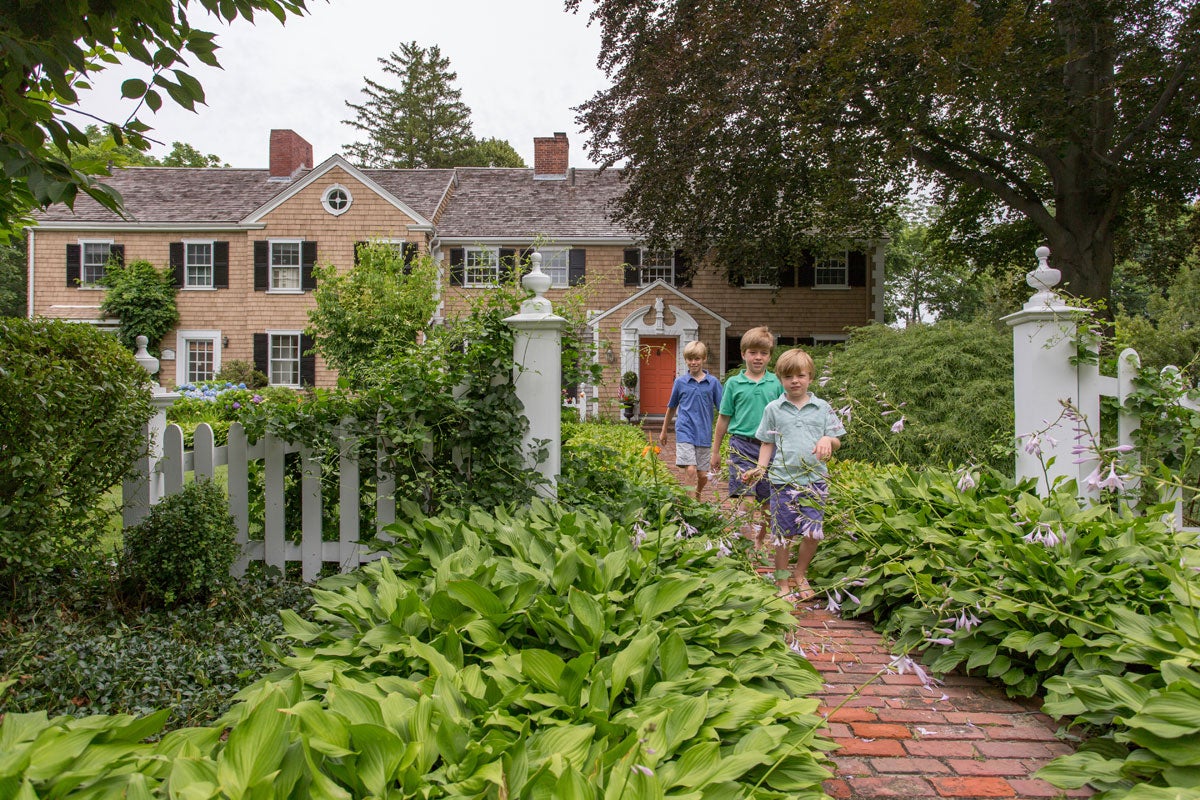 In the coastal town of Hingham, Massachusetts, known for its historic 18th- and 19th-century sea captain houses, this house is different.
The original part, a 1909 Colonial Revival, was built for Arthur C. Wise, a stockbroker, and has rooms on both sides of a central foyer that runs the width of the house from its west-facing front to the back. Ten years later, Wise hired the prominent architect Charles Everett to design a two-story addition on the north side to connect it to a late-19th-century barn he had just purchased and had trucked in from another part of town.
The history — and that the house was in walking distance to Hingham center — won the hearts of Caroline and Lee Counselman, and though it technically wasn't on the market (they knew the owners were considering downsizing since their children were grown), they made a pact. If they could persuade the owners to sell it to them, they would not only raise their three young sons to have the same appreciation for the house and its history as they do, but they would also be more respectful of time itself — they'd view those 5,600 square feet in terms of the past, the present, and the future as long as they called it their home. And they'd hope the next inhabitants would do the same.
But first they needed to buy it.
"We wrote a letter to the owners," says Caroline, "and told them how we had long admired their home and hoped to raise our boys in it." After meeting for cocktails and charming them with their desire to be "the next custodians of the home they had lovingly cared for," says Caroline, the owners agreed, and the Counselmans and their story are now a part of the house's history.
They loved the old floor plan with all its rambling rooms but were especially drawn to the open foyer with its grand staircase, which reminded them of houses in Virginia, where Lee grew up and where they lived together for a while after graduating from Washington and Lee University. "When you walk in the door," says Caroline, "you look right out to the back door, which is unusual around here. To us, it sets the tone that it's warm and welcoming."
"They are very traditional, and they hoped to bring that Old Southern gentility back into this house," says interior designer Robin Pelissier. She and her team at Robin Pelissier Design and Robin's Nest, a shop she owns in Hingham, worked with the couple to liven up the first-floor living spaces and the second-floor bedrooms, which were "beautiful but very tired," she says.
Now, the interior is the exact blend of formal and inviting the family prefers. The foyer welcomes with walls covered in a Manuel Canovas wallpaper, a playful pattern kept modest by a simple beige colorway.
An extra-wide doorway opens to the living room, where a fireplace has original built-in bookcases on each side and window seats — woodwork Pelissier had painted a creamy hue that works well with the light-blue walls, beige geometric rug, blue sofas, and patterned chairs and throw pillows.
"They let me use light blue with persimmon and pattern on pattern," says Pelissier with excitement, applauding the couple for being brave with color. The combination appeals to everyone in the family, which includes William, 11, James, 9, and Reed, 6. "My youngest son loves to play with Legos in there," says Caroline. "I wouldn't have anticipated that."
Mixed in throughout the house are antiques and family heirlooms that enhance formality but, because of Pelissier's flair for layering, don't make the spaces feel stuffy. "We're good at taking something that belongs to your grandmother and creating a fresh vignette," says Pelissier. For example, an antique highboy cabinet felt too staid in the living room, so she moved it to the foyer and filled it with creamware. It brought an updated feel to both the cabinet and the room.
Another heirloom is a dining table for which Caroline found chairs small enough to fit between the antique legs. Upholstering the seats with striped fabric and the back with velvet updates them, while floral linen covers the head chairs. And since there are no window treatments, silk shades on the sconces and silk pillows in teal and hot citron "provide some sumptuousness to the room," says Pelissier.
Less formal spaces (there are three young boys, after all) include a toy-filled playroom and a cozy den for watching TV. But no space is off-limits. The family uses every room. "We create special memories here," says Caroline. "We celebrate our occasions here, big or small."
It's fun to imagine the lives past families had or speculate what future families might wonder about the Counselmans. In the butler's pantry between the kitchen and the dining room, Caroline visualizes the "entertaining of yesteryear," she says, with servants shuttling through. Today, the space has a different purpose during parties. No matter how many people are in attendance, "they will pile in there like a clown car," she says. She likes to think they share her fascination with the place but acknowledges it's probably just because that's where the liquor is kept.
"You never feel like you're alone," says Caroline, who loves looking out at the street and seeing people walking by or riding bikes. Every town has a sense of community. But there's an exclusive community within the house too. Recently, a woman knocked on the door to tell stories of kids sliding down the banister when she lived here in the 1950s and 1960s. Someday, the Counselmans might be sharing their own memories with the house's next family of stewards.