Real Estate News
Homeowners create a haven in the piney hills of Outer Cape Cod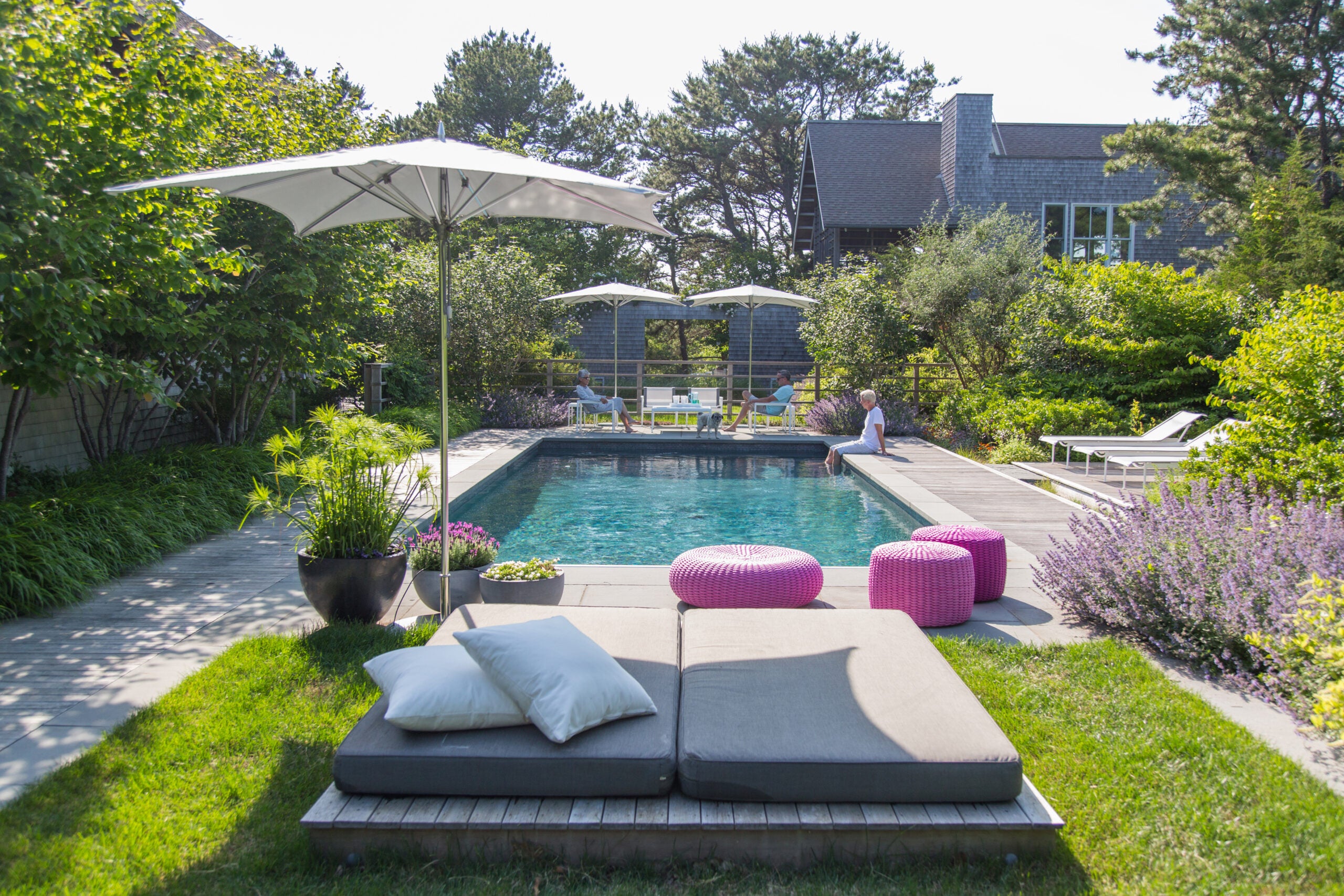 To see this story with its original layout in the digital edition of Design New England, click here.
To get to their house in Truro, Massachusetts, Keith LeBlanc and Kelly Monnahan begin by driving out of Boston and taking a deep breath. They continue south, cross the Sagamore Bridge onto Route 6 and past the point where the highway goes from two lanes to one. Eventually, when sand starts blowing onto the road, they know they're almost there. A left turn secretly cuts through a thicket and up a hill, until, at the top, the air is noiseless, the sun is strong, and the dual view of Cape Cod Bay to the west and the Atlantic Ocean to the east is magnificent. Although they share a loft in Boston where they spend most of the workweek, "This is home," says LeBlanc.
LeBlanc, a landscape architect, and Monnahan, an architect, whose firms, LeBlanc Jones Landscape Architects and Kelly Monnahan Design, are in the same office in Boston's South End, designed the 3,500-square-foot main house in 2001 after renting houses on Outer Cape Cod for years. In 2007, they completed their master plan by adding a pool, gardens, and a 1,750-square-foot guesthouse because, says Monnahan, "Our family grew and we love when people stay." That their family is scattered around the globe gives more weight to this spot as a gathering place. "Kelly's brother and two nephews live in Europe, and his sister and her family live in Seattle," says LeBlanc. "My family is in Louisiana. It's rare that New England is at the center, but it is."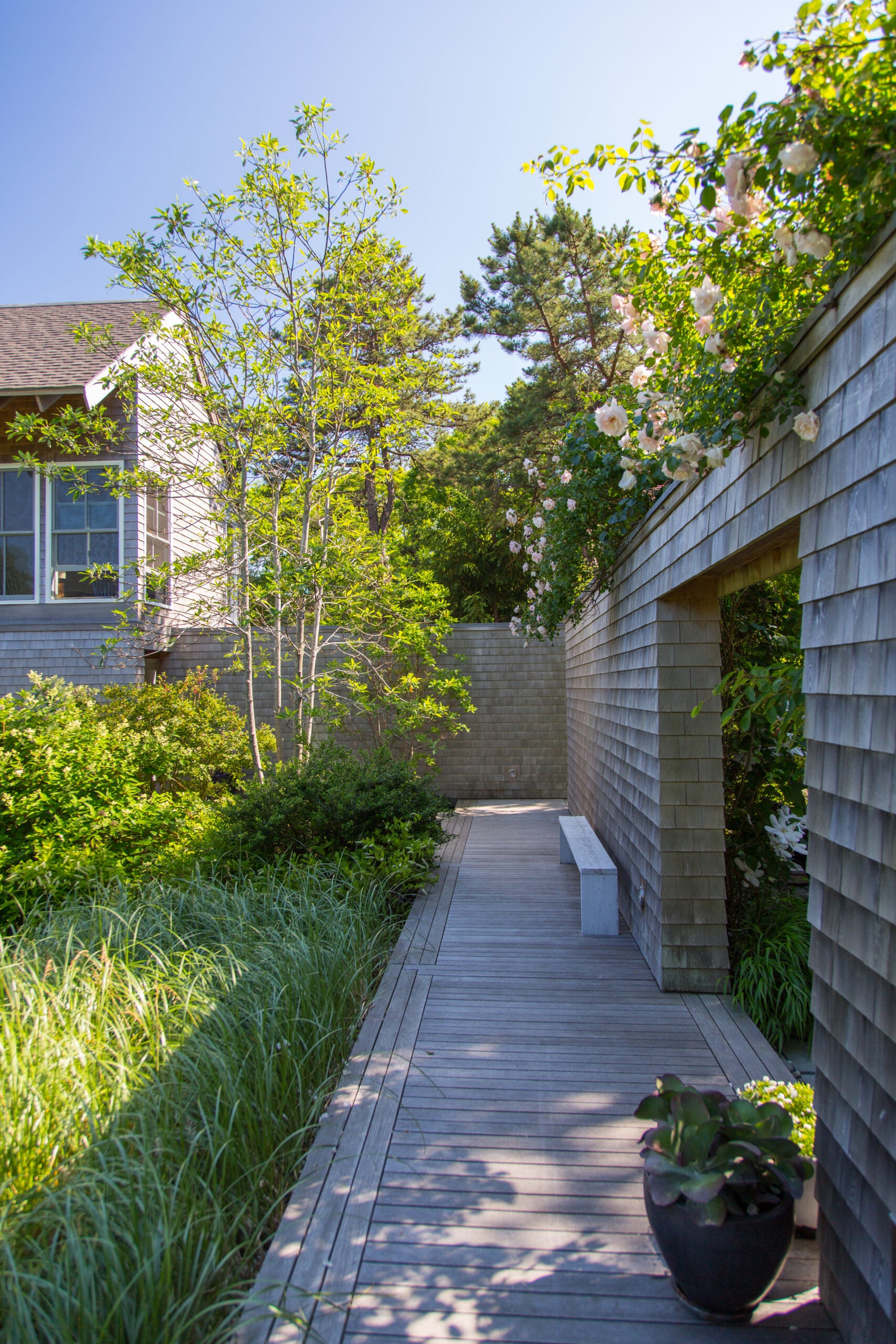 The houses, plus a small art studio added for LeBlanc in 2013, all built by Pratt Construction of Marstons Mills, Massachusetts, are fully in tune with each other, proving that when two design professionals live together and combine their talents, magic happens. "We overlap a lot," says LeBlanc about their landscape and architecture backgrounds. But, "at the extremes of each of our fields, we defer. Though we do talk about it together."
The guesthouse, with a living space, kitchenette, three bedrooms, and a bathroom on the second floor plus another bathroom and a laundry area next to the garage on the first floor, provides the space needed for family visits as well as the functionality of a pool house. Monnahan designed the building's roof to cover part of the mahogany walkway — a path lined with a garden wall sheathed in white cedar shingles (to match both buildings) — that connects the driveway, pool, garden, bluestone terrace, and main house.
Because trees surround the lot, "you don't see the distant views," says Monnahan. "You don't see those until you enter the main house and go to the second floor." To capitalize on those vistas, the house has an upside-down layout with kitchen, dining, and living spaces on the upper level. Two guest bedrooms, a bath, a den, laundry, and a master suite are on the ground floor. Off the living room is a deck, where a ladder leads those adventurous enough to climb it to a widow's walk and a small lookout where the view is panoramic.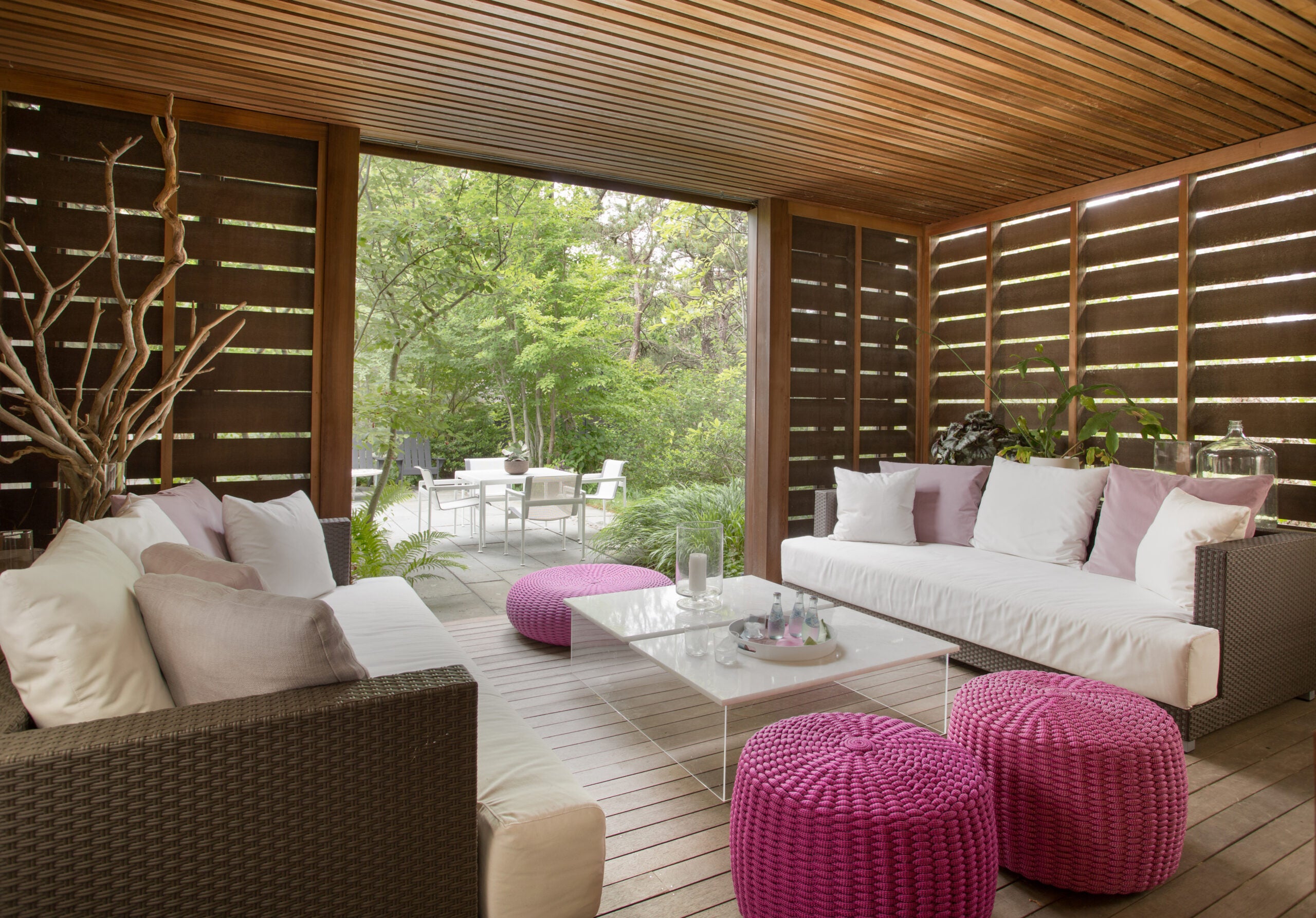 LeBlanc and Monnahan looked to fishing huts, tobacco barns, and 1920s postcards of Cape Cod for design inspiration. "My aesthetic is more modern," says Monnahan, "but the house is designed not to be a spaceship that landed in Truro, but not one that has been there for 100 years either. It's shingled, but it's bright and open and tall."
"The main house was surrounded by native plants on three sides," says LeBlanc, but adding the guesthouse and pool presented the irresistible opportunity for him implement the "articulated, gardenesque garden" that he craved. Having served clients on Cape Cod and the islands, he knows wind and salt make for a rough growing environment. "This is a good testing ground for a lot of ideas," he says. Around the pool, lawn, and terrace, he has planted Japanese forest grass, Walkers Low catmint, and shrubs such as fragrant viburnum, Snow Queen oak-leaf hydrangea, and Red Sprite winterberry. The garden spaces form an east-west axis that intercepts the north-south walkway at an opening in the garden wall, where pale pink 'New Dawn' climbing roses gracefully grow. Around the rest of the house and guesthouse, native plantings such as beach grass, boxwood, bearberry, and cedar and spruce trees keep the site natural and easy to maintain.
Inside, living spaces are voluminous while bedrooms are kept modest. Furniture designed by Midcentury Modernists Richard Schultz, Fritz Hansen, and Herman Miller is peppered throughout the mainly white spaces, which are enveloped by uniformly painted plaster walls. "I like the texture the raw plaster has," says Monnahan. "It's almost like stone." Decorations, such as LeBlanc's collections of antique potato mashers, wooden mallets, spindles, and levels, are displayed in rotation so clutter is kept to a minimum.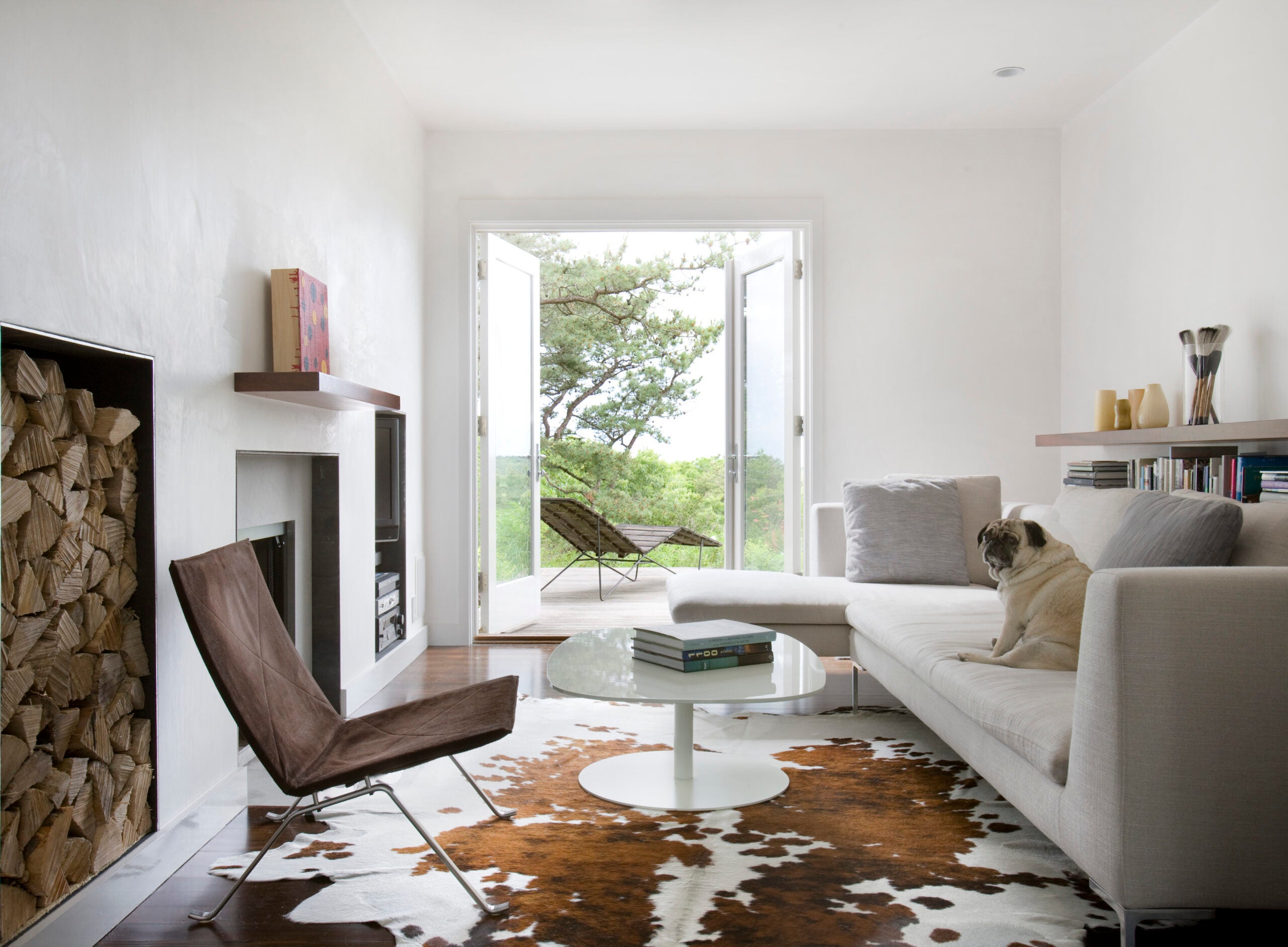 Compared with their Boston loft, where there is no outdoor space, storage, or any real accommodation for guests, here LeBlanc and Monnahan (and their pug, Logan) have the luxury of spreading out, relaxing, and cooking. LeBlanc uses the house as "a springboard to stretch the weekend," often working on his laptop and making visits to clients' sites. Monnahan, on the other hand, tries hard not to work when he is here. (There is no office on purpose.) Both appreciate how special this home is to them. When here, they live simply, relishing the details of the day-to-day.
For example, in the master bedroom, large four-over-four windows stretch from the floor to the ceiling, because, says Monnahan, "We really wanted to have a connection with the landscape." Adds Leblanc, "When you lie in bed, you can see the sky."
LeBlanc and Monnahan agree on aesthetic points. It's a system involving nature, their values, and the work they do and take pride in. Take the all-white interior, which, LeBlanc explains, makes "the sunsets beautiful even inside the house. The sun is like an orange spotlight going down, and it's completely reflected inside."
Adds Monnahan, because they do, after all, also have a view of the sunrise on the east, "That phenomenon happens twice a day."