Real Estate News
How Mike's City Diner chef Jay Hajj and his wife created a home that was 'more us'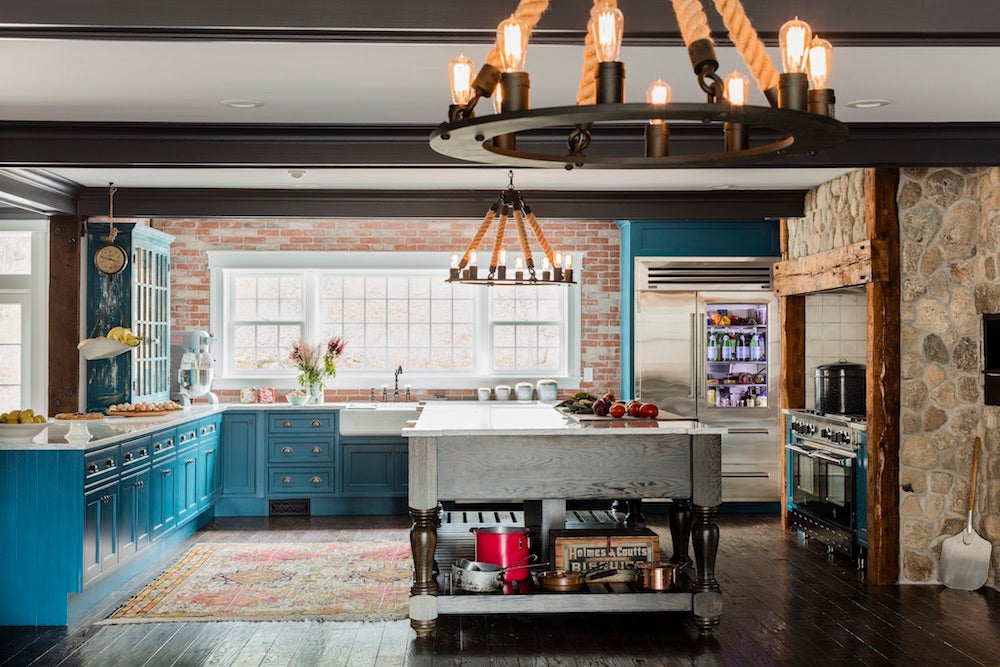 In the Medfield, Massachusetts, home where Jay Hajj lives with his wife, Janet, and their four children, the chef and owner of Mike's City Diner in Boston's South End can't sit still. Besides an enormous kitchen where he tests out recipes for his upcoming cookbook, he's got a vegetable garden, an herb garden, and a flower garden, plus a charcuterie fridge, two cabinets full of pickled vegetables, an indoor pizza oven, and soon, an outdoor pizza oven. Downtime, if you can even call it that, is dedicated to family and food. As a way to explain, Jay says, "If I'm stressed out, I come home and cook a meal. If I'm happy, I come home and cook a meal."
"He is always doing something," says Janet, "and as we get older, he just wants to do more." That energy and can-do spirit led the family, in 2013, to decide to move from its new construction house across town to this circa 1760 farmhouse. "We felt like it would be more us over here," says Jay, who was drawn to the house's history (one of the founders of Medfield had lived there), the spacious barn out back, and the side and back yards where his gardens could flourish. The house needed updating, though, and Jay's desire for "a chef's kitchen" started what became an extensive renovation. "One thing led to another," he says, "and two years later we renovated the whole house."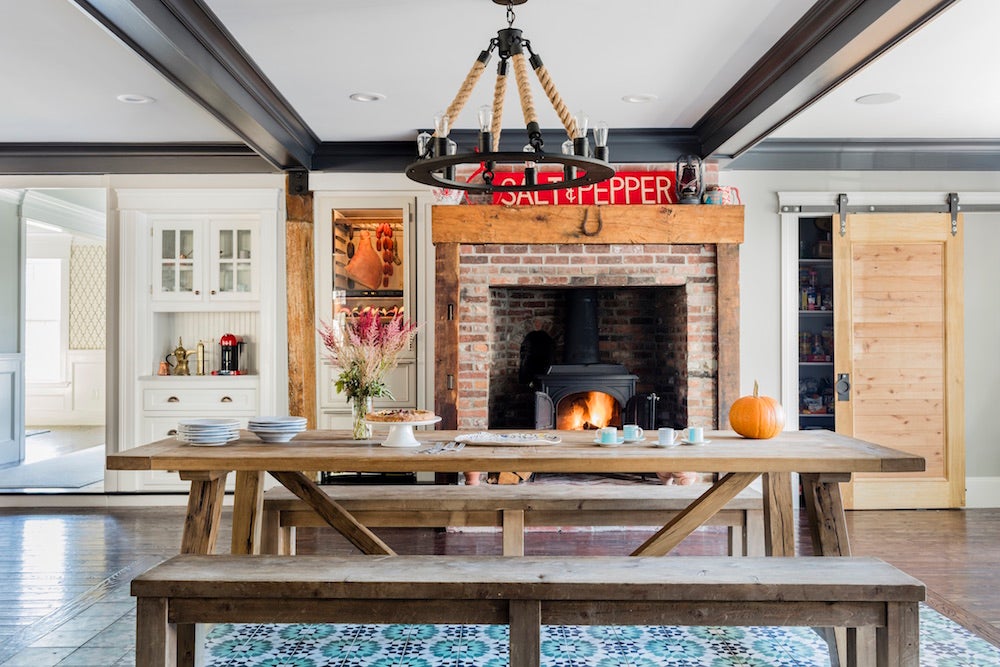 Along the way, in addition to hiring architect Arthur Choo of Choo & Company Inc. in Boston and finish carpenter Michael Quebec of First to Finish Inc. of Winchendon, Massachusetts, Jay and Janet brought in designers Kendra Amin-Dufton and Brad Dufton of color theory Boston, who had helped freshen up the interior of Mike's City Diner a few years before. "We found them so pleasant," says Jay, "and we just felt comfortable with them."
A mix of Old World, Americana, and Lebanese styles (Jay lived in Lebanon until he was 8), the house is open, eclectic, comfortable, and just right for this family. Past the dining room and the library at the front of the house, the kitchen is an impressive 1,500-square-foot space that opens to a large family room. Windows, including an elongated bay window by the kitchen table, look out to the yard and gardens. On the second floor is a master suite reminiscent of a boutique hotel (exactly what Jay and Janet wanted) and four more bedrooms, one for each of their children: Samira, 16, Mason, 15, Victoria, 12, and Miles, 6, who also have the run of the third floor's hangout room. .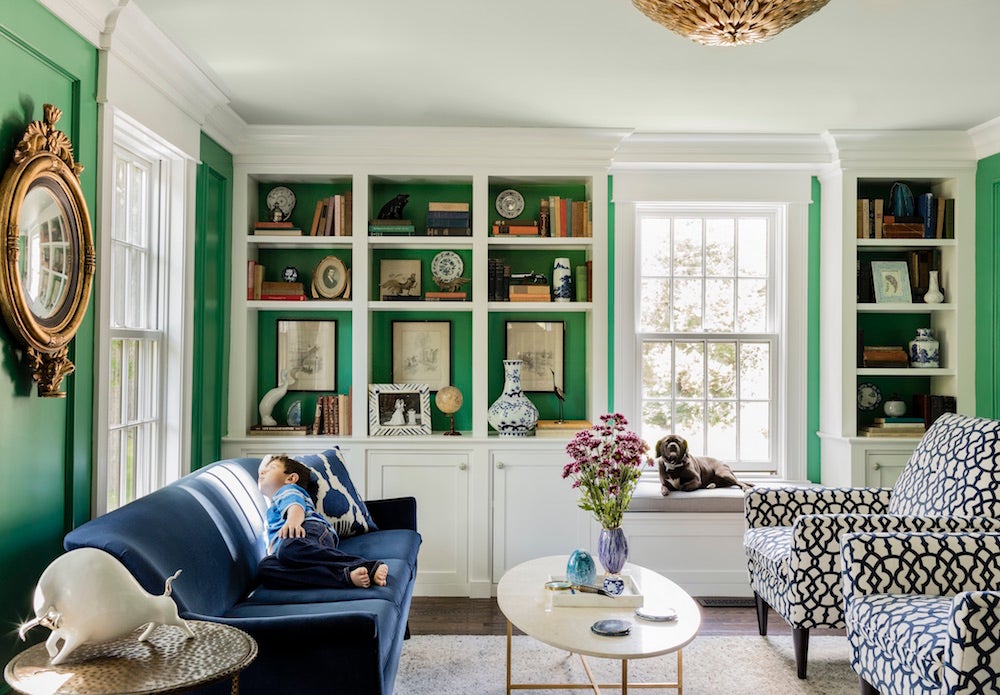 But the kitchen — a true chef's kitchen with plenty of open space, a fully stocked fridge and pantry, and a BlueStar stove — is where everyone gathers, usually around the island, which at 5 by 12 feet is so large it had to be built on-site. Made of quartersawn oak with turned pedestal legs and a Silestone top, it injects grandeur into the space and provides Jay with functionality. Its pure size allows him the luxury of spreading out his cooking ingredients and tools, while a 2½-by-4-foot leaf that slides out from the middle of the island — on roller-blade wheels, no less — appeases Janet's wish for an informal tabletop
By the fireplace at the other end of the room, a long table from RH is centered on cement tiles handmade in Mexico, which "create an indestructible area rug," says Dufton. "They can host up to 15 people with no problem at all," he says, with all the guests seated at the table; if needed, they can accommodate another eight at the island.
"The kitchen needed to be functional with all the bells and whistles," says Amin-Dufton, mentioning the pizza oven beside the stove and wine fridge Jay uses to store homemade charcuterie, "but it also needed to feel very intentional. That's where the more raw elements came into play." A brick wall and the reclaimed beams framing the stove alcove have personality, as does the cabinet hutch from Boston's Restoration Resources, which Jay found, Quebec repaired, and Dufton finished and distressed in the same color — Bermuda Turquoise by Benjamin Moore — as the base cabinetry.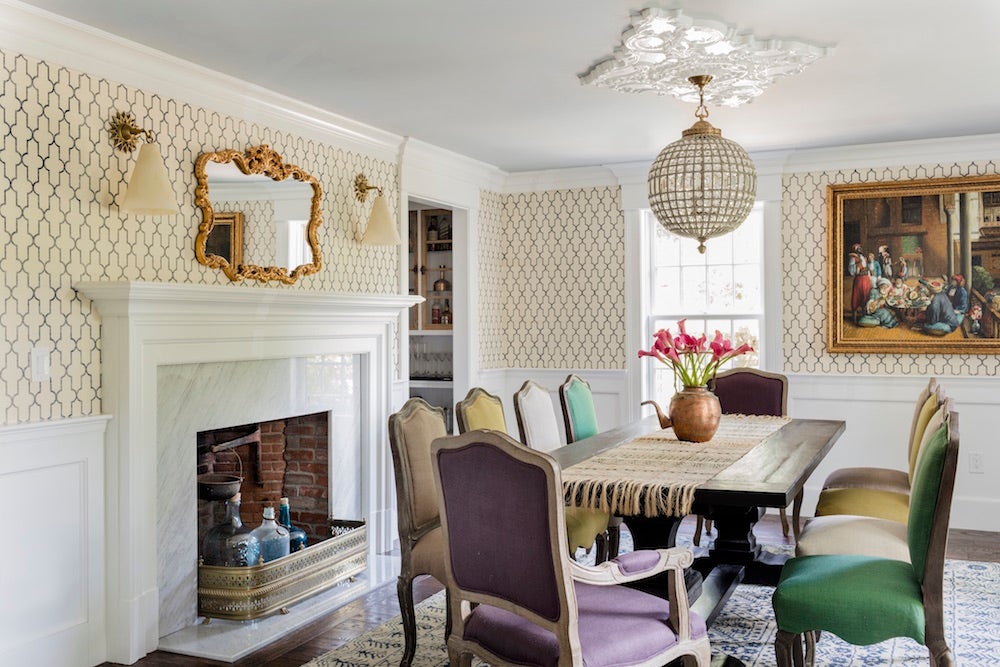 While the master suite and family room are mostly neutral, the kids' rooms, dining room, and library are bolder. Did Jay and Janet need coaxing with some of the design choices? Yes, says the couple, listing the kitchen cabinetry — "When they showed me the color, it didn't look good," says Jay, "but then I painted one cabinet and I loved it"; the wallpaper in the mudroom — "It's all about produce," says Dufton. "It's an introduction to the kitchen"; and the green walls in the library — "It was one of those instances when we said 'Please trust us with this' and they did," says Amin-Dufton.
"Every time they say trust me," says Jay, "they really guarantee it. Brad would say 'If you don't like the color, I'll come repaint it myself!' But he never needed to. We love every room."
For a chef whose early career, like that of most successful chefs, meant working 100-plus-hour weeks, running multiple kitchens, and cherishing every minute he could spend at home with his family, Jay is still running around, but now, he says, "it's at my pleasure."
As for what's next, Jay says the kitchen is purposely large enough to fit a film crew should he decide to have his own cooking show, and there's plenty of space in the barn out back.
"The barn is a story in itself," says Jay. "It's the coolest thing. If I start making my own wine, it's the perfect room for wine."