Real Estate News
See the giant new mudroom of a New Hampshire family vacation house on 106 acres of land
Recognizing her tendency to bristle at muss and fuss, the owner of a newly purchased 106-acre property on a lake in southern New Hampshire knew, without a doubt, she needed to add a mudroom.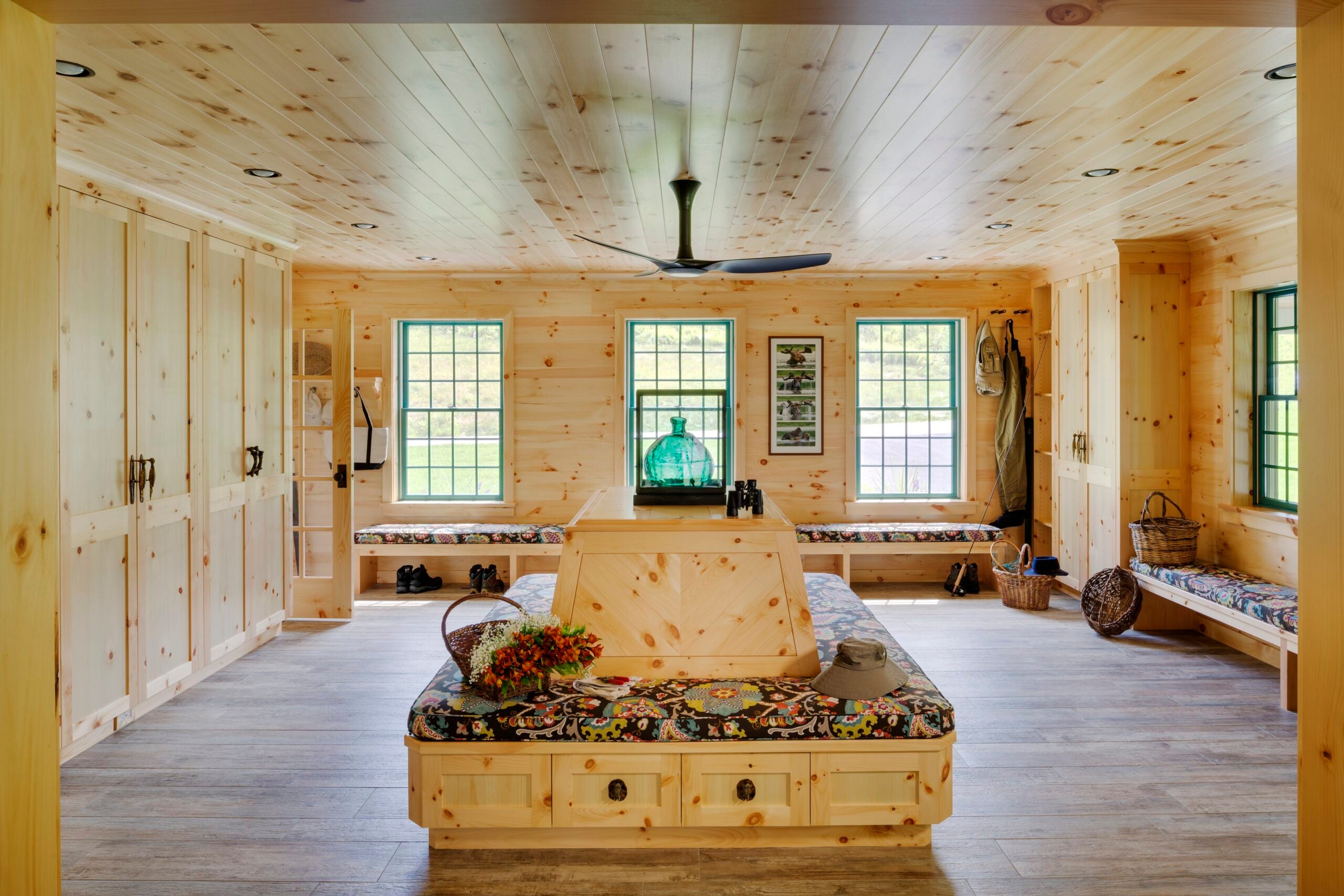 Recognizing her tendency to bristle at muss and fuss, the owner of a newly purchased 106-acre property on a lake in southern New Hampshire knew, without a doubt, she needed to add a mudroom.
Although the house, which she and her husband purchased in the fall of 2013, was sited on a natural wonderland rife with opportunity for hiking, mountain biking, snowshoeing, berry picking, and boating, the house itself lacked basic amenities. The front door opened directly into the living room, with no coat closet in sight, and the side door opened into the kitchen. "Nobody wants to live like that. Especially with three boys," the homeowner says, referring to her 25-year-old twin sons and their 18-year-old brother.
After trying it out on weekends for about a year, the owners called their longtime interior designer Marcia Summers of Marcia Summers Interiors in Newton, Massachusetts, and Woodmeister Master Builders, whose headquarters are in Holden, Massachusetts, to devise a plan. While the impetus for the addition was a serious mudroom, the couple also wanted to create dormitory-style sleeping and bathroom accommodations above it for their sons and their guests. "The goal," says the homeowner "was that everyone could do their thing comfortably, and I wouldn't experience any friction with my inner sense of order, allowing me to be a calm, generous hostess."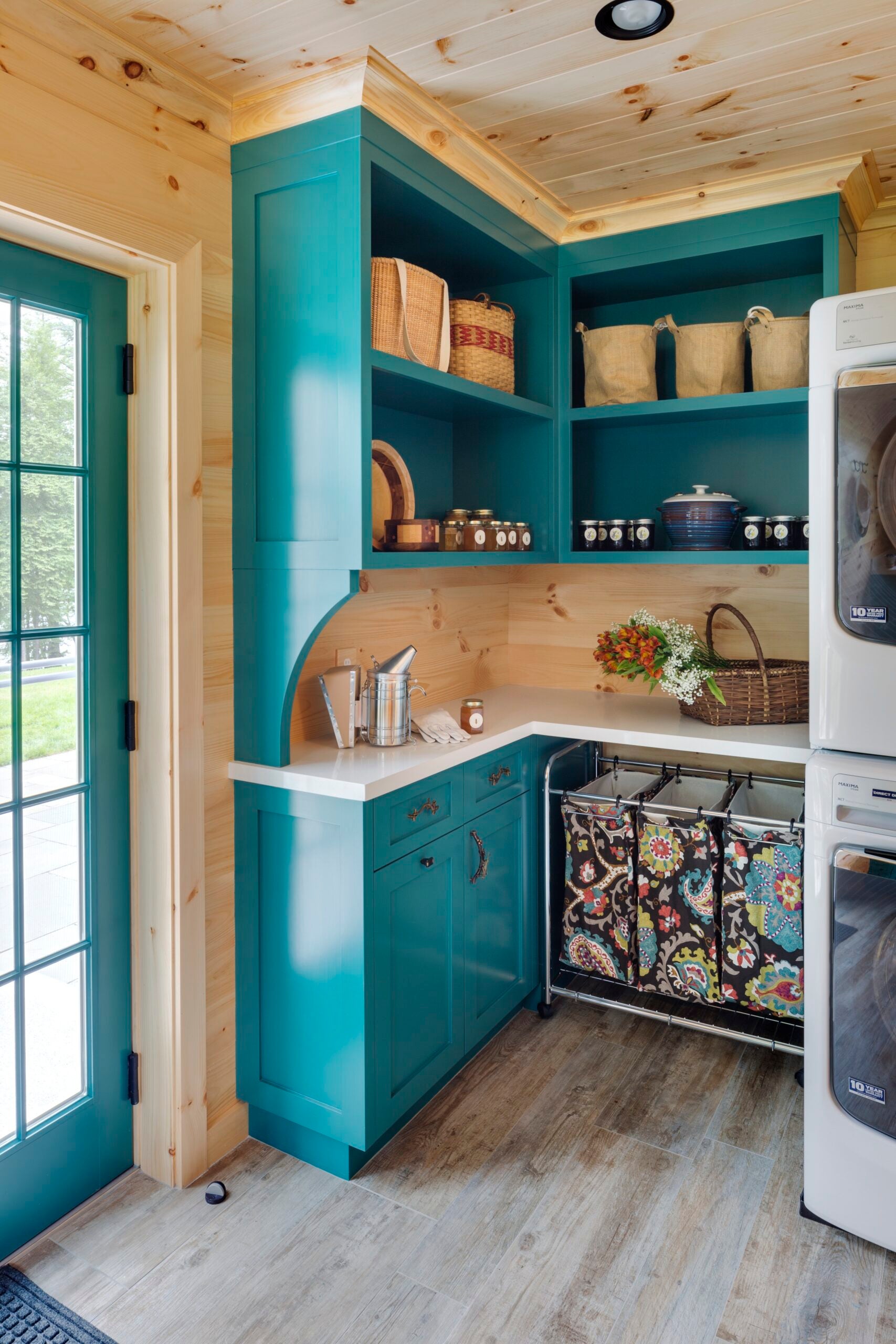 Woodmeister project manager Scott McCarthy says the addition was designed so that the new space would unobtrusively blend with the rest of the exterior. "Symmetry was the driving force," he says. "By virtue of adding the addition, for which we used identical materials to the original, the home's main entrance is now front and center."
At 800 square feet per floor, the addition's ground level consists of the 22-by-22-foot mudroom, a pair of toilet rooms and dressing rooms, and a utility room with a laundry set up on one side and on the other, an oversize sink for washing the plentiful supply of fruits and vegetables that come through the back door.
"Everything about the space is functional," says Summers, who also worked with the couple on their home just outside Boston, as did Woodmeister. "There is room for all the family's equipment, from snowshoes and fishing gear to the wife's beekeeper's hat. It makes the house very usable."
A 72-by-90-inch ski lodge–inspired bench sits in the center of the mudroom, complete with drawers and open cubby space for boots. Additional benches run along two sides of the room, with a third wall lined with floor-to-ceiling cabinets. Pegs, racks, and shelves provide additional places to stash outdoor accouterments.
The room is lined with a mixture of 8-, 6-, and 4-inch-wide knotty pine planks milled in the Woodmeister workshop and installed in a random horizontal pattern. "It's a more stylish take on the woodsy look," says Summers. Adds her client, "I love the feeling of knotty pine; it screams 'lake house' to me."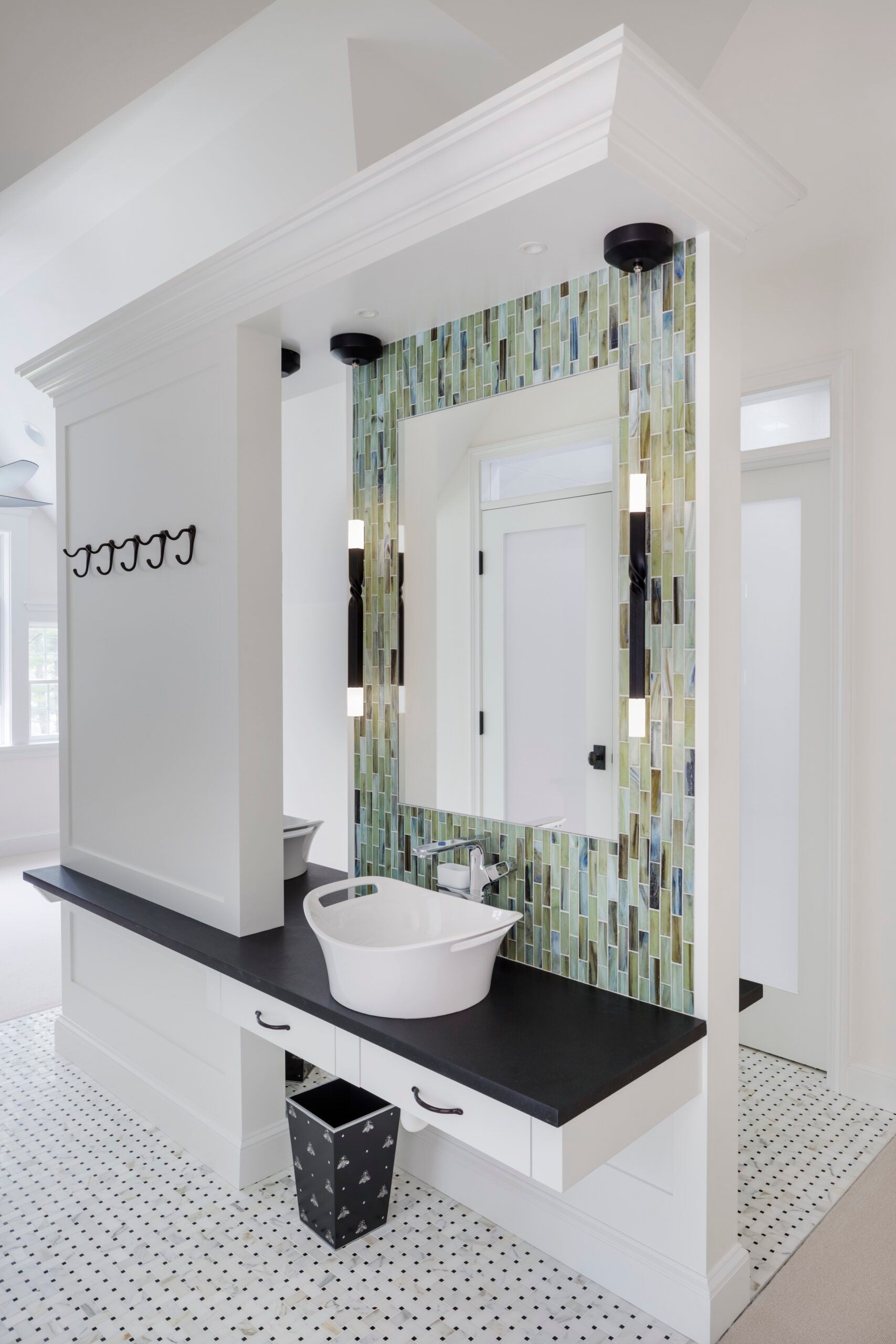 For comfort and color, Summers added bench cushions in Kravet Kadiri treated to be water-resistant so wet coats and boots pose no threat. "It's dark and busy enough not to show dirt," says the designer. The interior window and door trim as well as some built-in cabinetry are painted Casco Bay, a turquoise color by Benjamin Moore.
Summers and the homeowner spent an afternoon at Needham Lock and Decorative Hardware in Needham, Massachusetts, perusing hardware before finally selecting whimsical oil-rubbed bronze pulls by Schaub & Company in the shape of woodpeckers, frogs, bees, etc. "There's no detail that shouldn't be fun," says the homeowner.
Above the mudroom, two mirror-image bedrooms ⎯ each with two sets of bunk beds ⎯ are separated from a television room by an ingenious bathroom that allows multiple people to do what they need to do without waiting. This airy, easily sharable space has a pair of sinks at the center and a set of toilet and shower rooms on each side. The black-and-white scheme includes marble floor tiles in a classic basket-weave pattern and vessel sinks, which the homeowner says resemble farm buckets, set atop polished absolute-black granite vanity tops. Forest-green glass tiles turned vertically on the backsplashes bring a bit of outdoor color into the room.
Last summer, the youngest son invited 13 friends to stay at the house for a weekend. For the homeowner, it was confirmation that she had made sound design decisions. "They were so happy," she says. "There were wet bathing suits and towels all over the floor, but who cares? What happens in the mudroom, stays in the mudroom."