Real Estate News
Inside the Maine barn where an MIT-grad recreates 18th-century pianos for today's master musicians
Toiling in a 19th-century barn doing 18th-century woodworking, Rodney Regier might be living in a time warp.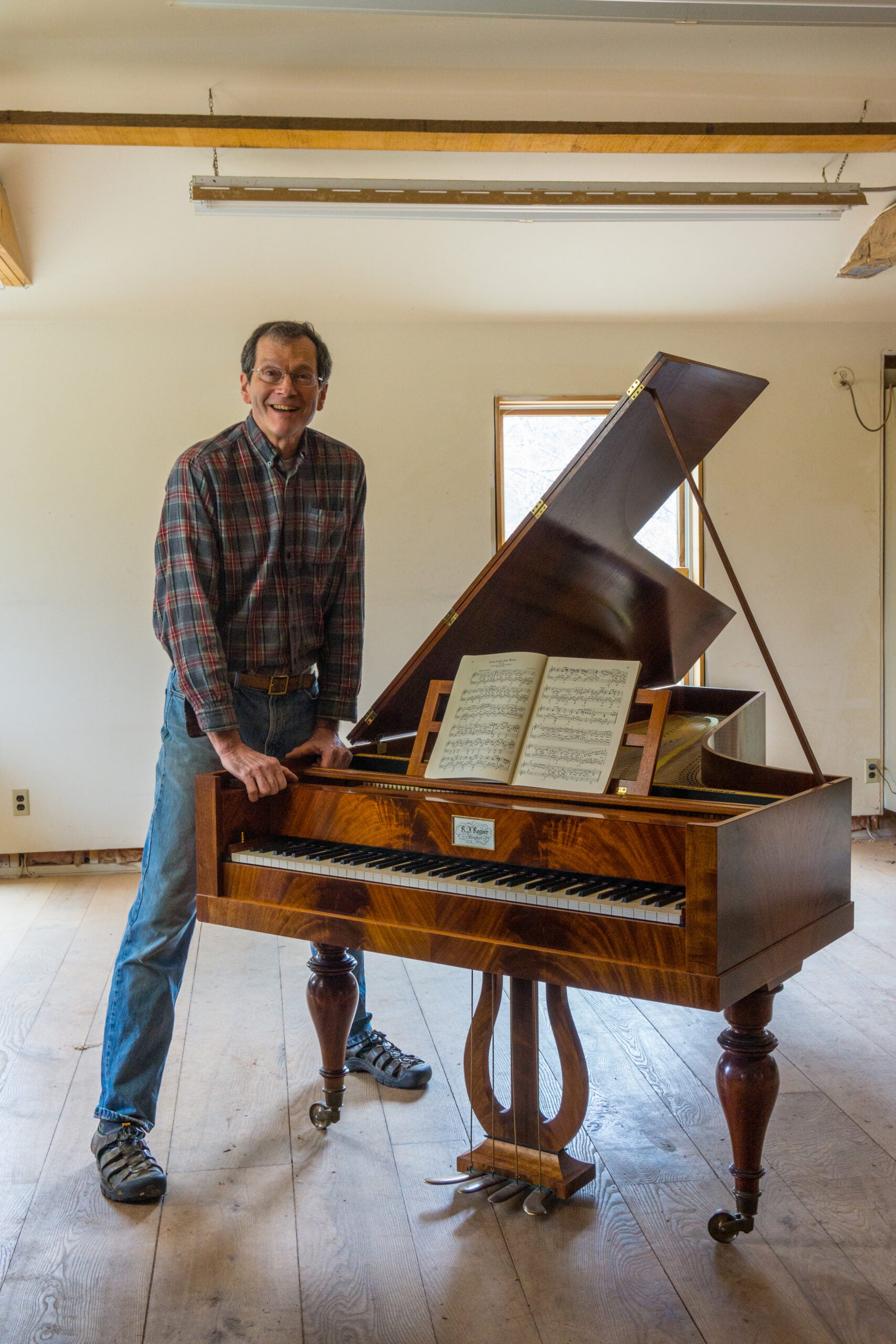 Toiling in a 19th-century barn doing 18th-century woodworking, Rodney Regier might be living in a time warp. Educated at the Massachusetts Institute of Technology in Cambridge, Massachusetts, this one-time researcher at Johns Hopkins University in Baltimore chooses to exercise his surgeonlike skills making fortepianos, an early wood-framed piano dating to the 1700s that today are coveted by master musicians around the world.
On his 55-acre spread in Freeport, Maine, suggestive of a Bruegel painting, stands his R.J. Regier workshop and showroom. From the outside, there is no hint that eminent musicians slip behind the barn door to press ebony and cow-bone keys, coaxing music from custom frames sawn from old-growth wood with lids shellacked to a deep luster. They come to play his early pianos and, in a sense, consult, practice, and commune with the likes of Beethoven, Mozart, and Schubert.
Seated at a five-octave Viennese fortepiano, the tall, lanky Regier looks at home. "This is all Beethoven would've known," he says, playing a short song on the compact, 1700s-inspired instrument. The sound is gentle and, like its brainy artisan creator, confident, sober, and clear.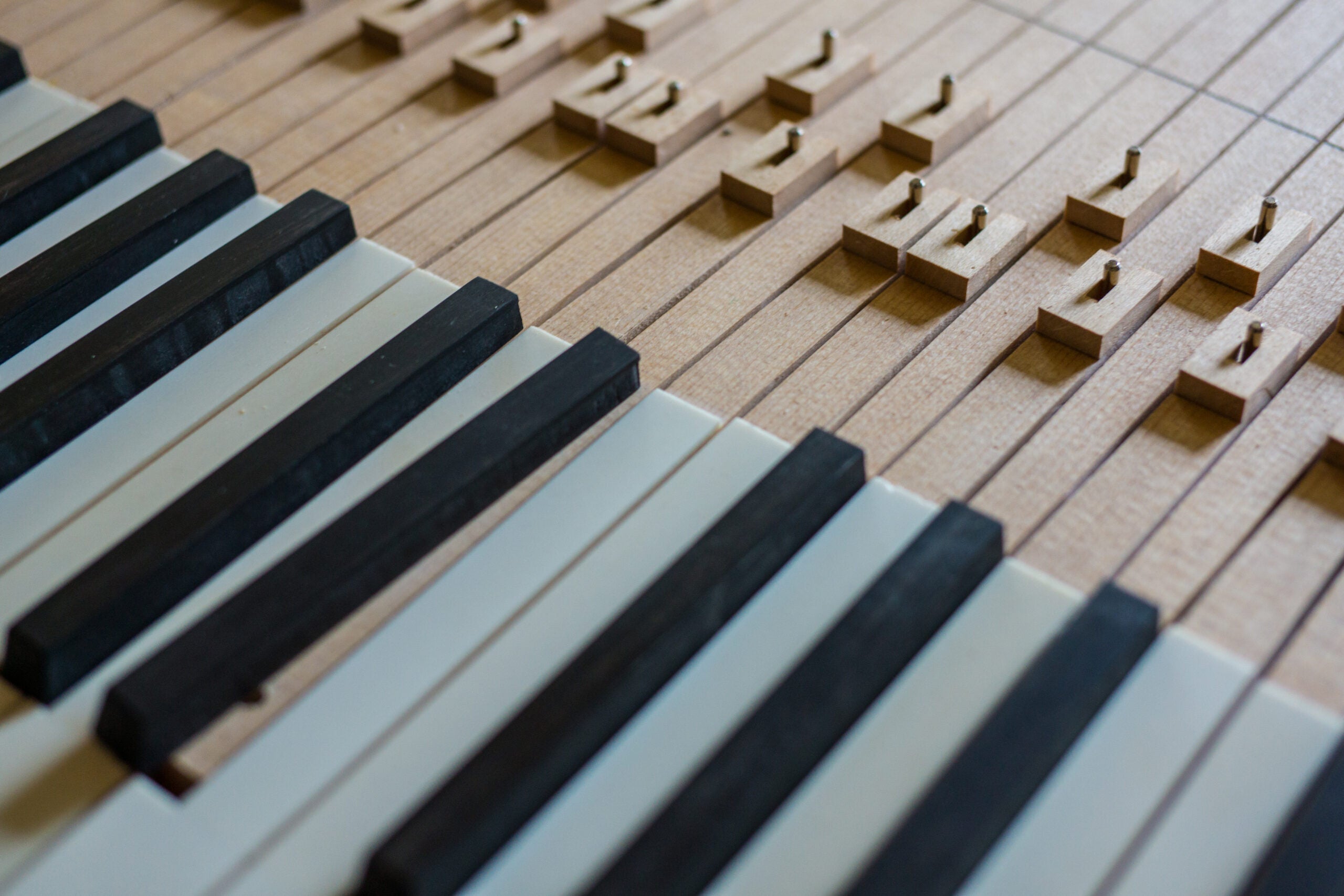 In the 40 years he's made early pianos, Regier says, "they've become legitimized in the musical world, rather than remaining curiosities. You see them at Lincoln Center for Mostly Mozart, and that's something that would've been unimaginable 30 years ago," he says, referring to the annual summer music festival in New York City. As one of a handful of early-piano makers in the country, Regier is partly responsible for that renaissance.
The demand for these rare instruments, coupled with the painstaking and time-consuming art of crafting them, means there is a waiting list. With one assistant, Regier completes just two fortepianos a year, each one customized to fit the player, the home interior, the intention.
"They have to be winged shaped because of the strings," says Regier, but the similarities to modern pianos end there. For one piece, he has built thick oval legs to complement the client's Biedermeier-style furniture. "The legs will be different," he says, "but underneath it all, it's the same instrument. They are big, beautiful pieces of furniture." Yet, they emit an ancient, soft sound. Unlike a thunderously rumbling Steinway, early pianos are delicate. "It doesn't matter how hard you hit it. They have a lighter, acoustic governor. You don't have to play like it's fragile. There is a basic sound that is built into the wooden box. You can't change it. The soundboard is the musical soul of the instrument. When the player plays it softly, the audience holds its breath."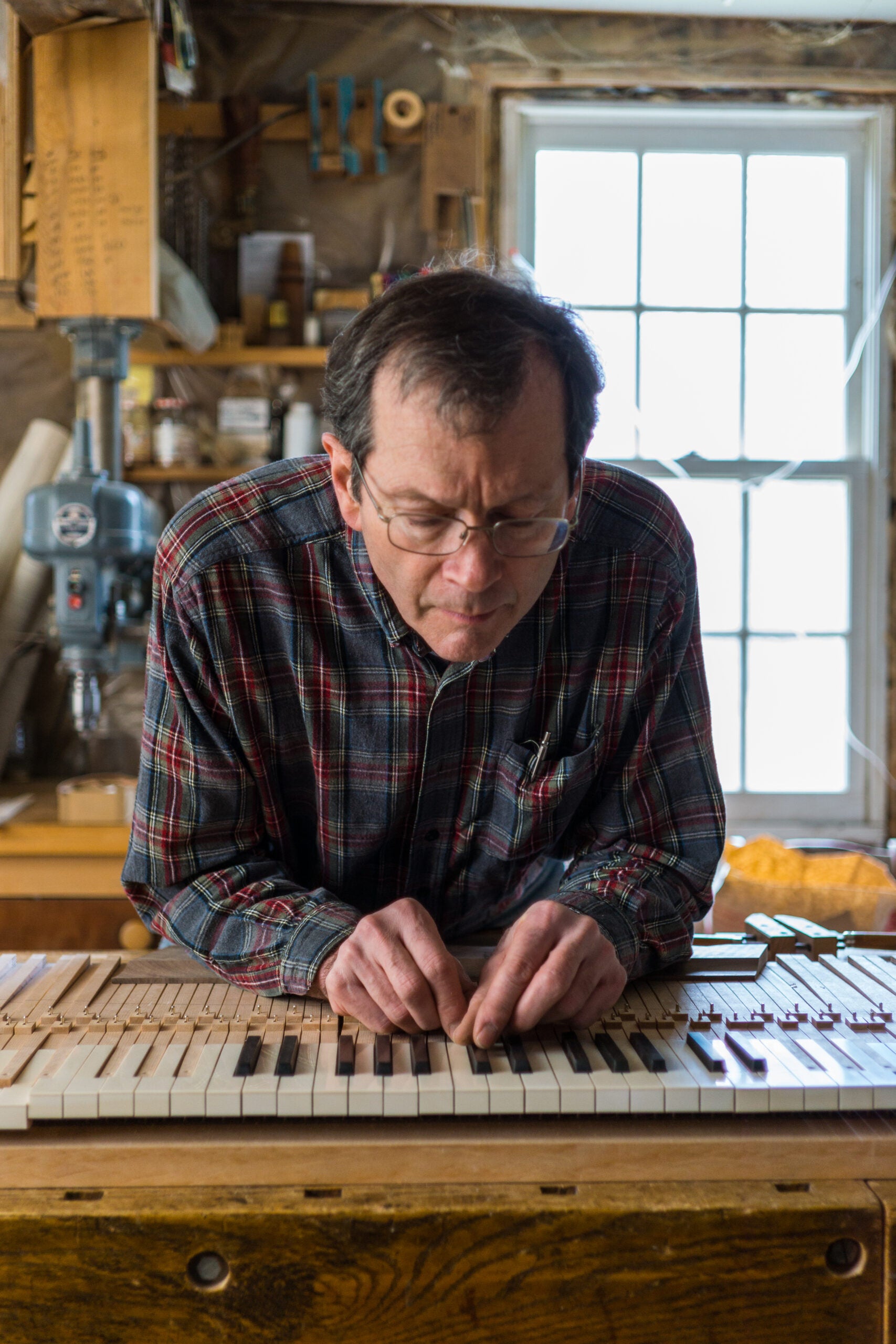 Figuring out how to re-create an authentic fortepiano took some investigating. There are no surviving drawings by 18th-century makers. Regier turns to books to find general dimensions and, as often as he can, plays the handful of surviving originals. Many of his instruments are based on those made by Viennese masters like Anton Walter.
"I have several notebooks full of measurements I've taken of old instruments," says the artisan. "I've got thousands of old photographs of instruments' details. How bridges are carved, how keys are shaped, how long the strings are, how the hammers are shaped, the way they are carved. I've had intimate access to publicly owned and privately owned instruments, too." He says that on repeated visits to Yale University in New Haven, Connecticut, and the Museum of Fine Arts in Boston, "I am always playing the instruments," which allows him to experience the physical and emotional aura of the fortepianos.
"Like a biblical scholar talking about the Bible or the Koran," says Regier, "or an English major studying Shakespeare, who relates to the texts and keeps finding new things, I'm the same with the instruments. I breathe them."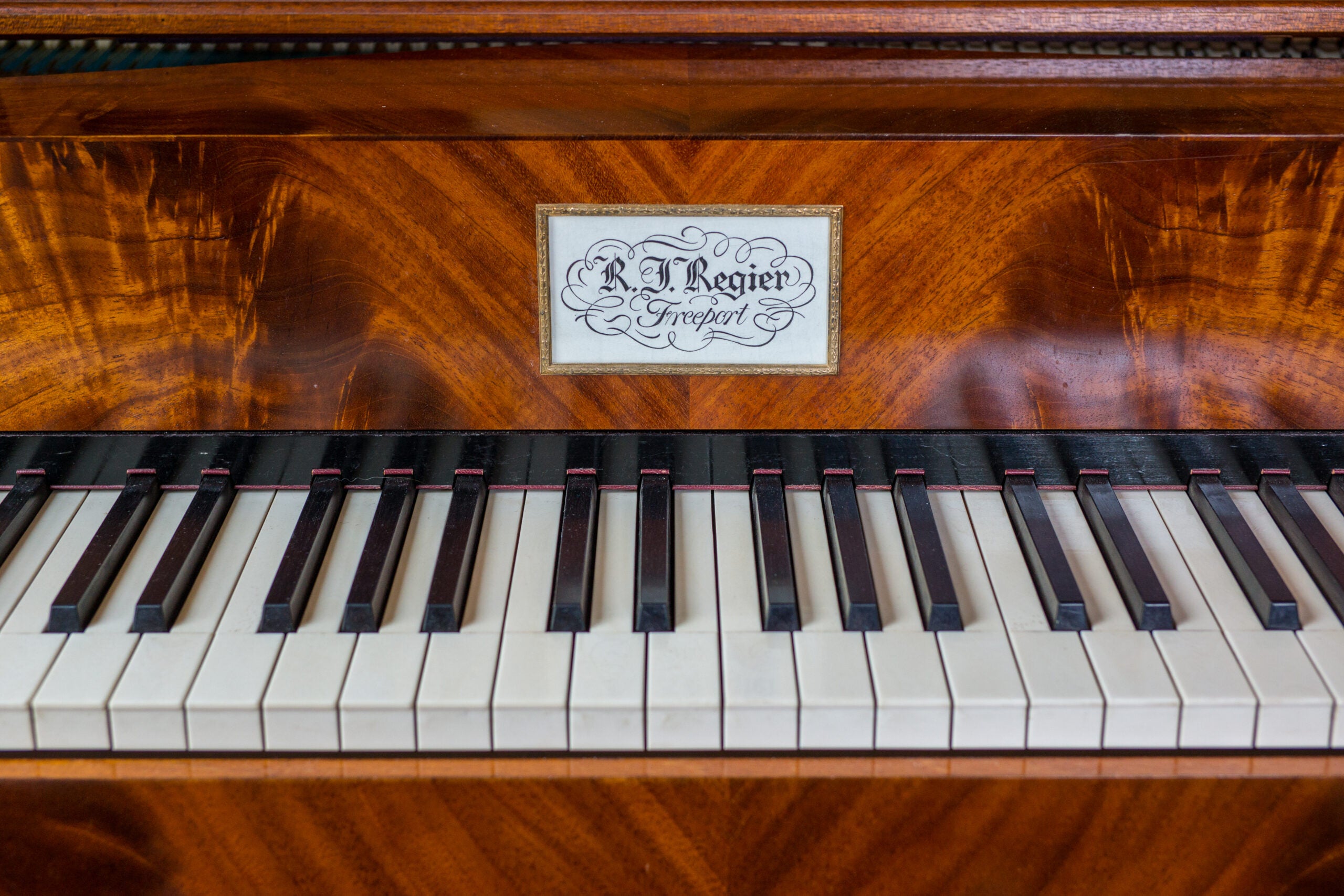 As he inhales, he's not looking to re-create an exact piano from Mozart's day. That would be impossible. "I'm using a lot of North American woods and modern materials," he says. "It's not exactly museum quality. That's not the point." Instead, he is carrying on a tradition, looking back with an eye to the future. "They are not exact copies," he says of his five-octave and six-and-a-half octave pianos, but rather modified originals.
Spreading out a drawing of his own design on Mylar film, he says, "This is where the magic begins." He and his wife, Shirley Mathews, a retired harpsichordist, spent years "crawling around on our backs under instruments" to see how they were made. "The designs, both mechanically, structurally, and musically are based on really very, very fine surviving period instruments."
He has a website and stipulates that "R.J. Regier" appear on all programs where his instruments are on loan, but a marketing department? No chance. "I don't need Facebook when I'm in Carnegie Hall," he says. "I'm a niche within a niche."
Early music, a niche within classical music, is the community to which he belongs, and it spoke to him at an early age.
"My midlife crisis began at 25," says Regier, explaining that he left a career at Johns Hopkins, where he was studying water circulation, to take up building keyboard instruments.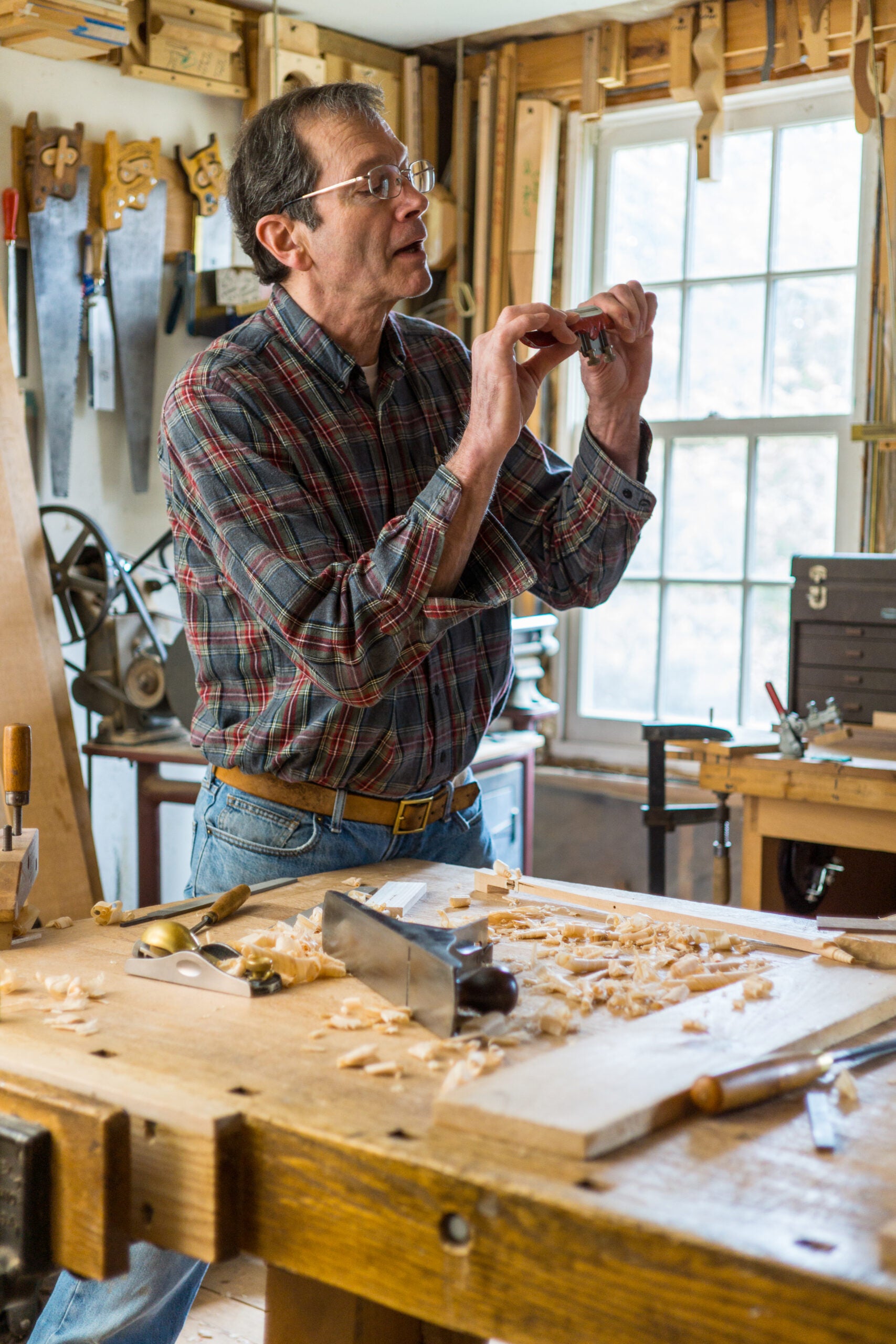 What prompted him to blaze this trail?
"Family genes," he says without hesitation. His father was a music director, involved with public programs in Baltimore. "I sang on stage with him when he was the church choir director," say Regier, who started playing the piano at 7. "He was always making things. The way I bonded with my father growing up was to go to sawmills. He built the home where I grew up and all the furniture in our house."
Like meat hanging in a butcher shop, piano lids hang from the rafters, awaiting their next coat of shellac. Regier's barn is loaded with hand tools as well as band saws, planers, and table saws. "We are woodworkers more than machine operators," he says.
With wood, the indelible mark of the tool that worked it is left behind. For Regier, the last marks must be human, not mechanical. "We'll use any tool for anything as long as the fingerprint is a hand tool."
Wielding block planes and edge tools with scrutiny, he makes the wood surface itself his signature.
"They are machines, they are pieces of furniture, and, I hope, glorious musical instruments, too," he says. "If you deny any of that, then they fail."