Real Estate News
How close to the floor should your drapes hang?
Designer Dina Holland takes the mystery out of draperies and how low they should go.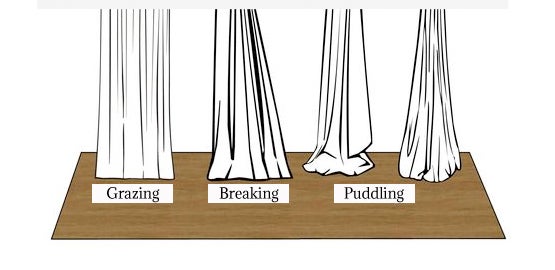 In my last article, I touched on the proper way to hang window draperies and some of the common mistakes homeowners make. I received numerous follow-up questions, so today I'm back to discuss one that came up several times: the various length options with draperies and when each one is appropriate.
There is no absolute when it comes to just how long your drapes should be, but there are a few rules of thumb and functional considerations to keep in mind. Your options are:
Floating
The drapes come just above the floor but don't actually touch it. I prefer a float of ⅜ to ½ inch. Anything more and you get into high-water territory. Just like with pants, high waters aren't cute on anyone. If you plan to open and close your drapes, this is the best option; you won't be continually sweeping the floor with them. This is also a good option if you have a heating source under the window because it won't trap the heat.
Grazing
The drapes end exactly at the floor, but there is no break in the hemline at all. This is a very custom look and requires meticulous measurement from the rod and rings to the floor. If you like this look, I highly recommend hiring a professional installer.
Breaking
The drapes extend 1 to 2 inches onto the floor, creating a "break'' or buckling of the hemline (think men's trousers). This length is a designer favorite and is a more relaxed look, making it appropriate for less formal spaces like family rooms. If you don't want to bother with exact measurements, this is a good look for you.
Puddling
The drapes extend approximately 6 inches onto the floor, creating a "puddle'' of fabric. This is a very romantic look most appropriate in bedrooms or formal dining rooms as it calls to mind Old World, European styling. It is, however, the most high maintenance length; the drapes require re-positioning when it comes time to vacuum or sweep.
I hope I've helped you decode the world of window-treatment lengths a bit more. As with most interior design questions, there are very few absolutes, mostly guidelines. Have a question or comment? I'd love to hear from you!
Dina Holland is the founder and principal designer of Needham-based Dina Holland Interiors and the blogger behind Honey & Fitz. Submit your questions via Instagram by tagging @honeyandfitz or using the hashtag #honeyandfitzaskthedesigner. You can also e-mail them to [email protected].