Real Estate News
The ultimate guide to hiring a home contractor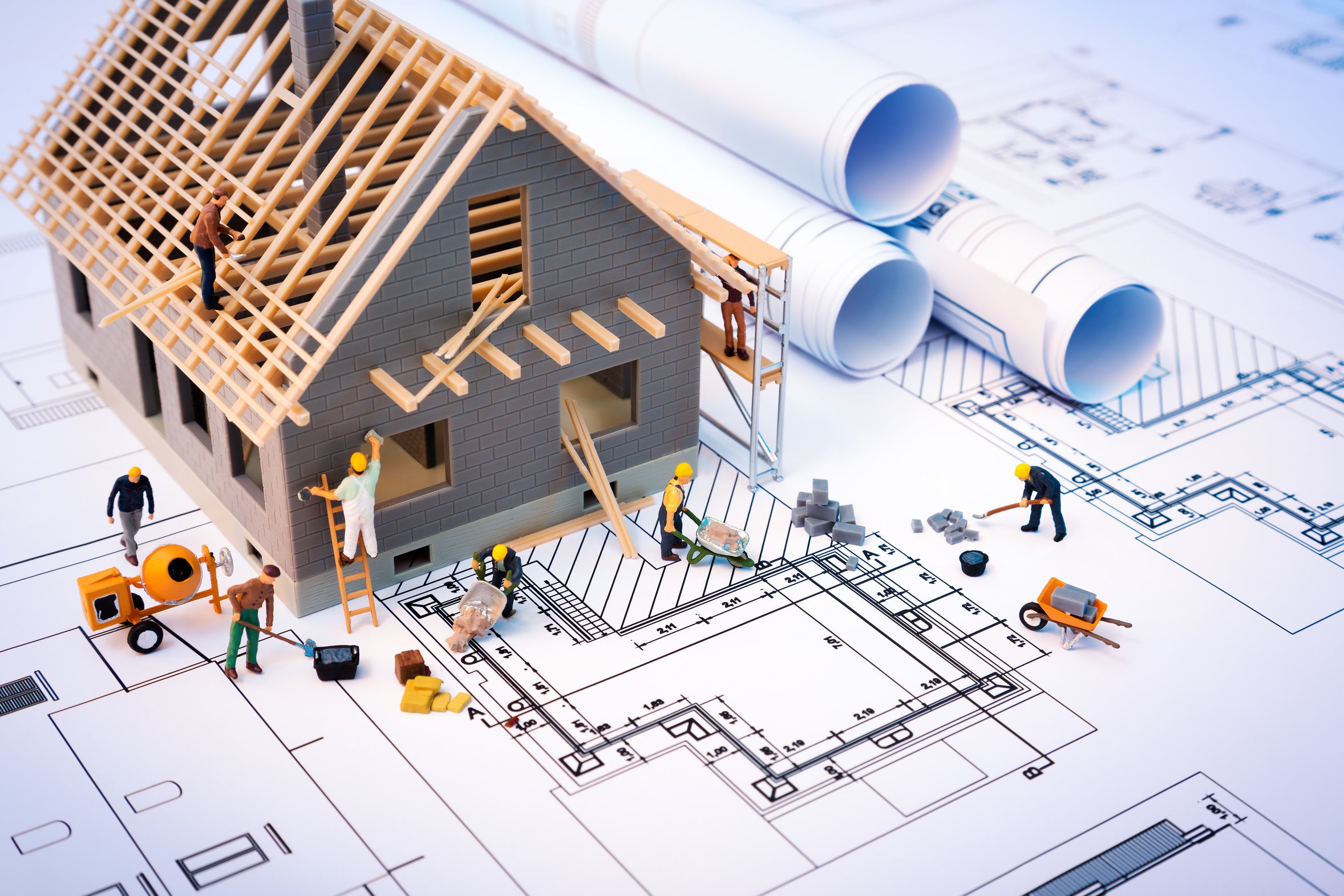 Are you looking to hire someone to build an addition? Remodel your kitchen? Well, close your laptop and open your front door.
Many people will jump on the Internet and search for contractors, but it's better to start your search by asking neighbors, friends, and family — people you trust. During the peak remodeling season, it's hard not to notice the parade of construction vans and trucks. Stop by and ask your neighbors about their project, its progress, and how it compares with what the contractor promised.
Only after you've exhausted this resource should you turn to the Internet. And then it should be to contact an industry organization for advice such as the National Association of the Remodeling Industry, which lists providers by specialty.
Once you've pared down your list to at least four names, do background checks. The Better Business Bureau is a great place to start. It gives businesses letter-grade ratings and offers reviews that include background, licensing, consumer experience, and other information, including governmental actions. Some businesses are accredited by the BBB, which means that they meet the bureau's standards, "including a commitment to make a good faith effort to resolve any consumer complaints." The BBB also offers a list of 27 questions homeowners should ask before hiring someone.
Before you hire any contractor, however, make sure he or she is registered with the state Office of Consumer Affairs and Business Regulation under the Home Improvement Contractor Law . You can also check the complaint history with that office, which has an arbitration program for resolving disputes and restitution that is available only to homeowners who hired registered contractors. As of press time, roughly 26,000 contractors were registered. (If you're doing a large-scale project like an addition, the state says, make sure your contractor also has a current construction supervisor license at the state Department of Public Safety.)
"I see it with my own family, my friends. People don't ask the right questions," said John C. Chapman, undersecretary for the consumer affairs office. "The vast majority of contractors out there are good people. What makes contractors better is an educated consumer."
The Harvard Joint Center for Housing Studies projects that annual spending on home improvement and repair projects will reach $321 billion by mid-2017, an 8 percent increase. Make sure your money is well spent.
The interviews
Start the prescreening process on the phone and come prepared with basic questions — queries that will help establish a level playing field for the prospective contractors.
■ What experience do they have on similar projects?
■ How many other jobs would they be working on during your renovation?
■ Will they provide a list of previous clients and their contact information? Ask for at least five references that reflect the scope of the project you're proposing.
■ Will they be using subcontractors, and, if so, how long have they worked with them?
■ Are they licensed and insured? If they say, no, don't work with them. If they are, ask them to present proof and keep copies for yourself.
Contact the former clients and ask about the contractor's work ethic, integrity, punctuality, and jobsite cleanliness. Ask whether there were any discrepancies between what was promised and what was delivered. If possible, request to see the work firsthand.
The next step is in-person meetings with the prospective contractors. The person you hire and his or her crew will be in your home, possibly unsupervised, for long periods of time. When things come up unexpectedly, you need to feel comfortable and have a clear line of communication toward a resolution.
Planning and pricing
The more detailed the plan, the better the chance of success. When in doubt, spell it out. It is important to break down all of the costs associated with the project during each phase. (The state requires all work over $1,000 to be in writing anyway.) This proposal should include materials, labor, profits (yes, I really do disclose how much I expect to make), a contingency budget (10 percent to 15 percent overage for unforeseen issues is a good rule of thumb), and any ancillary costs. Here's a sample list of what to include:
■ Permit fees;
■ Dump costs;
■ Demolition and hauling fees;
■ Framing and finish carpentry;
■ Plumbing;
■ Electrical;
■ Heating, ventilation, and air-conditioning;
■ Flooring installation;
■ Lighting fixtures;
■ Drywall and painting.
Overwhelmed? Don't worry, the consumer affairs office also offers a sample contract.
Armed with apples-to-apples information, it is much easier to compare contractor's prices and, when unforeseen issues arise, to pinpoint areas of the budget that can be adjusted. If you do make changes, make sure to get those in writing, too.
Most important, beware of the lowball bid and of contractors who ask you to get the permits (which would disqualify you from receiving any restitution from the state program). Lowball bids come from companies that usually cut corners, didn't have the technical expertise to quote the job in the first place, or even worse, lack the skills necessary to do quality work.
Don't let any work begin until the contract is signed and dated by both parties, the state advises, and make sure you get a copy.
Most contractors will ask for a percentage of the entire budget once the contract is signed. It is against state law to require more than one-third down unless there are special-order or custom-made materials.
Set a payment plan so that funds are disbursed as the work is completed. You don't want to pay for materials that have not been delivered or work that is not complete. Reputable contractors should have sufficient working capital throughout the job and shouldn't have to rely solely on the homeowner to purchase materials. The state recommends paying in one-third installments.
Contract details must include, but are not limited to:
■ The date the work is scheduled to begin;
■ The date when the work is scheduled to be substantially completed;
■ A detailed description of the work to be done and the materials to be used;
■ The total amount agreed on to be paid for the work;
■ A payment schedule that includes the amount of each installment;
■ Any deposit required under the contract to be paid in advance of the commencement of work;
■ A stipulation that no final payment shall be demanded until the contract is completed to the satisfaction of the parties;
■ A requirement that the contractor provide copies of his or her liability insurance and worker's compensation payments;
■ A stipulation that the contractor obtain lien releases from all subcontractors and suppliers in the event he or she doesn't pay them. State law doesn't require this, but why take the chance?
Setting expectations during and after
Not everyone works the long forgotten 9-to-5 schedule, so it is important to set reasonable expectations for when work will be conducted, what areas outside the project the workers can access, and how clean the site will be. There should be a line item about dust containment.
Once the work begins, it is very tempting to say, "I was just thinking . . . " Any updates or changes should be put in writing and treated as an addendum to the original contract. Be sure that additional costs are noted in writing.
Final payment should not be processed until all of the work has been done completely and to the expectations of the contractor and the homeowner.
And don't be surprised if your neighbor knocks on your door and wants to know what you think of your contractor.
BY THE NUMBERS
243
Number of complaints against contractors filed with the Office of Consumer Affairs and Business Regulation in 2015
219
Number so far this year
$320,000+
Amount the state's arbitration program or a court ordered contractors to pay aggrieved homeowners in 2015
$858,000
Amount awarded so far this year
$213,000
Amount paid out in 2015 to homeowners whose judgments against registered home improvement contractors went unpaid. Money comes from revenue generated by registration fees and is limited to $10,000 per claimant.
$243,000
Amount paid out as of July 2016
Rob Robillard is a general contractor, carpenter, editor of AConcordCarpenter.com, and principal of a carpentry and renovation business. Send your questions to [email protected] or tweet them to @globeaddressor @robertrobillard.