Real Estate News
How a better floor plan (not an addition) helped this family feel less cramped in their Milton home
Sarah Callahan and Jason Chalmers were living in South Boston and looking for a house to buy around the time of the 2008 recession.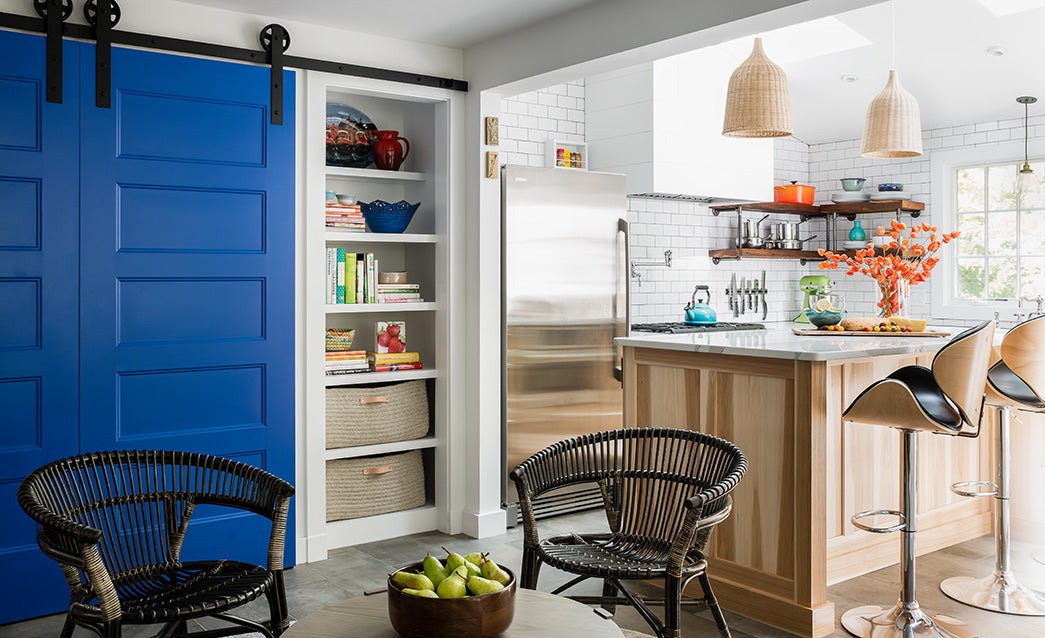 Sarah Callahan and Jason Chalmers were living in South Boston and looking for a house to buy around the time of the 2008 recession. Their wish list included an attractive suburban town, good schools, and an easy commute to Chalmers's job in downtown Boston. They found an affordable center-hall Colonial-style house in Milton, which borders Boston to the south, where they hoped they could raise a family — and stay long after their children were grown and on their own.
The house is typical of so many modest houses built following World War II. After half a century, this likely returning-GI starter home was still an appealing and comfortable dwelling. But three children later — Roanha, 9, Adelaide, 7, and Machlan, 5 — Callahan and Chalmers's four-bedroom, 2,000-square-foot house seemed to be bursting at the seams.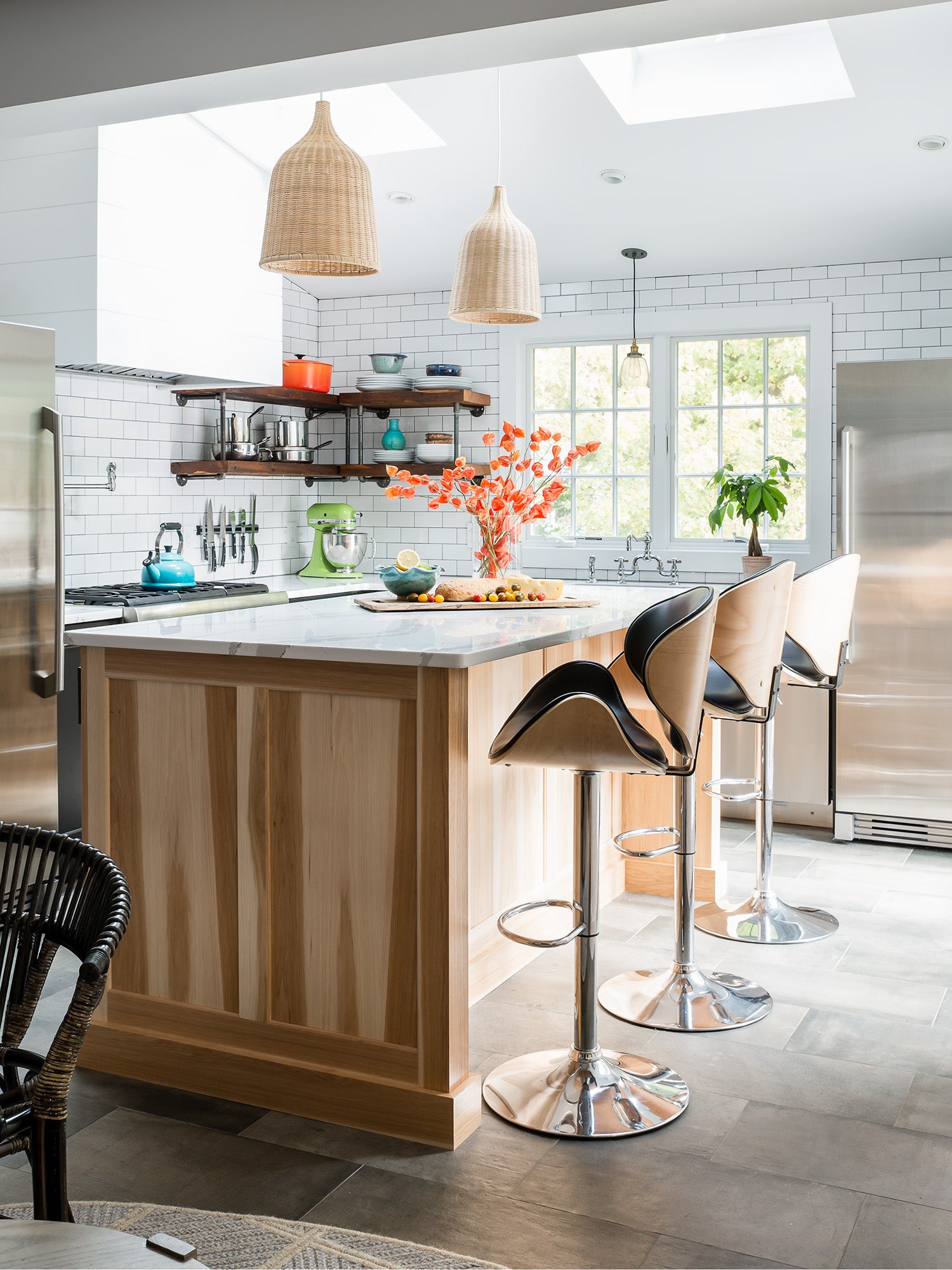 The couple considered moving to a larger house, but finding something bigger that was affordable for them could mean moving farther from Boston and leaving their children's school district. Their other option, expanding their house, they feared could prove prohibitively expensive
In the end, they decided to stay put and reconfigure the space they already had. To do that, they knew they would need professional guidance. They found it in interior designer Beth Bourque of Beth Bourque Design Studio in Milton, who proved to be the ideal person for the project. Trained at Boston Architectural College, she had worked for Solomon+Bauer+Giambastiani Architects of Boston for a decade. She is also the creative director for Masterpiece Woodworks in Avon. Of her clients, she says, they "knew what they wanted but were not sure how to get there."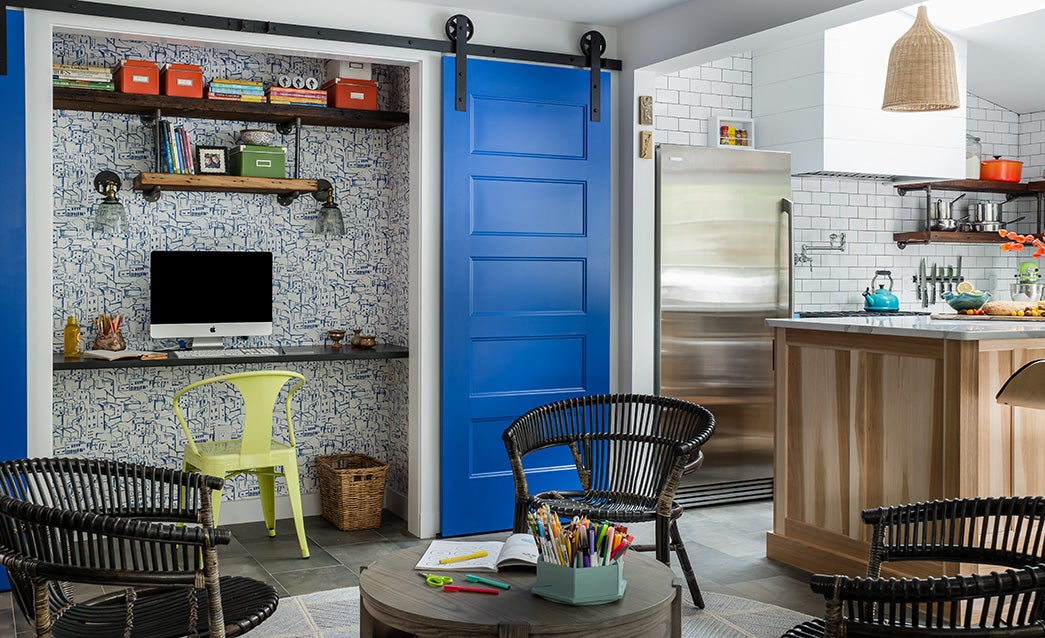 They wanted more space but not a pricey addition. "We were not going to grow the house," says Callahan, "so we had to figure how to make it easier to live in." Bourque's assignment was to creatively squeeze a lot of sensible space into the existing footprint. She analyzed the family's needs and, with the square footage available, reconfigured the home in imaginative ways that facilitate circulation and make it feel and appear less cramped.
An existing 400-square-foot addition built onto the back of the house in the 1980s became the focus of the renovation plan. It held a narrow kitchen and family and dining rooms, all arranged in an L-shape around an outdoor deck. Bourque envisioned a more successful kitchen-centric family space that would function well for the adults, who both like to cook, and be a place where the kids could hang out.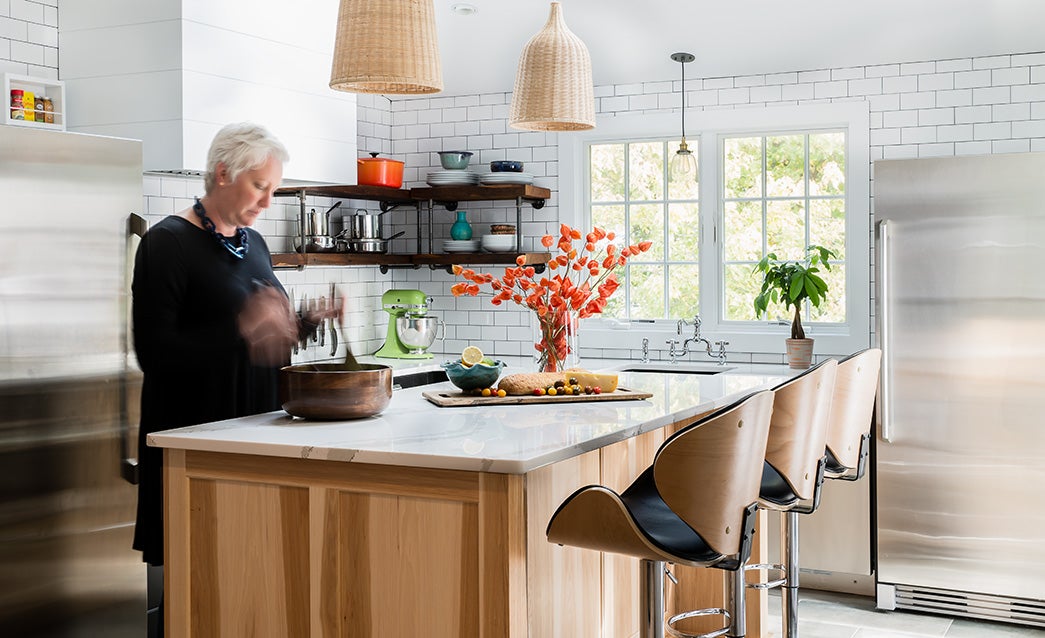 She began by reconfiguring the house's side entrance. Adjacent to the '80s addition and just off the driveway, this is the portal most everyone uses to enter the house, rather than the front door. It opened to a small hallway that, with its limited square footage — compounded by an awkwardly sited powder room and cramped passageway to the kitchen — was a choke point. Working with Paul Piotrowicz of Tram Construction in Holbrook, Bourque relocated the powder room off to the side and used its original location for an expanded closet. She also enlarged the opening between the hallway and kitchen. Working with a structural engineer, the team lowered the kitchen a step below the entrance hall, "so there is a sense of expansion" when one enters the room.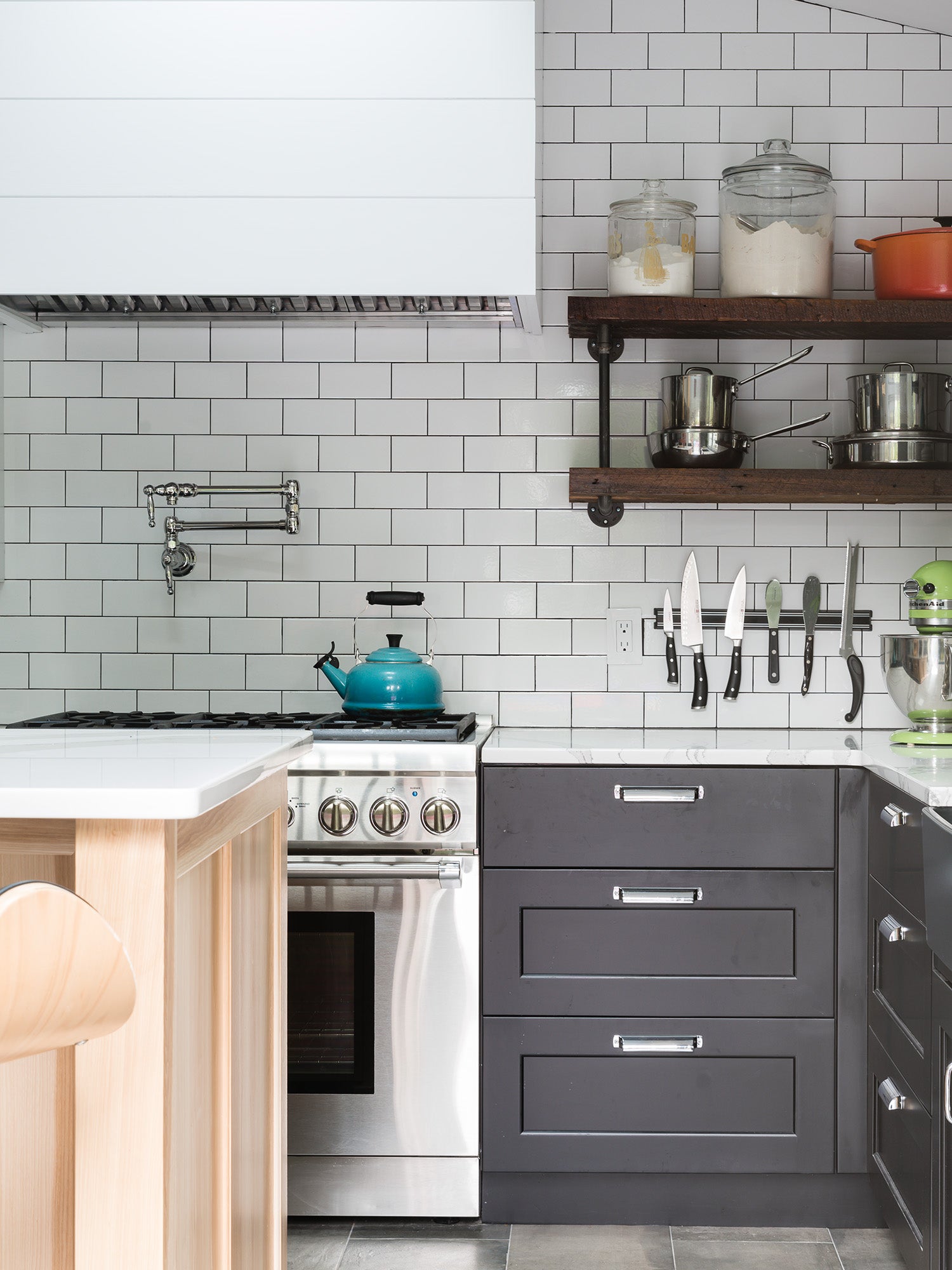 The doorway from the living room to the old family room was also enlarged, creating a visual axis from the old part of the house through the new dining room to the back of the house. Dining room windows were replaced with sliding doors that open to the deck. Next came new windows, radiant heating, air conditioning, and lighting. Two skylights were installed above the kitchen, flooding it with natural light and a sense of expanded space. Now, instead of a narrow, galley-style room, the new kitchen, which occupies the former dining room, is large and practically laid out. With the dining area relocated to what had been the family room, Bourque notes that her plan "was always about function."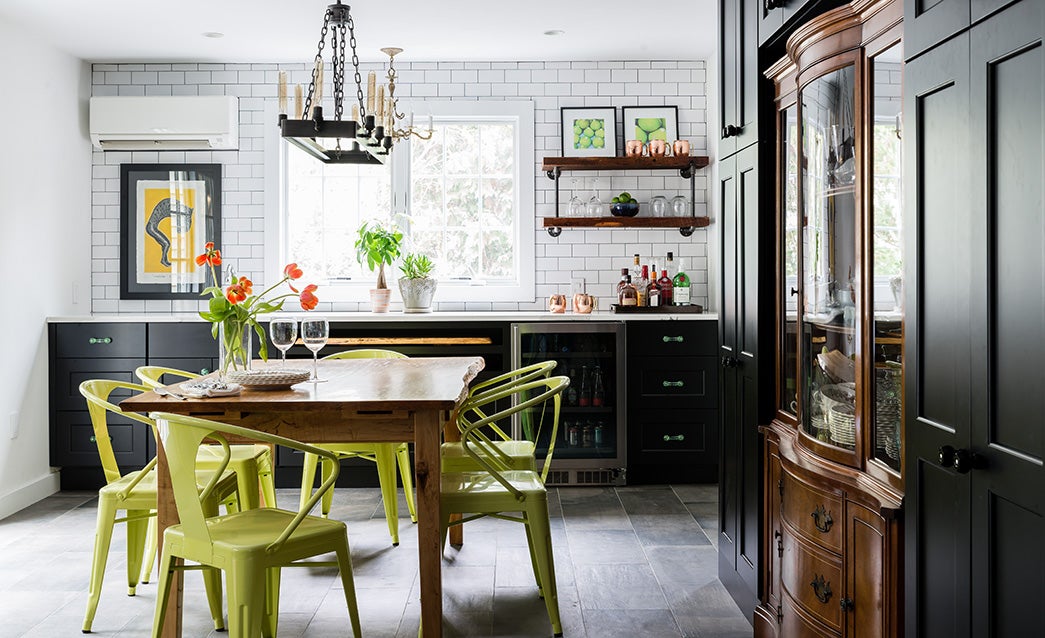 A casual sitting area with wicker chairs placed around a coffee table is the pivotal space connecting the mudroom, kitchen, and dining area. Along one wall, a desk, computer, and shelves that form a home office — what Callahan calls the "mom hub" — are hidden behind sliding barn-style doors. Straight ahead is the working kitchen, with a custom-designed hickory island. It is 42 inches high (versus the standard 36-inch counter height) to accommodate Callahan and Chalmers, who are both tall. There is also a separate full-size freezer and refrigerator, a six-burner stove, and a farm-style sink. The walls are finished with white subway tile. Open shelving, made of industrial-looking galvanized pipes and recycled pine, holds pots, pans, dinnerware, and glasses.
At right angles to the kitchen area, but seamlessly connected to it, is a large family room centered on a live-edge wood dining table that seats eight. Beyond the table is a wet bar, complete with a copper sink, wine cooler, backsplash of subway tiles, and more pipe-and-wood shelves. The floors throughout are low-maintenance ceramic tiles that look like slate.
Callahan and Chalmers are thrilled with the results of Bourque's space-altering ideas. By not building an addition, they were able to afford custom cabinetry, higher-end appliances, and features such as a triple-articulated faucet over the stove. What had been three separate and constricted spaces for cooking, dining, and relaxing now constitute a single, flowing, and light-filled center of home life.
The work took 17 weeks, but Callahan recalls that time (and the entire project) as "a great conversation, in which everything kept coming out right."