Real Estate News
See how a scrappy group of preservationists restored a Victorian chapel in Hingham
Ann Fessenden Ames died in 1876, and although she lived in Boston's Back Bay, she was laid to rest in Hingham Cemetery.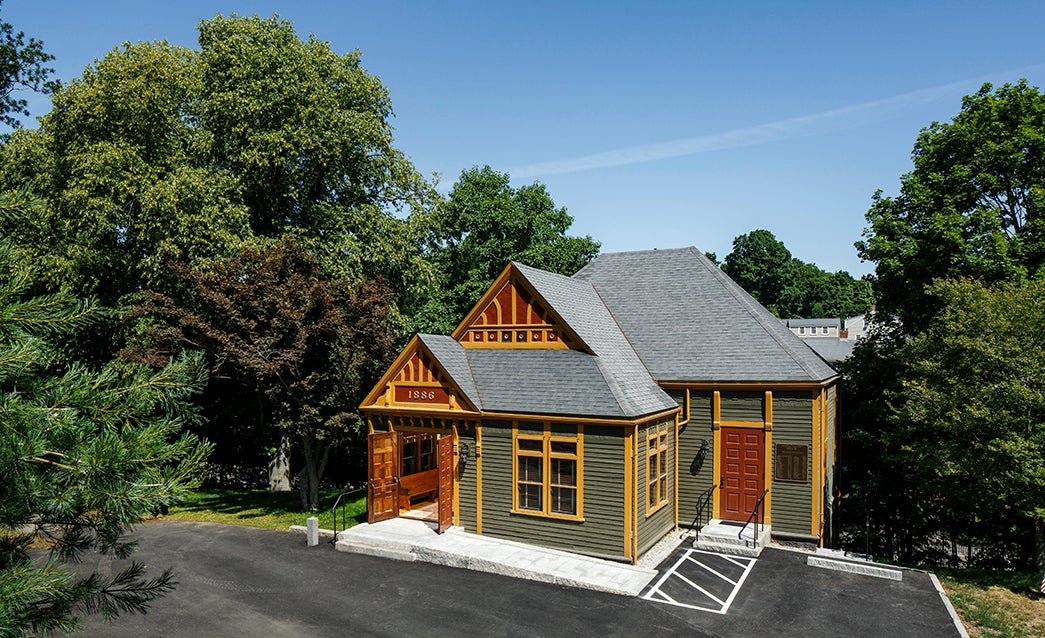 Ann Fessenden Ames died in 1876, and although she lived in Boston's Back Bay, she was laid to rest in Hingham Cemetery. A summer resident, she adored Hingham, the historic town on Massachusetts's South Shore. Yet, as someone from away, there was no home church from which the 50-year-old Ames could be buried. So, 10 years after her death, her husband donated a small funeral chapel in her honor in the centuries-old burial ground in the center of town, right behind the Old Ship Meeting House. After decades of neglect, that loving gift of Preston Adams Ames has been restored and begun a new life in service to the cemetery and the community.
Dedicated last September after a five-year rehabilitation, the Ames Chapel is a gem of the Queen Anne style.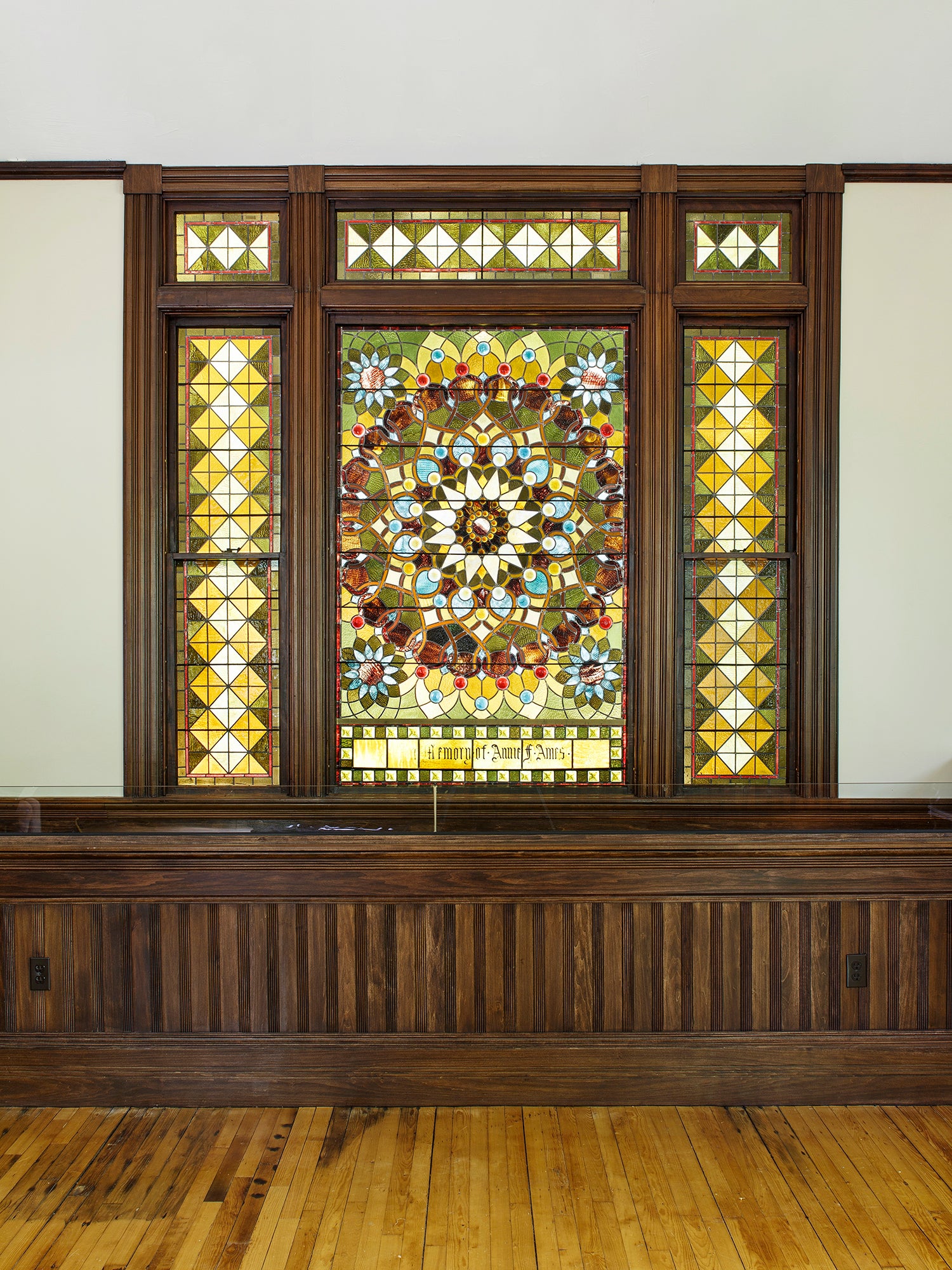 Short of prohibitively expensive replacements of the long-gone cupola and the fish-scale roof shingles, the chapel is as original as contemporary preservation techniques could make it and current code requirements would allow.
Architect J. Sumner Fowler, who later designed the Hingham town offices and many South Shore residences, created the small but richly ornamented Victorian treasure. With its asymmetrical massing, complex and steeply pitched roofs, half-timbered gables, patterned shingles, and bold colors, the chapel is characterized by what cemetery board member Larry Lindner calls "intentional whimsy." In a town justly celebrated for a remarkable, but usually monochromatic, collection of Colonial architecture, Ames Chapel is a rare Hingham survivor of the exuberant Queen Anne style.
This style is also appropriate for the burial ground's rustic aesthetic. Although Hinghamites have been interred here for more than 300 years, the 13-acre cemetery was not incorporated until 1838. It was modeled after the paradigm of the rural graveyard, Mount Auburn Cemetery in Cambridge, Massachusetts. In a time before public parks, such cemeteries were places for pastoral pursuits such as perambulating, picnics, and contemplation. A veritable arboretum, Hingham Cemetery is a rolling, picturesque landscape, and in keeping with Arcadian idyll, many of its bucolic swales and glens are not mowed.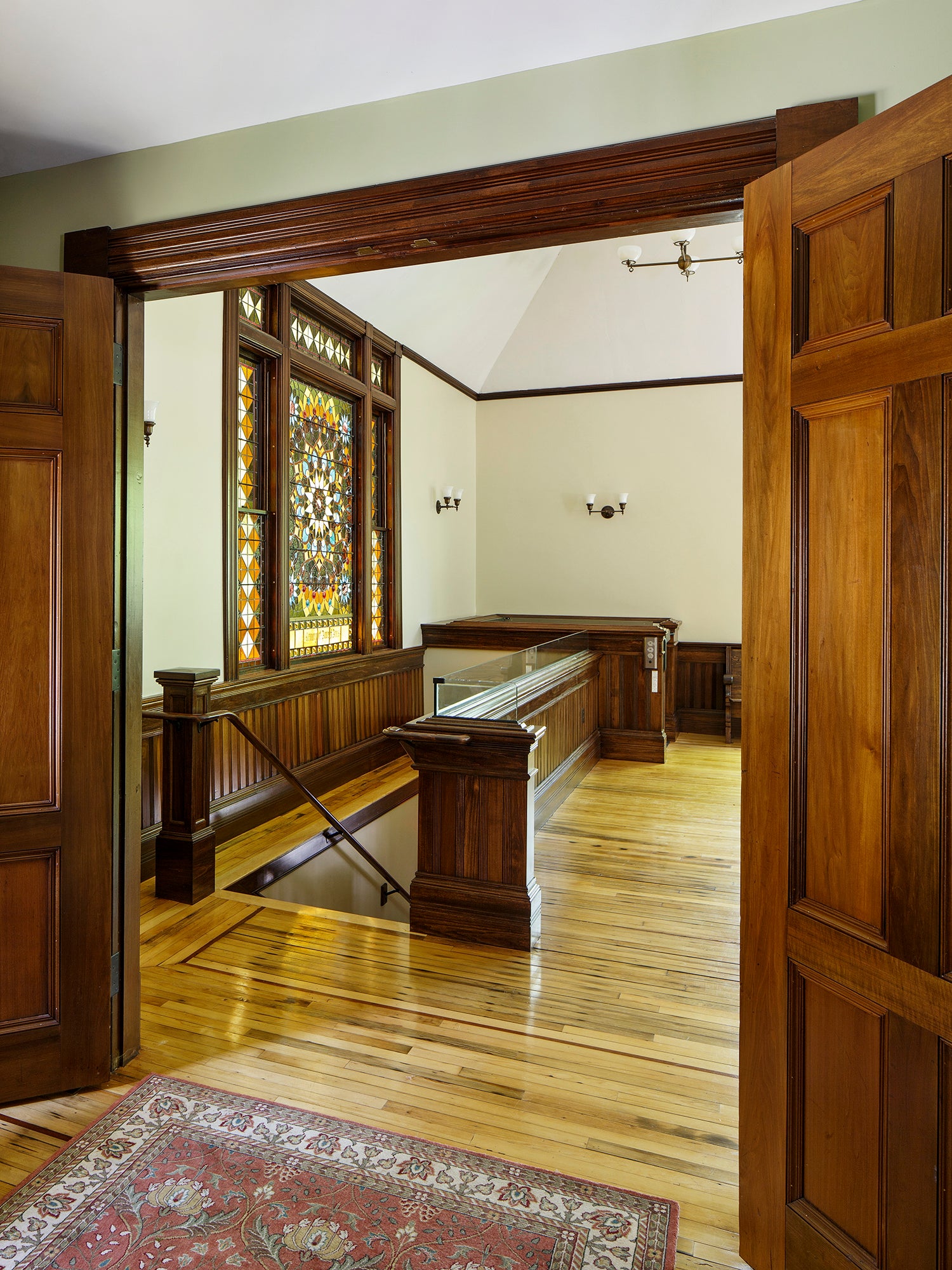 This variation on a garden folly was not much used after the 1920s, and the chapel fell into disrepair; there was even talk of razing it in the 1970s. In 2011, the enlightened members of the cemetery's all-volunteer board started an ambitious restoration, raising funds from the local preservation committee, the Hingham and Massachusetts Historical commissions, and private donors. As Lindner, who was board president during the five-year renovation, saw it, the goal was to create a place for "use by the living, one that would allow for more enjoyment of all this land."
The architectural preservation firm of Spencer & Vogt Group in Charlestown, Massachusetts, understood how "to effect the chapel's transition to a community asset," says principal Lynne Spencer. The $1 million makeover retained the chapel's 1886 ambiance yet transformed the main 25-by-35-foot chapel into a space that could be used for weddings, dinners, special events, and parties, as well as a place for mourners to gather after a burial service. The cellar now hosts a caterer's kitchen, reception room, and modern restrooms. Truly a center of community life, the delightful Ames Chapel is available to any group at a modest rental fee.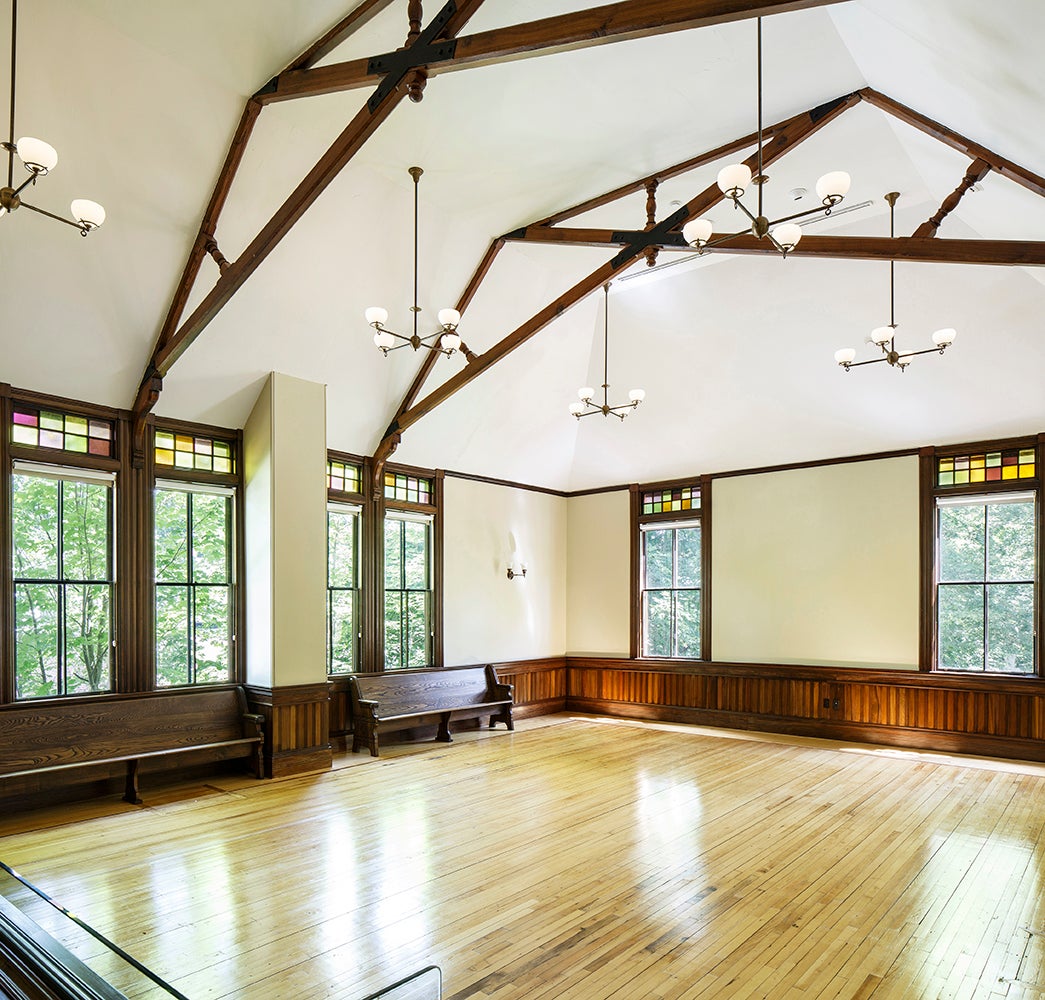 Working with contractor Ben Wilcox of Wilcox Corp. in Hingham, Spencer and her crew restored the original Eastern pine floors as well as the gumwood, maple, and cherry woodwork. The open trusses that spanned the great hall were revealed and strengthened, while the walls were painted a quiet putty color. The bold-green vestibule and the entrance parlor with its William Morris "Garden Craft" wallpaper adhere more to the chapel's Victorian spirit.
The glory of the chapel is its stained glass. Above all the windows are bands of randomly tinted squares of glass, which board member Sue Bush calls "our jewel tones of transom lights." But the centerpiece is a giant window ensemble, framed by diamond-shaped glass in yellow and brown earth tones and dedicated to Ann Ames. The composition is nonreligious, consisting of a sunburst of abstract floral shapes and glorious round beads of shimmering color. The tactile surface of patterned glass resulted from running a roller over it while it was still malleable, according to Ned Pratt, a stained-glass historian in Albany, New York. Roberto Rosa of the Serpentino Stained Glass Studio in Needham, Massachusetts, who restored the window, notes that it contains "some of the most beautiful textured opalescent glass I have ever seen."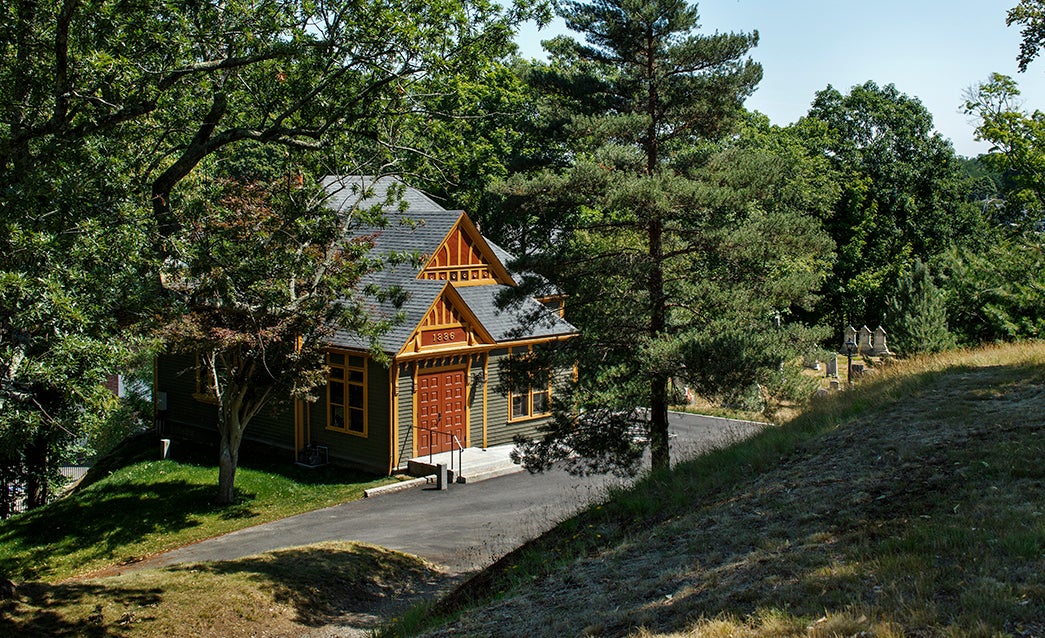 "The project was extremely challenging," says Thomas Burgess, an architect who assisted Spencer on the restoration. (Burgess now works for Mesick Cohen Wilson Baker Architects, a preservation firm in Albany, New York.) "We were working on a tight budget, trying to create a fully functioning building while keeping an 1880s feel," he says.
The chapel has been in constant use since its reopening, confirming Burgess's excitement about working on "a dilapidated little building with an energetic committee, who pulled up their bootstraps, raised the funds, and created a wonderful community asset."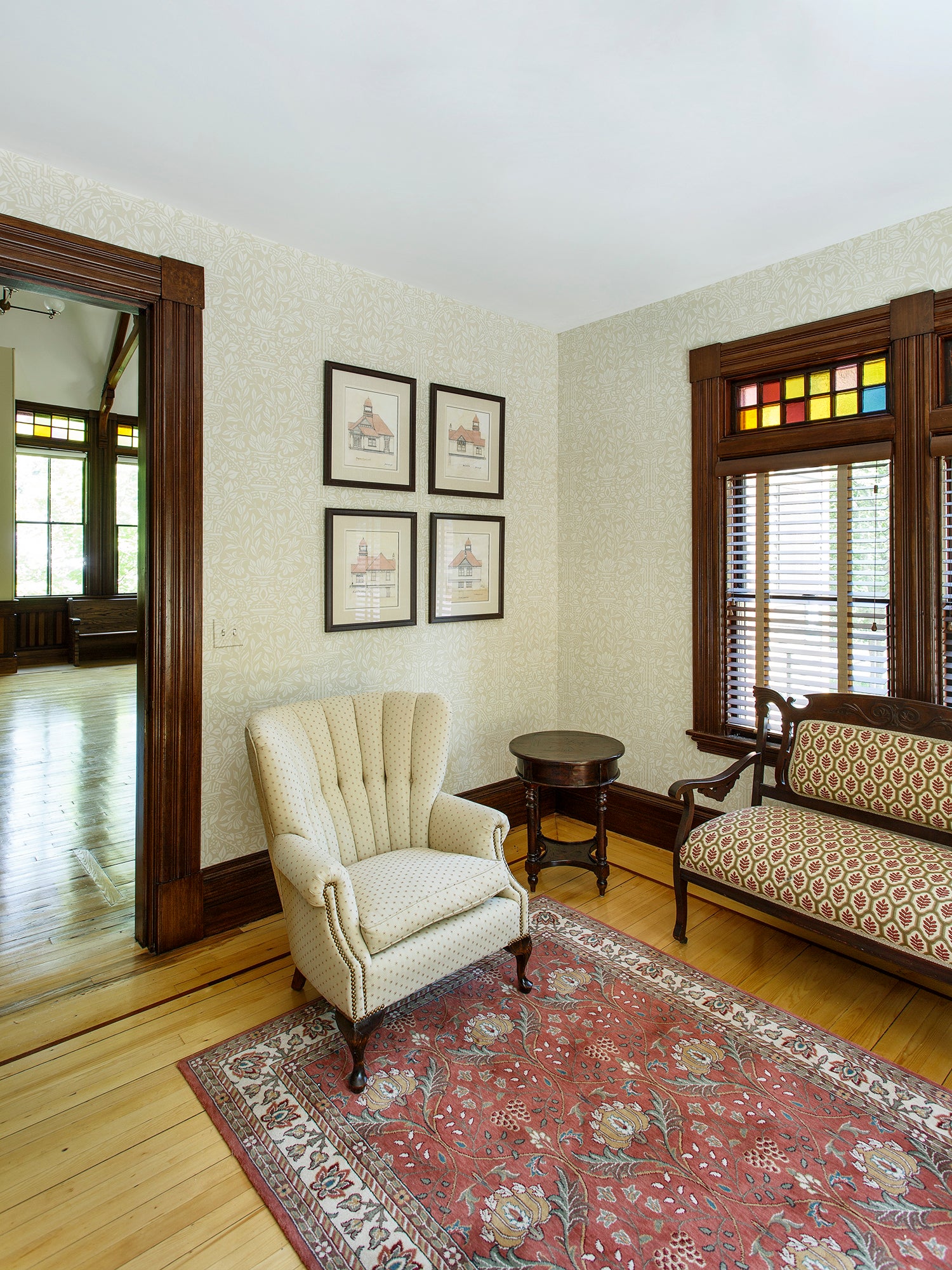 The reimagining of the Ames Chapel successfully focused attention on an attractive but neglected historical stock. Hingham Cemetery is more than a necropolis featuring early settlers, governors of the Commonwealth, Revolutionary War and Civil War veterans, and centuries of townspeople. Certainly, it remains a place of remembrance, but now it is also one of destination and celebration.