Real Estate News
See the latest trends in kitchen design
Transitional black-and-white kitchens are on trend and rising in popularity.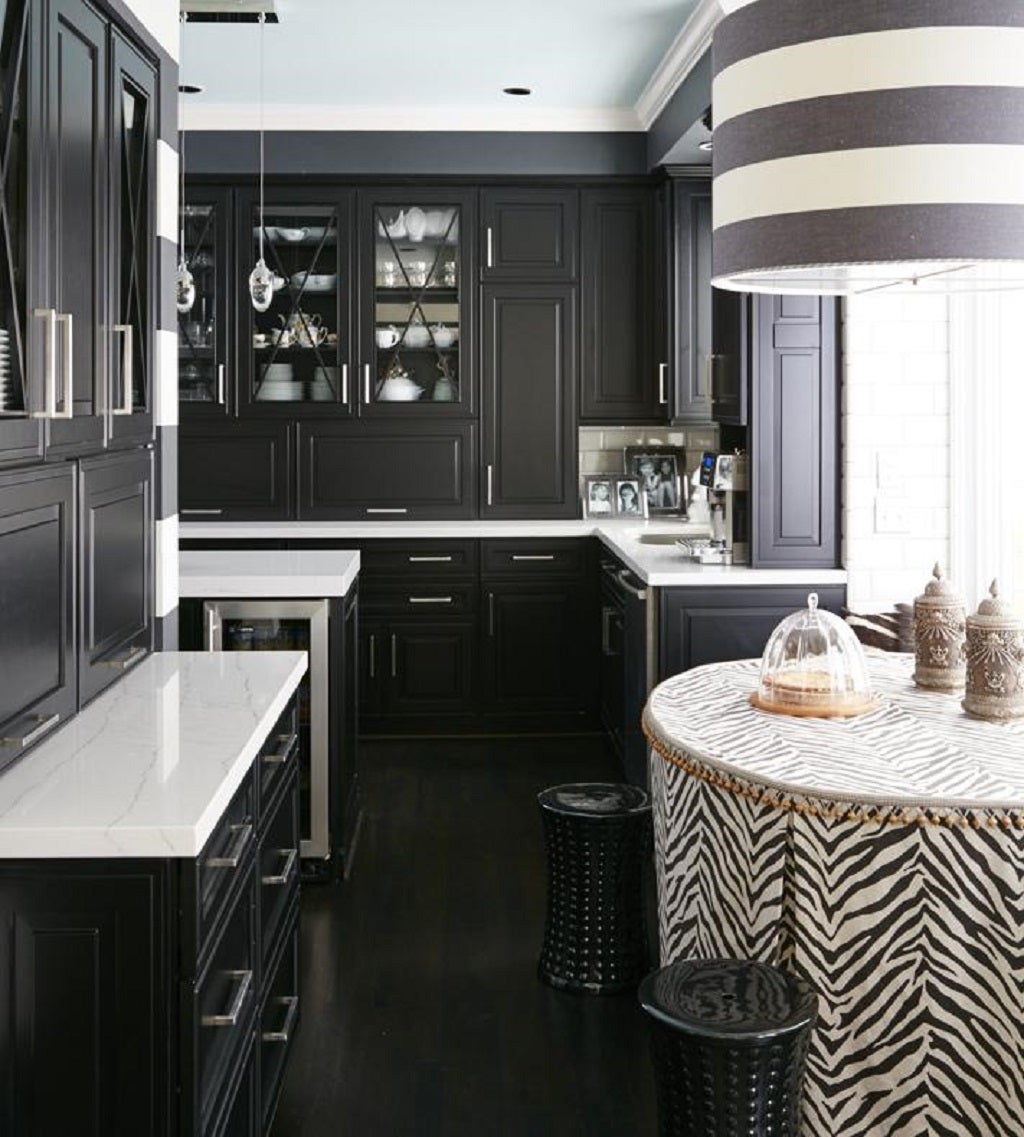 Tucked into tiny spaces behind closed doors, the residential kitchen was purely functional and the exclusive domain of homemakers and domestic helpers. The idea that it would become the most important and celebrated space in a home would have been unfathomable.
But that's exactly what's transpired. Somewhere along the way, expectations of the kitchen (and its design) dramatically elevated. For many Americans, the kitchen is now the undisputed heart of the home and family life. And where everyone seems to gather at a party.
Even when average US home sizes were on the decline, kitchens were still proportionally growing. And far from being relegated to the outskirts, the kitchen is now at the literal center. Today's homeowners prefer their kitchens placed squarely in the middle, on full display, and void of constricting walls.
With the kitchen occupying such a prominent spot, it's no surprise that there's a plethora of publications, books, blogs, and sites devoted to its design. Obsessed homeowners proudly curate Pinterest boards and stuff overflowing accordion files with images and ideas gathered for their someday-kitchen. As the most visible room in a home, and with the increasingly high price tag associated with its components, there's understandable interest in getting it just right.
In that spirit, here's my curated list of best, new products to further fatten those kitchen design files:
Cabinets
Although it's possible to have a boiled-down view of kitchen cabinets as basic wood boxes, they really are so much more. Aside from the construction aspect (plywood boxes and solid-wood doors are still the gold standard), there's also the important matters of aesthetics and function. Open almost any design magazine from the past 10 years, and you will notice the unmistakable influence of Nancy Meyer's film ''Something's Gotta Give.''
From the moment Diane Keaton first walked into her Hamptons house, homeowners everywhere took notice of the timeless charm her character's transitional white kitchen exuded. Ever since, white kitchens have dominated.
Nearly 13 years after that film debuted, cabinet color trends have finally pivoted to warm grays and dramatic blacks. ''The current trend in black finishes showcase depth of color,'' said Stephanie Pierce, director of design and trends for MasterBrand Cabinets. ''This translates to finish textures that allow for variety in light reflectivity or translucency in shades ranging from dark charcoal to deep black. When done right, black can convey a dramatic elegance not attainable with other colors.''
Outside the aesthetics, there's also been a focus at MasterBrand on how cabinets work. To address functionality, its Omega division rethought how conventional cabinet doors open (thereby allowing for more storage and space) with its Omega Base Glide-By-Cabinets. By sliding side-to-side, rather than out and into precious walkway space, the doors require less clearance between opposing cabinets and appliances, increasing what you can fit within the same square footage. Even for kitchens not size-challenged, maximizing storage and creating a sense of space is high on nearly every kitchen wish list.
Countertops
Counters are widely considered the workhorses of the kitchen, so there's an inordinate amount of pressure to get them right. With granite resembling a dated '80s remnant but on-trend marble so susceptible to staining and scratching, quartz has emerged as the perfect problem-solver by delivering a wide palette of aesthetic options accompanied by superhero durability without the need to reseal.
It's nearly all the good with none of the bad. And Cambria, an innovator in the countertop industry, has been hyperfocused on growing quartz's dominance by continually delivering new products to address changing design trends. A few years back, Cambria introduced its marble collection to meet consumer desire for a marble aesthetic without staining, scratching, or constant maintenance. It was a game changer for those who love the look of white marble but not its delicacy, resulting in a big hit for the company.
Cambria's most recent efforts focus on addressing the growing trend for less shiny, honed finishes, which exhibit an understated sophistication. The problem for Cambria, however, had been figuring out how to keep its product's maintenance-free characteristics since honed finishes also mean increased vulnerability to staining.
''The high demand for a softer honed-finish aesthetic is definitely there, but we first needed to address the undesirable soiling issues that typically come with it,'' said Summer Kath, Cambria's senior vice president of business development. ''After a great deal of innovative, hard work, we've created a new matte finish that's nonporous and maintenance-free, so we can confidently stand behind its performance.''
Which is great news for those of us who want to have our cake, eat it, too, then confidently place our dirty dish on a countertop without penalty.
Hardware
Of all the ways to update your kitchen aesthetically, changing your cabinet hardware may be the easiest to tackle. Often considered the bling in your kitchen, cabinet hardware is the jewelry that generates a visual spark.
To ensure longevity, seek out solid brass or bronze foundations, keeping in mind that the metal finish is an independent decision. Foundations in brass (a copper and zinc alloy) or bronze (mostly copper) will hold up better than lesser metals. Among high quality and thoughtfully designed hardware introductions, Emtek's new Urban Modern collection is a standout, addressing much of what's current in design.
With refined and timeless lines founded in a confluence of industrial chic and geometric forms, the overall look is both fresh and familiar. ''This collection, offered in five finishes, complements a range of interior styles from transitional cottages to upscale residential lofts,'' said Emtek Creative Director William Zhang. ''The look is utilitarian, purposeful, and designed to support comfortable, attractive spaces, while retaining the spirit of the industrial roots of reclaimed buildings.''
As for finishes, satin brass and polished chrome both seem to be jockeying for top position. Though the presence of satin brass in magazines seems nearly inescapable, silvery, polished chrome is definitely on the rise and being touted for its adaptability, timelessness and modernity.
Paint
Thanks to serious innovation on the part of Sherwin-Williams, color and finish aren't the only major decisions to make when selecting your kitchen paint. In what is one of the most germ-filled rooms in your home, you can now add bacteria-killing paint to your arsenal of disinfectants.
In a first, Sherwin-Williams recently introduced Paint Shield, an EPA-registered microbicidal paint that purportedly kills more than 99.9 percent of bacteria, including Staph (Staphylococcus aureus), MRSA (Methicillin-resistant Staph), E. coli, and a host of other undesirables within two hours of exposure to painted surfaces.
And it claims to continue killing 90 percent of bacteria, even after repeated contamination, with an effectiveness lasting up to four years when surface integrity hasn't been compromised. With the constant presence of two kids and four dogs, my family's kitchen is a prime candidate. A cleaner, more bacteria-free kitchen simply through a new coat of paint? Sign me up.
With time-crunched families juggling more now than ever, a great kitchen can have tremendous power not only to transform your home, but possibly your life as well. Whether you're looking for a quick spruce-up with a simple hardware update and a fresh coat of paint or a dramatic overhaul through high-performing cabinetry and countertops, know your options and invest in the best.
After all, a thoughtful kitchen can boost quality time with family and friends.
Vern Yip is an HGTV interior designer and host and author of the book ''Vern Yip's Design Wise: Your Smart Guide to a Beautiful Home.'' Originally from McLean, Va., Yip is based in Atlanta and New York.