Real Estate News
The unknown hero of Boston
Jane L. Goodrich and her husband spent 20 years building a replica of the man's Manchester-by-the-Sea home on an island in Maine.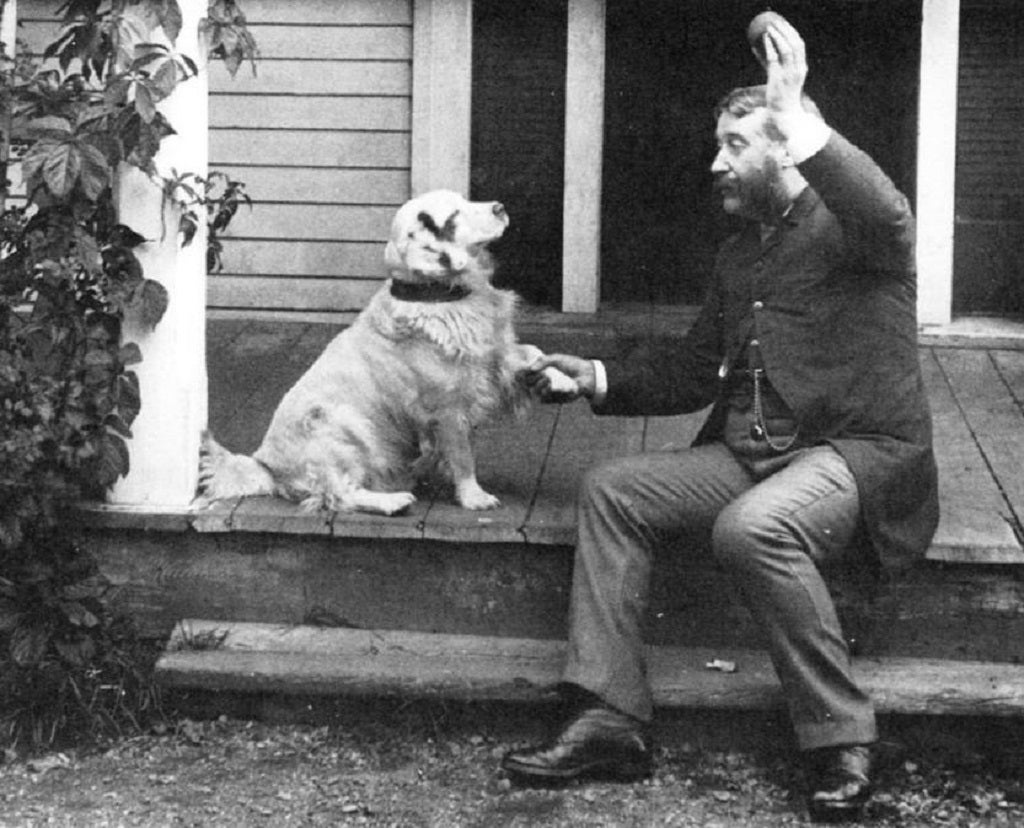 To Jane L. Goodrich, George Nixon Black Jr. is the unknown hero of Boston.
Her love affair with his home began when she was young. She was drawn to his life story much later.
She came across the photo of his summer place — Kragsyde, a Shingle Style home on a rocky ledge in Manchester-by-the-Sea — on the cover of Vincent Scully Jr.'s "The Shingle Style and the Stick Style: Architectural Theory and Design from Downing to the Origins of Wright'' in an old box of her father's books. It's a big title and a home big on impact. She was a teen, and she fell hard. She cut out the photo and put it in her scrapbook.
"You know that's the magic; one never really knows what is going to thrill you,'' Goodrich said. "There's always something, you know, that is undefinable as to what it is you love about it, but it was a Shingle Style. Shingle houses, they were the thing. It was it for me. I just thought they were the most beautiful things in the world.''
And this house with its signature porte cochère was known by architects as a masterpiece of that style — the home Yankee Magazine recently deemed "The House That Changed Everything.''
It was.
Fast-forward to 1979 and her college years, and Goodrich and her fiancé are on a quest to build their own home, a Shingle Style. They drive to Manchester-by-the-Sea to get a look at Kragsyde stealthily from the driveway, hoping to incorporate some of its features. They stop at the town's historical society first, and the docent breaks the news. Kragsyde, the house at Lobster Cove, was razed in 1929, shortly after the owner, Black, died. (Three homes of various styles, from stucco to modern, have taken up sentinel on that perch since.)
The couple commiserated at a local diner, and the epiphany was mutual. " 'Why don't we rebuild it?' 'We could do that.' It was really that kind of a conversation,'' said Goodrich, whose husband, James Beyor, is a builder. "I don't know if we ever really questioned if we could do it. We were that young and stupid.''
It took them 20 years, and they did it by themselves in dribs and drabs — building that roughly 4,200-square-foot home when they had the money, sleeping in a tent until the carriage house was up, living perpetually caked in sawdust, and trucking nearly everything over by ferry to the island on which they were building.
"It was a strange process, not one that could be withstood by everyone,'' she said. "I always laugh when people say: 'Oh, my God! We remodeled the kitchen, and there was dust in the house for a month.' . . . It was just second nature for us to have this house unfinished.''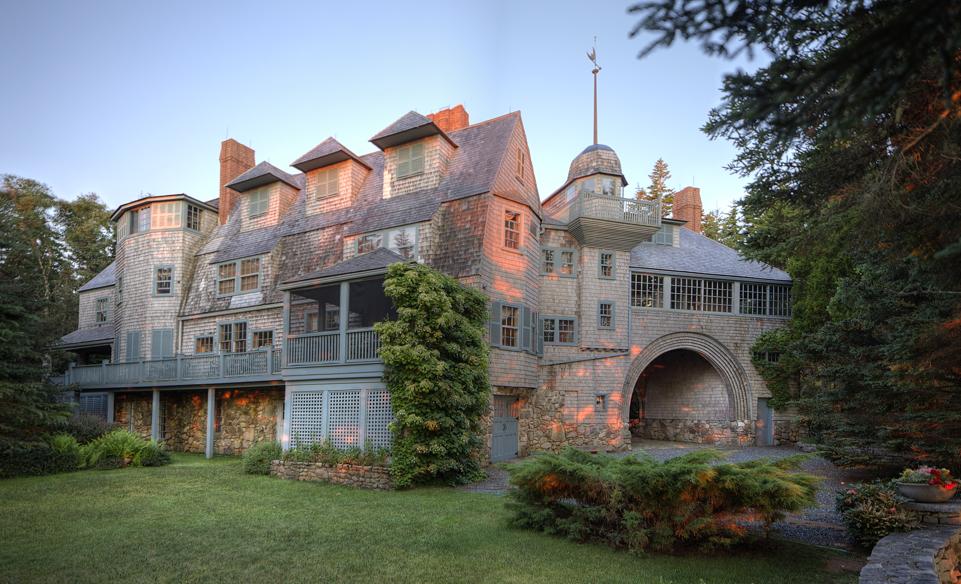 For her it wasn't a chore, though; it was an obsession— one that took shape on a rocky spot on Swan's Island in Maine. They couldn't afford land overlooking the Atlantic any farther south. They started in 1982, nearly 100 years after workers began digging the foundation for the original Kragsyde — which was designed by Black's friend, famed architect Robert Swain Peabody of Peabody & Stearns. For their project, however, Goodrich and Beyor did all the work themselves — including setting the blasting caps. The only thing they didn't do was install the granite countertops; that was included in the delivery price.
It was this fortuitous Maine location that would send Goodrich on a quest to unearth the story about Kragsyde's owner, Black.
"When we first arrived in Maine and were first building the house, we would drive to the town of Ellsworth, which was where the Black family were, to get our groceries. And we drove in and had some time left over before the ferry and said, 'We should go see this historic house,' the Woodlawn house,'' she said. They didn't know that it, too, had belonged to Black. (It's now part of a public park. Black was living in Boston full time by about 1858.)
"My jaw hit the floor,'' Goodrich said. "I had no idea. At that point I had not done any research on Mr. Black. He was purely the name on the [Kragsyde] blueprints. And there was very little information about him. I mean, I had looked him up a bit, but there was little to nothing about him out there, which is still true. No one knew anything about him at all.''
She would devote more than 10 years after the house was finished to researching and chronicling his life. "My book really isn't about my building of the house in any way. It's all about Mr. Black and his fascinating life as a whole,'' she said. "People in Boston should know him. He was a fabulous philanthropist to the city. The things that he did for the city are just huge, huge things.''
Why is so little known about one of Boston's most ardent philanthropists, the man who was the city's biggest taxpayer in 1890?
"He was modest and quiet and didn't put stipulations on the gifts he gave to places, and that's why no one knows a thing about him,'' Goodrich said. "He was just under the radar, partly for his sake, and partly because he didn't care. He didn't want all that stuff. He seemed to be just a great human being, a great role model in many ways.''
Black gave money and collections of art, silver, and furniture to the Museum of Fine Arts, including the Gilbert Stuart painting of George Washington and John Trumbull's self-portrait. He patronized women artists like Laura Coombs Hills. He was a benefactor to Fenway Studios and Trinity Church, helping to secure a John La Farge window. This son of a lumber and real estate magnate gave to hospitals. To libraries. To the MSPCA and its Nevins Farm.
"This man always was, number one, kind; number two, he was gay, and he lived a completely open lifestyle at a time when there was no template for how to do that,'' Goodrich said. "He made his way through that minefield — which would have been even more of a minefield in those days because there was no openness about it — with great success.''
He was also a man without a country, so to speak. "Once he left Maine — people in Maine don't like it when you leave Maine — they considered the family no longer Mainers. So the Mainers didn't really consider him one of them, but neither did the Brahmins,'' she said. "He was not a Brahmin. He was a swamp Yankee.''
He went to the opera like all the well-heeled but didn't join a lot of clubs, she said. "He really wasn't part of that circle born . . . in the same way that Isabella Stewart Gardner wasn't. She married a man who was, but she herself was always the New Yorker. Now she was exactly the very opposite [of Black] — very wild, very out there. She sort of ran the gantlet in a different way, but they were, neither of them, really quite perfectly accepted.''
His 20,000-square-foot home overlooked the Common in Boston, but he never entertained, Goodrich has noted.
"He was careful, he was cautious, he was prudent I think in that regard,'' she said. "He chose his lover well. He chose his friends well, I think. They protected him and respected him.''
Even in death, he remains modest. He's buried under a gravestone the size of a breadbox at Mount Auburn Cemetery, she said.
"Black's life was exceptional for his time,'' Goodrich writes on her website, www.houseatlobstercove.com. "After a youth marred by violence and uncertainty, and a life of great privilege contrasted with the awareness of the danger his lifestyle placed him in, his happiness is remarkable and his secrecy understandable.''
And now his story has been told.
"I feel like I'm done with it all now,'' Goodrich said. "I'm done with the book. I'm done with the house. I now can detach myself from it. It's come full circle.''
THE BOOK
Read an excerpt from the novel at realestate.boston.com.
EVENTS
■ Jane L. Goodrich will celebrate the launch of her novel, "The House at Lobster Cove,'' with a book signing where it all began, Manchester-by-the-Sea. The event will be held May 9 at Sacred Heart Parish Hall at 62 School St., starting with a reception at 6:30 p.m. The event is free for members; $10 for nonmembers. Go to www.manchesterhistoricalmuseum.org for more information and to register.
■ The author will also be giving a lecture and signing books at Mount Auburn Cemetery (580 Mount Auburn St.) in Cambridge on Tuesday, June 13, at 6 p.m. For more information and to register for this free event, go to www.mountauburn.org.
Eileen McEleney Woods is the editor of the Boston Sunday Globe's real estate section (Address) and of realestate.boston.com. E-mail her at [email protected], follow her on Twitter @woodsglobe, and subscribe to the Globe free newsletter on real estate, DIY, home design, and more at pages.email.bostonglobe.com/AddressSignUp.
lobstercove