Real Estate News
Maine retreat reflects easygoing spirit of a coastal village
It's not a summer colony for the yacht-club crowd, but a working port where every other house has boats, buoys, and stacks of lobster traps in the yard.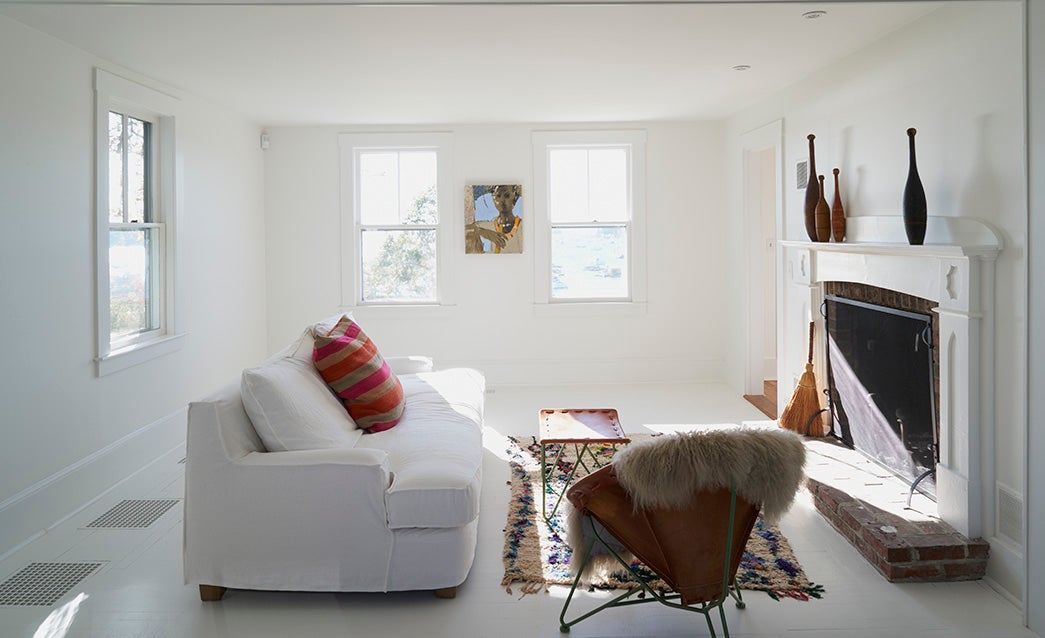 It's not a summer colony for the yacht-club crowd, but a working port where every other house has boats, buoys, and stacks of lobster traps in the yard. The dominant aesthetic is whitewash and weathered, and fishing boats outnumber sailboats in the harbor.
Daphne Howard's family has been summering in Friendship for four generations, ever since her great aunt and uncle cofounded Camp Friendship, the venerable children's camp that still operates on Crotch Island just off the eastern shore. The summer community here is a modest settlement of longtime seasonal residents whose idea of a big soiree is the Saturday night cookout that draws every canoe, kayak, powerboat, and sailboat in town over to Ram Island.
A former QVC buyer who now co-owns a television marketing company, Daphne lives in suburban Philadelphia with her husband, Rob, an insurance executive. But this hardscrabble fishing village is where they wanted to create their home away from home.
"My goal," says Daphne, "was to own my own house in Friendship. I looked for 10 years and couldn't find anything. Then we found this place. It was in terrible shape, but I just had to have it."
Perched on a hill on Bradford Point, "this place" is a 19th-century farmhouse with an 18th-century barn attended by an ancient horse chestnut tree, great stone slabs, and broad lawns that sweep down to the harbor. When the couple purchased the farm in November 2013, it was dark, dingy, and uninviting, but Daphne knew her childhood friend Louise Girling — who had helped renovate the Howards' home in Pennsylvania — would know how to brighten up the place.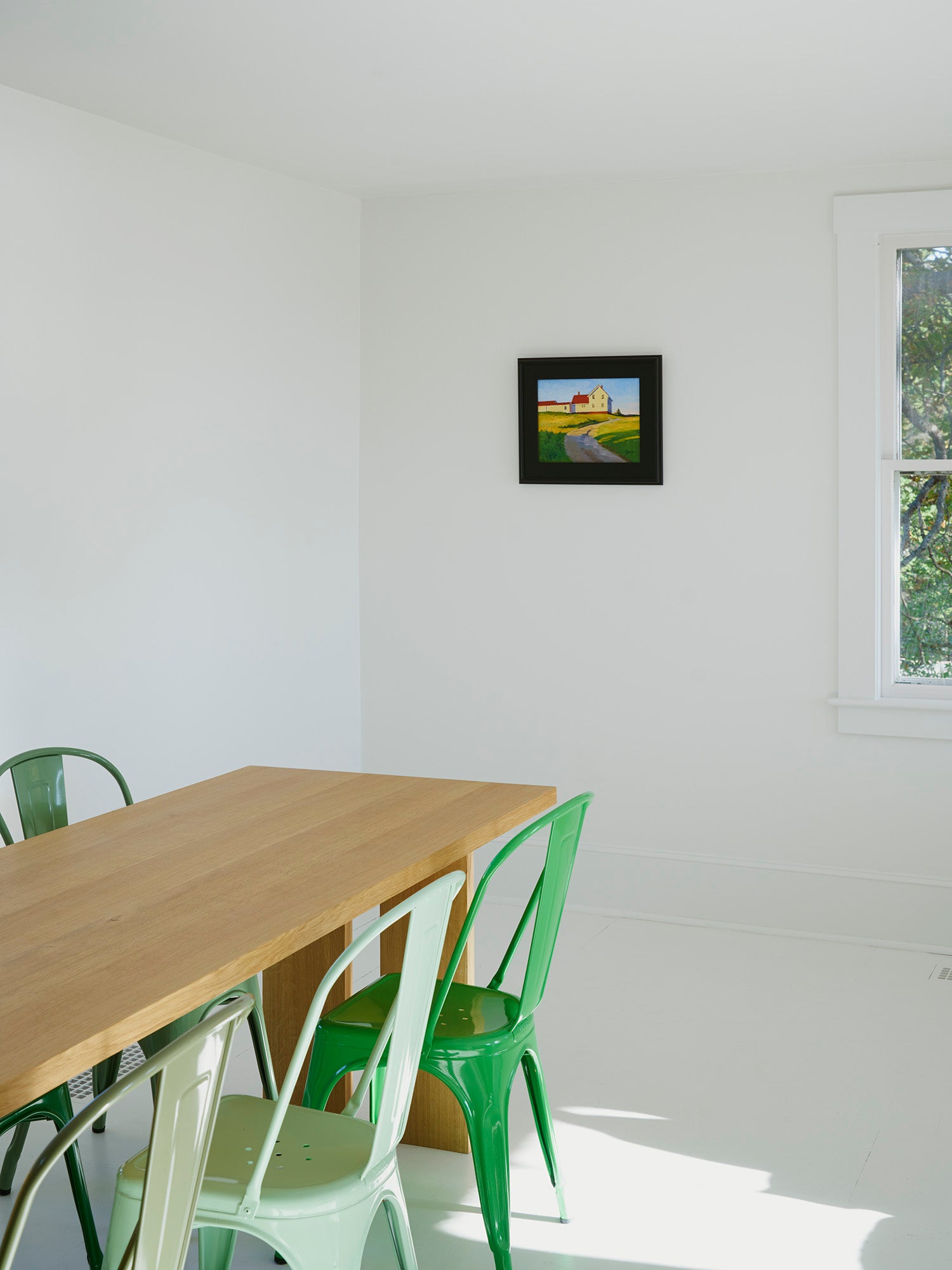 "Louise knows me so well," says Daphne. "She knew we wanted open space. Friendship is all about entertaining family. We go up in the winter as well as the summer, so we wanted something open but cozy."
Girling, whose firm, lbgdesign, is based in San Diego and Marfa, Texas, describes the interior renovation as "Swedish modern farmhouse." To create ample open space and invite in lots of natural light, the designer, whose firm works in architecture, landscape, and interiors, removed various inside walls. Minimal furnishings, textured textiles, sheepskins, white walls, colorful artwork, and white painted-wood floors add a casual barefoot aesthetic.
The kitchen and living area are located in the long ell between the barn and the house proper. Just one room wide, the space receives natural light from banks of windows on both sides. In the kitchen, the focus is not so much the island and food-prep area as it is the broad daybed nook that allows family and friends to lounge, out of the way, while meals are being prepared.
The white oak island was custom made by local cabinetmaker Jeff Walsh, but the cabinets are off-the-rack IKEA boxes with doors from Semihandmade, a design company specializing in aftermarket doors for IKEA case goods. "A lot of my colleagues' clients spend hundreds of thousands of dollars on kitchens," says Girling, "but I'm a huge IKEA fan. The cabinets are really well made."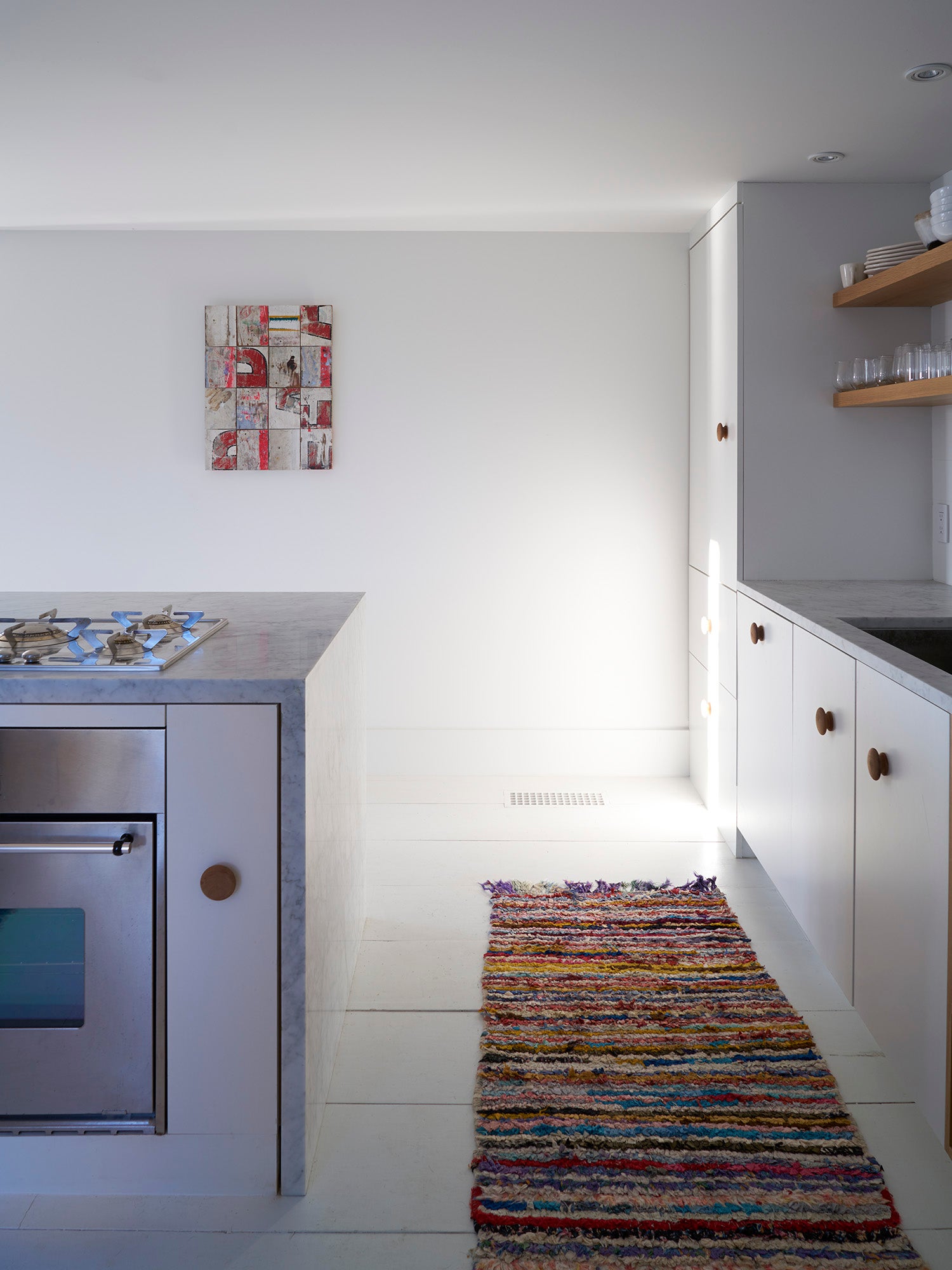 The first floor progresses from the 1740 barn through the ell, where there is also a pantry and laundry room, then into the 1860 main house. Here, the dining room, sitting room, and office wrap around the center staircase. The dining table, designed by Girling and built by Walsh, is surrounded by bright green Tolix metal chairs that add color to the otherwise subdued interior. The office, furnished with a pair of daybeds, doubles as a guest room.
The second-floor ell features a long hallway hung with lobster buoys, as well as bedrooms and baths for the Howards' three grown children. The master bedroom is beneath the eaves of the main house.
The only post-renovation complaint Daphne has is that the elegant little Renzo Piano-designed cooktop by SMEG is too small to accommodate big pots of steamed lobsters, clams, and corn on the cob. "We love to cook and have a pretty big family," she says. "We have to cook the lobsters outside, and the pots all double up on each other."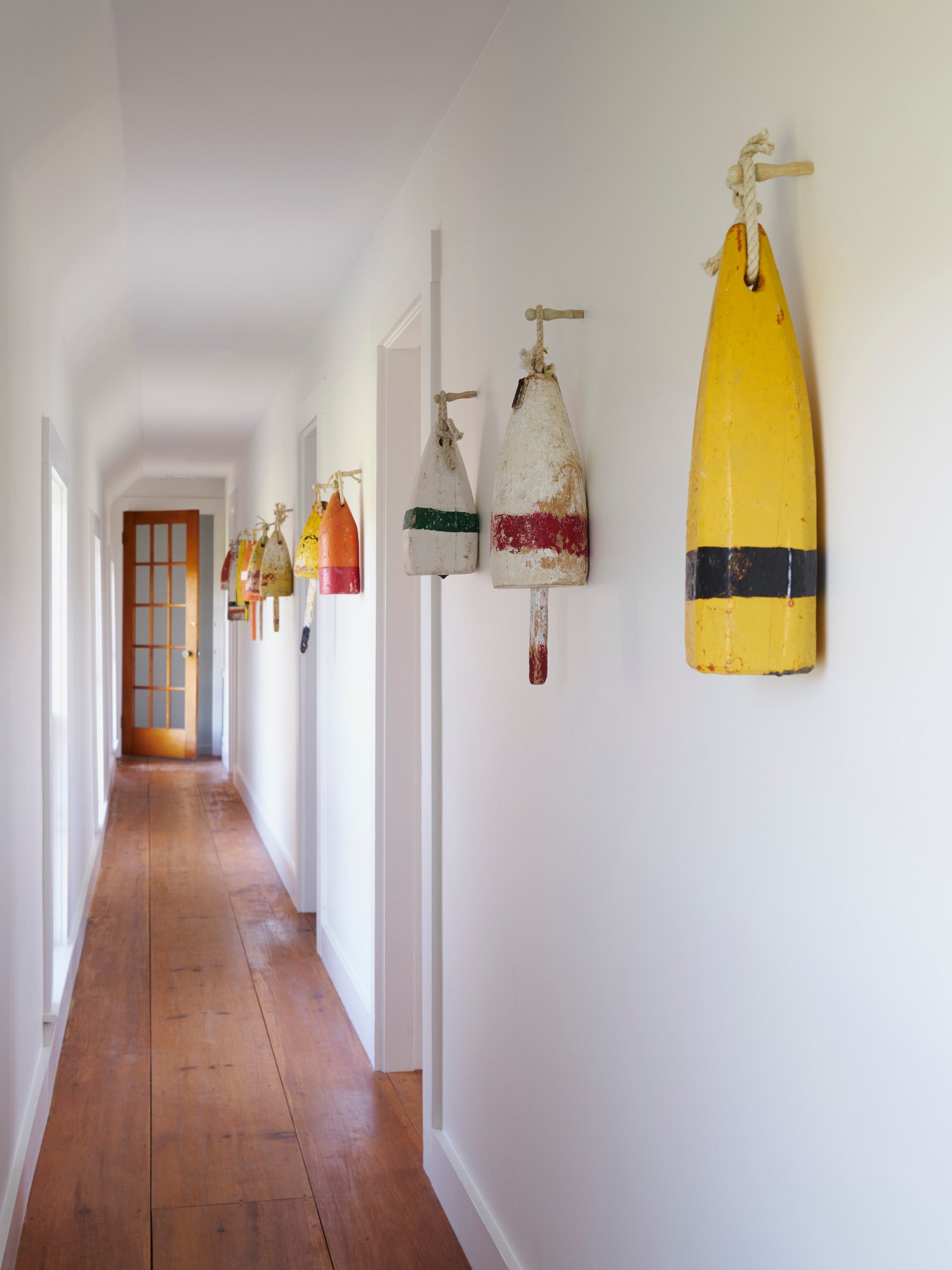 Nevertheless, summer days and holidays in Friendship are happy experiences, and the Howards and their designer are now contemplating the next project. "Phase II will be the barn renovation," says Girling. "It will be a flexible space with a working kitchen, sleeping loft, and a big pull-down screen in the living area."
"The barn — yes, Louise and I are in agreement on what that will look like," says Daphne. "Perhaps even a wedding in the barn!" For sure, there will be lots of family and friends on the guest list.
See more photos of the home:
DNE1071717