Real Estate News
Julia Child's 'little jewel,' her former D.C. home, went to rot
The house on Olive Street, the first home she owned, was the space where she filled the pages of "Mastering the Art of French Cooking."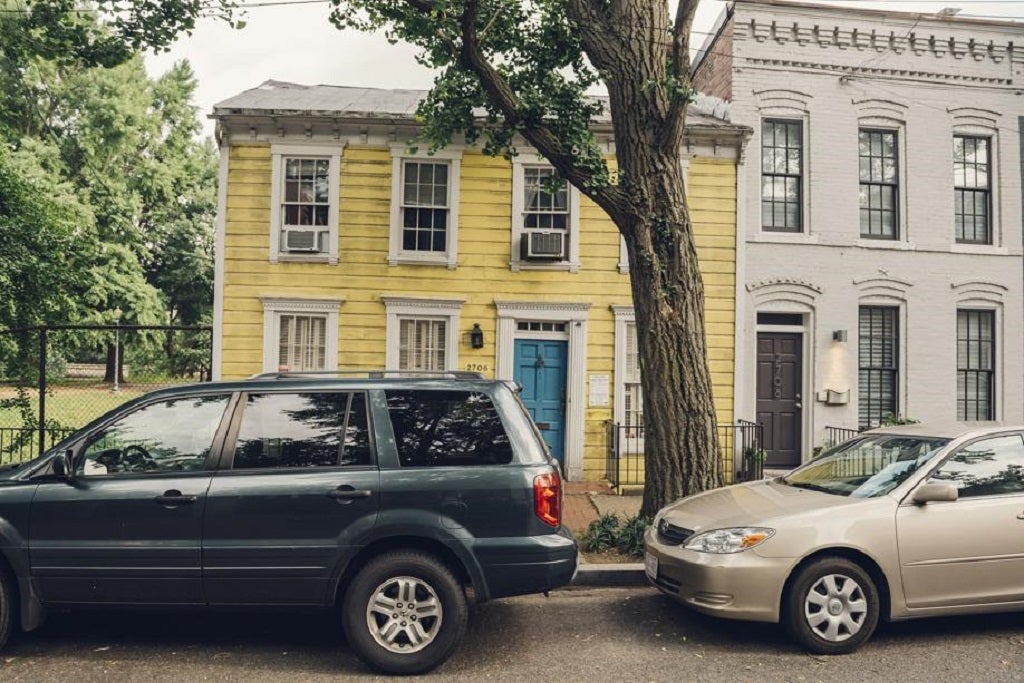 WASHINGTON — The house on Olive Street here was Julia Child's "little jewel,'' the first home she owned, the space where she filled the pages of "Mastering the Art of French Cooking.'' To enter, visitors swing a mold-covered door knocker Child and her husband installed more than 50 years ago: a trivet she once used to protect her table from hot dishes out of the oven.
Now it is a sad tale of a historic home rotting to its core. On a prim Georgetown street, the home's exterior is a fading, yellow wood, an eyesore for neighbors and a curious sight among $2 million and $3 million homes.
The roofing has peeled off, and the caulking inside has dissolved so much that the white paint on the walls has clotted from floor to ceiling. Floorboards original to the home mix with newer, misaligned ones. Kitchen tiles are missing, stolen during open houses by guests grasping for artifacts.
"It's this ugly house falling apart,'' said Janis Orlowski, a doctor who lives across the street.
Despite the facade, the four-bedroom house speaks to the range of Child's life, a history that is little known or overshadowed by her more celebrated homes in Provence, France, and Cambridge, Mass., where she lived most of her adult life. The three-story federal-style dwelling, on the only Georgetown street named after a food, was the meeting point of Child's two lives: She lived there as a diplomatic spouse working for the Office of Strategic Services (the forerunner to the CIA) after World War II, and then a practiced chef, finishing drafts of what would become the most famous cookbook in America. She and her husband, Paul Child, lived in the house in 1948 and then again upon their return from France, from 1956-1959.
"We have this yin and yang, hating how it looks and loving the history of the house,'' Orlowski said.
But the home may have a new life, if demanding Georgetown historic preservationists agree. Rory Veevers-Carter, a 57-year-old Yemeni-born software entrepreneur and Julia Child fan, bought the house in 2015 for $935,000 and has been waiting for two years for restoration approvals from at least three different municipal regulatory bodies. He hopes to have approvals finished by this fall, then full renovations completed in 2018.
"Because it's Julia's home, people pay more attention to it,'' he said in an interview. "This was the house where American cooking was revolutionized.''
Veevers-Carter does not intend to return the kitchen to the look of the 1950s, when Child cooked on an industrial-sized stove she bought from Sherman Kent, a friend and towering figure at the CIA. (The stove is now featured in the Smithsonian's National Museum of American History.) "When she talked of Washington, she would always mention the stove,'' said Alex Prud'homme, who helped Child — his great-aunt — write her memoir.
The Olive Street kitchen, last redesigned by architect Hugh Newell Jacobsen in the 1960s, will be modern, Veevers-Carter said. "Julia Child had all the latest gadgets in her kitchen, the latest conveniences,'' he said. (Including her garbage disposal, which she lovingly called her "electric pig.'') "Why wouldn't you have that today?''
The story of the house begins in the years after the Civil War, when it was built by a black carpenter. At the time, the black population of Georgetown had swelled to more than 3,000 in a city of 100,000. By the turn of the century, signs of change were afoot: A police record in The Washington Post on Nov. 16, 1913, noted that the owner of the home at 2706 Olive St. was riding a horse and wagon when he collided with an automobile at 1st and F streets.
The Childs, who had met in what was then Ceylon when both worked for the OSS, bought the house in May 1948, after they returned to Washington from overseas. In their first year on Olive Street, Child struggled to impress her new husband with a limited culinary repertoire,and toiled in the kitchen late at night. "I'd usually plop something on the table by 10 p.m., have a few bites, and collapse into bed,'' she wrote in her memoir, "My Life in France.''
The two soon left for France, where Child discovered the wonders of French cuisine, and returned to Olive Street eight years later. "What fun to feather our own little nest, the only nest we actually owned,'' she wrote. By then she had become a classically trained chef and was well into her work on her masterpiece. "Most of my time was spent revising and retyping our now dog-eared, note-filled, butter-and-food-stained manuscript,'' Child wrote of her time in the home. It would be years before a pared down version of these early drafts of "Mastering the Art of French Cooking'' was published, in 1961.
In 1956 on Olive Street, American cooking was almost foreign to her. As she wrote in her memoir, the veal was "less tender'' than in France, the herbs harder to find, the turkeys much bigger.
"In retesting certain dishes in my American kitchen-laboratory, I discovered that hardly anyone used fresh herbs here,'' she wrote in "My Life in France.'' She complained to her coauthor, Simone Beck, that "my beloved crème fraîche was nearly impossible to find in America.''
But she delighted in the choices at a local grocery on M Street, where she marveled that there was no need, as in France in those days, to develop a relationship with a grocer.
"You pick up a wire pushcart as you come in and just trundle about looking and fingering everything,'' she wrote. "It is fine to be able to pick out each separate mushroom yourself.''
On Mondays, she would teach cooking classes to the women of Georgetown in the Olive Street kitchen: quiche aux fruits de mer, coq au vin, tarte aux pommes.
"Our neighborhood was technically in the city but had a nice small-town feel, because everyone marketed at the same place or met at the post office or in the barbershop,'' Child wrote.
After the Childs left Washington for Norway, where Paul Child was a cultural attaché in Oslo, the house had a succession of owners. Among them was the daughter of city planners, who lived there in the early 1960s, when Julia Child had become a cooking celebrity. The daughter's mother kept "Mastering the Art of French Cooking'' on the kitchen counter.
In later decades, college students and Craigslist users rented the home. They threw raucous parties with hundreds of guests, then stacked bags of trash outside that attracted hordes of rodents. Neighbors became irritated, meeting to vent and plot a solution to the mess. The municipal health department was called to assess the clutter.
"Here we are, and we're living in Georgetown, for God's sake,'' Orlowski said. "It devalues the neighborhood.''
A Georgetown law student, Mark Magazu, lived in the home starting in 2005. He had an easy time finding roommates — "Julia Child's house brought together all kinds of strange folks'' — including a Miss America beauty pageant contestant and a member of the dance team for the Washington Wizards basketball team. Upkeep was an afterthought.
"At 25, we thought we were living the life,'' Magazu said in an interview.
Magazu moved out in 2011. By 2015 it was on the market, and Veevers-Carter discovered it when The Washington Post reported that Julia Child's former house was for sale. He said he was drawn to its neglect, saw its possibilities, and bought it on a whim.
Veevers-Carter splits his time between the house and a home on Cape Cod and also in visits to his wife, Patricia Veevers-Carter, who works for the World Bank as the country manager for Papua New Guinea. He remembers the first meal he cooked in the unfinished kitchen, soon after he bought the house: lamb shanks Provençal in a creamy Madras curry sauce, for friends.
These days he keeps chili pepper, bay, and lime leaf plants on his patio, accompaniments to the dozens of Indian spices he stores in his kitchen cabinets, including curry powder in a gallon-sized jar. One of his requirements of the architect, Dale Overmyer, who is renovating the house, is that there be space to slaughter, cook, and cure a 250-pound pig. He uses Child's old kitchen nightly.
JuliaChild