Real Estate News
Slice of heaven: More golfers installing at-home simulators
"There were roughly 4 million Americans who participated in golf on a simulator in 2016, nearly half of whom didn't play golf on a golf course last year.''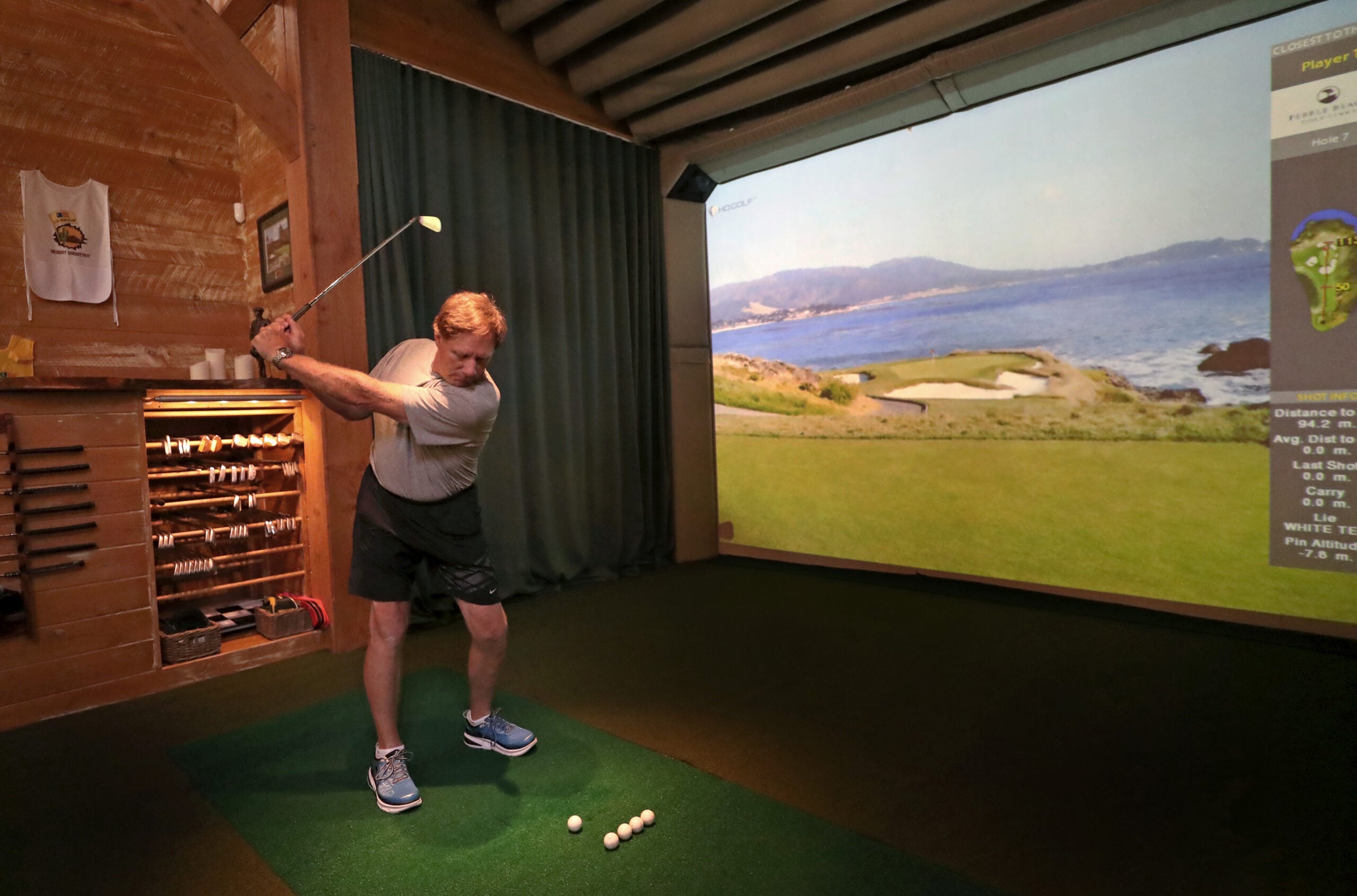 Birdies, bogeys — and basements?
More and more people, it seems, are choosing to be whisked away, golf club in hand, to a virtual world.
No sunscreen or umbrellas are required, because they are playing the links from the comfort of their basements or rec rooms — or anywhere else spacious enough to accommodate a golf simulator, which offers users an opportunity to "play'' famous courses around the world. Although the experience is available in plenty of commercial spaces, the use of in-home golf simulators is on a rapid rise.
Some people are choosing simulator golf over the real thing.
"Participation in golf is evolving, and many people enjoy swinging real clubs and hitting real balls off-course,'' said Greg Nathan, chief business officer for the National Golf Foundation, which tracks data across multiple categories in the industry. "There were roughly 4 million Americans who participated in golf on a simulator in 2016, nearly half of whom didn't play golf on a golf course last year.''
Pat Frodigh plays a lot of golf on courses every year, and quite well. Frodigh was the Massachusetts Golf Association junior player of the year in 2012, and he won consecutive high school state championships in 2011 and 2012. He's about to start his senior season at Elon University in North Carolina, where he will be teammates with his younger brother, Will, an incoming freshman.
Frodigh and his family — father Peter, mom Judy, and youngest brother Danny round out the crew — live in Westwood. They purchased a simulator four years ago and check off both of the primary boxes of why people enjoy them: for recreational purposes, but also as a game-improvement tool.
With technological advancements, and unlike their primitive ancestors from the 1980s, simulators now provide a cache of numbers every time a golf ball is struck. Swing speed, launch angle, smash factor, carry distance, arc, and apex are just some of the information available. Shot shape is also shown, so a ball that is struck into a screen 10 or 12 feet away can magically take flight on that screen, going left, right, or occasionally straight.
"It's very accurate, measures almost everything that a TrackMan can do,'' Frodigh said, referring to the small square box popular with PGA Tour players that produces similar data. "Just swinging in the room. . . . I'm not worrying about anything else. If you're outside, it might be windy or cold, and balls might be going farther or shorter. It's very easy on the simulator to dial in distance control that otherwise you might not be able to do.'' You can make wind and weather a factor on simulators, but you're obviously not going to feel the rain lashing your back as you swing.
Frodigh has enjoyed comparing the courses he can play on the family's HD Golf simulator – there are a number of manufacturers – with the actual course. He said there are approximately 20 courses loaded on the family's simulator, including the Old Course at St. Andrews, Pebble Beach, and PGA National.
"I've played PGA National probably four times, and it's pretty cool to fire up the [simulator] and play it, look back, and think, 'Oh yeah, I remember hitting it into the water there on 17,' '' he said. "The graphics are unbelievable. The holes look identical. Obviously they're not real-life images — it's still animated — but it's very realistic.''
That's been the goal of simulator manufacturers, and Jason Fierro, senior vice president of sales and marketing at San Diego-based Full Swing Golf, said the experience is better today than it's ever been.
Sales have reflected that. Fierro said sales at Full Swing Golf doubled in 2015and are projected to be 200 percent higher than that this year.
"We're certainly seeing some massive growth in the golf simulator space,'' Fierro said. "We're going out and showing the consumer that this is more than a toy. It's not an arcade game. This is something you can use to help improve your game.''
It certainly comes at a cost. Even though the July issue of Golf Digest magazine featured a do-it-yourself simulator option for around $3,000, buying from a top manufacturer will be much more expensive. Fierro said that the least expensive Full Swing simulator runs $19,000 and that the company's average sale is roughly $40,000.
Full Swing received a public endorsement from an unlikely, but very influential, source. The company signed Jordan Spieth to a sponsorship deal in January 2015. Three months later, Spieth won the Masters. Two months after that, he won the US Open. Trying to win three straight majors in his quest for golf's elusive Grand Slam, Spieth had never played the Old Course at St. Andrews, site of the 2015 British Open. With history on the line, Spieth elected not to go to Scotland early, a move some circles sharply criticized.
At his news conference before the British Open, Spieth explained why.
"I have a Full Swing Golf simulator at my house, and I was playing with some buddies and I figured, 'Why not play the Old Course since we're heading there?' It was fun and because it's so realistic, you can see kind of the start lines where you need to hit shots,'' said Spieth, who eventually tied for fourth at St. Andrews, one shot out of a playoff.
Said Fierro: "That was twofold. It validated the product for us, and it brought simulators into the mainstream, had people talking about them. That was massive.''
Full Swing hasn't stopped with Spieth. Other PGA Tour players who endorse the company's simulator and have one in their homes include Jason Day, Jim Furyk, Padraig Harrington, and Tiger Woods.
If you want to build or buy your own simulator, what do you need? Space, for starters. Your ceiling height needs to be at least 10 feet. A minimum of 12½ feet in width and 17 feet in depth is recommended.
Not every house allows for that. The Frodighs installed their simulator when they added a pool house. Basements are the most popular location.
On occasion, a simulator can help sell a house. Sheryl Simon has seen it. Simon, a principal at Benoit Mizner Simon & Co., which has offices in Wellesley, Weston, and Needham and specializes in luxury properties, points to a place that sold earlier this year. A high-end simulator was installed in a torn-down-and-rebuilt Weston house prior to it hitting the market. Simon said the golf enthusiasts who walked through took immediate note.
"The golf simulator was absolutely a big draw. It was a very, very, very big asset, the perfect accent to an already great house. The fact that something was put in that nobody else had, I think, was really attractive to a lot of people and could have been the reason that house sold over competing houses,'' Simon said of the Weston property. It sold for more than $4 million.
"We live in New England, so any time you can create something where it's a snowy, horrible day and you can't be out there golfing, to be able to play inside, I think it's a great activity.''
Score one for virtual reality.
Michael Whitmer covered golf for the Globe from 2009-2016. Send comments to [email protected]. Subscribe to our newsletter at pages.email.bostonglobe.com/AddressSignUp.