Real Estate News
What's in a name? A lot if you're talking about your house
Rose Cottage ... The Breakers ... Does giving your home a name make it more valuable?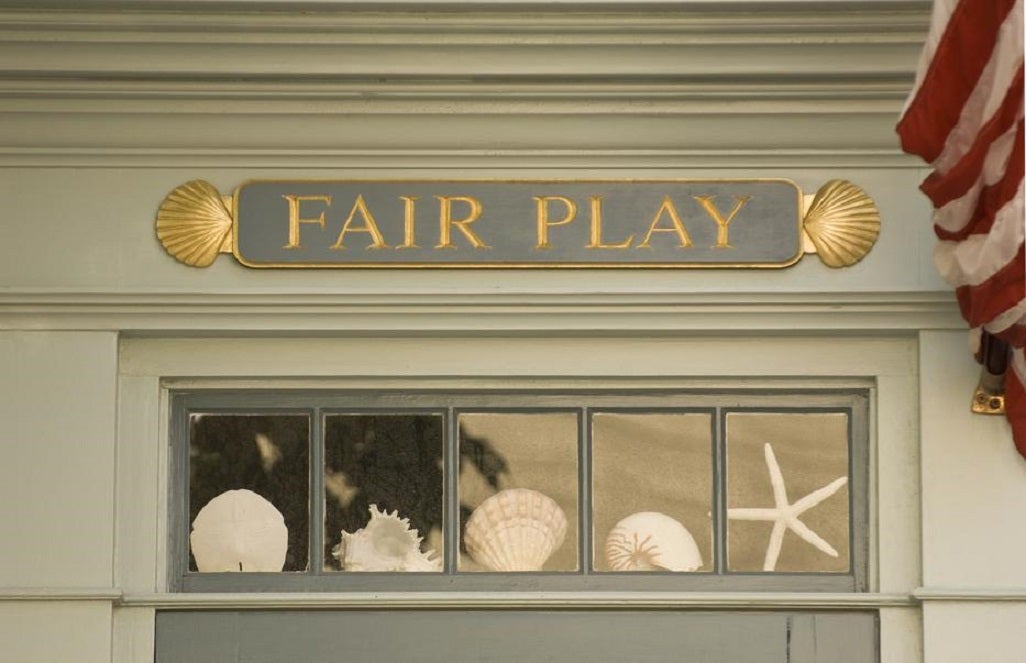 Some homes are the primary setting for — or even major characters in — the stories of our lives. The place you grew up, your aunt's house where you learned to swim on muggy summer days, your first apartment in the city — each one is a star that holds in its orbit countless important and lasting memories that make you who you are.
It's no wonder, then, that people sometimes name their homes. We've named our boats for centuries, and a quarter of us name our cars. (More than 151,000 New Hampshire drivers even seal the deal with a vanity license plate.) Why not honor a key player in our life's drama with the dignity of a proper title?
Plus, recognizing your home's significance with a name can potentially make it appear more valuable to future buyers as well.
The practice is quite common in the United Kingdom. English manor houses and royal estates have held names for centuries, but so, too, have more modest residences. In fact, well over a million British homes are named as part of their official mailing address, according to the Royal Mail, ranging from the traditional (such as Orchard or Rose Cottage) to pop culture references. There are dozens of homes named Highclere (after the Crawley residence in "Downton Abbey''), Bag End (Bilbo Baggins's home in "The Hobbit''), and Tardis (the time machine from "Doctor Who''), among other cultural references.
Here in New England, we know many historic homes and grand estates on a first-name basis, such as the Old House at Peace field, the Adams family home in Quincy, or The Breakers, the Vanderbilt summer mansion in Newport, R.I. But it's the modest vacation homes dotting beaches, lakes, and ski slopes that are more likely to be christened with a name today. Perhaps it's because these are the places most dear to their owners — where some of the most enduring memories are made.
Some names are strictly historic, while others hint at heritage. Many make cloying puns from family names or locales, and still others leave outsiders scratching their heads about what can only be an inside joke. All of these styles can be found on Nantucket, where the coalescence of Colonial English influence, historic maritime tradition, and free-spirited summer vacationers has left the island brimming with house names.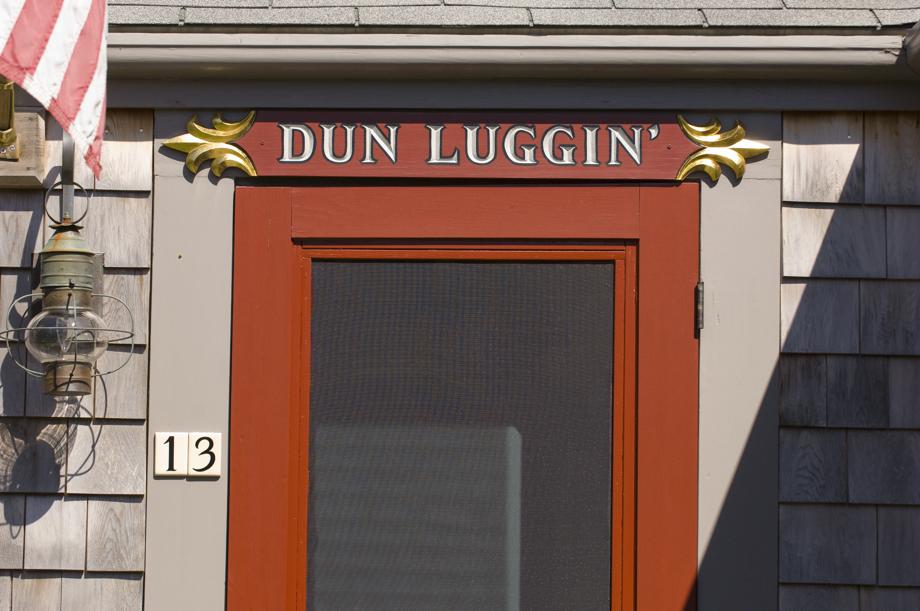 In the Nantucket village of Siasconset (or 'Sconset), a handful of antique cottages — with names such as Auld Lang Syne, Nauticon Lodge, and House of Lords — date from the late 1600s and 1700s, though the monikers mostly came later. Nantucket's naming tradition really took hold in the 19th century, when a maritime practice came ashore.
In an effort to augment an anemic Navy during the War of 1812, the United States enlisted an amateur armada of private sea captains to help fight the British — and fight they did, capturing hundreds of enemy ships in exchange for rights to some of the bounty. "We had a whole bunch of guys on fast, quick ships plundering the British, and they were all called privateers,'' said sign carver Paul McCarthy, co-owner of Nantucket Carving and Folk Art.
"But after the war was over, they were no longer privateers,'' McCarthy continued. "They were pirates, because they kept right on going. The government realized it was a problem, so they issued a maritime law saying all vessels in the US had to be identified by name on the side of the ship's quarters.'' Those wooden ship signs thus became known as quarterboards, and some of them began to find their way onto the homes of Nantucket residents.
"The shoals of Nantucket, before radar and sonar, were very treacherous, and there were shipwrecks right and left,'' said Sharon Hubbard, author of "Quarterboards: A Unique Art Form.'' Carved quarterboards from wrecked ships would often wash up on the beach, and whoever found one might take it home and hang it on his house or barn.

For example, a circa 1680 house in 'Sconset was originally known by the name Saint's Rest, but when 19th-century homeowner Captain William Baxter got his hands on the quarterboard from the 1852 shipwreck of the Shanunga, he proudly displayed the sign on his barn. The name, like the custom, stuck.
By the 1970s or '80s, a quarterboard craze hit the island again. "Homeowners all over Nantucket began to create names that had a family or personal meaning, and had them carved on quarterboards to mount on their houses,'' Hubbard wrote in her book. When a house is sold, some people leave the board for the new owner, who might never know the name's origin. But with a hand-carved quarterboard costing upward of $1,000 and bearing a personalized name, it's not uncommon for the sign to stay with the owner, not the house.
Walking around Nantucket, you see names ranging from cutesy to clever. "Pretty much everyone who has a quarterboard has a story that goes with it, which makes it a lot of fun,'' Hubbard told me.
A plastic surgeon on the island ordered a fitting quarterboard, McCarthy said: Nip Tuck It. "On another one, I had to carve a moon on one end and a cresting wave on the other end, and the sign said Luna Sea,'' McCarthy said. "That was for a psychiatrist.''
Family and hobbies come into play, too. A house named Three Lights bears a quarterboard with carved renderings of Nantucket's three lighthouses — but the family's three daughters were the real inspiration for the name.

"Our house quarterboard is Magic Hour, which was a gift from our children,'' said Nantucket filmmaker and photographer Dan Driscoll, whose work is showcased in Hubbard's book. It's a reference to the magical time of day around sunset "when the light is spectacular,'' he said.
Sometimes people just want to take a bit of that vacation magic home with them in the form of a traditional quarterboard. "Visitors who come here in the summer, they see the signs on houses, and they like to bring a piece of the Cape back home with them,'' said Dawn Fancy, co-owner of Young & Fancy Signs in Orleans.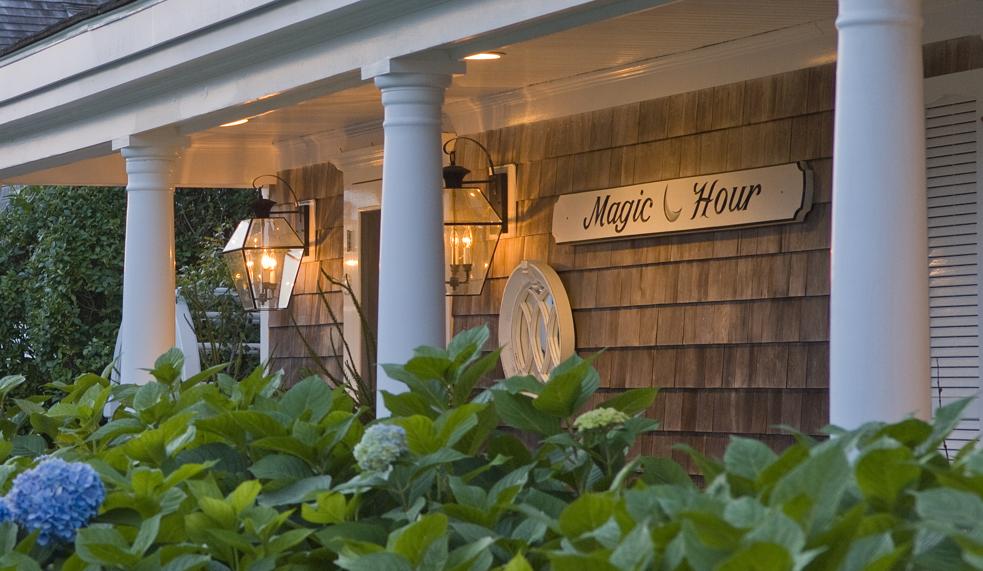 Indeed, people all over the country name their homes, farms, and ranches, said Bob Lacy, owner of Chatham Sign Shop. "They're most popular on Nantucket, but I really can't think of a state that hasn't received at least one,'' Lacy said of his hand-carved signs.
At Lake Shore Park in Gilford, N.H., many of the small cabins that crowd the shores of Lake Winnipesaukee display names out front, from Paradise Found to Honey Bun's Hut. Some are rustic, painted signs, while others are hand-carved; and many have changed over the years.
Jensen and Pamela Penney bought a cottage here in the 1970s, which they named Penney Arcade. When they later sold the house to put their kids through college, buyers Bob and Sherrie Rudy (who, ironically, tapped their own kids' college funds to buy it) renamed the cabin Rudy's Roost in a nod to their large family. These days, the retired Penney Arcade sign hangs as a memento inside the Penneys' new home: Common Cents Cottage.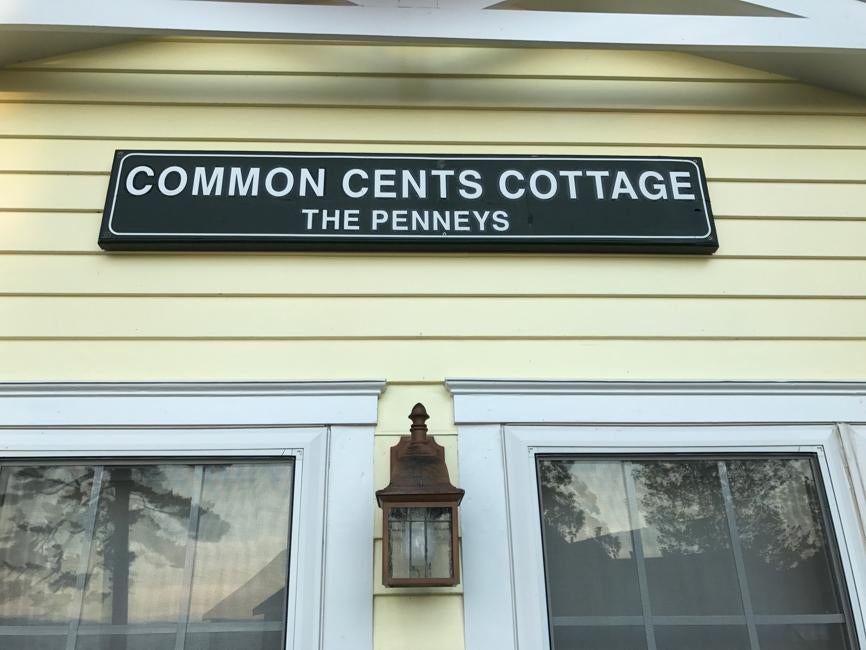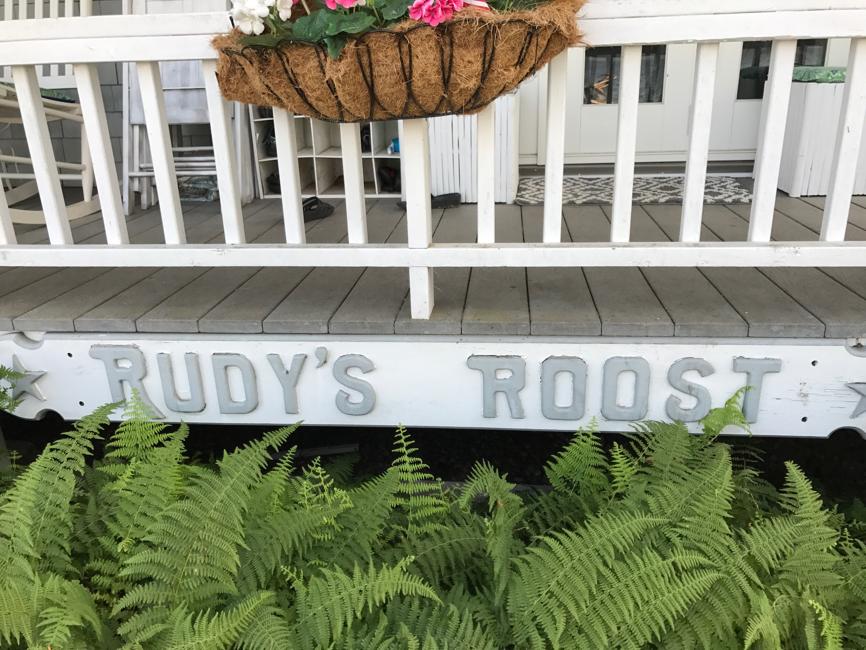 But can a name actually add to the home's value? Maybe: A 2011 survey found that 1 in 14 British buyers would be willing to pay more for a house with a name, and 40 percent would be more interested in viewing such a property.
That could be because a name implies pride in the home. "I'm sure there's a bit of selection bias,'' said Michael Seiler, a professor of real estate and finance at the College of William & Mary. "If I have a piece-of-crap house, I'm not going to name it, so people are probably naming residences that are pretty substantial anyway.''
Properties with historic designations have a proven price benefit, Seiler added. But even a vanity name could potentially help your home stand out to buyers left dizzy by weeks of house-hunting. "One thing I tell people is, if you're selling your house, you want it to stick in people's minds somehow,'' Seiler said. "If you name your house, people will have a much easier time referring to it and also remembering it. They'll remember it after seeing two dozen houses, and maybe that's the house that's going to get the offer.''
The only question is, what will you name your home? It's a delicate decision: A grandiose name on a dumpy house could backfire, Seiler said, and you don't want it to come off as pretentious (like some luxury buildings around Boston).
Even gifted wordsmiths hesitate when trying to capture the essence of their home in a pithy title. E.B. White, author of "Charlotte's Web,'' never named his charming farmhouse in Maine, the home's current owner told Yankee Magazine, because he thought it would be pretentious. "But he said if he had to, he would call it Two Big Chimneys and a Little One,'' she told the publication.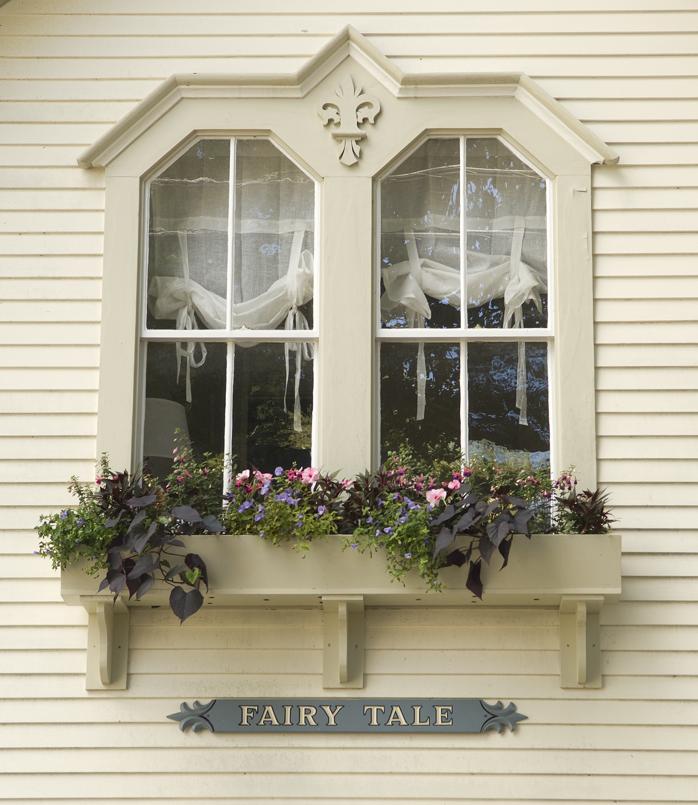 Straightforward family surnames used to be very popular, Fancy said, but customers have shied away from them in recent years for security reasons. "They've become more inventive and whimsical with the names of their homes,'' she said.
Fancy recalled a customer who bought a quarterboard as a gift for a friend's home, called Light on the Cranberry. "I said, 'Oh, does the house overlook a cranberry bog?' And they said, 'No, that's how we like our vodka!' ''
Coming up with an original name that everyone likes is the hardest part, Fancy said. "So many customers come in and say, 'It's taken us five years to come up with a name for the house!' And then they start arguing about it again at the last minute.''
But the right name on the right house makes a perfect match. "My favorite is one we did for a newly married couple, both of whom had gone through divorces,'' Lacy said. "The quarterboard read 'Eat, Drink, and Remarry.' ''
Jon Gorey blogs about homes at HouseandHammer.com. Send comments to [email protected]. Follow him on Twitter at @jongorey. Subscribe to our free real estate newsletter — our weekly digest on buying, selling, and design — at pages.email.bostonglobe.com/AddressSignUp. Look for our special Fall House Hunt coverage starting Sept. 11.