Real Estate News
Aspiring designers see making the world more welcoming, inclusive, healthy, and beautiful as their calling
Art, cooking, and athletics inspired the winners of our third annual Design Showdown student competition.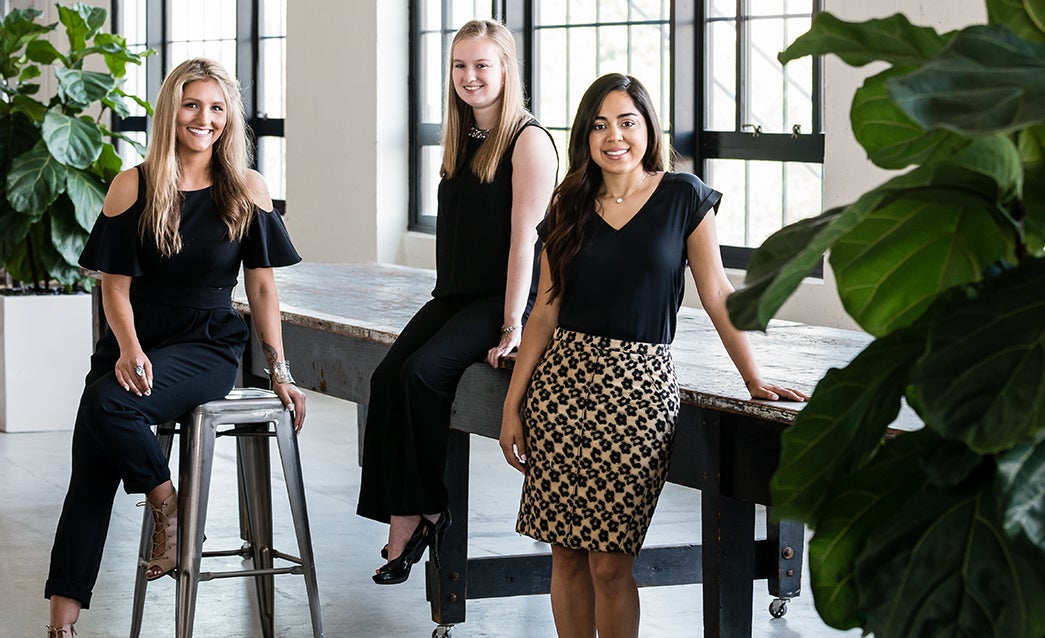 Art, cooking, and athletics inspired the winners of our third annual Design Showdown student competition. We challenged aspiring interior design and interior architecture practitioners with a two-level space on Boston's business-heavy Newbury Street to create a combination retail/residential space for imaginary clients with imaginary aspirations. More than 50 students responded. Our panel of judges narrowed the entries to eight finalists, who presented their projects before an audience and our questioning judges. All eight were calm, cool, and collected, but these three emerged victorious.
FIRST PLACE
Yennifer Pedroza
Master of Arts in Interior Architecture, New England School of Art & Design at Suffolk University, 2018
For Yennifer Pedroza, the two-level space was a chance to show artwork by people from different communities to travelers who come to the busy Newbury Street business district. A studio on the third floor is "flex space," she says, "where artists could sell their work if they wanted." Her client, the manager of the art program, would live on the floor above.
Accommodating all types of people was important to her vision. "I wanted a space that people felt welcome in and could actually afford purchasing art," she says.
People from all over are attracted to this area, but what connects them? Pedroza's answer was the subway. The Massachusetts Bay Transportation Authority (MBTA) route map became her motif, with colors of the subway lines — red, green, blue, and orange — used to help visitors navigate from one area to another. Curves representing routes and circles signifying stations are found throughout, and round display tables are positioned so people with wheelchairs and strollers have plenty of room to move around. Pedroza also utilized color theory, using blue, for example, because it is calming and prevents distraction so people with hearing disabilities are better able to read hand gestures and lip motion. Green in a retail space, she reasons, makes people think of money, which could help spark purchases.
Upstairs, "I wanted to mimic the activity below to connect the two spaces," Pedroza says. Curved tables and chairs from Knoll and a Kloud Serpentine Nienkämper sofa accent the space. She softened the MBTA palette with hues such as a "light teal in the kitchen and a softer orange in the bedroom."
Pedroza was born in Colombia, studied international affairs at Northeastern University, then enrolled in the Master of Arts in Interior Architecture program at New England School of Art & Design at Suffolk University (NESAD) after taking a continuing education course in interior design. To her, design is a way to affect how people feel, interact with space, and manage various physical capabilities. "Throughout someone's life span, they experience different things — using a stroller or a walker, or their vision might get impaired as they age. I strive to create design that makes people feel like they are all welcome even if they have a certain limitation."
RUNNER-UP
Julia Jenko
Master of Arts in Interior Architecture, New England School of Art & Design at Suffolk University, 2018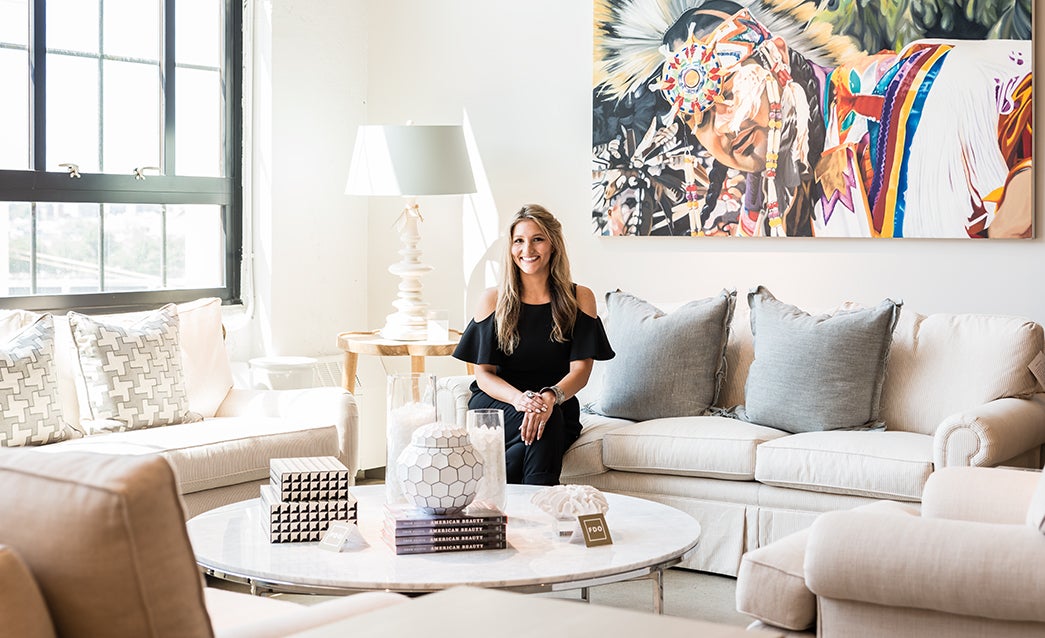 Julia Jenko wanted her design for a member-based boutique test kitchen run by a botanist and food scientist to entice people up to the third floor. So, she conjured a treehouse to evoke that feeling of climbing to a fun place of wonder and comfort, "like when you were a child. I wanted it to be a space that felt exciting and inspiring to be in," she says.
With an "abstracted tree" as her visual compass, Jenko worked with natural elements such as reclaimed wood, bamboo, and stone to design a commercial kitchen with residential space above for her client, who collaborates with customers and chefs to create meals and meal plans. A wooden framework on the ceiling allows a canopy of plants to grow over the kitchen space. Plants suspended above dining tables and a wall filled with herbs enhance the treehouse feel, while professional-grade Miele and Sub-Zero appliances make it functional.
In the residential space, Jenko designed a small library with bookcases that swivel closed to create a meeting room or open to make the area part of the living space. Behind the bookcases are a kitchen, bedroom, and bath. A self-standing Murphy bed from Resource Furniture alternates between being a sofa with a chaise and a queen-size bed.
Jenko, a Vermont native, studied marketing at Bentley University before embarking on the Master of Arts in Interior Architecture program at NESAD. "I get to know people," she says, "and I believe that the environment that we surround ourselves in is an indication of who we are as people.
PEOPLE'S CHOICE
Ashley Crosby
Bachelor of Science in Interior Architecture & Design, Mount Ida College, 2018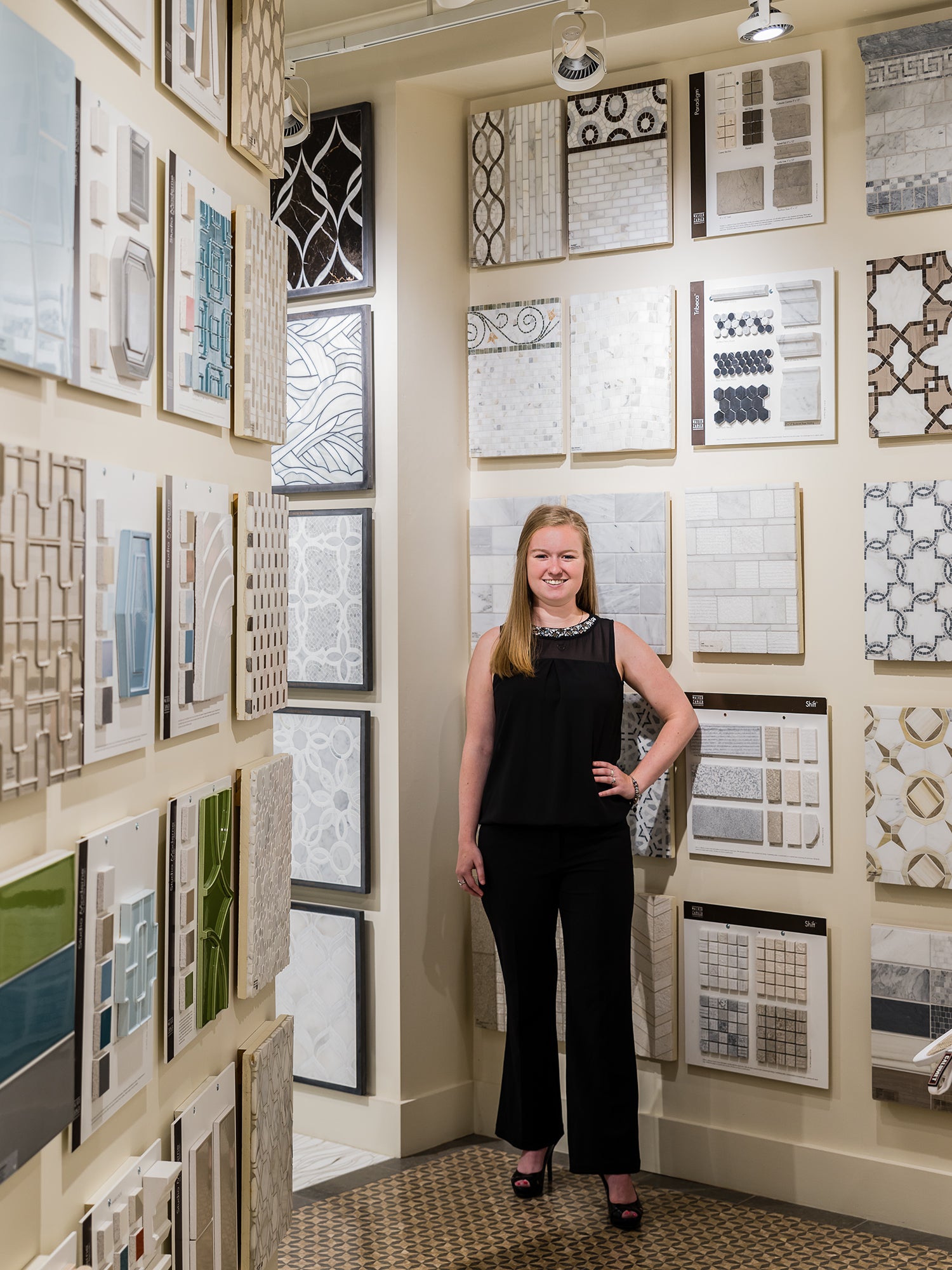 Ashley Crosby imagined a unique space where her clients, a physical therapist and a teacher who is deaf, could enrich the lives of youth athletes. With living quarters for the couple on the fourth floor, the third floor is a space where soccer teams bond over the ritual of receiving their uniforms. "The kids come in as a team with their coach," says Crosby, "and they choose what they want." In this egalitarian system, she says, "they don't have to choose a certain uniform because they are cheaper." Crosby's vision includes three important team experiences: "They bond together while they wait in anticipation to see the uniforms, then everyone gets their uniforms and can try them on, then they try out kicking the ball around in the shooting space."
With a floor of artificial turf, the 21-foot-high shooting space is open to the floor above so her clients can look down from the residential space and see the kids playing. Also on the third floor are a reception desk, wooden locker room-style cubbies, and a space used to design uniforms.
Upstairs, a hexagon-patterned wall in the bedroom and tiles on the kitchen floor evoke a soccer ball's stitching. The mostly open space has curved furniture and a curved kitchen island to eliminate hidden corners, allowing her deaf client to communicate through sign language or lip-reading throughout the space. Crosby also included a flashing smoke detector and a vibrating alarm clock. The challenge, she says, was to design for a person who is deaf but have it be "universal so it works for everyone."
Crosby, who grew up in New Hampshire, is entering her senior year at Mount Ida College in Newton, Massachusetts, where she is earning a bachelor of science degree in interior architecture and design. She prefers working on hospitality and retail design. "Those are the studios I enjoyed the most," she says, adding there's more "room to be creative, because you are designing for a wider audience."
SHOWDOWN JUDGES • Thanks to our judges, who spent many hours reviewing all the entries before selecting our eight finalists and carefully weighing their projects and final presentations to determine the first-place and runner-up winners.
John DaSilva
Architect and principal, Polhemus Savery DaSilva Architects Builders
Michael Ferzoco
Interior designer and principal, Eleven Interiors
Jeanne Finnerty
Interior designer and principal, Finnerty Design
Lucianna Lucarelli
Director of interiors, TRIA
Sarah Lawson
President, S+H Construction
THE AWARDS • David Hansen is the manager of education applications and support at Boston Architectural College and the creator of the 2017 Design Showdown Awards. "Design is in our DNA," says Hansen, who worked in the school's 3-D design studio to craft the keepsakes, which feature Bocote hardwood bases beneath a 3D-printed ABS helical sculpture that supports a laser-etched acrylic plaque. Inspired by the double-helix structure of the DNA molecule, the form and its rising spirals speak to the aspirations of student designers to effect positive change in the world around them.
Students can sign up to receive information about entering the Design Showdown 2018 here.