Real Estate News
Energy-saving Quincy home costs $215 a year to heat, cool
Driving to meet architect Matt O'Malia at one of his latest projects, a waterfront house in Quincy, Massachusetts, I sensed the apocalypse might be near.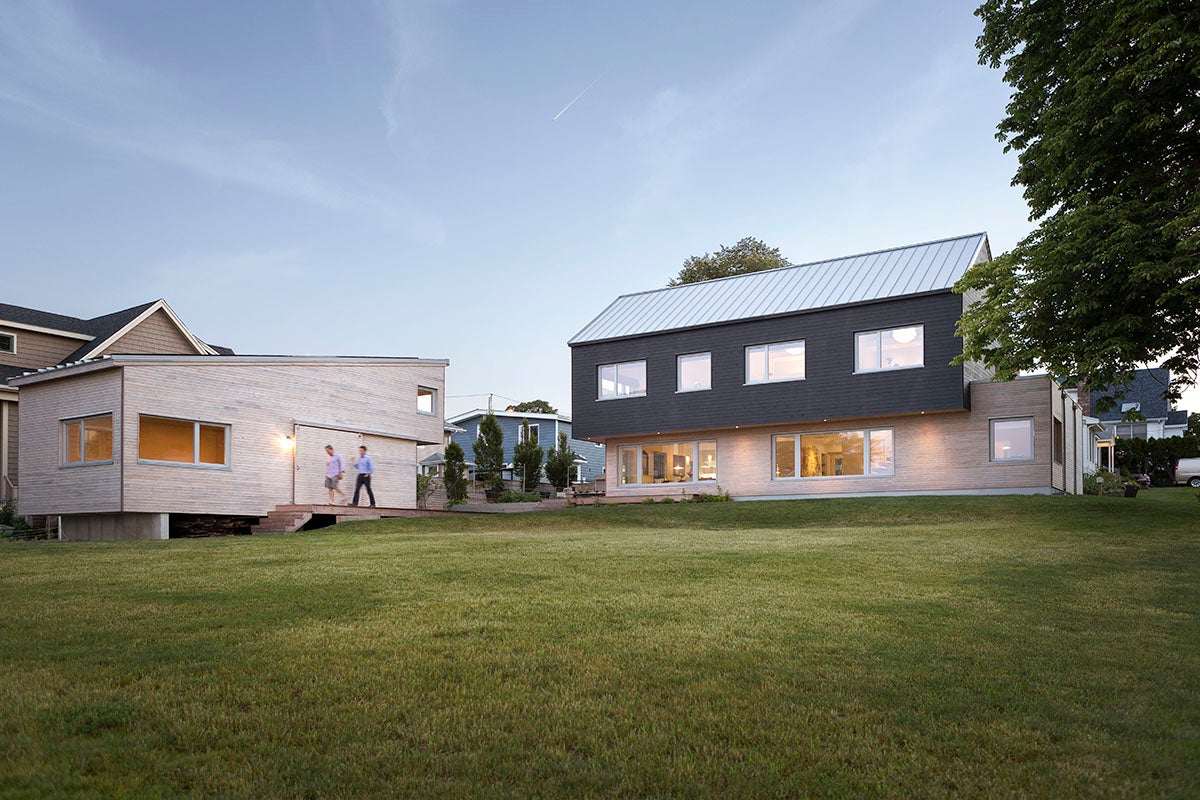 Driving to meet architect Matt O'Malia at one of his latest projects, a waterfront house in Quincy, Massachusetts, I sensed the apocalypse might be near. The summer traffic was heavy, the temperature was on its way to a record high, and it seemed to me that we humans were driving and consuming the planet toward a very bad future. Happily, the building I was about to see holds hope that it doesn't have to be that way.
The house uses as little energy as possible, implementing performance principles that first came out of Europe in the early 1990s. O'Malia learned about the concept, what the Germans call Passivhaus, as an architecture student in Germany in the mid-1990s, and he and his firm, GO Logic in Belfast, Maine, began designing their own passive houses in 2008. As O'Malia says, they've been "perfecting the system" ever since, striving to make buildings that look good and are at least 90 percent more energy efficient than those built to standard code requirements.
The Quincy house is home to Michaela and Ulrik Nielsen and their two sons, ages 10 and 13. They bought the property in 2012, attracted by its views of the Boston Harbor Islands and the chance to replace an existing small Cape with a building that Ulrik, a biotech entrepreneur, describes as "the best they could do to reduce environmental impact." The couple — Ulrik is Danish, Michaela, German — met as postdoctoral students at Massachusetts Institute of Technology in 2001. They had been living on Houghs Neck, across Quincy Bay from this lot, in a house with jalousie windows, oil heat, and precious little in the way of weathertightness. "We kept thinking," says Michaela, "how can you live in a climate that gets so hot and so cold and not have any insulation?"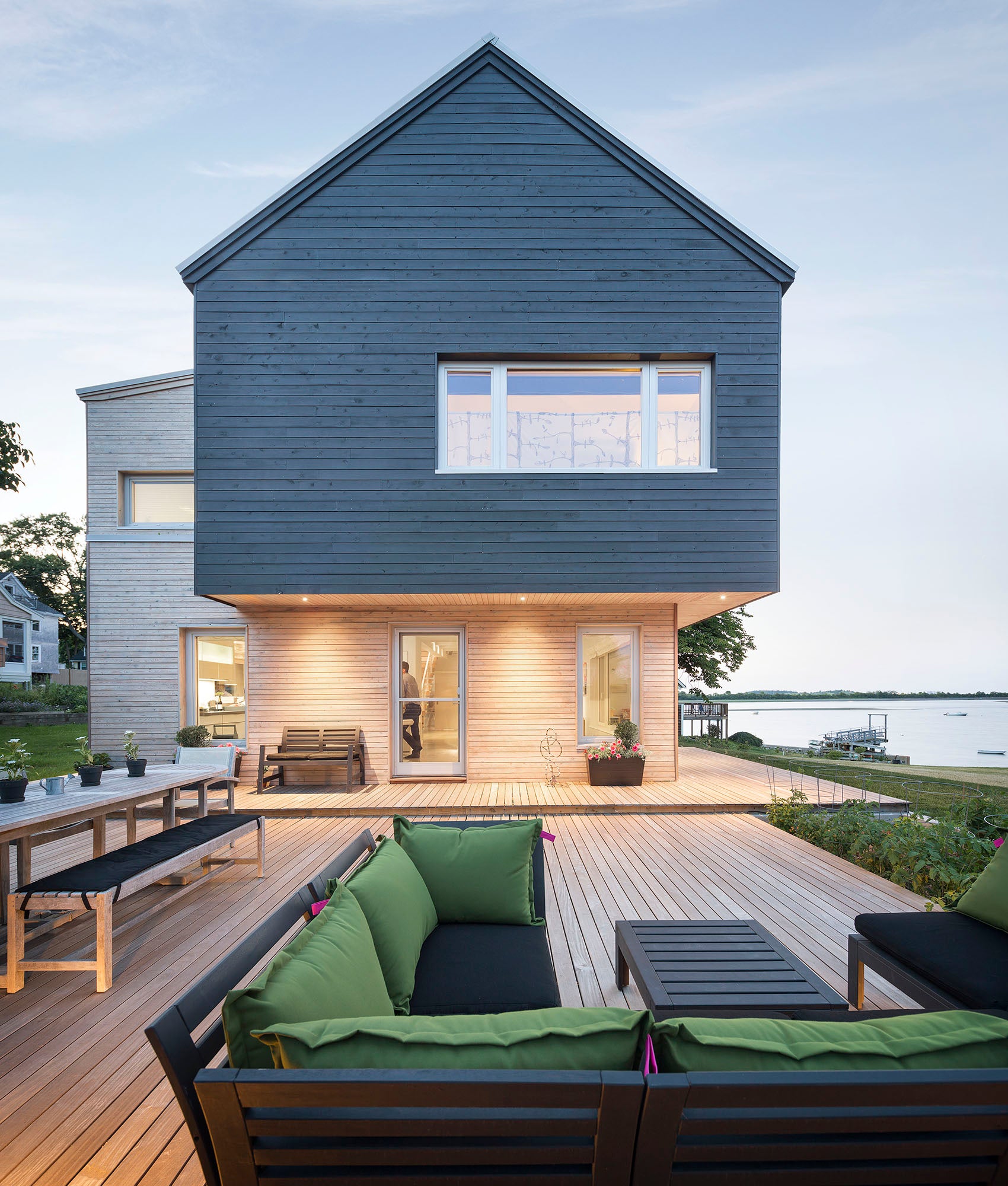 As Europeans, they'd been familiar with the passive house concept; researching its U.S. practitioners, they came across O'Malia and soon visited the 36-unit Belfast Cohousing & Ecovillage project that GO Logic designed and was building in Maine. This community of multifamily homes gave them a picture of every stage of passive construction. Soon, they were working with O'Malia and project architect Riley Pratt on their new Quincy home.
The result is a striking composition of familiar forms, with a traditional gabled shape interlocking with contemporary-style massing. Clad in white cedar, the upper section is stained black, as many Danish coastal houses are, while the first floor retains a natural finish. Contrary to what one might expect in a high-efficiency structure, this house doesn't look like a bunker. The array of German triple-pane windows offers views throughout. The flat roofs are vegetated for water control and insulation, while the gabled roof features standing-seam metal, an homage to New England farmhouses. Instead of grouping the bank of 24 photovoltaic panels on the house, O'Malia placed them nearly out of sight on the roof of an outbuilding that is used as a studio. The panels power the compound and two electric cars so well that the Neilsens pay no electric bill from April to December.
The studio and house frame a sunny outdoor room, protected from the ocean breezes. "It's got its own microclimate," says Michaela, "perfect for alfresco meals on chilly days."
On the day I visit, however, it feels like an oven set on broil, so we duck inside. The dining room is cool and welcoming, with a polished concrete floor and a view into the open-plan kitchen, with its dark oak counters and sleek white German-made Nolte cabinetry. Just beyond, the living room beckons us to multicolored Roche Bobois sectionals.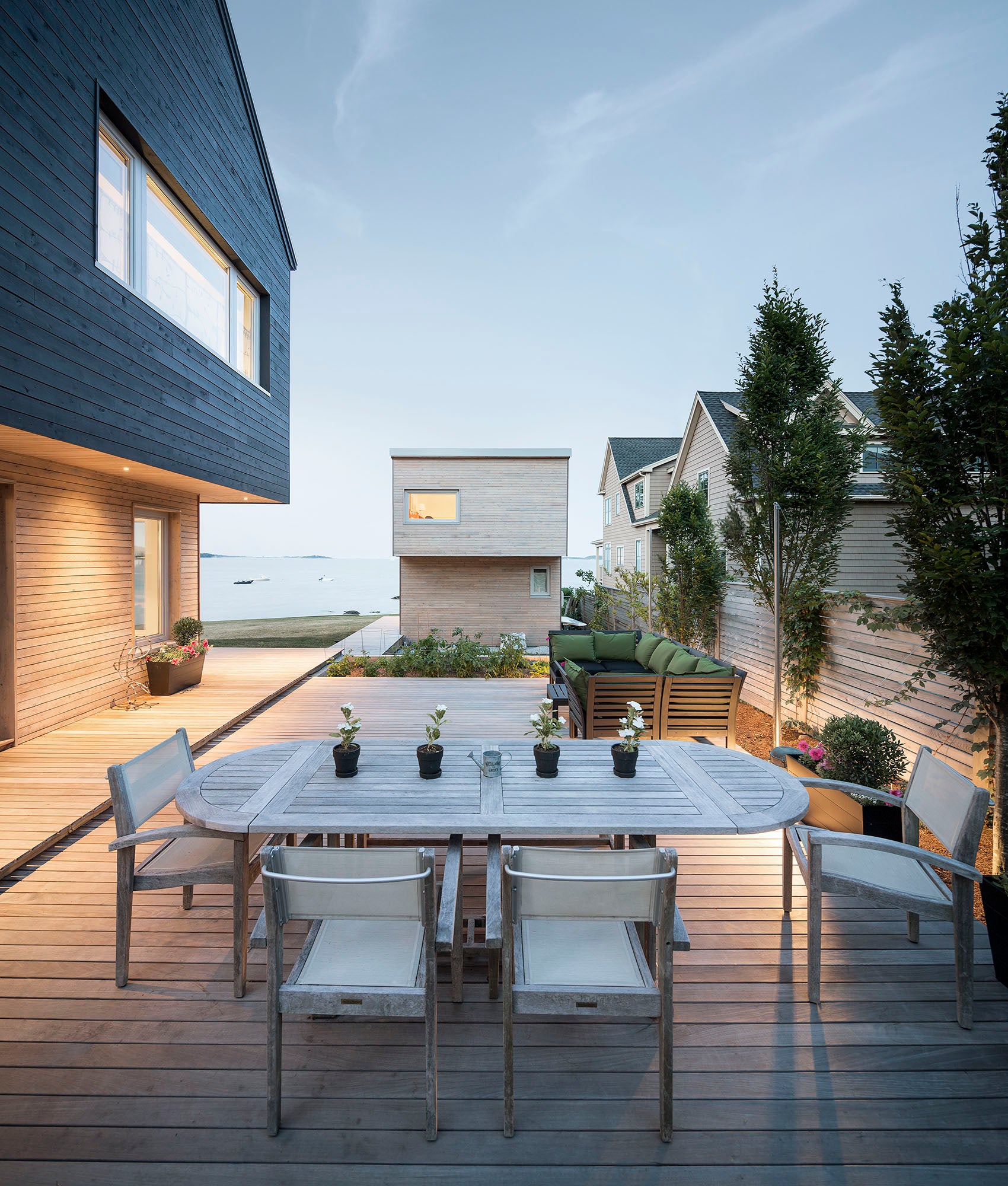 The coolness is all the more remarkable because the air conditioning isn't on. O'Malia turns to the exterior wall, which, despite the 100-degree heat outside, is cool to the touch. "Moving past the paint," he says, "we have drywall, a 2-by-6 stud wall filled with dense-pack cellulose, structural insulated panels with nearly 8 inches of foam insulation, and a rain screen siding assembly of building wrap, vertical strapping, and horizontal cedar boards. That combines for an insulation value of R-50. The roof has 24 inches of cellulose and hits R-80." This system, designed to keep heat out in summer and in during winter, is what GO Logic is continually working to perfect. The house features meticulous air sealing, virtually no thermal bridging (whereby solid elements of the structure span between outside and inside, allowing cold or heat transmission), and a heat-recovery ventilator that supplies tempered fresh air into the tight building.
In winter, solar heat from the low-lying sun enters through windows on the east and south facades, while the cantilevered upper story shades the first-floor in summer. The only other warmth comes from, remarkably, body heat, electric towel warmers and radiant floors in the bathrooms, waste heat from appliances, and a heat pump with a single register on each floor. "We only need it on the coldest nights," says Michaela, "and hardly ever turn it on upstairs. And we basically don't need it for cooling." Estimated annual heating and cooling cost: $215. The house was built by a traditional builder, Quincy's Gene Solchenberger. Its 2,600 square feet came in around $700,000, or a very reasonable $270 per foot. "We spent money on things that make the house inexpensive to operate," says Michaela.
My final impression on that sweltering day came when I poked my head into the small attic to get a look at ventilation mechanics. Instead of blazing hot, it was only a degree or two warmer than the living space. Cool (literally and figuratively), comfortable, moderately priced, cheap to operate, and good for the environment, the Nielsens' new house left me a lot more optimistic about our chances as a species.