Real Estate News
Can 'in-law apartments' help ease the housing crisis?
While everyone seems to agree there's an affordability problem, changing zoning laws in Massachusetts can be more difficult than changing lanes at rush hour.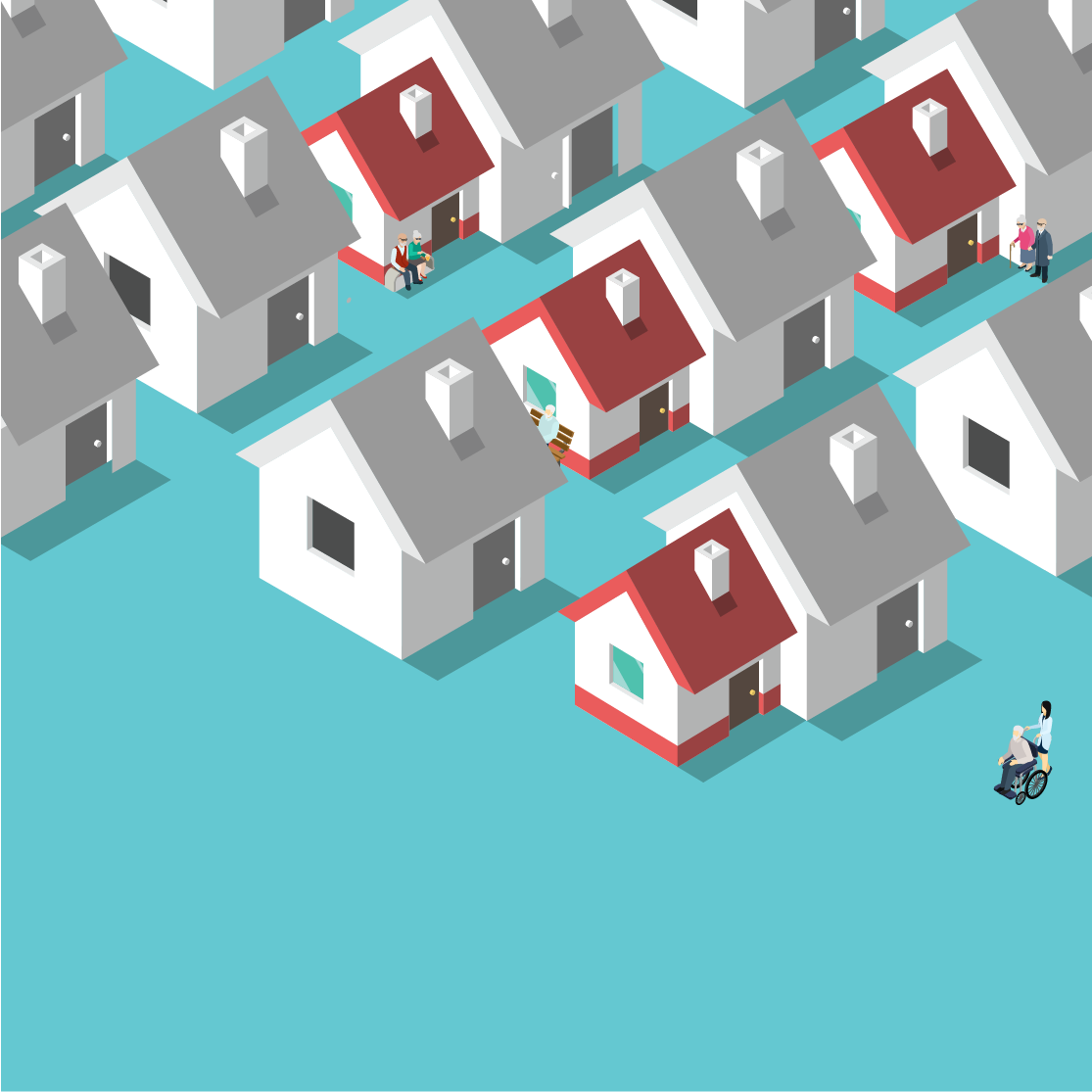 A bill on Beacon Hill includes a seemingly simple way to make Boston-area housing more affordable: Allow more accessory dwelling units — commonly called "in-law apartments'' or "granny flats'' — to boost the housing supply and keep prices in check. But while everyone seems to agree on the affordability problem, its root cause, and even some elements of this solution, changing zoning ordinances in Massachusetts can be more difficult than changing lanes at rush hour.
That there is a housing-affordability crisis is hardly in dispute. Buying a median-priced single-family home in the Boston area requires an income just shy of six figures, according to the mortgage tracker HSH. And many economists agree that a key driver behind the high prices is a shortage of housing for sale. Available inventory has fallen for 37 consecutive months in the Boston area, compared to a year earlier, according to the real estate brokerage Redfin. The 8,743 homes for sale in September of this year were less than half of the 18,766 available in September 2014.
Meanwhile, demand for housing remains strong. That combination has fueled a ferociously competitive real estate market, in which the average Boston-area home sold above list price — and in under two weeks — every month from April to September of this year.
Large-scale residential development is crucial to meeting housing demand, but it generally involves a lot of time, money, and neighborhood upheaval.
In the interim, many urban planners say, allowing for more accessory dwelling units is a quick, low-impact way to boost the housing supply gently.
"This is affordable housing hiding in plain sight,'' said Anthony Flint, a fellow at the Lincoln Institute of Land Policy in Cambridge.
Accessory apartments were fairly commonplace before World War II, when extended families were more likely to live together. But they fell out of favor — or were zoned out of existence — during our postwar obsession with single-family houses and sprawling lawns.
City planner Jeff Speck, author of "Walkable City: How Downtown Can Save America, One Step at a Time,'' said an accessory dwelling unit (or ADU) can take many forms.
"Sometimes it's a small freestanding cottage. Other times it's a backward extension to the main house, [or] it sits atop a garage,'' he said. "The key is that it has a small footprint — usually less than 500 square feet — and its own front door.''
Accessory apartments are also viewed as a way to help more seniors afford to age in place or to live with a family member while maintaining some independence.
"The accessory dwelling unit provides rental income that allows empty nesters to stay in their houses when they retire,'' Speck said. "They can also move into the apartment and rent out the main house.'' Later in life, it opens up the option of live-in home care.
AARP generally encourages legislation and zoning policies that support accessory dwelling units, said Mike Festa, state director for AARP Massachusetts. The organization has even crafted model language for states and municipalities to adapt to their own needs. "This is an area where a one-size-fits-all policy will not work,'' Festa said.
"Since ADUs require making a change that is literally in someone's backyard, opinions can be strong, and the policy work can easily become political,'' he said. Planners and local officials should prepare to address concerns about parking, fire safety, neighborhood character, and future use, he added — all of which must be weighed against the need for more housing in the community and homeowners' rights.
Even in cities and towns that do permit some accessory dwellings, ordinances governing their use can be overly restrictive, Flint said, with rules that serve as intentional barriers — such as mandating that all occupants be relatives or requiring off-street parking for each unit. "If more sensible rules could be swapped in, it would instantly add thousands of generally affordable homes to the housing stock,'' he said.
The Legislature is trying to do just that, as one part of a larger zoning bill that has been referred to the Joint Committee on Community Development and Small Businesses.
The effort is not without resistance.
"The tension here, as always in Massachusetts, is between the state and the 351 cities and towns, who very much exert local control over codes and land-use regulations and zoning,'' Flint said.
"Everyone sees the need for more housing,'' said Harriette L. Chandler, Senate majority leader and Democrat of Worcester. "The question is where do we put this more housing? Because wherever we suggest, it's always 'No, not in my backyard.' ''
In 2016, a special Senate committee convened an advisory group of housing experts from the private, public, and academic sectors to address the affordability crisis. Chandler, a cochair of the committee, sponsored a sweeping zoning overhaul bill based on the group's key policy recommendations — which included loosening restrictions on accessory dwelling units. "It was considered a simple way to add housing without causing great change to a neighborhood,'' she said. "This, frankly, seemed like the simplest one to get through . . . but it has not proven easy.''
The idea has gained traction, however, in forward-thinking cities and overheated housing markets around the country, from Portland, Ore., to Durango, Colo., and in Massachusetts municipalities like Cambridge, Newton, and Lexington, all of which have taken steps to allow more accessory apartments.
State lawmakers can also look north for inspiration: As of June 1, New Hampshire law allows up to one accessory dwelling unit on single-family lots, without many of the common restrictions, such as having a familial relationship to the owner. Municipalities can, however, require additional parking, a design that fits in with the neighborhood, or for the owner to live on the premises.
The nonprofit Massachusetts Municipal Association opposes a number of provisions in the Bay State zoning bill, especially those that would infringe on local decision-making.
The bill "would mandate every city and town to approve accessory apartments in all residential districts, granting homeowners 'by-right' ability to add additions, separate buildings, or property renovations as long as the accessory apartment is no larger than half of the entire structure or 900 square feet and meets building code standards,'' Geoff Beckwith, the group's executive director and CEO, said in a statement. "These zoning changes would certainly lead to unanticipated neighborhood impacts.''
Beckwith also argues that many towns and cities already allow some form of accessory apartments through special permits. "Overriding these existing bylaws would present enormous difficulties for communities that have already acted to address this issue,'' he said.
Senator Patrick M. O'Connor, Republican of Weymouth, said he's not opposed to the concept of accessory apartments, but that the bill would place a burden on local officials and neighborhoods. "I've received overwhelming feedback from residents and planning board members from my district who do not agree with the ADU provisions of this bill or the bill in total,'' O'Connor said.
"Many of my constituents have expressed concern that, should this bill pass, accessory dwelling units will crowd neighborhoods and exceed the scope of the character that was originally intended for their residential zoning district,'' O'Connor said.
Others worry it would lead to an uptick in short-term vacation rentals, more noise, or a loss of privacy if an accessory unit is built closer to the edge of an adjacent lot, he added.
"Neighbors are usually concerned about traffic, parking, density, and appearance,'' Flint said, "but sometimes the ordinances are just old and nobody has bothered to take a fresh look, so there's some inertia at work here, too.''
Speck put it more bluntly: "ADUs can be a tough sell in many conventional single-family neighborhoods,'' he said. "Snobbery and fears of strangers and overcrowding can rule the day.''
Chandler said that's why change is needed at the state level. "I think if it's not done at the state level, it's not going to get done,'' she said.
At the very least, Flint said, negative attitudes about increased neighborhood density are starting to change. "I think most people understand, for example, that housing right next to a T station shouldn't be required to have a parking space for every occupant,'' he said.
"Similarly, a young couple in a carriage house doesn't threaten our way of life. If they can afford to be closer to work, that can reduce traffic on the roads coming in from more far-flung places.''
As more seniors hope to age in place, and as more young people are priced out of the cities they love, attitudes toward accessory dwelling units may continue to shift. "The best way to convince people to support ADUs,'' Speck said, "is to help them realize that, someday, they may want one themselves.''
Jon Gorey blogs about homes at HouseandHammer.com. Send comments to [email protected]. Follow him on Twitter at @jongorey. Subscribe to our free real estate newsletter — our weekly digest on buying, selling, and design — at pages.email.bostonglobe.com/AddressSignUp.