Real Estate News
Peek inside Vt. farm that embraces tradition but with modern approach
Set in a meadow in Vermont dairy country, Moxie Hill Farm is named for a beloved Labrador retriever. Design New England tours.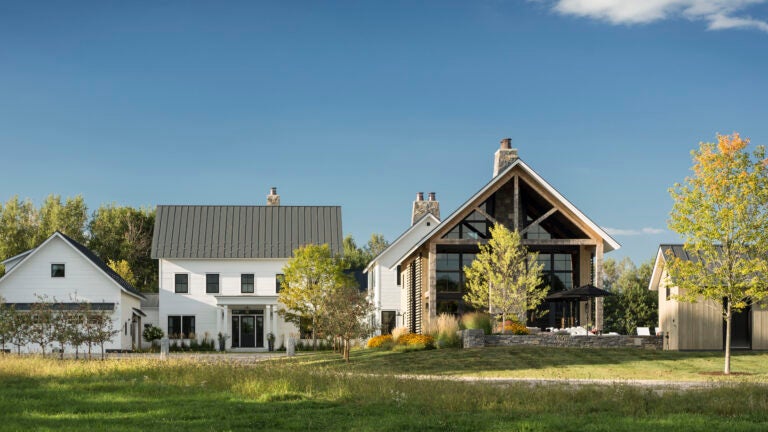 Set in a meadow in Vermont dairy country and named for a beloved Labrador retriever, Moxie Hill Farm is the dream home of a couple who met when he was coaching football for his alma mater, Middlebury College, and she was playing basketball for rival Colby College. (Later, their son shot hoops for Middlebury and one of their twin daughters played basketball for Colby.) The athletic thread extended to their choice of architect to design their house: Lee Grutchfield of TruexCullins Architecture + Interior Design in Burlington, Vermont, stood out not only for his work but also because he had played point guard for Brandeis University. (Grutchfield's father also had an illustrious basketball career at the University of Massachusetts Amherst in the early 1960s.) Coincidentally, Keith Wagner of Wagner Hodgson Landscape Architecture of Burlington and Hudson, New York, the landscape architect on the job, had played basketball at the University of Vermont.
Still, with the exception of three rusted scrap-metal sculptures that could be mistaken for oversize basketballs punctuating the grounds (these are "interpretations of round hay bales," says Wagner), there is not a sports metaphor to be seen on the property. Rather, the house takes its cues from the substantial farms and barns that dot the Champlain Valley.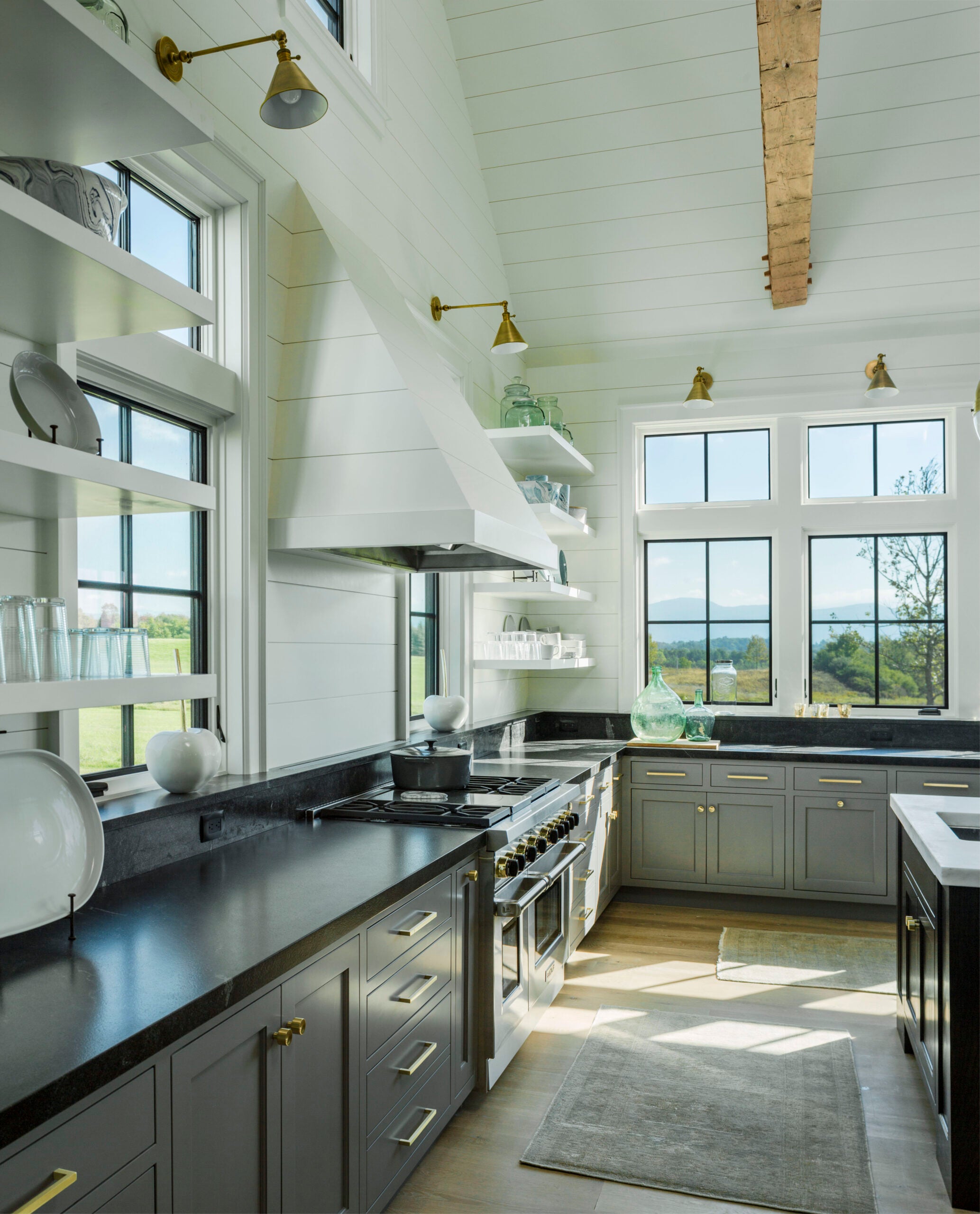 The long driveway is testament to the agrarian tapestry of Vermont. The house, which is not visible from the road, does not come into view until the third-of-a-mile approach is half completed. Combining pastoral beauty and meandering cow path, the road traverses a hill and a meadow, turns past an orchard, and ends at what Grutchfield calls the "door yard." The house is U-shaped, and its arms shelter the parking area. In the spirit of most Vermonters' preference for entering their homes through the back, this welcome area offers three options: access to the garage and mudroom, entry to the house through a formal Greek Revival door, or passage to the large family wing that reads as a barn.
This quiet, ceremonial approach reflects Grutchfield's practical, Vermont-centric aesthetic. The white clapboard dwelling is essentially a small house in a large envelope, articulated by various contributing elements — service, living, and entertaining — connected in the northern New England way of big house, small house, back house, barn. "Lee's architecture," says Wagner, "is a thoughtful and wonderful blend of vernacular architecture with a twist of modern."
This unpretentious Shaker-plain composition has been accomplished by a onetime philosophy major who played college basketball in Massachusetts with hopes of turning professional. Grutchfield's love of Vermont instead brought him to the Green Mountains, where he worked as a carpenter for a dozen years before going to Norwich University to become an architect. Working in construction, he says, sharpened his appreciation of materials and imparted an environmentally driven rural aesthetic.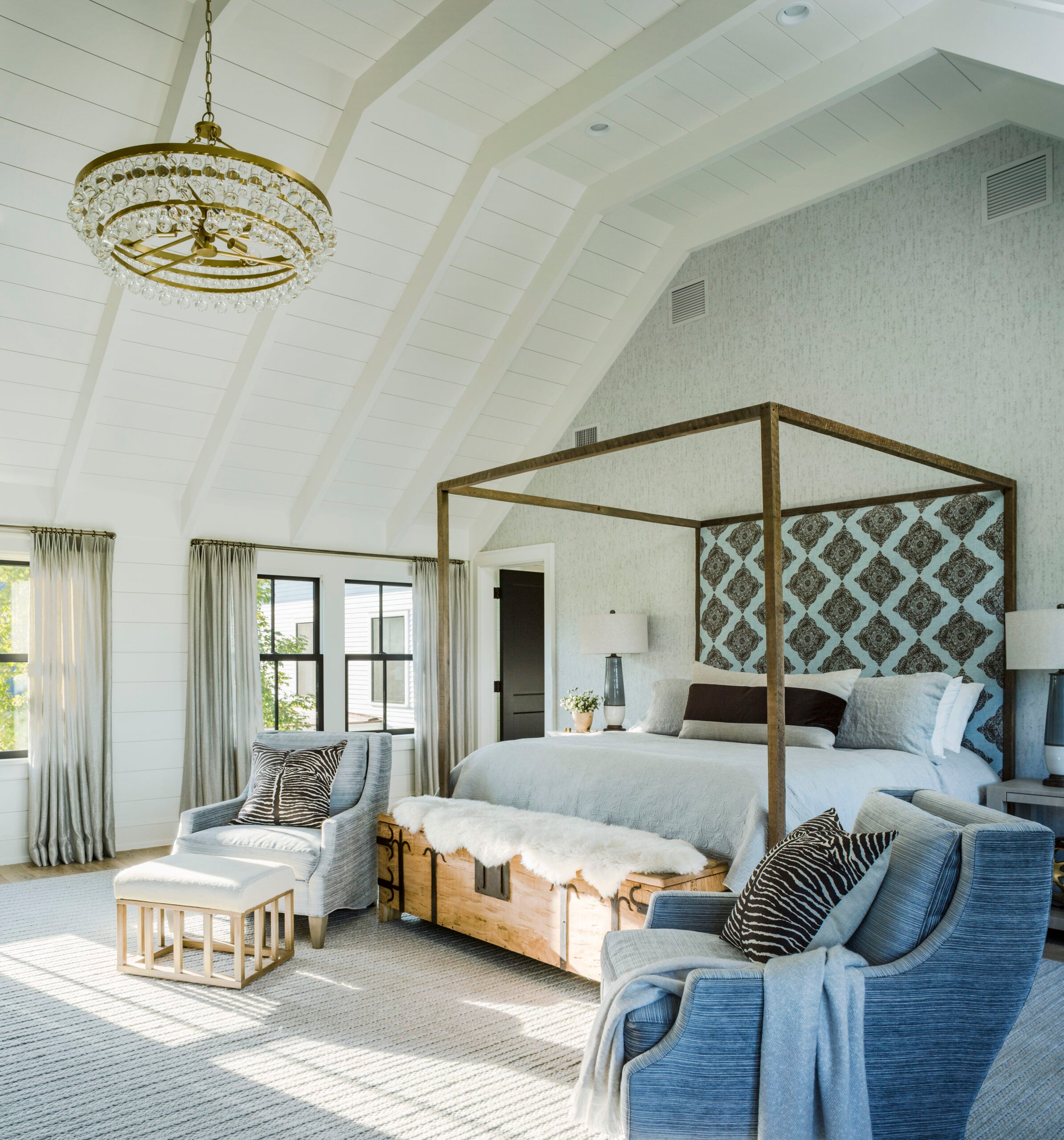 Of their house, one of the owners says simply: "We wanted a white farm." Having purchased land, and mindful of a prototypical Vermont barn visible on a neighboring property, the couple had liked what they saw of TruexCullins's residential work and asked Grutchfield to do some drawings of a traditional farm. From there, the scheme got "more contemporary as it went along," says the architect, until owners and designer reached a happy balance with a place that looked as if it had occupied its knoll for a century and a half.
"Our plan is to retire to the Vermont house," says one of the clients, using it as home base, "as well as a holiday house with the children." Now the place is enjoyed for summer vacations and entertaining, such as graduation celebrations, Thanksgiving, senior night for the Middlebury men's basketball team, and renewal of the clients' wedding vows for their 25th anniversary. So, while the house sleeps a dozen college-age friends and the barn can handle groups of 100 or more for a party, the library, living, and dining room are friendly, small-scale spaces. Thus, the big farmhouse kitchen feels cozy, serving as the heart of the house while offering views of fields and mountains.
The dramatic 50-by-30-foot barn, with its second-story loft, wet bar, wine cooler, and game area, can absorb a 16-foot-tall Christmas tree or a college weekend party. But with comfortable seating, large fireplace, and 33-foot-high, end-of-wall windows that frame the landscape, it can be a contemplative space as well.
For his part, Wagner respected the understatement of the domestic design with strong outdoor lines, stone walls to define space, and the strategic placement of trees and plants. The whole purpose of the landscape design, says Grutchfield, commenting on Wagner's work, "is not to interfere with the views."
And what views. A native of Maine, the wife misses the seacoast but has found mountain views amazing in their own right. "I love to watch the sun rise in the morning when I am out there with the dogs." And she embraces the changing weather across the Green Mountains, "when you can see snow on the mountaintops in the distance or the flaming colors of fall."
See more photos of the home:
DNE013018