Real Estate News
Immerse yourself in the latest design trend: soaker tubs
If soaker tubs have caught a prime spot on your Pinterest board, you are far from alone. Find more design inspiration at realestate.boston.com.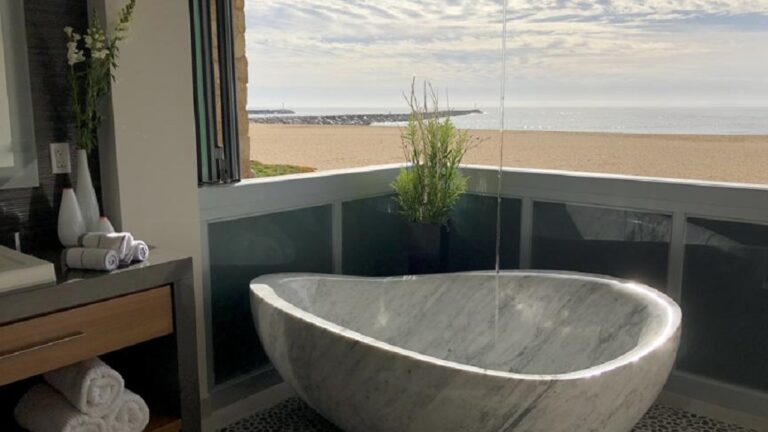 If freestanding soaker tubs have caught your eye and a prime spot on your Pinterest board dedicated to fantasy bathrooms, you are far from alone. In fact, due in part to their ongoing spotlight in heavily loved Instagram posts and prominent exposure in high-end hotels and condos, including Boston's Millennium Tower, these coveted fixtures are rapidly ascending the wishlists for homeowners looking to add an element of transcendental luxury to their most private spaces. And then there's the obvious: In the frenetic return to new year schedules and stresses, is there really anything more enticing than a hot soak on a cold night?
"People are really obsessed with this idea of work-life balance, and a hot bath is one easy way to achieve that desire. It's a simple pleasure that everyone can relate to,'' said interior designer Michael S Smith. Obvious relaxation benefits aside, the magnetism of soaker tubs is about much more than just the act of getting clean. For some, it's the statement-making aesthetic appeal of these objects — venerable works of art in their own ways — as much as it is about experiencing a more immersive bathing experience typical of a high-end spa, hotel, or exotic resort. Smith, who has also created custom tubs for the kitchen and bath brand Kallista, considers these particular pieces unique in that they possess a beautiful ceremonial quality, and design-wise, can easily stand alone when in the right space.
Ordinary alcove tubs these are not. Just about everything is different about these vessels, according to Elle H-Millard, industry relations manager for the National Kitchen and Bath Association. "Typically, soaker tubs are deeper, freestanding, more sculptural and artistic, and act as a major focal point in a room.''
"The defining difference is that the standalone tub is deep enough for complete immersion and greater relaxation,'' said Peter Sallick, CEO and creative director of Waterworks. "Freestanding tubs have rounded bottoms, which are far more comfortable. In addition, freestanding tubs have higher sides because you don't need to step in and out of them as often.''
Sallick also credits consumer desire for enhanced master bathrooms as helping to drive the interest. "Freestanding tubs have become more prominent in design as master bathrooms are becoming more considered rooms of the home,'' Sallick said.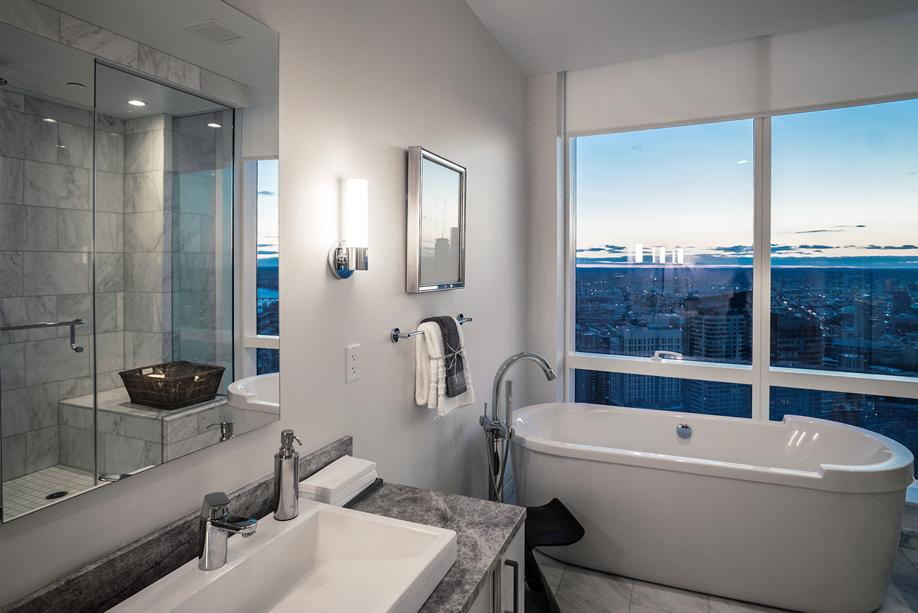 According to a recent National Kitchen and Bath Association market study, people in the United States spent $80.4 billion on bathroom design products in 2017, excluding labor, an increase of 9 percent over the previous year. What's more, the organization estimates the total value of spending on tubs in 2017 was $10.1 billion.
According to Eric Rollo, a real estate agent with William Raveis in Boston, these tubs indisputably help certain listings stand out.
"It raises the desirability of a property,'' Rollo said. "Right now, people are either leaning toward no tubs at all or a soaking tub. People want the convenience — and in some cases, the necessity — of a tub without sacrificing their 'spa-like' bathrooms. The deep soaking tub gives the benefit of both.''
(Peek inside two Boston-area listings with soaking tubs.)
If these objects exude high-end luxury, that's the point. Yet it doesn't mean they're not attainable for those with a tighter budget or more peculiar style preferences.
"Manufacturers are exploring a vast variety of materials, finishes, shapes, and textures,'' H-Millard said. While certain models and materials such as marble, natural stone, and hand-hammered copper command prices upward of many thousands of dollars, there are choices — from the very traditional to the ultra-modern — available in more affordable materials for under $2,000. While buyers can easily seek out tubs from high-end showrooms, they're also regularly sold at general home improvement stores and even on Walmart.com.
Locating the soaker tub of your dreams is just the beginning of the process, however.
"There's always the interest and the ask for soaking tubs,'' Boston architect Joseph Kennard said, "but the reality is a fewer percentage of clients get to do that. Simply, you need a big room. If you were doing a freestanding tub, you want at least three feet around it for it to function properly. And there's the logistics of cleaning around it, too.''
Don't despair. If you don't have the space, all hope is not lost. "I always try and show them where you can take a freestanding tub idea and pin it to one wall or anchor it to one point or even two points,'' Kennard said. "There are alternatives to the full space-eating freestanding tub.''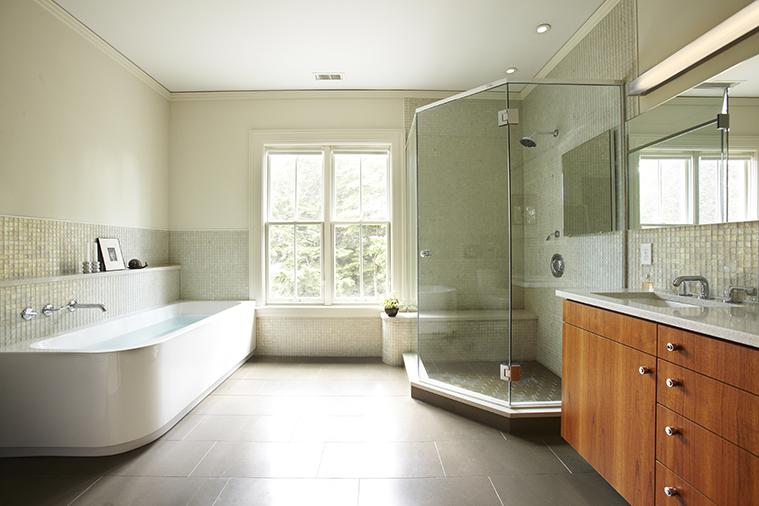 Other structural concerns will need to be addressed before installation, however.
"As with any tub, a homeowner should consider the structure to support the weight of the tub, plus the weight of the tub when filled with water,'' H-Millard said. "Some of these tubs are large, and the weight is significantly more, depending on the material.
"Also, homeowners often forget about the journey the tub needs to take to have it rest in its final destination. Is this on the second floor of the home? Are the hallways wide enough to clear? If one were to overflow the tub, what is directly below the tub? How can you protect that surface or room?''
Kennard concurs: "It's a definitely a weight issue. You would want to find a good contractor that you work with that's done similar projects and make sure they have a go-to structural engineer to sign off. It's worth the short money upfront so that you can sleep at night and not worry about it becoming a huge problem later.''
Shanna Kerr, founder and principal of S.M. Design Associates in Southern California, which specializes in luxury estates, knows firsthand that coordinating the installation of a prized purchase requires strategic planning.
When a property owner in Newport Beach, Calif., requested a specific type of soaking tub for his custom-built beach-facing triplex, Kerr was faced with a job that involved more than just design and delivery.
"The tub is carved from a solid piece of Carrara marble. Since it is so heavy, it had to be craned in before they sealed the house, so we essentially finished the house around the tub,'' Kerr said. "At the end of the day, the client was enthusiastic about the results. The corner-placed tub anchors the room and has unobstructed views of the beach and ocean, with windows on two sides.''
Ready to take the plunge with a stylish soaker of your own? Smith implores homeowners to be mindful of one last tip, especially if you plan to sell your home in the near future: Keep in step with the style that you already live with so that it blends seamlessly with the rest of your environment.
"If you're going to do something dramatic or cinematic in the bathroom, it should be in the same vocabulary as the rest of the house,'' Smith said.
I'll let that last piece of advice soak in.
Christina Poletto lives just outside New York City, where she writes about unusual old homes and interior design trends. Follow her on Instagram @dovetailordesignstudio. Send comments to [email protected]. Subscribe to our newsletter at pages.email.bostonglobe.com/AddressSignUp.