Real Estate News
How laziness, fear, blunders, and fights gave Mass. towns such weird borders
Have you ever heard of the "Southwick Jog?'' Massachusetts and Connecticut fought over this mistake for more than 160 years.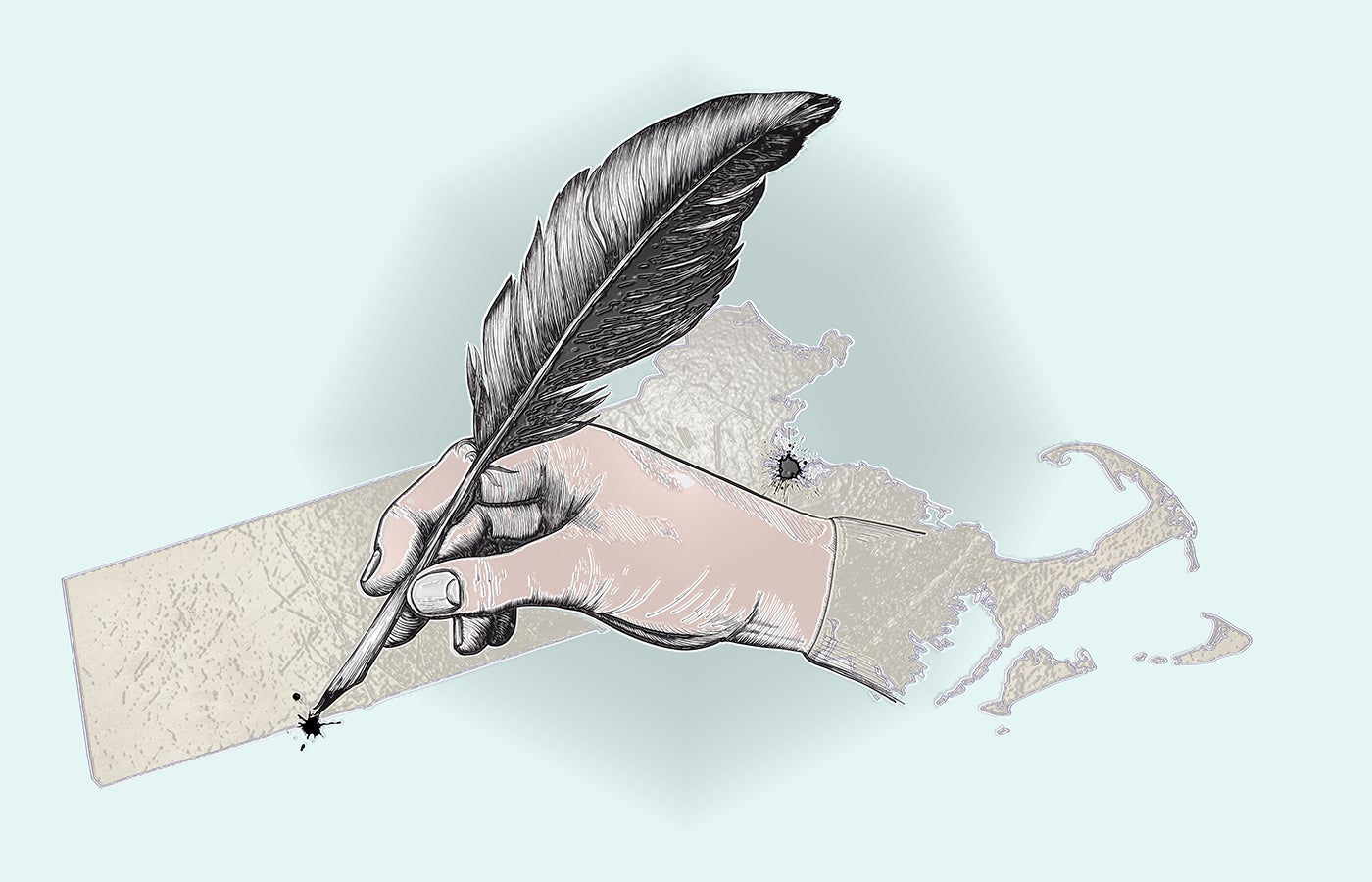 Even if you've never heard of Southwick, you could probably point to it on a map if we gave you just one clue: It's that odd little notch where Massachusetts' southern border dips into Connecticut west of Springfield.
For most of us, the "Southwick Jog'' is just a familiar bump on the map. But this little quirk of geography was a source of squabbles for generations of governors, and it's created countless hassles for the people who actually live there, too. Imagine buying a house in Massachusetts but learning that your driveway — and, therefore, your official address and higher property tax bill — belongs to Connecticut.
The crazy thing is, this defining feature of our state profile is actually a blunder of a border, the remnants of a surveying error from the mid-17th century.
The mistake was made in 1642, when surveyors Nathaniel Woodward and Solomon Saffery were dispatched to mark the southern border of Massachusetts Bay Colony — a straight line west from a point 3 miles south of the Charles River's southernmost branch, according to the colony's charter. But rather than walking westward through difficult and potentially dangerous territory, the pair cut corners — literally. They skipped a large portion, instead sailing up the Connecticut River and restarting their westward trek at what they thought was the right latitude. Turns out they were as much as 7 miles too far south, and it took more than 160 years for Connecticut and Massachusetts to come to a compromise over the misallocated land.
Southwick's distinctive dip is hardly the only oddity on a Massachusetts map. Around here, we seem to struggle when geography meets geometry. Our city squares are actually circles or triangles. Some town lines arbitrarily jut into their neighbors or trace a seemingly haphazard scribble of pockmarks and protuberances. And making it all the more confusing, many of those boundaries have changed countless times through the centuries. Consider that President John Adams lived in Braintree, which is actually Quincy, but both communities were originally part of Dorchester.
Ever wonder how your town got its unique shape? If it seems a little arbitrary in spots, you might not be that far off. "For centuries in England, there had been no new land available,'' said Robert Charles Anderson, a professional genealogist who authored several books on the Great Migration Study Project. So when the English arrived in Massachusetts, "They were making it up as they went along in terms of rules and regulations.''
The earliest Colonial towns had no founding documents laying out their boundaries, Anderson said, while some borders, like the perfect 6-mile square initially granted to Concord in 1635, were ordered from Boston without any knowledge of what the actual terrain was like.
The existing network of Native American villages, agricultural clearings, and well-trodden trails between them also influenced the contours of those early borders, said Richard Wilkie, co-editor of the "Historical Atlas of Massachusetts'' and professor emeritus of geography at the University of Massachusetts Amherst. "Native Americans had quite a landscape of trails and presettled areas of fields they had been tending over the years,'' he said. "In a sense they've been obliterated, but they set a pattern of where many towns were eventually located.''
Of course, topographic features also helped define the divisions between new settlements, many of which are still in place today. "A lot of these boundaries were formed along rivers or mountains,'' Wilkie said. The resulting borders "weren't always neat — they had little jigs and jags on them, and it comes out like a strange patchwork quilt.'' (Study a map, and it looks like Fitchburg is tapping Leominster on the shoulder and Northbridge is stabbing Sutton in the belly.)
The shapes of Salisbury, Amesbury, and Merrimac, for example, are defined by the path of the Merrimack River — on both the north and south sides — because the northern border of Massachusetts was determined by charter to be 3 miles north of the Merrimack River.
Another factor that could influence a town's size and dimensions was its parentage. Just as you might inherit a round face or angular jaw from your parents, some places got their shapes from "mother towns.''
The largest of these was Springfield. "Thirteen other towns broke off from it at various stages,'' Wilkie said. Duxbury and Dedham were also prodigious progenitors, each with 11 other towns that broke off from the original town boundaries. Dorchester would go on to spawn Milton, Canton, and other communities — including Braintree in 1640, from which Holbrook, Randolph, and most of Quincy were later formed. (Does that make them Dorchester's grandchildren?)
"Salem had seven towns spin off,'' Wilkie added, including Peabody, Danvers, and Beverly. "That's the kind of process that took place in the 1800s and 1900s — the creation of towns from within a larger boundary, breaking democracy down into smaller units.''
There's some debate over how clustered Colonial settlements really were, but one reason new towns would carve off from a larger community was if people settled at the outskirts and then found it too hard to attend church services and town meetings each week. "To establish a new town, a group had to petition the Colonial government, and sometimes that was a long process,'' Wilkie said. In some cases, such as Brookfield, permission wasn't granted until the Native Americans in the area "received a better proportion of the productive land.''
Weston's vertical western boundary used to be the distant edge of Watertown. As land was granted in the western part of town, people initially commuted — making day trips to their farms. But it was a long trek, so they started building homes nearer to the farms. "In 1713, those people in the far west of Watertown were able to break off and establish a new town with their own church, which became Weston.'' Years later, a similar split in the middle yielded Waltham.
Towns that formed later on are sometimes more rectangular, like diamond-shaped Barre. This is the norm in other parts of the United States, Wilkie said, but not around here. Another boundary that's suspiciously straight is the one separating Norfolk and Plymouth counties (and the towns on either side). Essentially stretching from Scituate to Rhode Island, this line originally marked the border between the Plymouth and Massachusetts Bay colonies. "Plymouth was separate until 1692, that explains that diagonal line,'' Anderson said. Norfolk County's shape is still plenty weird, though: It even has two "island'' towns, Brookline and Cohasset, that are isolated from the rest of the county.
Up north, Tyngsborough looks like a Dr. Seuss character, with a skinny neck and frizzy shock of hair. The narrow neck came about when Tyngsborough split from Dunstable; the boundaries depended on which parish an abutting landowner belonged to, explained Tyngsborough resident Herb Morton. "The Tyngs lived near Tyngsborough Center, but owned land all the way to Massapoag [Ponds],'' he said, explaining the narrow strip.
Local quarrels sometimes played a part as well: Two bumps along that border "were lots of land that belonged to James Tyng and were cut out from Dunstable, because he was damned if he'd let any of his property be in Dunstable,'' Morton said.
Perhaps no municipal boundary in Massachusetts has changed so often as that of Boston itself. First, it was landowners along the shore who extended wharfs into the tidal flats. "The slips between these wharves were often filled in, creating new land — what's known as "wharfing out,''' said Nancy Seasholes, editor of the forthcoming "Atlas of Boston History.''
But that was just the beginning. In the ensuing centuries, Boston would fill in thousands of acres of land, constantly changing its shape and forming what would become some of the city's most valuable real estate, including Back Bay and the Seaport District.
"Landmaking exists in every city I know of on a coast, major river, or lake,'' Seasholes said, but what's distinctive about Boston is the sheer amount of it that took place. "Its 5,245 acres of made land are probably more than in any other city in the Americas.''
That still doesn't explain the Brookline-shaped gap in Boston's present-day silhouette, though. Between 1868 and 1870, Boston tripled its size by annexing first Roxbury and then Dorchester, promising new infrastructure and development. In 1873, it grew larger still, absorbing Brighton, Charlestown, and West Roxbury. Brookline, however, would later vote against joining Boston, putting a stop to the city's inland expansion until it annexed Hyde Park in 1912.
That likely marked the end of Boston's annexation binge. And despite the scarcity and price of downtown acreage, the city's days of filling in salt flats are probably behind it, too. "There won't be more landmaking in the future, simply because all the available flats have already been filled,'' Seasholes said. If anything, she added, it's more likely the ocean will reclaim some of the city as sea levels rise.
Asked whether our current map will remain more or less intact going forward, Wilkie wouldn't rule out the possibility of minor changes. "For example, many hill towns in Western Massachusetts are down to very small populations, and they join two or three other towns to create a district school system,'' Wilkie said.
If they were to continue to lose population, he added, such towns could decide to merge and pool their resources. "They're already doing that in a way, but they haven't changed boundaries. They just come together for joint services,'' he said, "but most towns are happy running their own little government.''
Jon Gorey blogs about homes at HouseandHammer.com. Send comments to [email protected]. Follow him on Twitter at @jongorey. Subscribe to our free real estate newsletter — our weekly digest on buying, selling, and design — at pages.email.bostonglobe.com/AddressSignUp.